---
Crew
Director/Screenplay – Martin Owen, Story – Tim Burke, Elizabeth Morris & Abigail Wright, Producers – Martin Owen, Shiree Patel, Daniel Solinger, Jonathan Willis, Abigail Wright & Jeffrey Wright, Photography – Chase Bowman, Music – Mac Quayle, Visual Effects – Leonid Studios (Supervisor – Ari Levinson), Makeup Effects – Kurt Ewell, Production Design – Cassandra Surina. Production Company – JWright Productions/The Ideas Factory.
Cast
Brooke Hogan (The Reality Star), Abigail Wright (The Reporter), Mischa Barton (The Actress), Marisa Lauren (The Stripper), Elizabeth Morris (The Heiress), Dave Bautista (Drug Dealer #1), Danny Trejo (Drug Dealer #2), Martin Owen (The Reality Show Director), Korrina Rico (The Socialite), Drake Bell (The Popstar), Eric Roberts (The Mayor)
---
Plot
Hollywood is being terrorised by the self-styled L.A. Slasher. The Slasher has promised to attack all that is talentless posturing in Hollywood. The Slasher attacks various reality tv stars, actresses, pop stars and producers. Various of these are abducted and the Slasher broadcasts a live internet feed as he kills them.
---
L.A. Slasher was a feature-length debut for British director Martin Owen who had previously made several short films and worked as an actor. Owen subsequently went on to make the augmented reality film Let's Be Evil (2016), Killers Anonymous (2019) about a support group for killers, the space opera The Intergalactic Adventures of Max Cloud (2020) and the zombie comedy The Loneliest Boy in the World (2022).
L.A. Slasher is one of the worst films I have seen in recent memory. It only leaves you scratching your head and going "WTF" at wondering why some reasonably well known names such as Danny Trejo, Dave Bautista and Mischa Barton have signed on, as well as Andy Dick who provides the voice of The Slasher. (I won't include Eric Roberts among these as he has demonstrated in the past that he will sign onto anything that offers him a paycheque irrespective of what).
The film is plotless and utterly incoherent. It feels like someone has appropriated the modern MTV-styled look of pop-up infobubbles and on-screen texts, not to mention the inclusion at regular intervals of a really annoying announcer whose only purpose is to deliver catty commentary, and thrown these together with a series of random scenes involving the titular slasher.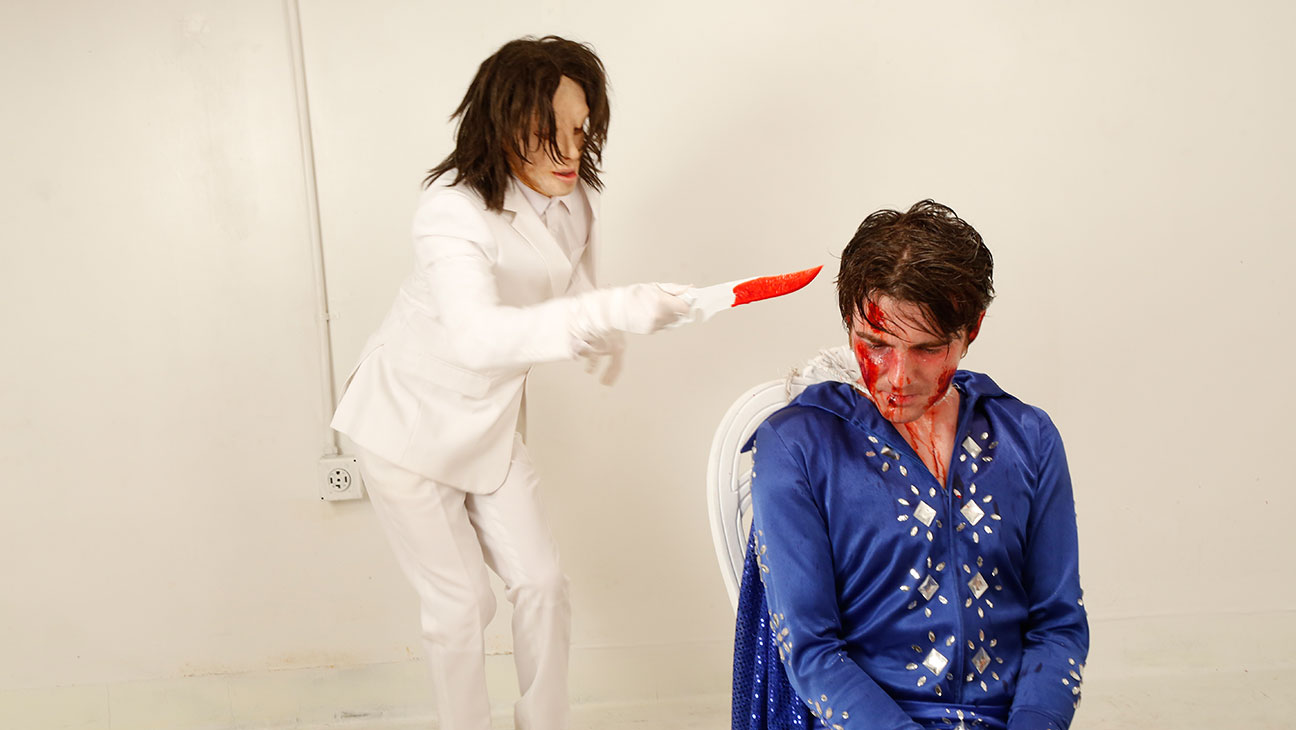 The whole things feels like someone edited and filmed it in a drug-induced haze. And done so without the benefit of any kind of a script. Each scene feels like whatever randomness the director cooked up in their over-coked brain and persuaded some actor to appear in on the day. The nearest film I can think that approaches this in terms of ineptitude was Da Hip Hop Witch (2000).
There is almost a point where this incoherence stumbles onto something that approaches satire. Even then, all that the film manages to muster is the opinion that Hollywood is filled with famous but talentless individuals, which is something that a viewing of reality tv in the last decade had made all but obvious.
---
---