(Mientras Duermes)
---
Crew
Director – Jaume Balaguero, Screenplay – Alberto Marini, Producer – Julio Fernandez, Photography – Pablo Rosso, Music – Lucas Vidal, Visual Effects – Cubica (Supervisor – Cesc Bienzobas), Special Effects Supervisors – David Marti & Montse Ribe, Production Design – Javier Alvarino. Production Company – Filmax/Castelao Producciones.
Cast
Luis Tosar (Cesar Manso), Marta Etura (Clara Blas), Alberto San Juan (Marcos Bazan), Iris Almeida Molina (Ursula), Petra Martinez (Miss Veronica), Carlos Lasarte (Neighbour Apartment #4), Amparo Fernandez (Cleaning Woman), Roger Morilla (Cleaning Woman's Son), Margarita Roset (Cesar's Mother)
---
Plot
Cesar is the supervisor of a Barcelona apartment building. Trusted by all, he secretly enjoys playing cruel games that make life misery for his tenants. He is obsessed with one tenant, the beautiful Clara, and each night sneaks into her apartment where he chloroforms and then curls up in bed beside her. He is determined to ruin her constant happy smile and starts to inject chemicals into her toiletries that cause her to come out in a rash, while planting cockroaches all over her apartment. However, when Clara returns with a boyfriend and Cesar is trapped under the bed for the night, his games start to go out of control.
---
Spanish director Jaume Balguero is a former film fanzine editor who became a feature-film director with The Nameless (1999) that gained reasonable acclaim on the genre festival circuit. Since then, Balaguero has gone onto a regular output of horror films with the likes of Darkness (2002), Fragile (2005), Muse (2017) and Venus (2022) in English language, as well as the story for The Nun (2005), writing the script for Inside (2016) and producing Summer Camp (2015). The greatest hit he had was the Found Footage zombie [Rec] (2007), co-directed with Paco Plaza, which became a substantial hit and spawned sequels and an English-language remake. Balaguero and Plaza subsequently returned for [Rec] 2 (2009), while Balaguero on his own next went onto direct [Rec]4: Apocalypse (2014).
We have had films about people in weird apartment buildings beginning with Roman Polanski's The Tenant (1976) and its paranoiac view of a mousy tenant who regards all the others in the building as conspiring against him. Others have taken their clue from Polanski in various ways, including Apartment Zero (1988), Pacific Heights (1990), The Apartment Complex (1999), Fever (1999), The 4th Floor (1999), One Point 0/Paranoia 1.0 (2004), Next Door (2005) and 1BR (2019). Most of these take the point-of-view of the tenants and are thrillers centred around their dealing with menacing neighbours. The film that Sleep Tight resembles the most is The Resident (2011), which had tenant Hilary Swank dealing with sinister landlord Jeffrey Dean Morgan who kept sneaking into her apartment while she was asleep, drugging and then molesting her.
Even then, Sleep Tight takes a very different approach to The Resident despite telling a not-dissimilar story – here the landlord/building manager character is the protagonist of the story and everything is seen through his eyes. In this respect, Luis Tosar, while playing a character that in any other film would be regarded as a psychopathic and a villain, is a character that we oddly end up rooting for. His actions are deplorable but he seems to have a charming friendliness in his increasingly malevolent actions such that we regard him as oddly likeable. He is never given any motivation other than that he has a hatred of seeing people living happy lives.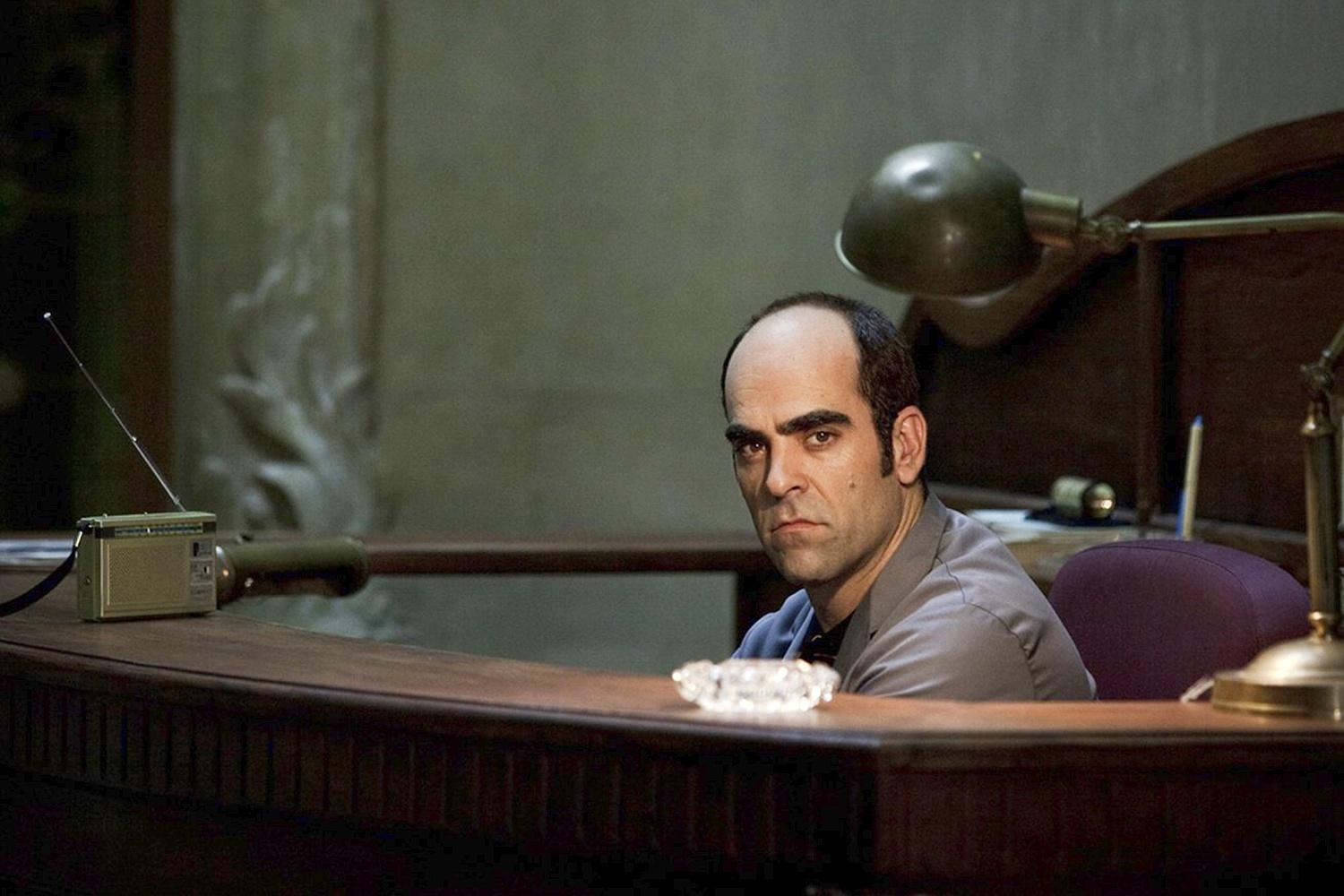 It is not that his victims are made so loathsome that we end up cheering on their downfall either – Marta Etura has such a sunny loveliness that it is equally distressing seeing this progressively being rent asunder. The measure of the difference might be how the middle of the film engages us in a scene of breathless tension as Luis Tosar ends up being caught up under the bed as Marta Etura brings her boyfriend back for the night where their lovemaking ends up having him splashed in his own chloroform and trying to escape before he falls unconscious, before discovering that he has left the keys in his bag, and progressive complications from there – ie. it is a scene where we become engaged in his efforts not to be caught.
Jaume Balaguero gets a good show out of the sheer malevolence of the film put on before us. It is a film you keep feeling you should be played as more of a black comedy but Balaguero manages to make the skewed sympathies work for the film. We are constantly gasping at Luis Tosar's outrages – telling aging dowager Petra Martinez how lonely her future is, threatening to kill the young girl in the apartment opposite and especially the wild scene where he slips into bed between the chloroformed Marta Etura and her boyfriend Alberto San Juan.
Balaguero propels the latter third of the film into some genuine seat-gripping tension during the abovementioned scene where Luis Tosar ends up being trapped in the apartment and the twists that come when his games start being exposed.
---
---