---
Crew
Director – Douglas Jackson, Screenplay – Anita Doohan, Adaptation – Don Carmody, Based on the Novel by Dean R. Koontz, Producers – Don Carmody & John Dunning, Photography – Peter Benison, Music – Fred Mollin, Special Effects – Jacques Godbout, Makeup Effects – Joe Blasco, Production Design – Charles Dunlop. Production Company – ITC Entertainment Group/Cinepix.
Cast
Victoria Tennant (Hilary Thomas), Chris Sarandon (Sergeant Tony Clemenza), Jean Le Clerc (Bruno Clavel), Eric Christmas (Joshua Rinehart), Peter MacNeill (Frank), Jackie Burroughs (Mrs Yancey), Keith Knight (Avril Tennemon), Linda Sorenson (Kayla Allen)
---
Plot
Writer Hilary Thomas is attacked in her apartment by Bruno Clavel, a man she interviewed for one of her books. She shoots him but police dismiss the case because they are unable to find any evidence of the attack. Later, Clavel is found dead but he continues to return to attack Hilary and others. Hilary and police detective Tony Clemenza travel to Clavel's estate in Lee Valley where they uncover a twisted morass involving Satanism and twins.
---
Dean R. Koontz is the only horror author whose popularity has come near rivaling that of Stephen King. If anything though, most of Dean R. Koontz's adaptations on film – Demon Seed (1977), Watchers (1988), The Face of Fear (1990), Servants of Twilight (1991), Hideaway (1995), Mr. Murder (tv mini-series, 1998), Sole Survivor (tv mini-series, 2000), Black River (tv movie, 2001), Frankenstein (tv mini-series, 2004) and Odd Thomas (2013) – have with odd exceptions – Intensity (tv mini-series, 1997), Phantoms (1998) – rivaled the filmed works of King in terms of sheer banality.
Whispers starts out well with an attack on a woman that seems almost supernatural in its total lack of evidence found by the police and then the killer's apparent return from the dead. These scenes are filled with a number of strange and threatening images – Jean Le Clerc hiding on the roof of Victoria Tennant's elevator or going to sleep outside her bedroom with masking tape over his mouth. The very strangeness of the mystery holds one to it simply out of the desire of trying to figure out what is going on.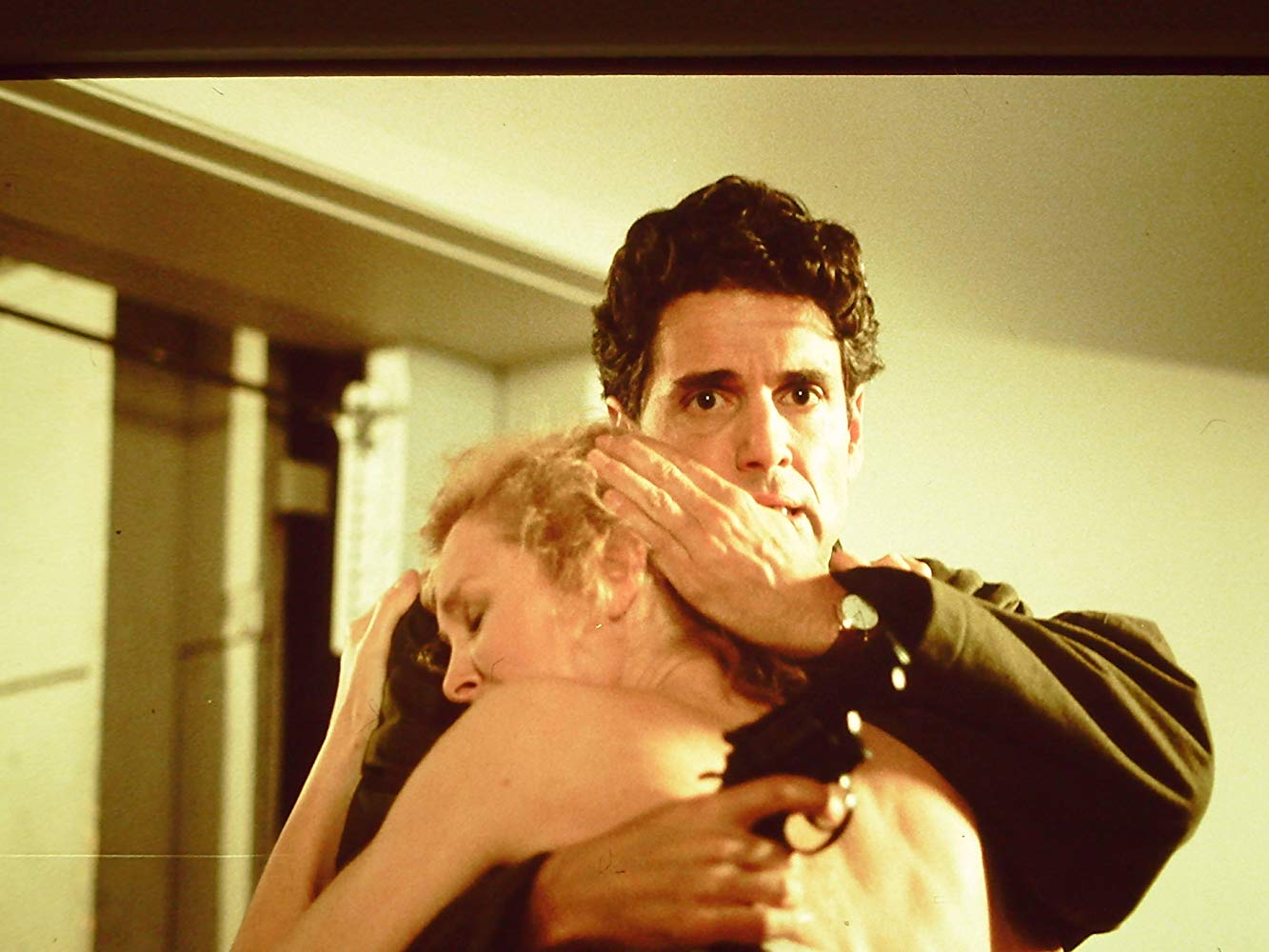 Unfortunately, the film fumbles it – and most of this appears to be Dean R. Koontz's fault. Dean R. Koontz is regrettably an author of contrivations. His stories only work in term of their intended impact, not when one examines them logically. In Whispers, the build-up and mystery is of no real relevance – the Satanism aspect is a blind, it is only a straight serial killer story with Koontz using the improbable twin angle (whose end revelation is preposterous and unbelievable in the psychology he asks us to believe) to try and fool us into believing it is an occult story.
Of even less relevance is the brief indication of vampirism. Furthermore, after an intriguing opening, Whispers mires down in a routine detective story. All the horror elements are dropped and the story could, for all the difference it makes, be a routine tv cop show investigation.
Canadian director Douglas Jackson has elsewhere mostly specialized in cable-made psycho-thrillers, including a great many for producer Pierre David. His other films of genre note are:- Deadbolt (1992), The Paperboy (1994), Stalked (1994), Natural Enemy (1997), Twists of Terror (1997), Requiem for Murder (1999), Someone is Watching (1999), Nowhere in Sight (2001), The Perfect Husband (2004), Stranger at the Door (2004), A Lover's Revenge (2005), The Perfect Neighbor (2005), Maid of Honor (2006), The Perfect Marriage (2006), The Rival (2006), Christie's Revenge (2007), Her Only Child (2008), The Perfect Assistant (2008) and A Nanny's Secret (2009).
---
---