Canada/USA. 2008.
Crew
Director – Paolo Barzman, Screenplay – Paul Margolis, Based on the Novel The Strange Case of Dr Jekyll and Mr Hyde by Robert Louis Stevenson, Producers – Irene Litinsky & Francois Sylvestre, Photography – Pierre Jodoin, Music – F.M. LeSieur, Production Design – Zoe Sakellarpoulo. Production Company – Muse Entertainment/RHI Entertainment.
Cast
Dougray Scott (Dr Henry Jekyll/Edward Hyde), Krista Bridges (Claire Wheaton), Tom Skerritt (Gabe Utterson), Danette MacKay (Mrs Poole), Cas Anwar (District Attorney McBride), Vlasta Vrana (Judge Paul Sheehan)
---
Plot
Boston medical researcher Henry Jekyll goes to lawyer Claire Wheaton and claims that he is responsible for a series of murders plaguing the city. He asks her to negotiate to have him locked away but will explain no more than that. She is sceptical but then finds that the locket he leaves her as evidence was worn by one of the murdered girls. She is followed by a sinister figure that people around Jekyll call Edward Hyde. Jekyll is arrested after his DNA is found on one of the murder victims. Claire learns of Jekyll's experiments with a drug that he discovered among the natives in South America, which he believed could bring out the evil side of human nature. She decides to argue in court that the real killer was not Jekyll but Hyde and that Hyde is a separate person.
---
Robert Louis Stevenson's The Strange Case of Dr Jekyll and Mr Hyde (1886) holds the record as the most-filmed ever horror story, with some thirty plus adaptations to date. (See below for other adaptations). This version produced for tv was one of a host of productions that came out in the mid-00s offering up modernised versions of the story. Others of these included the B-movies Jekyll + Hyde (2006) and The Strange Case of Dr Jekyll and Mr Hyde (2006), the excellent British tv series Jekyll (2007) with James Nesbitt, and the film Jekyll (2007) where Mr Hyde becomes a virtual reality creation. This version comes from the Canadian company Muse Entertainment and the American company RHI Entertainment, who have both produced a number of works for the Hallmark Channel.
You wonder, as you sit down to watch this version of Dr. Jekyll and Mr Hyde, what it is after exactly a century's worth of film adaptations, parodies, spinoffs, sequels and the like, that yet another version could hope to find that has not been said before. The answer is – not that much. Most of the show coasts by on our familiarity with the story and makes minimal effort to enliven it. This version does conduct a modernisation of the story.
The principal twist here is to retell the Dr Jekyll story in a courtroom environment – try and imagine the novelty of Dr. Jekyll and Mr Hyde now by way of The Practice (1997-2004). It starts with the interesting idea of Dougray Scott's Dr Jekyll going to ask Krista Bridges' lawyer to contact police to arrange for him to be convicted as soon as possible. She then becomes the point-of-view character for the bulk of the film. The dramatic thrust of the story has Jekyll placed on trial for Hyde's murders and Krista Bridges trying to argue that Hyde is a separate person and therefore Jekyll is not guilty.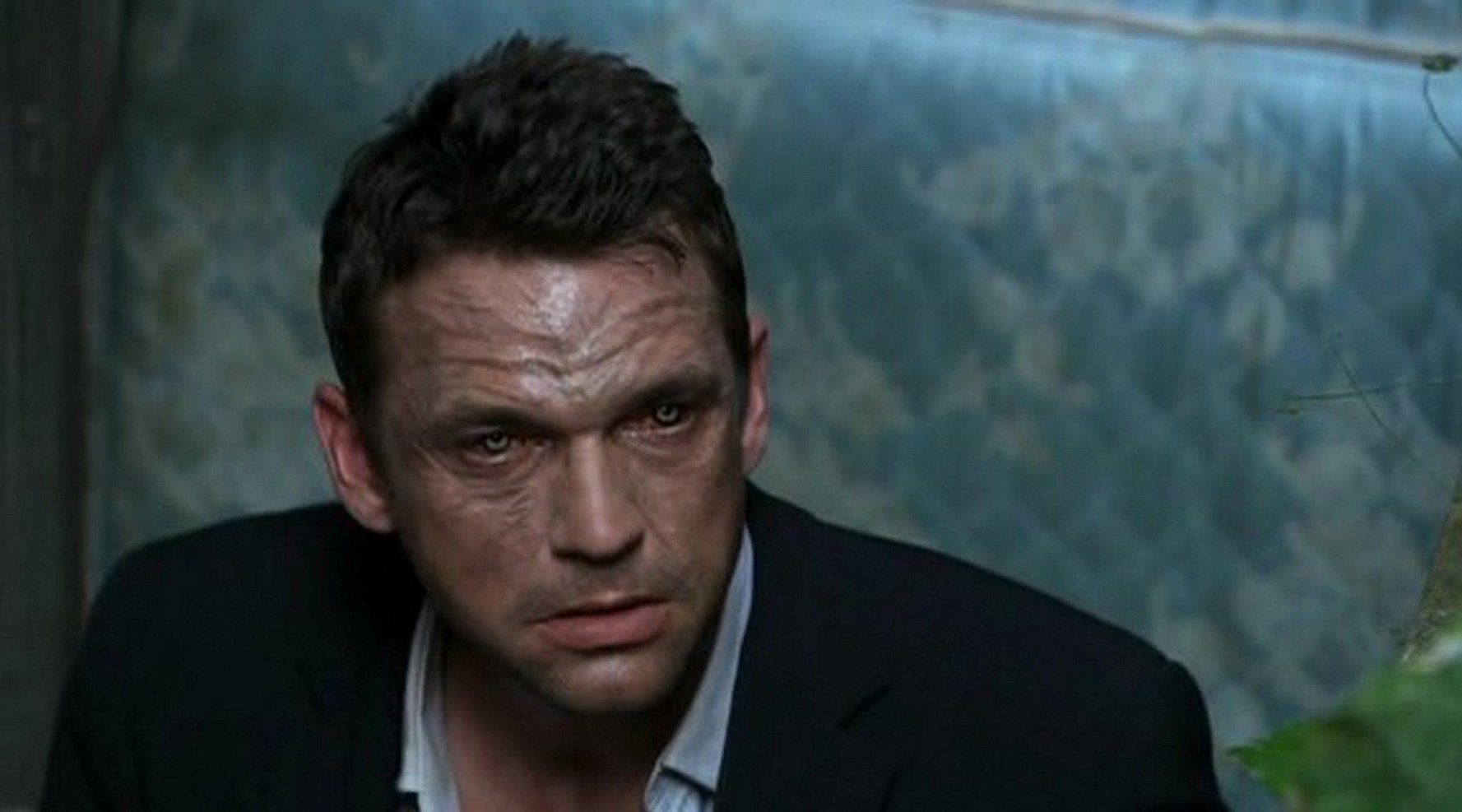 Dr. Jekyll and Mr Hyde is not a particularly interesting version of the story. Neither the script nor director Paolo Barzman place much effort into drama, suspense or horrific effect. The central roles are also miscast with Dougray Scott. Dougray is a dour actor. He makes a valiant effort to method act his way through the two parts but with unmemorable results. One peculiarity about this version is the surprising absence of appearances from Mr Hyde for much of the film. The times he does turn up are denoted by Dougray Scott wearing contact lenses, an effect the story does not need and something that should have been conveyed through acting rather than external gimmicks.
A full discussion of Jekyll and Hyde films is here under the Theme Essay Jekyll and Hyde Films. Other versions of Dr Jekyll and Mr Hyde are:– Dr Jekyll and Mr Hyde (1908); Dr Jekyll and Mr Hyde (1910) with Alvin Neuss; Dr Jekyll and Mr Hyde (1912) with James Cruze; Dr. Jekyll and Mr. Hyde (1913) with King Baggott; Dr. Jekyll and Mr. Hyde (1920) with John Barrymore; Dr Jekyll and Mr Hyde (1920) with Sheldon Lewis; Der Januskopf (1920), a lost German version with Conrad Veidt; the classic Dr. Jekyll and Mr. Hyde (1931) with Fredric March; Dr Jekyll and Mr Hyde (1941) with Spencer Tracy; Jean Renoir's The Testament of Dr Cordelier (1959) with Jean-Louis Barrault; The Two Faces of Dr Jekyll (1960), the Hammer version with Christopher Lee; Dr Jekyll and Mr Hyde (tv movie, 1968) with Jack Palance; I, Monster (1971) also with Christopher Lee; The Man with Two Heads (1972) with Denis DeMarne; Dr Jekyll and Mr Hyde (tv movie, 1973), a musical version with Kirk Douglas; Walerian Borowczyk's Dr Jekyll and His Women (1981) with Udo Kier; Dr Jekyll and Mr Hyde (tv movie, 1981) with David Hemmings; a 1985 Russian adaptation starring Innokenti Smoktonovsky; Edge of Sanity (1989) with Anthony Perkins; The Strange Case of Dr Jekyll and Mr Hyde an episode of the tv series Nightmare Classics (1989) with Anthony Andrews; Jekyll and Hyde (tv movie, 1990) with Michael Caine; My Name is Shadow (1996), a Spanish version starring Eric Gendron; a bizarre tv pilot Dr Jekyll and Mr Hyde (1999), which combined the story with Hong Kong martial arts and featured Adam Baldwin playing a Jekyll as a superhero in the Orient; Jekyll & Hyde: The Musical (2001) with David Hasselhoff; Dr Jekyll and Mr Hyde (2002) directed by and starring Mark Redfield; the excellent British tv reinterpretation Dr Jekyll & Mr Hyde (2002) with John Hannah; The Dr. Jekyll and Mr. Hyde Rock'n'Roll Musical (2003) with Alan Bernhoft; Jekyll (2004) starring Matt Keeslar; the modernised Jekyll + Hyde (2006) with Bryan Fisher; The Strange Case of Dr. Jekyll and Mr. Hyde (2006) with Tony Todd; and the modernised BBC tv series Jekyll (2007) with James Nesbitt.
Other variations include the would-be sequels Son of Dr Jekyll (1951), Daughter of Dr Jekyll (1957) and Dr Jekyll and the Wolfman (1972); the comedy variations Abbott and Costello Meet Dr Jekyll and Mr Hyde (1953), The Ugly Duckling (1959), the Italian My Friend, Dr Jekyll (1960) and The Nutty Professor (1963) with Jerry Lewis and its remake The Nutty Professor (1996) with Eddie Murphy; versions where Dr Jekyll turns into a woman with Dr Jekyll and Sister Hyde (1971), the Italian comedy Dr Jekyll and the Gentle Lady (1971) and Dr Jekyll and Ms Hyde (1995); the gender-reversed Madame Hyde (2017); a Looney Tunes cartoon Dr Jekyll's Hide (1954) where Sylvester the Cat transforms into a dog after taking the formula; the erotic/adult versions The Naughty Dr. Jekyll (1973), The Erotic Dr Jekyll (1976), Jekyll and Hyde (2000), Dr. Jekyll & Mistress Hyde (2003) and Jacqueline Hyde (2005); Dr Black and Mr Hyde (1976), a blaxploitation version where Jekyll is a Black man who turns into a white-skinned monster; the amusing send-up Jekyll and Hyde … Together Again (1982); a wacky children's tv series Julia Jekyll and Harriet Hyde (1995); Killer Bash (1996) set in a frat house with an avenging female Jekyll; the excellent deconstruction Mary Reilly (1996), which tells the story from the point-of-view of Jekyll's maid; while the tv series Jekyll and Hyde (2015) concerns Jekyll's grandson (Tom Bateman) hunted by various parties during the 1930s. Dr Jekyll appears as a character in The League of Extraordinary Gentlemen (2003) played by Jason Flemyng, in the tv series Penny Dreadful (2014-6) played by Shazad Latif and in The Mummy (2017) played by Russell Crowe, which all feature team-ups between Famous Monsters, while the animated The Pagemaster (1994) features a Dr Jekyll voiced by Leonard Nimoy.
---
Trailer here
---