---
USA. 1931.
Crew
Director – Rouben Mamoulian, Screenplay – Percy Heath & Samuel Hoffenstein, Based on the Novel by Robert Louis Stevenson, Photography (b&w) – Karl Struss. Production Company – Paramount.
Cast
Fredric March (Dr Henry Jekyll/Mr Hyde), Miriam Hopkins (Ivy Pearson), Rose Hobart (Muriel Carew), Halliwell Hobbes (Brigadier-General Danvers Carew), Holmes Herbert (Dr Lanyon), Edgar Norton (Poole)
---
Plot
Dr Henry Jekyll, an upstanding surgeon in Victorian England, is frustrated in his desire to marry his beloved Muriel Carew. Her pompous father insists that he must wait eight months so as to marry on the same date that he married his wife. Jekyll then perfects a formula that allows him to let the animal side of his nature free. Taking the formula, Jekyll physically transforms into a bestial creature that he calls Mr Hyde. Hyde roams the disreputable areas of London where he makes an innocent showgirl/prostitute his and keeps her in mortal terror. However, Dr Jekyll soon finds that he is unable to control Mr Hyde's appearances.
---
This is one of around 30+ adaptations of Robert Louis Stevenson's novella The Strange Case of Dr Jekyll and Mr Hyde (1886), which makes it the horror genre's most ever adapted story. (That is not counting various sequels featuring sons and daughters of Dr Jekyll, X-rated versions, musical versions, parodies, and versions where Dr Jekyll turns into a woman. See below for other adaptations). Whatever the case, this is the best of all the adaptations. It came out New Year's Eve of 1931, the same year that also brought us other classics such as the Boris Karloff Frankenstein (1931) and the Bela Lugosi Dracula (1931). Frankenstein, Dracula and Dr. Jekyll and Mr. Hyde are like a triumvirate of horror stories. They are, as Stephen King argued, the templates for most other horror stories. In turn, all three of these films have cast giant shadows over horror cinema in their formative treatment of the respective monsters, which continue to influence the genre to this day.
The Robert Louis Stevenson story is a work of psychological conjecture that predates what Sigmund Freud would later hypothesize about the individual's struggle between responsibility toward socialization (superego) and humanity's baser drives (the id). What makes this version of Dr. Jekyll and Mr. Hyde most interesting is the addition of clearly sexual undercurrents. Dr Jekyll is plainly frustrated in his love for Muriel by her father's insistence that he wait eight months for their marriage. To the story has now been added the character of a dancehall girl (which the film all but comes out and says is a hooker) with whom Hyde takes up. Throughout, the film maintains a bad girl/good girl polarity between the dancehall girl and Jekyll's fiancee as a sexual objectification of the dual divide of Jekyll's two natures – one girl represents virtue, the other represents wanton sexuality. This contrast is even more directly maintained in a number of scenes where a diagonal split-screen places one girl in either half of the screen.
For its time, the film's sexual undercurrents are surprisingly overt. (The Hays Code did not come into effect until 1934). When Jekyll first meets Ivy, he takes her up to her room and insists on a medical inspection of her legs in what must be one of the corniest come-on lines ever contrived: "You musn't wear such a tight garter – it impedes the circulation." Director Rouben Mamoulian must have been a leg man from the looks of it and correspondingly to highlight Jekyll's arousal, the camera zooms into a lovingly framed closeup of Ivy's bare leg and garter dangling from the bed beneath which she is naked. The dangling leg remains superimposed over a substantial section of the ensuing scene as though to echo and emphasize the imprint it has made in Jekyll's mind.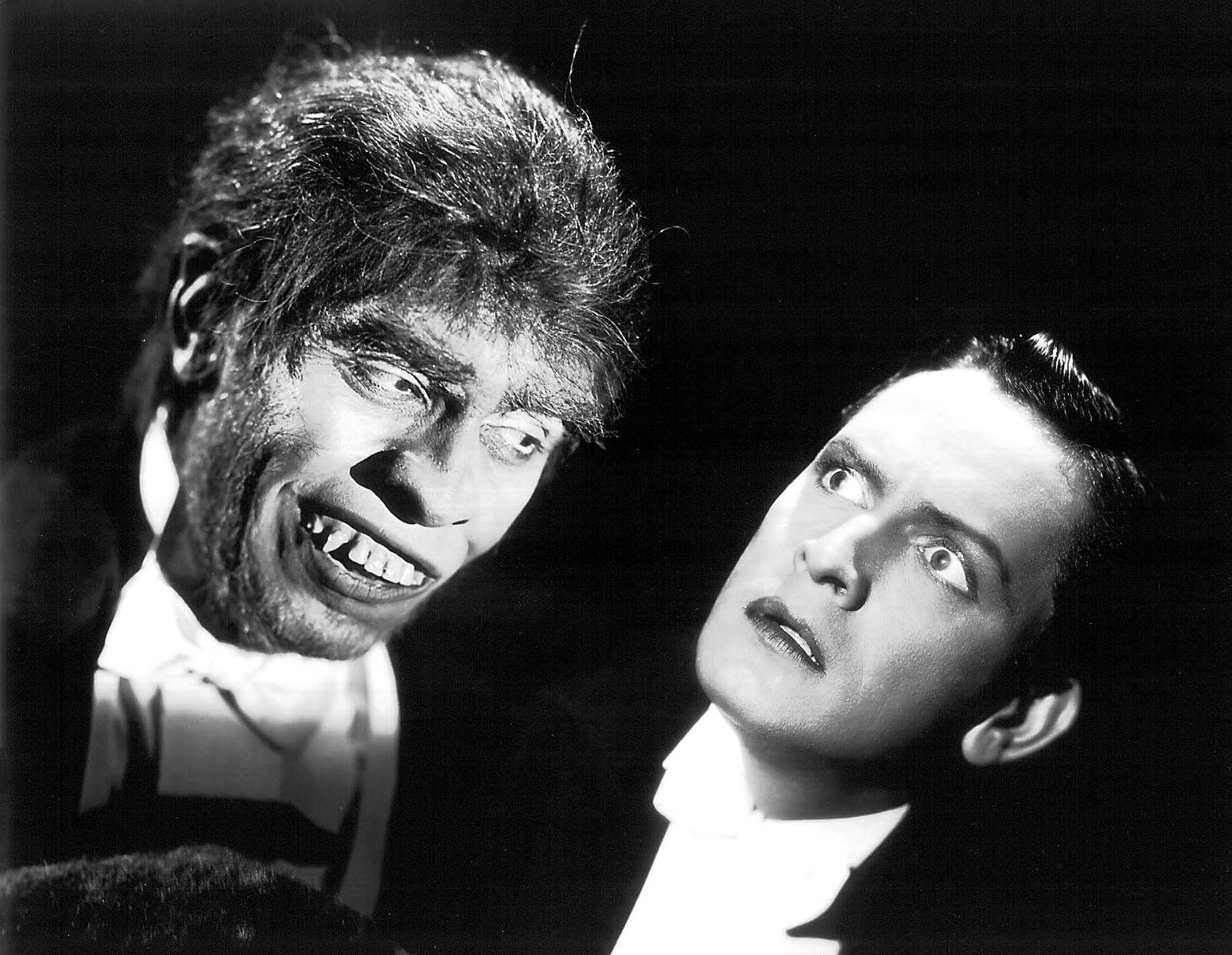 In most respects, this version's treatment of the basic story is no different to most other versions of Dr. Jekyll and Mr. Hyde before or since. What makes this version so distinctive is Rouben Mamoulian's flashy visual approach. In a unique move, Mamoulian determines to place the viewer inside Dr Jekyll's shoes – the first few minutes of the film all take place in first-person point-of-view camerawork as we follow Dr Jekyll playing the organ, dressing, catching his coach and arriving to give his lecture.
The purpose of this upon Rouben Mamoulian's part is to make us experience Dr Jekyll's transformation into Mr Hyde in the same way the character does. When the initial transformation occurs, Mamoulian again reverts to first-person point-of-view with 360-degree spins to show his disorientation – our first view of Hyde also becomes Jekyll's first view as he looks at himself in the mirror. The transformation sequences were conducted by the unique effect of painting Fredric March's face with certain types of greasepaint, the effects of which became more pronounced on the black-and-white film stock as different coloured lights were projected on his face. This was up until the 1980s one of the most effective screen transformations, light years ahead of the crude lap dissolves employed in The Wolf Man (1941) and the likes.
One of the great footnotes that Dr. Jekyll and Mr. Hyde has is that Fredric March won that year's Best Actor Oscar for the part(s), sharing the award with Wallace Beery in The Champ (1931). March gives an interesting performance, even if one is not sure that it is a great one. Certainly, his romantic longeurs to Rose Hobart are wretchedly over the top in their tortured banality. His Mr Hyde is one of the more bestial and least human, looking decidedly ape-like, yet Fredric March invests all the snarling and hopping about with a surprising intelligence. There is an especially good performance from Miriam Hopkins as the frightened Ivy, while Halliwell Hobbes is good as Muriel's insufferably pompous father.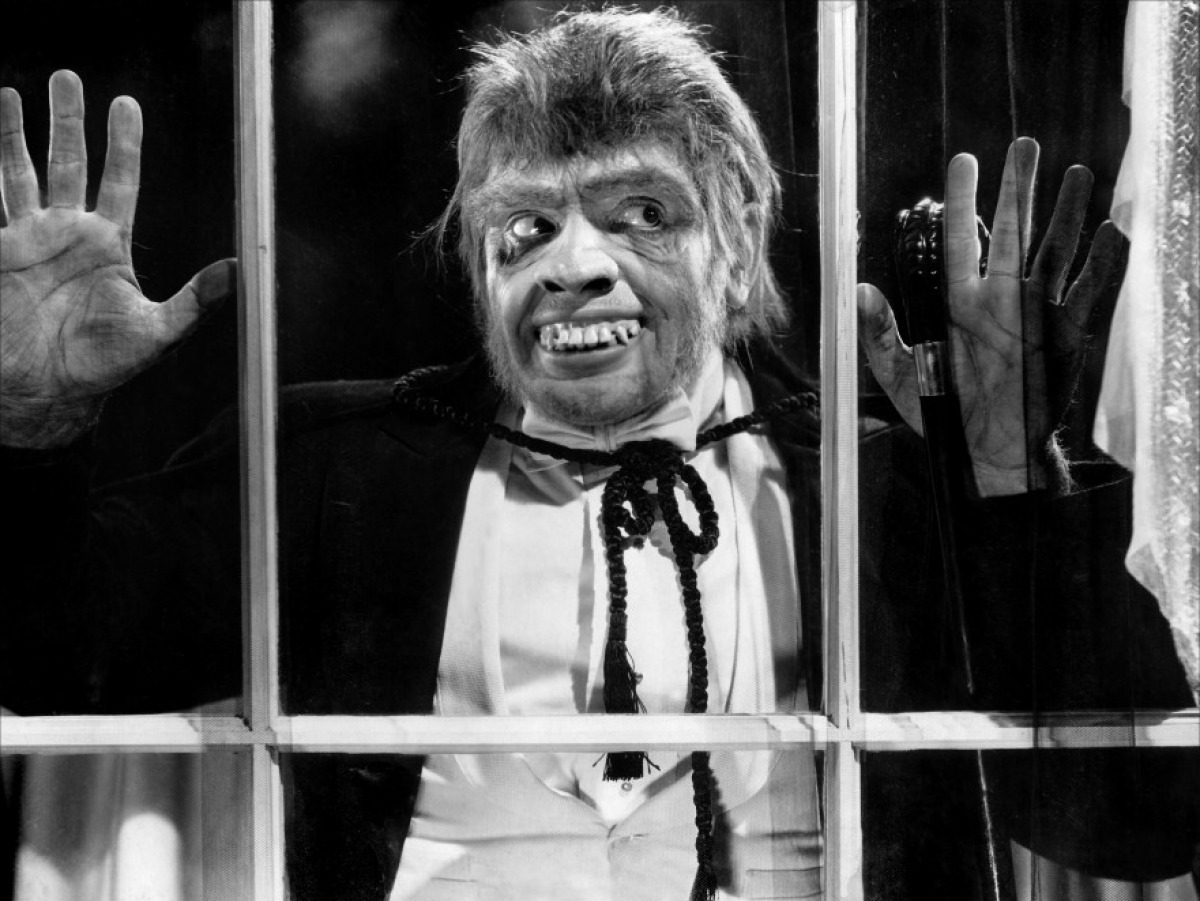 A full discussion of Jekyll and Hyde films is here under the Theme Essay Jekyll and Hyde Films. Other versions of Dr Jekyll and Mr Hyde are:– Dr Jekyll and Mr Hyde (1908); Dr Jekyll and Mr Hyde (1910) with Alvin Neuss; Dr Jekyll and Mr Hyde (1912) with James Cruze; Dr. Jekyll and Mr. Hyde (1913) with King Baggott; Dr. Jekyll and Mr. Hyde (1920) with John Barrymore; Dr Jekyll and Mr Hyde (1920) with Sheldon Lewis; Der Januskopf (1920), a lost German version with Conrad Veidt; Dr Jekyll and Mr Hyde (1941) with Spencer Tracy; Jean Renoir's The Testament of Dr Cordelier (1959) with Jean-Louis Barrault; The Two Faces of Dr. Jekyll (1960), the Hammer version with Christopher Lee; Dr Jekyll and Mr Hyde (tv movie, 1968) with Jack Palance; I, Monster (1971) also with Christopher Lee; The Man with Two Heads (1972) with Denis DeMarne; Dr Jekyll and Mr Hyde (tv movie, 1973), a musical version with Kirk Douglas; Walerian Borowczyk's Dr Jekyll and His Women (1981) with Udo Kier; Dr Jekyll and Mr Hyde (tv movie, 1981) with David Hemmings; a 1985 Russian adaptation starring Innokenti Smoktonovsky; Edge of Sanity (1989) with Anthony Perkins; The Strange Case of Dr Jekyll and Mr Hyde, an episode of the tv series Nightmare Classics (1989) with Anthony Andrews; Jekyll and Hyde (tv movie, 1990) with Michael Caine; My Name is Shadow (1996), a Spanish version starring Eric Gendron; a bizarre tv pilot Dr Jekyll and Mr Hyde (1999), which combined the story with Hong Kong martial arts and featured Adam Baldwin playing a Jekyll as a superhero in the Orient; Jekyll & Hyde: The Musical (2001) with David Hasselhoff; Dr Jekyll and Mr Hyde (2002) directed by and starring Mark Redfield; the excellent British tv reinterpretation Dr Jekyll & Mr Hyde (2002) with John Hannah; The Dr. Jekyll and Mr. Hyde Rock'n'Roll Musical (2003) with Alan Bernhoft; the modernised Jekyll + Hyde (2006) with Bryan Fisher; The Strange Case of Dr. Jekyll and Mr. Hyde (2006) with Tony Todd; the modernised BBC tv series Jekyll (2007) with James Nesbitt; Jekyll (2007) starring Matt Keeslar where Hyde becomes a virtual creation; and the modernised Dr. Jekyll and Mr Hyde (2008) starring Dougray Scott.
Other variations include the would-be sequels Son of Dr Jekyll (1951), Daughter of Dr Jekyll (1957) and Dr Jekyll and the Wolfman (1972); the comedy variations Abbott and Costello Meet Dr Jekyll and Mr Hyde (1953), The Ugly Duckling (1959), the Italian My Friend, Dr Jekyll (1960) and The Nutty Professor (1963) with Jerry Lewis and its remake The Nutty Professor (1996) with Eddie Murphy; versions where Dr Jekyll turns into a woman with Hammer's Dr Jekyll and Sister Hyde (1971), the Italian comedy Dr Jekyll and the Gentle Lady (1971) and Dr Jekyll and Ms Hyde (1995); the gender-reversed Madame Hyde (2017); a Looney Tunes cartoon Dr Jekyll's Hide (1954) where Sylvester the Cat transforms into a dog after taking the formula; the erotic/adult versions The Naughty Dr. Jekyll (1973), The Erotic Dr Jekyll (1976), Jekyll and Hyde (2000), Dr. Jekyll & Mistress Hyde (2003) and Jacqueline Hyde (2005); Dr Black and Mr Hyde (1976), a Blaxploitation version where Jekyll is a Black man who turns into a white-skinned monster; the amusing send-up Jekyll and Hyde … Together Again (1982); a wacky children's tv series Julia Jekyll and Harriet Hyde (1995); Killer Bash (1996) set in a frat house with an avenging female Jekyll; the excellent deconstruction Mary Reilly (1996), which tells the story from the point-of-view of Jekyll's maid; while the tv series Jekyll and Hyde (2015) concerns Jekyll's grandson (Tom Bateman) hunted by various parties during the 1930s. Dr Jekyll appears as a character in The League of Extraordinary Gentlemen (2003) played by Jason Flemyng, in the tv series Penny Dreadful (2014-6) played by Shazad Latif and in The Mummy (2017) played by Russell Crowe, which all feature team-ups between Famous Monsters, while the animated The Pagemaster (1994) features a Dr Jekyll voiced by Leonard Nimoy.
---
Trailer here
---