---
USA. 1941.
Crew
Director – Victor Fleming, Screenplay – John Lee Mahin, Based on the Novel by Robert Louis Stevenson, Photography (b&w) – Joseph Ruttenberg, Music – Franz Waxman, Special Effects – Warren Newcombe, Makeup – Jack Dawn, Art Direction – Daniel Cathcart & Cedric Gibbons. Production Company – MGM.
Cast
Spencer Tracy (Dr Henry Jekyll/Harry Hyde), Ingrid Bergman (Ivy Peterson), Lana Turner (Beatrix Emery), Donald Crisp (Sir Charles Emery), Ian Hunter (Dr John Lanyon), Peter Godfrey (Poole)
---
Plot
Henry 'Harry' Jekyll is interested in proving that evil does not exist, that there is only madness. In his laboratory, he experiments with a drug of his own concoction and drinks it. It brings out the evil side of his nature – a savage and bestial creature that he calls Mr Hyde. When Jekyll's fiancee's father takes her away, Jekyll goes out as Hyde and consorts with a Cockney tart, setting her up as his mistress where he beats and brutalizes her. However, Dr Jekyll soon finds that he cannot control the emergence of the Mr Hyde personality.
---
Robert Louis Stevenson's The Strange Case of Dr Jekyll and Mr Hyde (1886) has been an incredibly popular story on film with some 30+ adaptations having been made to date. In fact, there have been more versions made of Dr Jekyll and Mr Hyde than there have been of the cinematic perennials Frankenstein and Dracula put together. This version was made by Victor Fleming, the director of The Wizard of Oz (1939) and Gone with the Wind (1939). The Victor Fleming version was made only nine years after what is still recognized as the definitive version, Rouben Mamoulian's Dr Jekyll and Mr Hyde (1931) – a relatively short time period for a remake.
This version was made at the height of the 1940s vogue in Freudian psychology. However, instead of opening the story up, the Freudian interpretation ends up completely embalming it. Instead of a fight between civilized man and his animal nature, the story has taken on the view that evil does not exist, merely insanity – a potentially intriguing interpretation. However, the Freudian emphasis ends up being rather laughable – like the dream visions during the transformation with Spencer Tracy whipping a carriage with one white and one black horse, or the crude sexual symbolism represented by the one virtuous and one loose girl and images of the girls seen superimposed swimming in the bottle as Tracy is tempted to take the potion again.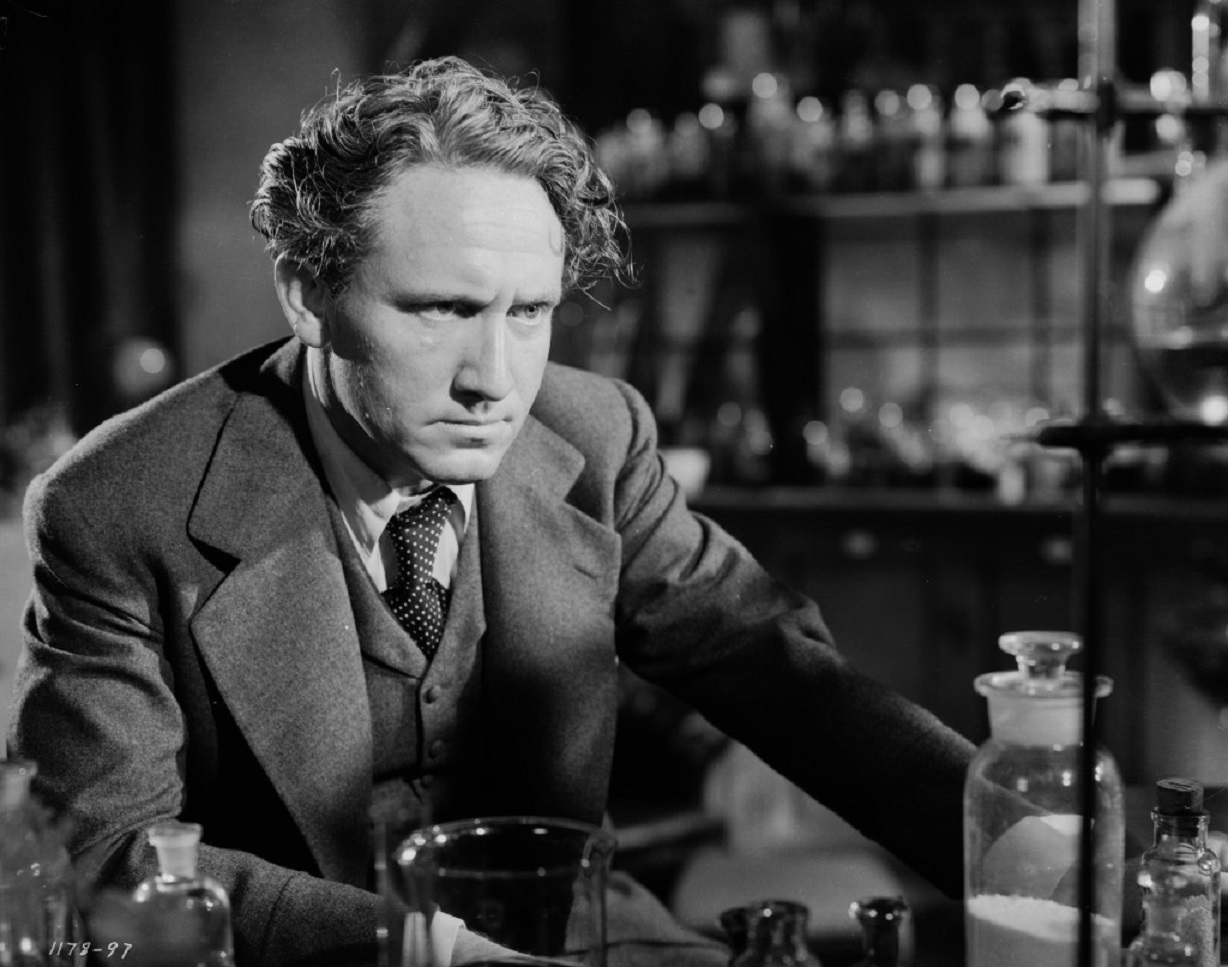 Somebody else could perhaps maybe have made something out of it but Victor Fleming directs the film as though it were a big-budget musical. Any potential atmosphere is wrung out of the film by the production design – the film is lavish but entirely stagebound, the streets of the West End are empty and bare of any lived-in quality. Fleming's handling is clumsy and the pace deadly slow. The crucial transformation sequence is entirely without impact – just a closeup on the bottles and liquids being poured and facial lap dissolves, all to canned music, no sound effects. This is a scene that should have been the film's dramatic highpoint.
This version of Dr Jekyll and Mr Hyde is a good example of misguided effort. Everything appears to have gone wrong. The casting of Ingrid Bergman as the Cockney tramp and Lana Turner as the virtuous fiancee is disastrous. Both were initially cast in the other's role but decided to swap because they were tired of being typecast. It is probably the only bad performance Ingrid Bergman ever gave. Halfway through, her Cockney cheekiness gets forgotten and Bergman returns to something more introverted and passive, the type of role she should have been cast in in the first place. On the other hand, Lana Turner is totally miscast as the fiancee, perpetually looking as though she wants to drag the good Jekyll away for some less reputable fun.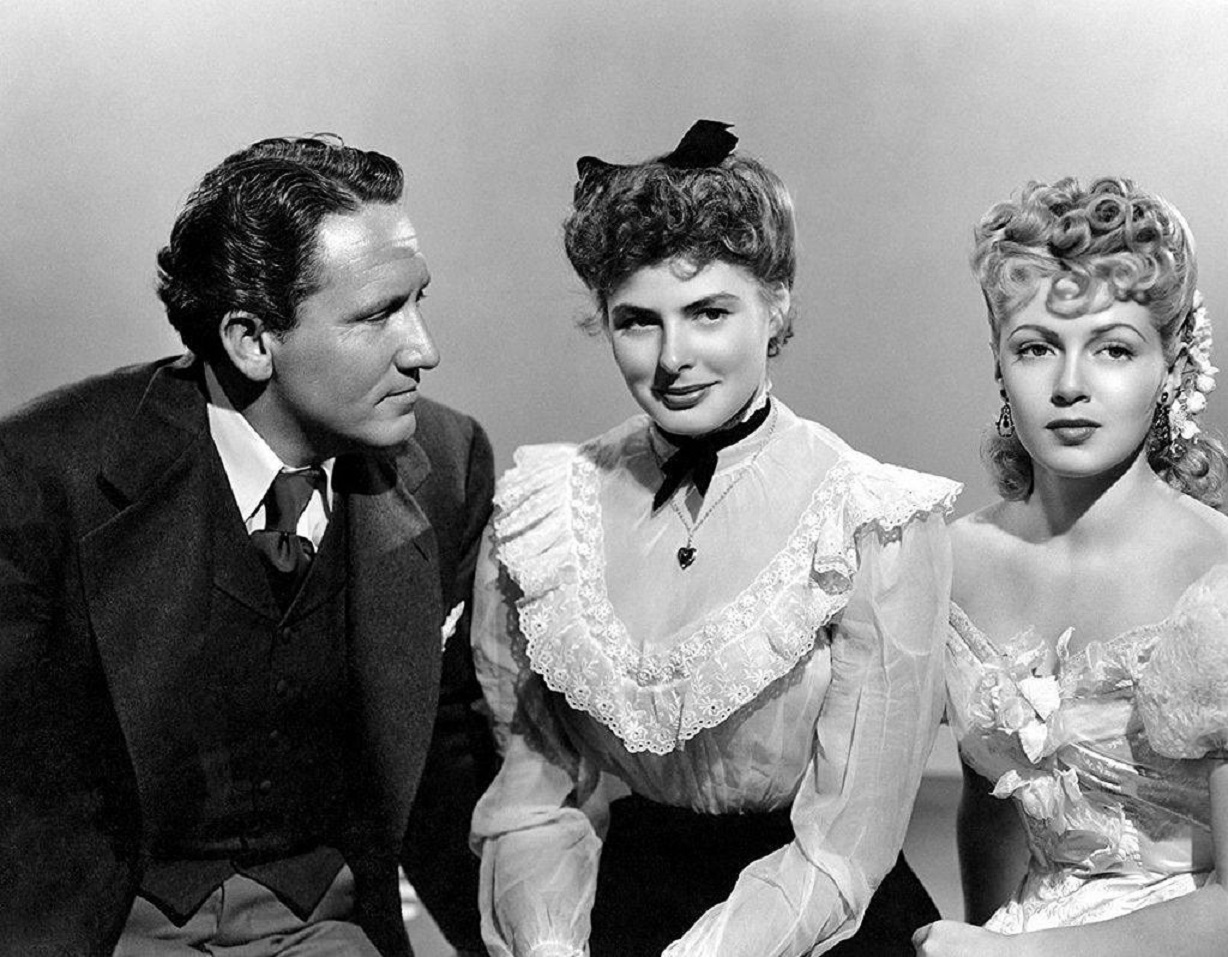 A full discussion of Jekyll and Hyde films is here under the Theme Essay Jekyll and Hyde Films. Other versions of Dr Jekyll and Mr Hyde are:– Dr Jekyll and Mr Hyde (1908); Dr Jekyll and Mr Hyde (1910) with Alvin Neuss; Dr Jekyll and Mr Hyde (1912) with James Cruze; Dr. Jekyll and Mr. Hyde (1913) with King Baggott; Dr. Jekyll and Mr. Hyde (1920) with John Barrymore; Dr Jekyll and Mr Hyde (1920) with Sheldon Lewis; Der Januskopf (1920), a lost German version with Conrad Veidt; the classic Dr. Jekyll and Mr. Hyde (1931) with Fredric March; Jean Renoir's The Testament of Dr Cordelier (1959) with Jean-Louis Barrault; The Two Faces of Dr Jekyll (1960), the Hammer version with Christopher Lee; Dr Jekyll and Mr Hyde (tv movie, 1968) with Jack Palance; I, Monster (1971) also with Christopher Lee; The Man with Two Heads (1972) with Denis DeMarne; Dr Jekyll and Mr Hyde (tv movie, 1973), a musical version with Kirk Douglas; Walerian Borowczyk's Dr Jekyll and His Women (1981) with Udo Kier; Dr Jekyll and Mr Hyde (tv movie, 1981) with David Hemmings; a 1985 Russian adaptation starring Innokenti Smoktonovsky; Edge of Sanity (1989) with Anthony Perkins; The Strange Case of Dr Jekyll and Mr Hyde an episode of the tv series Nightmare Classics (1989) with Anthony Andrews; Jekyll and Hyde (tv movie, 1990) with Michael Caine; My Name is Shadow (1996), a Spanish version starring Eric Gendron; a bizarre tv pilot Dr Jekyll and Mr Hyde (1999), which combined the story with Hong Kong martial arts and featured Adam Baldwin playing a Jekyll as a superhero in the Orient; Jekyll & Hyde: The Musical (2001) with David Hasselhoff; Dr Jekyll and Mr Hyde (2002) directed by and starring Mark Redfield; the excellent British tv reinterpretation Dr Jekyll & Mr Hyde (2002) with John Hannah; The Dr. Jekyll and Mr. Hyde Rock'n'Roll Musical (2003) with Alan Bernhoft; the modernised Jekyll + Hyde (2006) with Bryan Fisher; The Strange Case of Dr. Jekyll and Mr. Hyde (2006) with Tony Todd; the modernised BBC tv series Jekyll (2007) with James Nesbitt; Jekyll (2007) starring Matt Keeslar where Hyde becomes a virtual creation; and the modernised Dr. Jekyll and Mr Hyde (2008) starring Dougray Scott.
Other variations include the would-be sequels Son of Dr Jekyll (1951), Daughter of Dr Jekyll (1957) and Dr Jekyll and the Wolfman (1972); the comedy variations Abbott and Costello Meet Dr Jekyll and Mr Hyde (1953), The Ugly Duckling (1959), the Italian My Friend, Dr Jekyll (1960) and The Nutty Professor (1963) with Jerry Lewis and its remake The Nutty Professor (1996) with Eddie Murphy; versions where Dr Jekyll turns into a woman with Hammer's Dr Jekyll and Sister Hyde (1971), the Italian comedy Dr Jekyll and the Gentle Lady (1971) and Dr Jekyll and Ms Hyde (1995); the gender-reversed Madame Hyde (2017); a Looney Tunes cartoon Dr Jekyll's Hide (1954) where Sylvester the Cat transforms into a dog after taking the formula; the erotic/adult versions The Naughty Dr. Jekyll (1973), The Erotic Dr Jekyll (1976), Jekyll and Hyde (2000), Dr. Jekyll & Mistress Hyde (2003) and Jacqueline Hyde (2005); Dr Black and Mr Hyde (1976), a Blaxploitation version where Jekyll is a Black man who turns into a white-skinned monster; the amusing send-up Jekyll and Hyde … Together Again (1982); a wacky children's tv series Julia Jekyll and Harriet Hyde (1995); Killer Bash (1996) set in a frat house with an avenging female Jekyll; the excellent deconstruction Mary Reilly (1996), which tells the story from the point-of-view of Jekyll's maid; while the tv series Jekyll and Hyde (2015) concerns Jekyll's grandson (Tom Bateman) hunted by various parties during the 1930s. Dr Jekyll appears as a character in The League of Extraordinary Gentlemen (2003) played by Jason Flemyng, in the tv series Penny Dreadful (2014-6) played by Shazad Latif and in The Mummy (2017) played by Russell Crowe, which all feature team-ups between Famous Monsters, while the animated The Pagemaster (1994) features a Dr Jekyll voiced by Leonard Nimoy.
---
---