---
USA. 2006.
Crew
Director – Nick Stillwell, Screenplay – David T. Reilly & Nick Stillwell, Story Adaptation – David Court, Nigel Robbins, David T. Reilly, Nick Stillwell & Ean Thorley, Based on the Novel The Strange Case of Dr Jekyll and Mr Hyde by Robert Louis Stevenson, Producers – David Court, Nick Stillwell & Ean Thorley, Photography – Philip Robertson, Music – Patrick Doyle, Music Supervisor – Nicola Fletcher, Digital Effects – Clear Ltd (Supervisor – Adam Gascoyne), Special Effects Supervisor – Marianne Klein, Makeup Effects – Grand Unified Theories (A. Scott Hamilton & Maya Kulenovic), Production Design – Bob Sher. Production Company – Urban Chillers Films/J+H Films.
Cast
Bryan Fisher (Henry 'J' Jekyll), Bree Turner (Martha Utterson), Jeff Roop (Lanyon), Zachary Bennett (Dan), Maria Del Mar (Professor Jane Poole), Katrina Matthews (Mary Glover), Amanda Row (Heather Poole), Adam MacDonald (Josh Enfield), Robyn Palmer (Cindy), Landy Cannon (Jack)
---
Plot
Henry 'J' Jekyll is a med student at St Joseph's College. He and fellow student Mary Glover have synthesized a form of Ecstasy that they believe can transform the personality. Mary then dies from an overdose. Tired of being bullied, Jekyll starts to experiment with the drug, taking larger and larger doses in a desire to become someone else. Soon the people around Jekyll see that he has become much more confident and charming. At the same time, the mysterious Hyde appears and starts brutally beating women and then killing people.
---
Robert Louis Stevenson's The Strange Case of Dr Jekyll and Mr Hyde (1886) holds the record as the most filmed ever horror story with some 30 versions of the story having been made. Jekyll + Hyde is the first of these that have endeavoured to conduct a modernised version of the story. It was followed soon after by the excellent BBC tv series Jekyll (2007) with James Nesbitt, which attempted the same thing, as well as the film Jekyll (2007) that had Hyde appearing in Virtual Reality and the tv movie Dr. Jekyll and Mr Hyde (2008), which put Jekyll/Hyde into a courtroom. (See below for other versions of Dr Jekyll and Mr Hyde).
From the opening scenes, Jekyll + Hyde immediately announces that it is a modern version of the story. A title card tells us that Jekyll has been experimenting with the derivative of Ecstasy in attempts to find a medicinal use for designer drugs, while the story is intermittently told via a series of video diaries from Bryan Fisher's Jekyll, which pushes Jekyll + Hyde in the direction of The Blair Witch Project (1999) and its reality cam horror ilk. There is also the voiceover that with sly meta-fictional awareness tells us: "This isn't the first time this story has been told and it certainly won't be the last. But this is the real story."
As the film progresses, it becomes apparent that Jekyll + Hyde is an attempt to reconceptualise Dr Jekyll and Mr Hyde as a modern teen horror film. This is an idea that has one cringing, although at least the film starts in interestingly enough that one is prepared to give it enough rope to see where it takes things. This reconceptualisation changes the entire focus of Robert Louis Stevenson's moral struggle. In the book, Jekyll was an upstanding, morally responsible doctor who created a formula that brought out the bestial, animal-like 'evil' side of his nature, whereas here this has been replaced by the tame idea that Jekyll is a bullied underdog who invents a formula that gives him charisma, confidence and success with girls.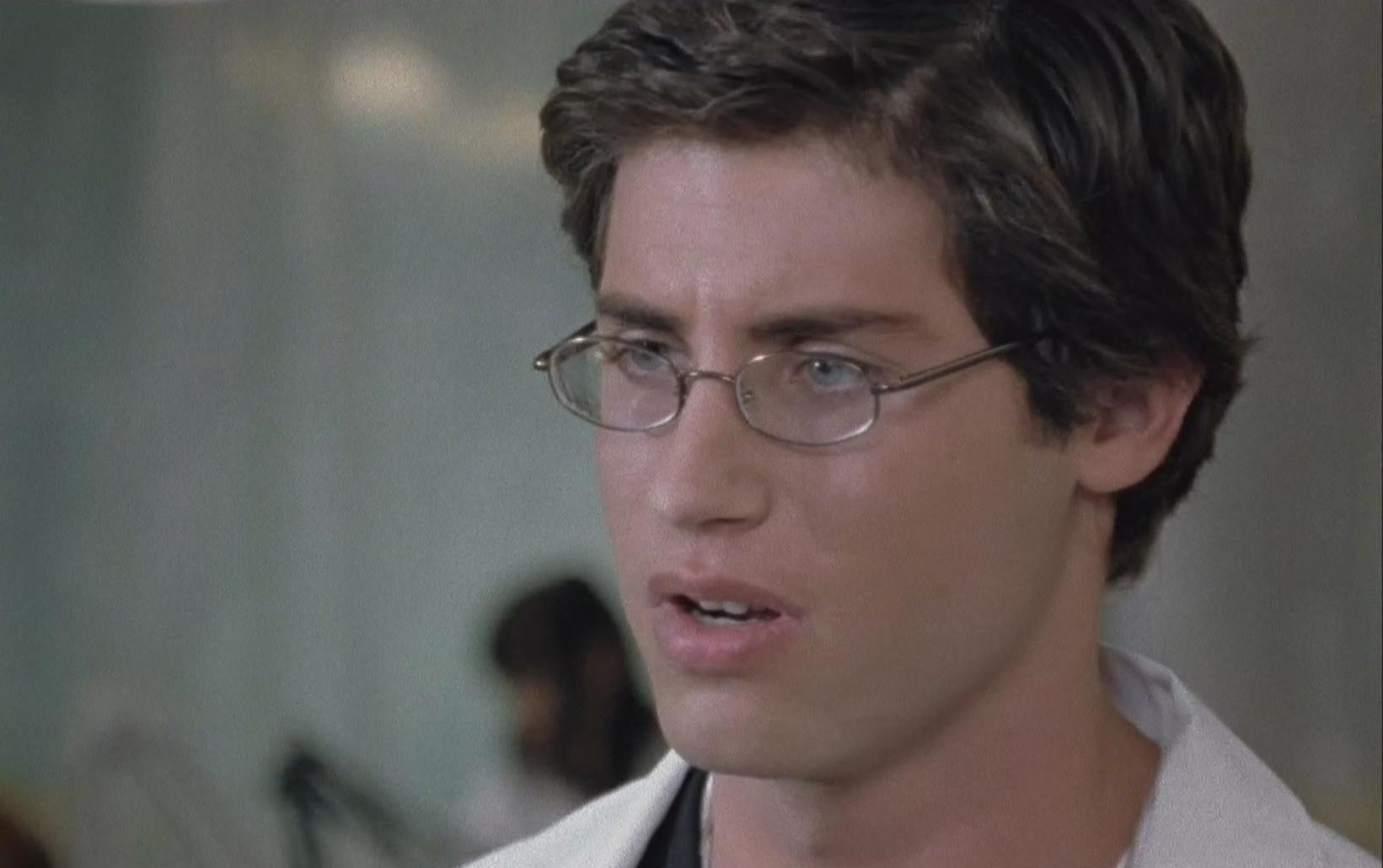 While the set-up of Jekyll + Hyde looked interesting, the film fails in the delivery. For one, the filmmakers have a confusing way of telling the story and the plot often seems all over the place. The film opens on the intriguing scene of Bryan Fisher's Jekyll waking up to find a dead body in his bath – just as someone starts knocking at the door. One sits expecting that the film will then conduct a flashback showing the events leading up to this point. It seems to be doing so for a time but gradually it becomes apparent that this is not the case and so we end up with an odd plot structure where the film goes from Jekyll waking up alongside a dead body with no memory to him then starting to experiment with drug using himself as subject. (No explanation is subsequently provided of the body either). Nor is there ever any scene that you would expect in a film like this where we see Jekyll take the formula and transform. Jekyll's co-experimenter Mary Glover is mentioned in the opening credits but dies before the story starts – exactly what caused her to die we never find out either. There is also a tameness to the film – that is, aside from an amusingly gratuitous scene where Landy Cannon and Robyn Palmer have sex on a morgue table, even if this scene never relates to anything else in the plot.
As Jekyll, Bryan Fisher has weak, wimpy features and seems perfectly suited to playing the bespectacled nerd. He also makes a physically convincing chameleon shift to play the smoothly handsome and assured half of the personality. Alas, when it comes to the acting, Bryan Fisher seems too young to have the range of nuance and depth that can make his essayal of the role sit among the other classic airings of the part.
A full discussion of Jekyll and Hyde films is here under the Theme Essay Jekyll and Hyde Films. Other versions of Dr Jekyll and Mr Hyde are:– Dr Jekyll and Mr Hyde (1908); Dr Jekyll and Mr Hyde (1910) with Alvin Neuss; Dr Jekyll and Mr Hyde (1912) with James Cruze; Dr. Jekyll and Mr. Hyde (1913) with King Baggott; Dr. Jekyll and Mr. Hyde (1920) with John Barrymore; Dr Jekyll and Mr Hyde (1920) with Sheldon Lewis; Der Januskopf (1920), a lost German version with Conrad Veidt; the classic Dr. Jekyll and Mr. Hyde (1931) with Fredric March; Dr Jekyll and Mr Hyde (1941) with Spencer Tracy; Jean Renoir's The Testament of Dr Cordelier (1959) with Jean-Louis Barrault; The Two Faces of Dr. Jekyll (1960), the Hammer version with Christopher Lee; Dr Jekyll and Mr Hyde (tv movie, 1968) with Jack Palance; I, Monster (1971) also with Christopher Lee; The Man with Two Heads (1972) with Denis DeMarne; Dr Jekyll and Mr Hyde (tv movie, 1973), a musical version with Kirk Douglas; Walerian Borowczyk's Dr Jekyll and His Women (1981) with Udo Kier; Dr Jekyll and Mr Hyde (tv movie, 1981) with David Hemmings; a 1985 Russian adaptation starring Innokenti Smoktonovsky; Edge of Sanity (1989) with Anthony Perkins; The Strange Case of Dr Jekyll and Mr Hyde an episode of the tv series Nightmare Classics (1989) with Anthony Andrews; Jekyll and Hyde (tv movie, 1990) with Michael Caine; My Name is Shadow (1996), a Spanish version starring Eric Gendron; a bizarre tv pilot Dr Jekyll and Mr Hyde (1999), which combined the story with Hong Kong martial arts and featured Adam Baldwin playing a Jekyll as a superhero in the Orient; Jekyll & Hyde: The Musical (2001) with David Hasselhoff; Dr Jekyll and Mr Hyde (2002) directed by and starring Mark Redfield; the excellent British tv reinterpretation Dr Jekyll & Mr Hyde (2002) with John Hannah; The Dr. Jekyll and Mr. Hyde Rock'n'Roll Musical (2003) with Alan Bernhoft; The Strange Case of Dr. Jekyll and Mr. Hyde (2006) with Tony Todd; the modernised BBC tv series Jekyll (2007) with James Nesbitt; Jekyll (2007) starring Matt Keeslar where Hyde becomes a virtual creation; and the modernised Dr. Jekyll and Mr Hyde (2008) starring Dougray Scott.
Other variations include the would-be sequels Son of Dr Jekyll (1951), Daughter of Dr Jekyll (1957) and Dr Jekyll and the Wolfman (1972); the comedy variations Abbott and Costello Meet Dr Jekyll and Mr Hyde (1953), The Ugly Duckling (1959), the Italian My Friend, Dr Jekyll (1960) and The Nutty Professor (1963) with Jerry Lewis and its remake The Nutty Professor (1996) with Eddie Murphy; versions where Dr Jekyll turns into a woman with Dr Jekyll and Sister Hyde (1971), the Italian comedy Dr Jekyll and the Gentle Lady (1971) and Dr Jekyll and Ms Hyde (1995); the gender-reversed Madame Hyde (2017); a Looney Tunes cartoon Dr Jekyll's Hide (1954) where Sylvester the Cat transforms into a dog after taking the formula; the erotic/adult versions The Naughty Dr. Jekyll (1973), The Erotic Dr Jekyll (1976), Jekyll and Hyde (2000), Dr. Jekyll & Mistress Hyde (2003) and Jacqueline Hyde (2005); Dr Black and Mr Hyde (1976), a Blaxploitation version where Jekyll is a Black man who turns into a white-skinned monster; the amusing send-up Jekyll and Hyde … Together Again (1982); a wacky children's tv series Julia Jekyll and Harriet Hyde (1995); Killer Bash (1996) set in a frat house with an avenging female Jekyll; the excellent deconstruction Mary Reilly (1996), which tells the story from the point-of-view of Jekyll's maid; while the tv series Jekyll and Hyde (2015) concerns Jekyll's grandson (Tom Bateman) hunted by various parties during the 1930s. Dr Jekyll appears as a character in The League of Extraordinary Gentlemen (2003) played by Jason Flemyng, in the tv series Penny Dreadful (2014-6) played by Shazad Latif and in The Mummy (2017) played by Russell Crowe, which all feature team-ups between Famous Monsters, while the animated The Pagemaster (1994) features a Dr Jekyll voiced by Leonard Nimoy.
---
Trailer here
---