---
UK. 1989.
Crew
Director – Gerard Kikoine, Screenplay – J.P. Felix & Ron Raley, Based on the Novel The Strange Case of Dr Jekyll and Mr Hyde by Robert Louis Stevenson, Producers – Edward Simons & Harry Alan Towers, Photography – Tony Spratling, Music – Frederic Talgorn, Special Effects – Ian Wingrove, Makeup – Gordon Kaye, Production Design – Jean Charles Dedieu. Production Company – Allied Vision.
Cast
Anthony Perkins (Dr Henry Jekyll/Jack Hyde), Glynis Barber (Elisabeth Jekyll), Sarah Maur-Thorp (Susannah), Ben Cole (Johnny), Ray Jewers (Inspector Newcomen)
---
Plot
When a lab monkey knocks chemicals onto the drug that Henry Jekyll is experimenting with and he accidentally ingests the mix, it brings out another personality inside him. He rapidly becomes addicted to the drug and under its influence goes out into the night to slaughter prostitutes and indulge in sadomasochistic orgies.
---
This is probably the worst ever adaptation of Robert Louis Stevenson's The Strange Case of Dr Jekyll and Mr Hyde (1886). It was once said of producer and sometimes screenwriter Harry Alan Towers (alias Peter Welbeck) that he is someone who prefers to make a dollar dishonestly than ten dollars honestly – he, for instance, defied trade sanctions during the 1980s to shoot in South Africa.
Edge of Sanity is Harry Alan Towers' take on Dr Jekyll and Mr Hyde, done in pretty much the same manner as his collaborations with Jesus Franco or the various adaptations of the Marquis De Sade he produced in the late 60s/early 70s. (Although, the Harry Alan Towers film that Edge of Sanity resembles most is Dorian Grey (1970), which similarly turned a Victorian classic into a dreadful sado-pornographic film).
Edge of Sanity is rather sleazy and unpleasant. The film is decked out with scenes of Anthony Perkins masturbating tarts with his cane or whacking off in the midst of drug-induced S&M orgies. It is probably the most lunatically over-the-top and trashiest role that Anthony Perkins ever played. (The Hyde part, with Perkins decked out in red eyeliner and jelled cowlick, amusingly seems to have been modelled on Iggy Pop).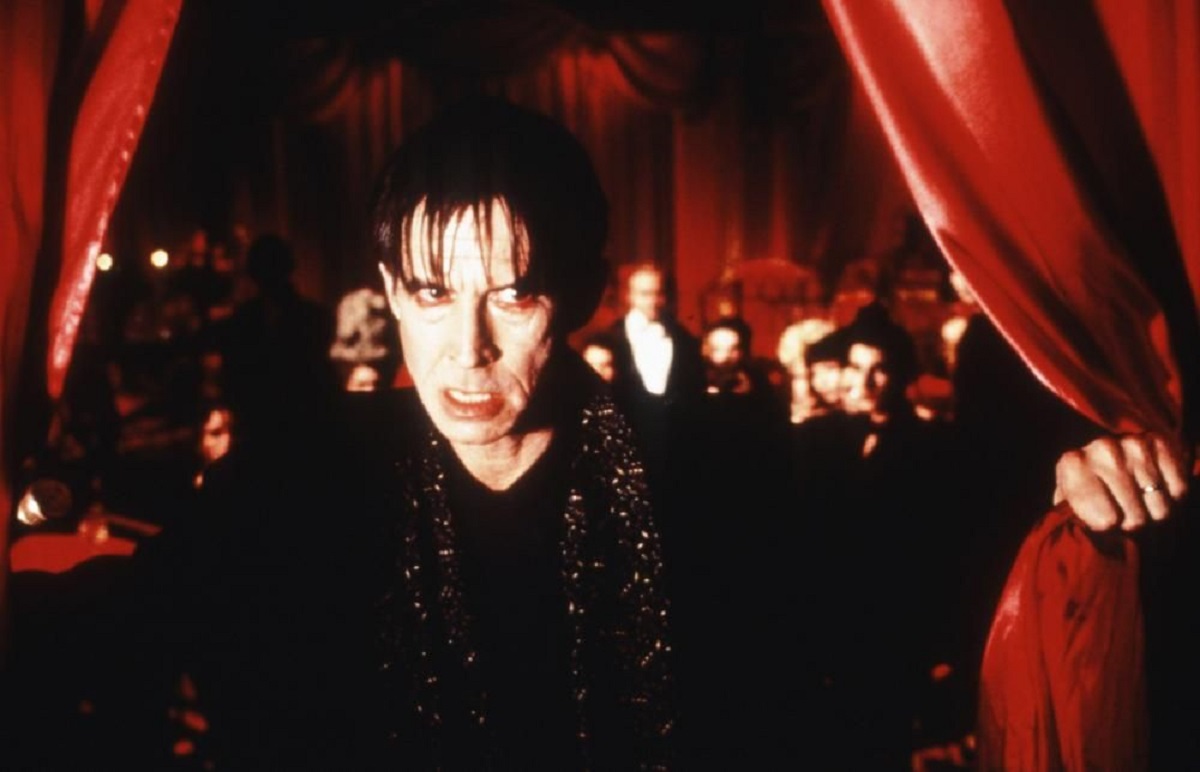 This version adds absolutely nothing to the Robert Louis Stevenson story – the Mr Hyde as Jack the Ripper angle has been done before and the film does nothing new with it. Although, Edge of Sanity may be the only version wherein Jekyll is not killed and his evil side wins out at the end. The film also adds a pseudo-Freudian origin with Jekyll being whipped as a boy for witnessing a couple having sex, which is supposed to be explain why Jekyll kills women. You realize eventually that this is more a film about a coke-addicted serial killer than anything to do with the duality of good and evil.
Director Gerard Kikoine had previously made a number of adult erotic films in his native France. Kikoine's one other venture into horror material was the Edgar Allan Poe adaptation Buried Alive (1989).
Other versions of Dr Jekyll and Mr Hyde include:– Dr Jekyll and Mr Hyde (1908); Dr Jekyll and Mr Hyde (1910) with Alvin Neuss; Dr Jekyll and Mr Hyde (1912) with James Cruze; Dr. Jekyll and Mr. Hyde (1913) with King Baggott; Dr. Jekyll and Mr. Hyde (1920) with John Barrymore; Dr Jekyll and Mr Hyde (1920) with Sheldon Lewis; Der Januskopf (1920), a lost German version with Conrad Veidt; the classic Dr. Jekyll and Mr. Hyde (1931) with Fredric March; Dr Jekyll and Mr Hyde (1941) with Spencer Tracy; Jean Renoir's The Testament of Dr Cordelier (1959) with Jean-Louis Barrault; The Two Faces of Dr. Jekyll (1960), the Hammer version with Christopher Lee; Dr Jekyll and Mr Hyde (tv movie, 1968) with Jack Palance; I, Monster (1971) also with Christopher Lee; The Man with Two Heads (1972) with Denis DeMarne; Dr Jekyll and Mr Hyde (tv movie, 1973), a musical version with Kirk Douglas; Walerian Borowczyk's Dr Jekyll and His Women (1981) with Udo Kier; Dr Jekyll and Mr Hyde (tv movie, 1981) with David Hemmings; a 1985 Russian adaptation starring Innokenti Smoktonovsky; The Strange Case of Dr Jekyll and Mr Hyde an episode of the tv series Nightmare Classics (1989) with Anthony Andrews; Jekyll and Hyde (tv movie, 1990) with Michael Caine; My Name is Shadow (1996), a Spanish version starring Eric Gendron; a bizarre tv pilot Dr Jekyll and Mr Hyde (1999), which combined the story with Hong Kong martial arts and featured Adam Baldwin playing a Jekyll as a superhero in the Orient; Jekyll & Hyde: The Musical (2001) with David Hasselhoff; Dr Jekyll and Mr Hyde (2002) directed by and starring Mark Redfield; the excellent British tv reinterpretation Dr Jekyll & Mr Hyde (2002) with John Hannah; The Dr. Jekyll and Mr. Hyde Rock'n'Roll Musical (2003) with Alan Bernhoft; the modernised Jekyll + Hyde (2006) with Bryan Fisher; The Strange Case of Dr. Jekyll and Mr. Hyde (2006) with Tony Todd; the modernised BBC tv series Jekyll (2007) with James Nesbitt; Jekyll (2007) starring Matt Keeslar where Hyde becomes a virtual creation; and the modernised Dr. Jekyll and Mr Hyde (2008) starring Dougray Scott.
Other variations include the would-be sequels Son of Dr Jekyll (1951), Daughter of Dr Jekyll (1957) and Dr Jekyll and the Wolfman (1972); the comedy variations Abbott and Costello Meet Dr Jekyll and Mr Hyde (1953), The Ugly Duckling (1959), the Italian My Friend, Dr Jekyll (1960) and The Nutty Professor (1963) with Jerry Lewis and its remake The Nutty Professor (1996) with Eddie Murphy; versions where Dr Jekyll turns into a woman with Dr Jekyll and Sister Hyde (1971), the Italian comedy Dr Jekyll and the Gentle Lady (1971) and Dr Jekyll and Ms Hyde (1995); the gender-reversed Madame Hyde (2017); a Looney Tunes cartoon Dr Jekyll's Hide (1954) where Sylvester the Cat transforms into a dog after taking the formula; the erotic/adult versions The Naughty Dr. Jekyll (1973), The Erotic Dr Jekyll (1976), Jekyll and Hyde (2000), Dr. Jekyll & Mistress Hyde (2003) and Jacqueline Hyde (2005); Dr Black and Mr Hyde (1976), a Blaxploitation version where Jekyll is a Black man who turns into a white-skinned monster; the amusing sendup Jekyll and Hyde … Together Again (1982); and a wacky children's tv series Julia Jekyll and Harriet Hyde (1995); Killer Bash (1996) set in a frat house with an avenging female Jekyll; the excellent deconstruction Mary Reilly (1996), which tells the story from the point-of-view of Jekyll's maid; while the tv series Jekyll and Hyde (2015) concerns Jekyll's grandson (Tom Bateman) hunted by various parties during the 1930s. Dr Jekyll appears as a character in The League of Extraordinary Gentlemen (2003) played by Jason Flemyng, in the tv series Penny Dreadful (2014-6) played by Shazad Latif and in The Mummy (2017) played by Russell Crowe, which all feature team-ups between Famous Monsters, while the animated The Pagemaster (1994) features a Dr Jekyll voiced by Leonard Nimoy.
---
Trailer here
---