(La Belle et la Béte)
---
Crew
Director/Screenplay – Jean Cocteau, Based on the Fairy-Tale by Madame Le Prince de Beaumont, Photography (b&w) – Henri Alekan, Music – Georges Auric, Makeup – Arakelian, Production Design – Christian Berard & Carre. Production Company – Andre Paulve
Cast
Josette Day (Beauty), Jean Marais (The Beast/Avenant), Marcel Andre (Beauty's Father), Michel Auclair (Ludovic), Mila Parely (Adelaide), Nane Germon (Felicie)
---
Plot
After her father has been impoverished by the loss of all his ships at sea, Beauty is forced to work as a servant by her two vain sisters and layabout brother. News then comes that one of the ships has been found and so her father sets out to reclaim it. The sisters want him to return with extravagant presents but all that Beauty asks is for a single rose. However, when the father arrives at the port, he finds that his creditors have seized the ship. Returning home, he becomes lost in the forest and eventually comes upon a castle. There doors mysteriously open and living hands light the way and prepare food for him. In the morning, he goes to leave but first plucks a rose from the garden to take home to Beauty. A fearsome Beast appears and prepares to kill him for stealing one of his favourite roses. The Beast agrees to spare the father if he will convince one of his daughters to take his place. The father returns home and Beauty takes it upon herself to take his place. Upon seeing the Beast's appearance, Beauty is horrified and faints. Each night subsequently, the Beast returns, asking Beauty to marry him and each night she refuses him. Meanwhile, the greedy sisters, now impoverished, scheme of ways to steal The Beast's riches, while a would-be paramour makes plans to kill the Beast and win Beauty for himself.
---
Jean Cocteau (1889-1963) is considered one of the great figures of French art in the early half of the 20th Century. Cocteau had an extraordinary versatility in terms of the mediums he conversed with – he was a poet, novelist, playwright, painter and filmmaker. Born of a wealthy Parisian family, Cocteau first published a book of poetry Aladdin's Lamp (1908) at the age of nineteen. He then fell in amongst a group of artistes living in Paris, which included Pablo Picasso, Marcel Proust, Igor Stravinsky and expatriate Russian ballet master Sergei Diaghliev. The latter inspired Cocteau to write a ballet Parade (1917), a work of comic surrealism with sets designed by Picasso, which proved to be a flop. Cocteau published his first novel with Le Potomak (1917), which was also his first venture into fantasy, concerning a sea monster that lives in a Parisian aquarium.
After serving as an ambulance driver on the Belgian front during World War I, Cocteau began publishing in earnest, producing what are considered his two best novels, Thomas the Impostor (1923) and Les Enfants Terribles (1929), and the acclaimed play The Infernal Machine (1934). It was with the surrealist short film The Blood of a Poet (1930) that Cocteau began to branch out as a filmmaker. He made nine films as a director and wrote the screenplays for several others, five of which fall within genre guidelines.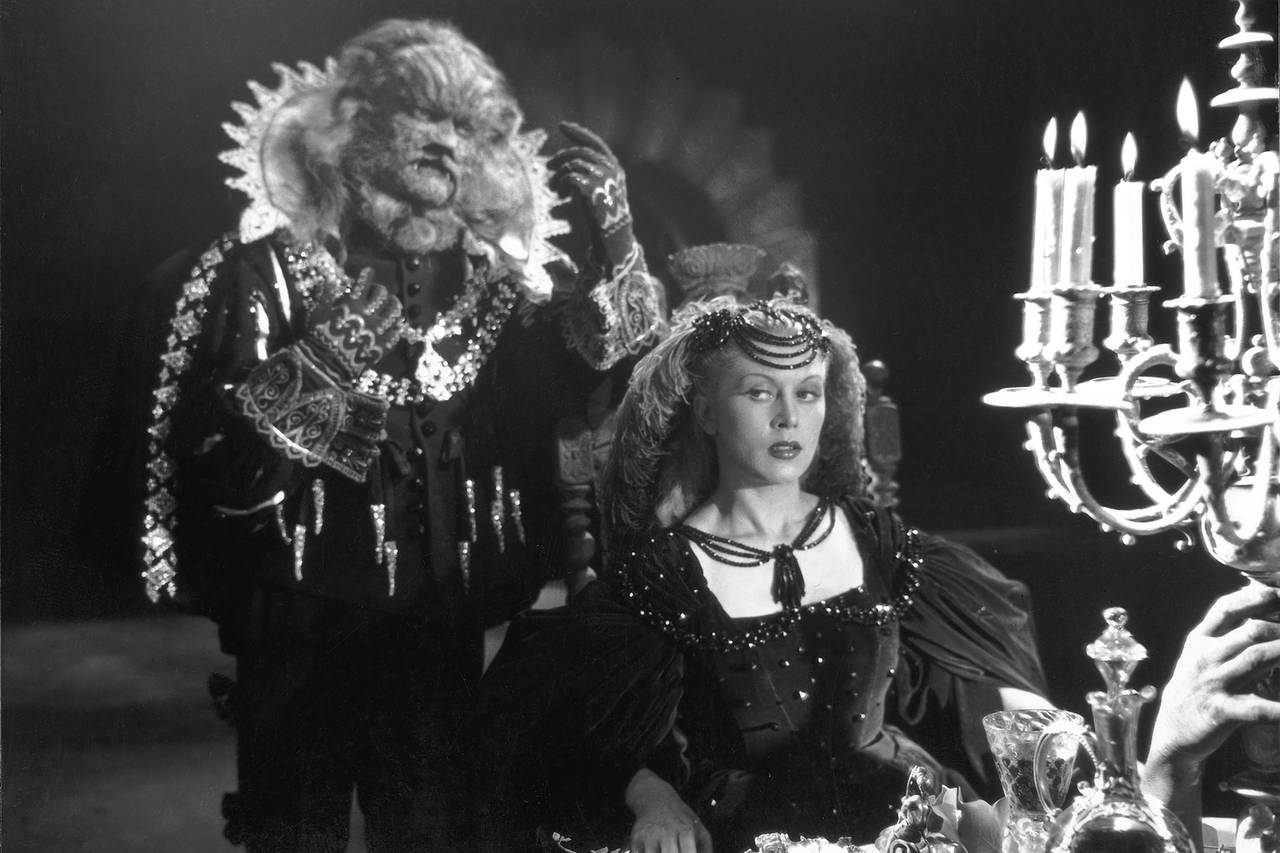 As an artist/filmmaker, Jean Cocteau's work is caught between French pseudo-intellectualism and a fascination with fantasy. Throughout his plays and films, Cocteau is constantly playing with and deconstructing fairytales and classic mythology – the legends of Orpheus, King Arthur, Oedipus Rex. Over much of his fantasy, there hangs a melancholy obsession with death – Cocteau's father committed suicide when he was ten years old – as both a literal figure and a metaphor that obsesses Cocteau's protagonists.
Beauty and the Beast was made immediately following World War II after producer Andre Paulve decided that audiences needed something escapist to forget the horrors of the Occupation. One comes to Beauty and the Beast after having seen both Cocteau's Orpheus (1950) and The Testament of Orpheus (1960). In these, Cocteau delivers moments of great visual poetry but these films also have a tendency to get drowned out by familiar French pseudo-intellectual posturing. Seeing Beauty and the Beast, the least that one expected to find was what is perhaps the greatest of all fantasy films. Given a straightforward storyline, Cocteau forgets about intellectual pseudo-profundities and simply allows visual poetry alone to carry the film. Unfettered by anything else, he creates perhaps the most extraordinary evocation of the fairy-tale ever put on film – the only rival one can ever think of is arguably Ridley Scott's much-maligned Legend (1985).
Of all of Jean Cocteau's films, Beauty and the Beast is one that works the best. Cocteau evokes a pure cinematic magic. The father's entrance into the castle is a scene of extraordinarily magical power – hands lighting up candelabra to highlight the way for him, a whole hall of such candelabras held by living hands, faces in the marble of the fireplace that puff smoke, more hands pointing the way to the dinnertable and pouring wine for him. Cocteau conjures magic with the simplest of effects, in some cases merely conducting stop-action camera substitutions – the Beast materialising necklaces of pearls out of thin air, tears that turn into diamonds, teleportation gloves. It is all photographed amid the most simple yet elegantly stylised of backgrounds. (The limitedness of the sets do show through at times – what Cocteau could have done with colour and the budget of a Hollywood epic!)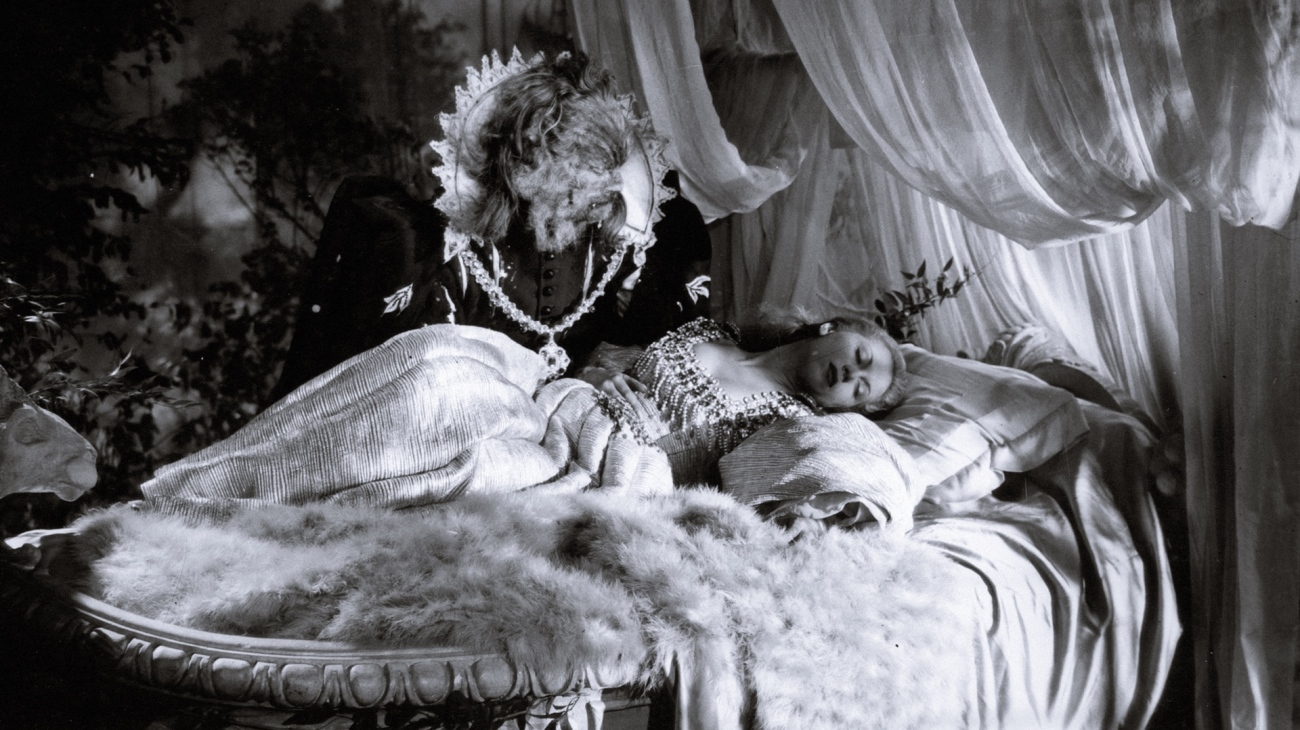 Jean Marais (who was Cocteau's gay lover for a number of years) gives a wonderfully pained and tortured performance as the Beast. Cocteau is not afraid to show the animalistic side of the Beast and we are treated to a series of striking tableaux where the romance is undercut by scenes of the Beast on all fours lapping water from a lake, being tempted by a deer while he is conducting a conversation with Beauty and the shock image of him turning up at her door covered in blood. The makeup job done on the Beast is a far more convincing and fearsome than the makeup conducted for Lon Chaney Jr's The Wolf Man (1941) only five years earlier.
Cocteau also takes the unusual step of having Jean Marais play both the Beast and the handsome hunter who sees himself as Beauty's saviour, allowing the two to change places at the end. Why – who knows? On the other hand, Josette Day has a certain regality as Beauty, although seems a little too vain and aloof, enough to make one wonder what the Beast's attentions were all about.
Perhaps the only point that Jean Cocteau ever loses the magic is the apparent need upon his part to self-consciously show that he is creating make-believe. The film opens with a written dedication from Cocteau: "Children believe in stories they are told. They have complete faith. They believe a plucked rose may bring tragic consequences to a family. They believe in the smoking hands of a man-beast who kills in the shame he feels before the maiden who is his guest. They believe in countless other artless things. It is a little of that artlessness that I ask of you. So that the omens may smile upon all, let me pronounce that magic word, that veritable Open Sesame: 'Once Upon a Time'." (The opening also sees the credits being written on a blackboard by various hands and a clapperboard that clacks before the film opens). It is this patient, almost overly polite, asking of our permission to suspend our disbelief for him that reveals an uncertainty upon Cocteau's part about being able to free to be pure fantasy – contrarily all this does is bring us out of the fantasy and reminds us too much of the artifice of what we are seeing. This aside, Beauty and the Beast is an extraordinary fantasy.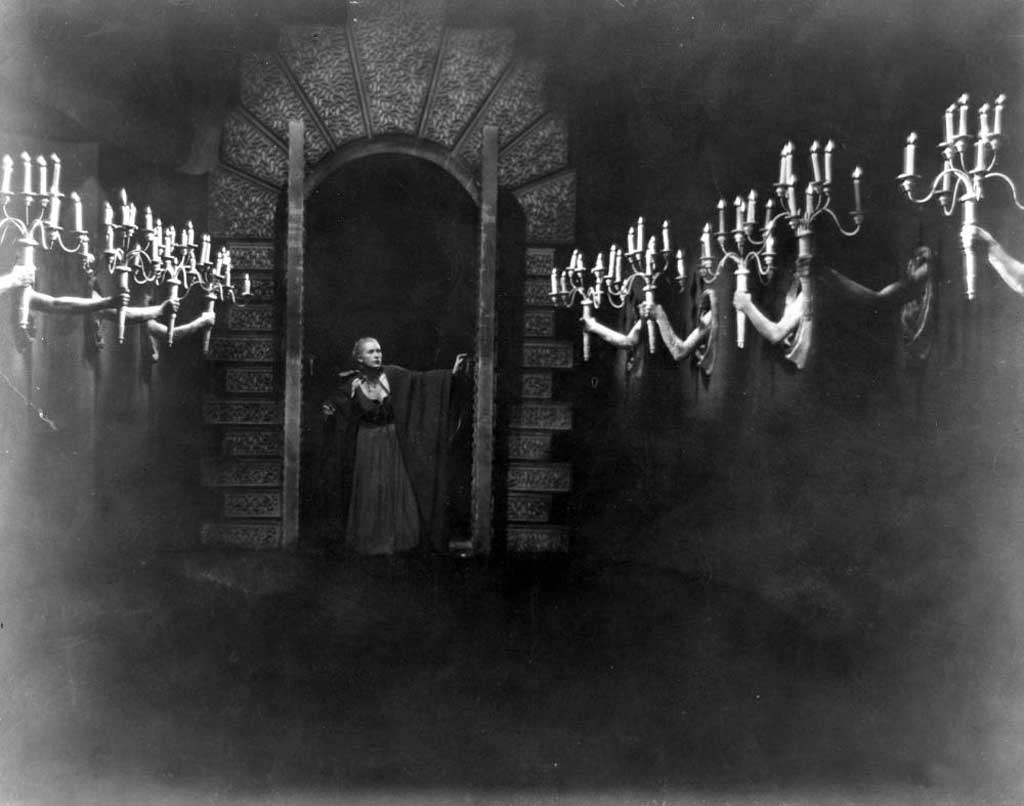 Other versions of Beauty and the Beast include:– several lost silent versions made variously in 1899, 1903, 1905, 1908, 1912, 1913 and 1922; the stodgy Technicolor adaptation Beauty and the Beast (1961) starring Mark Damon and Joyce Taylor; Beauty and the Beast (1976), a tv movie adaptation starring George C. Scott and Trish Van Devere; a Czech adaptation Beauty and the Beast (1979); a 1984 episode of Shelley Duval's Faerie Tale Theater starring Klaus Kinski and Susan Sarandon and directed by Roger Vadim; the Cannon Movie Tales adaptation Beauty and the Beast (1987) with John Savage and Rebecca De Mornay; Beauty and the Beast (1991), the Disney animated adaptation; Beauty (2004) starring Martin Clunes and Sienna Guillory, a modernised retelling; Beauty and the Beast (2009) starring Estella Warren, which turned the fairytale into a cheap fantasy adventure; Beastly (2011) starring Alex Pettyfer and Vanessa Hudgens, which transplanted the fairytale into a modern high school setting; the tv movie Beauty and the Beast (2012) starring Ruith Bradley; Christophe Gans' exquisitely dreamy Beauty and the Beast (2014) with Lea Seydoux and Vincent Cassel; Beauty and the Beast (2017). the live-action remake of the Disney film starring Emma Watson and Dan Stevens; and Belle (2021), an anime version set in Virtual Reality. Beauty and the Beast (1987-90) was a fantastical contemporary urban tv series loosely based on the fairy-tale, starring Ron Perlman and Linda Hamilton, and was later remade as Beauty and the Beast (2012-6) starring Kristin Kreuk and Jay Ryan. An elaborate pastiche of scenes from Beauty and the Beast was also created in the surreal AIDS drama Angels in America (tv mini-series, 2003), while the wall of arms scene has been borrowed in other films such as Jack the Giant Killer (1962) and was parodied in The League of Gentlemen's Apocalypse (2005).
---
Trailer here
Modern trailer here:-
---