---
USA. 2016.
Crew
Directors/Screenplay – Daniel Kwan & Daniel Scheinert, Producers – Miranda Bailey, Lawrence Inglee, Lauren Mann, Amanda Marshall, Eyal Rimmon & Jonathan Wang, Photography – Larkin Seiple, Music – Andy Hull & Robert McDowell, Visual Effects – Method Studios (Supervisor – Eduardo 'Alvin' Cruz), Special Effects Supervisor – Larz Anderson, Makeup Effects – Hamer FX (Supervisor – Jason Hamer), Production Design – Jason Kisvarday. Production Company – Cold Iron Pictures/Blackbird Films/Company 3/Method Studios.
Cast
Paul Dano (Hank Thompson), Daniel Radcliffe (Manny), Mary Elizabeth Winstead (Sarah), Richard Gross (Hank's Dad), Antonia Ribero (Crissie)
---
Plot
Hank Thompson has been cast away on a tiny desert island. He is about to hang himself in despair when a corpse washes up on the beach. He is overjoyed at seeing another human. He discovers that the corpse has a copious farting problem and that he is able to use this to propel the body through the water like a jet ski and ride on top of it. He is thus able to reach another land mass. He discovers that the corpse, which he names Manny, is able to speak and has many other unseen abilities such as being able to gush fresh water from its mouth. Manny has no memory and is a complete innocent in human ways. As they journey onwards with Hank carrying Manny, this becomes the beginning of a friendship between the two of them.
---
Swiss Army Man is possibly the most ridiculous and entertaining film that one has seen all year. It was a directorial debut for Daniel Kwan and Daniel Scheinert who bills themselves simply as 'Daniels' or 'The Daniels'. The two have co-directed a number of short films and some music videos and tv episodes. The film was extensively developed through the Sundance Workshops and became a word of mouth hit after premiering at the 2016 Sundance Festival.
Swiss Army Man is a film that defies all easy description. Perhaps the nearest description you could come up with would be to call it a cross between Weekend at Bernie's (1989) and Cast Away (2000) – one where Wilson the beachball becomes replaced by a horny, farting talking corpse. It manages to be the most bizarre and unlikely and at the same time the most heart-warming bromance of the year. In tone, even though the two are otherwise wildly different, the film I feel like I was reminded of the most was Harold and Maude (1971).
The film aims straight for the demented a only a few scenes in when Paul Dano's castaway's feeble attempts to kill himself are interrupted by Daniel Radcliffe's corpse washing up on the beach. Dano makes the discovery that the corpse's farts can be used to turn the body into a makeshift jetski ending. This is followed by the wilfully ridiculous image of Dano whizzing across the ocean on its back to the nearest island.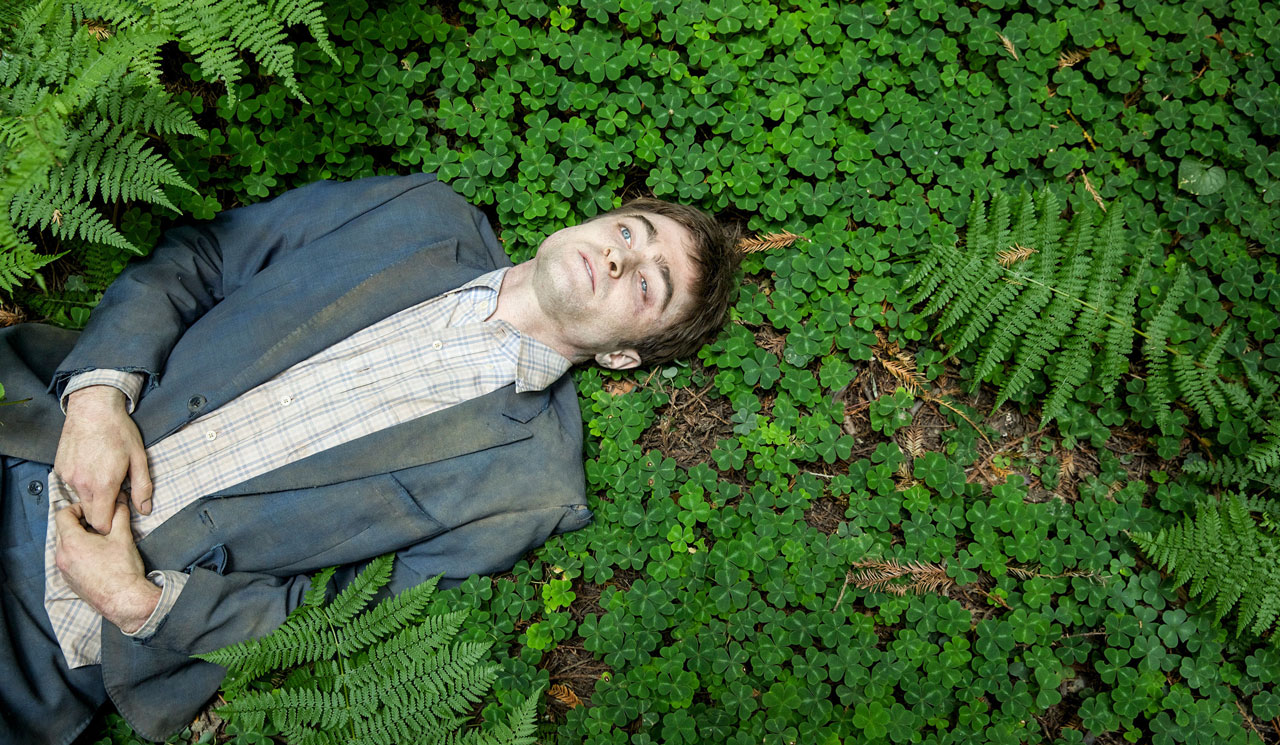 The film promptly propels itself into the completely absurd with Daniel Radcliffe developing an ability to talk, spouting clean water from his mouth, his developing erections after looking at the girls in sports illustrated magazines and later the ability to fire projectiles from his mouth and handily kill small animals. All the while, he is played as a complete innocent in human ways who is starting to discover the human condition for the first time and come to terms with its inherent absurdities. This achieves a level of delirious nonsense with Paul Dano trying to explain everything from social customs and masturbation to pooping and social awkwardness as though to someone who was an alien.
The culmination of this is the quite magical scene where Paul Dano uses washed-up junk to improvise a bus replete with passengers and moving scenery out the window while he plays the girl in makeshift drag at the same time also as he plays himself giving romantic advice in Daniel's ear about what to say in approaching her. This is followed by an equally appealing scene where Paul Dano improvises a movie theatre and restages shadow puppet versions of classic movie scenes for the two of them.
You wonder where on earth such a film can possibly go. (One of the great joys is that you have don't the slightest idea where Swiss Army Man is going from one moment to the next, which is not something you can say of most films). Is it going to be like The Voices (2014) with its talking heads in the fridge where the film will suddenly pull back and reveal that everything that has transpired all took place in Paul Dano's head? This seems the most likely explanation.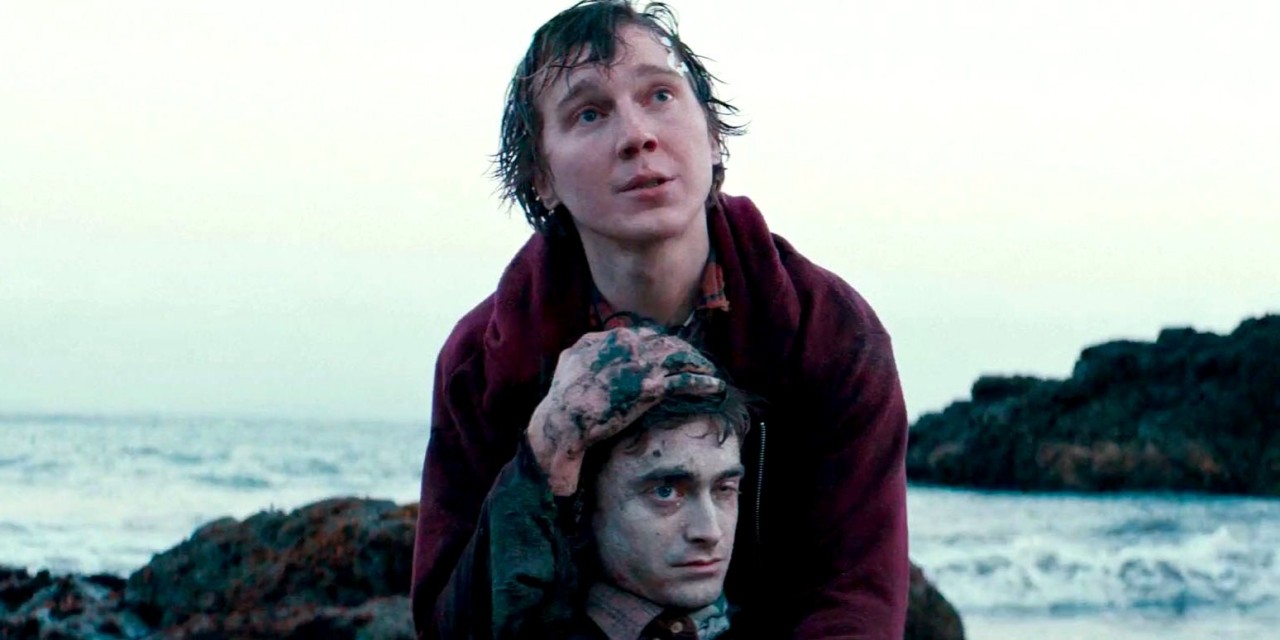 [PLOT SPOILERS] The ending finally arrived at both seems to buy into and confound this expectation. With the surprise arrival at the home of the real Mary Elizabeth Winstead and the appearance of Paul Dano's father, the film seems to be heading towards a massive and crashing deflation of everything the film has built up to that point, revealing Dano as no more than a lunatic. On the other hand, the scenes with Mary Elizabeth Winstead's daughter conversing quite normally with Daniel Radcliffe and the bizarreness of the final scene puncture this anticipation too in the most delightful ways.
The Daniels subsequently went on to direct the equally hilarious multiverse comedy Everything Everywhere All at Once (2022). In the interim, Daniel Scheinert also solo directed the non-genre comedy The Death of Dick Long (2019).
(Winner in this site's Top 10 Films of 2016 list. Nominee for Best Original Screenplay and Best Supporting Actor (Daniel Radcliffe) at this site's Best of 2016 Awards).
---
Trailer here
---