---
Crew
Director – Kevin Greutert, Screenplay – Robert Ben Garant, Producers – Jason Blum, Peter Principato & Paul Young, Photography – Michael Fimognari, Music – Anton Sanko, Visual Effects – FuseFX (Supervisor – David Altenau), Special Effects Supervisor – William Dawson, Production Design – Jade Healy. Production Company – Lionsgate/Blumhouse Productions/Principato-Young Entertainment.
Cast
Sarah Snook (Jessie Laurent), Mark Webber (Preston Saunders), David Andrews (Leon Laurent), Joelle Carter (Kate Laurent), Ana de la Reguera (Rosaura Arlana), Chris Ellis (Sheriff Pruitt), Bryant Hallisay (Mark), Fran Bennett (Abigail Davis), Amber Stevens (Dead Girl)
---
Plot
Jessie Laurent and her boyfriend Mark are just about to move into a new place when their car is hit by an oncoming truck. Mark is killed and Jessie is left wheelchair-ridden. Broke, her only hope is to go and stay with her father whom she has not seen for many years. She settles into the big old family home in the bayou town where she grew up but soon realises that there is a ghostly presence in the house. Jessie also discovers a series of videotapes left by her late mother Kate in which she gives a series of tarot readings for the future of her about-to-be-born daughter. As the ghosts in the house become more sinister, Jessie starts to uncover secrets about her past and mother's death that lie in the voodoo practiced by the locals.
---
Jessabelle is another effort from the Blumhouse production company of Jason Blum, which specialises in medium-budget horror. Blum found a great deal of success as producer of Paranormal Activity (2007) and sequels and has gone on to fund a series of medium-budget films for theatrical release. (See below for Jason Blum's other films).
Jessabelle was the third directorial outing for Kevin Greutert, previously an editor, most notably on all of the Saw series from the inception through to Saw V (2008) and then graduating to director with Saw VI (2009) and Saw 3D (2010). Greutert subsequetly went onto make Visions (2015) for Blumhouse and Jackals (2017) for another company, before returning to make Saw X (2023). Jessabelle was announced for wide theatrical release and trailers played in many theatres with the date being changed several times throughout 2014, before it was eventually only given limited theatrical screening and despatched to VOD.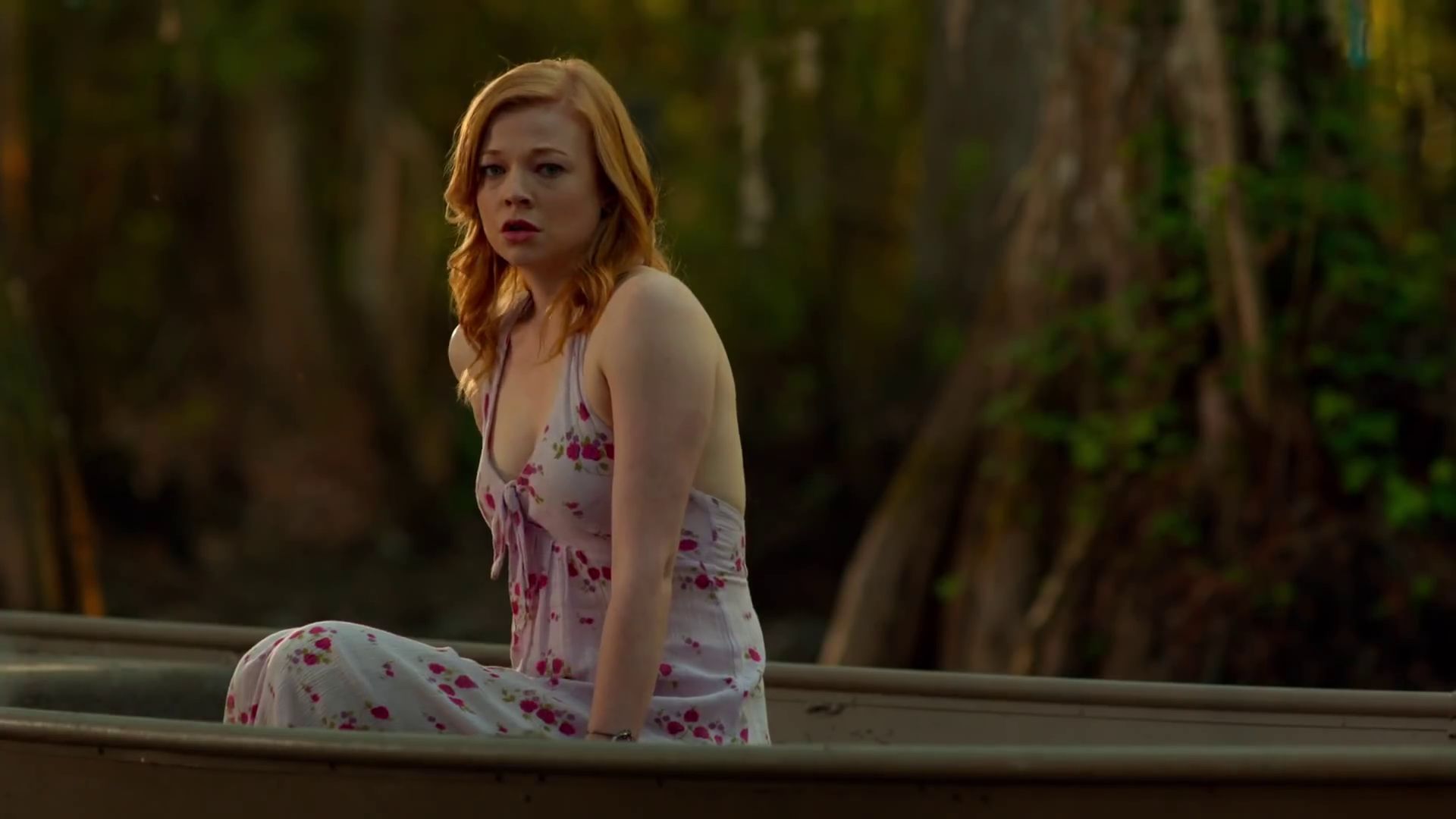 In the reviews I had glanced through before watching, Jessabelle had not gotten much in the way of good write-up. My expectation of Kevin Greutert was formed by the low hopes of the Saw franchise so I didn't expect a huge amount from the film. On the other hand, as one settles into Jessabelle, it begins to surprise in some ways. With the Saw series, Greutert did little more than serve up scenes of extreme and unpleasant sadism but Jessabelle aims for something different – it is like a traditional ghost story that takes place in something akin to the world of The Skeleton Key (2005). What impressed me is how well the film manages to capture a sense of place, of a tiny and forgotten nowhere world in the backwater of the bayous. Out of this, Greutert manages to generate some spooky scenes, especially one where Sarah Snook is in the bath and the dead girl appears to her, polluting the water with a dark ichor.
This is a film that invests us in the characters, even if the script never does anything outstandingly original in terms of writing them. In this regard, Australian actress Sarah Snook does a very convincing job of seeming frightened and vulnerable. I had only previously seen Snook in the excellent Australian End of the World film These Final Hours (2013) a couple of weeks earlier where she played a deranged mother, a role where I took her to be around the age of forty whereas here she is playing someone in her early/mid-twenties (Snook is twenty-seven in real life), which shows just what chameleon capabilities she is capable of. Doing the rounds of festivals at the same time, Snook gave an even more remarkable chameleon performance as the woman who undergoes a sex-change in Predestination (2014) and tv's Succession (2018-23).
The downside of the film is that it is all build-up and a few spooky and ominous scenes but where crucially not much happens. There is mystery and occasional spookiness, the sort of atmosphere that a lot more directors in this medium-budget arena should pay attention to, but we never get a big payoff for any of it. What kills the film off though is the eventual explanation of what is going on.
[PLOT SPOILERS]. Here we learn, with a great deal of contrivation, that Jessabelle was a child that her mother bore after an affair with an African-American man, where the child was then killed by her father and that Sarah Snook was adopted and passed off as being that child. More than anything, it feels like another post-The Sixth Sense (1999) ghost story with a last minute left field surprise ending thrown in simply because it felt that the genre demanded it.
Jason Blum and his Blumhouse production company have produced a number of other genre films including:- Hamlet (2000), Paranormal Activity (2007) and sequels, Insidious (2010) and sequels, Tooth Fairy (2010), The Bay (2012), The Lords of Salem (2012), The River (tv series, 2012), Sinister (2012) and sequel, Dark Skies (2013), Oculus (2013), The Purge (2013) and sequels, the tv mini-series Ascension (2014), Creep (2014), Mercy (2014), Mockingbird (2014), Not Safe for Work (2014), Ouija (2014) and sequel, 13 Sins (2014), The Town That Dreaded Sundown (2014), Unfriended/Cybernatural (2014), Area 51 (2015), The Boy Next Door (2015), Curve (2015), The Gallows (2015), The Gift (2015), Jem and the Holograms (2015), The Lazarus Effect (2015), Martyrs (2015), Visions (2015), The Visit (2015), The Darkness (2016), Hush (2016), Incarnate (2016), The Veil (2016), Viral (2016), Amityville: The Awakening (2017), Get Out (2017), Happy Death Day (2017), The Keeping Hours (2017), Split (2017), Stephanie (2017), Bloodline (2018), Cam (2018), Delirium (2018), Halloween (2018), Seven in Heaven (2018), Truth or Dare (2018), Upgrade (2018), Black Christmas (2019), Ma (2019), Prey (2019), Don't Let Go (2019), Sweetheart (2019), Black Box (2020), The Craft: Legacy (2020), Evil Eye (2020), Fantasy Island (2020), Freaky (2020), The Hunt (2020), The Invisible Man (2020), Nocturne (2020), You Should Have Left (2020), Black As Night (2021), The Black Phone (2021), Dashcam (2021), Firestarter (2022), M3gan (2022), Mr Harrigan's Phone (2022), Nanny (2022), Soft & Quiet (2022), Run Sweetheart Run (2022), Sick (2022), They/Them (2022), Torn Hearts (2022), Unhuman (2022), The Visitor (2022), The Exorcist: Believer (2023), Five Nights at Freddy's (2023), There's Something Wrong With the Children (2023) and Totally Killer (2023).
---
---