---
Crew
Director – Robert A. Endelson, Screenplay – Straw Weisman, Producers – Robert A. Endelson & William Mishkin, Photography – Lloyd Freidus, Music – Jeff Slevin, Special Effects – Doug Hart, Production Design – Ronald Merk. Production Company – Fightin Family Productions.
Cast
William Sanderson (Jessie Lee Kane), Robert Judd (Ted Turner), William Cargill (Lieutenant Reilly), Peter Yoshida (Chao Ling), Daniel Faraldo (Chino), Bonni Martin (Corrie Turner), Catherine Peppers (Louise Turner), Lela Small (Grandma Turner), Reginald Bythewood (Floyd Turner), Richard A. Rubin (Captain Hamilton), David Dewlow (Joey Hamilton)
---
Plot
Three convicts led by Jessie Lee Kane make an escape and head across the state line in a stolen car. They conduct a convenience store robbery where they shoot the owner and take Black woman Corrie Turner hostage. They drive to her place where they take the Turner family prisoner just as they sit down to Sunday dinner. There the gang, led by Kane, proceed to torture, rape and racially abuse the family.
---
Fight For Your Life was one of the most remarkable films to emerge from the fad for Blaxploitation films in the 1970s. After the amazing success of Shaft (1971), a host of Blaxploitation films grew up championing virile Black heroes and eventually the genre grew to create its own unique style, particularly in terms of fashions. There was a host of genre Blaxploitation films – Blacula (1972), Blackenstein (1973), Abby (1974), Dr Black and Mr Hyde (1976) et al – that redid familiar genre themes with Black casts and heroes. Despite their popularity, few Blaxploitation films ventured into discussing Black-White racial tensions and relations post the Civil Rights movement. One of those that did, and in startling ways, was Fight For Your Life.
If Blacula et al are stories such as Dracula, Frankenstein, Dr Jekyll and Mr Hyde and The Exorcist (1973) offered up with a Black cast, then Fight For Your Life is surely a Blaxploitation version of Wes Craven's The Last House on the Left (1972). It taps into the mini-genre of films that began with Straw Dogs (1971) of middle-class people being forced to defend their homes from barbaric forces beyond their door. The Last House on the Left offered a darkly acerbic twist on the theme – in having a trio of criminals torture and kill two girls and seek refuge at the house of a middle-class family, only for the family to find the criminals are responsible for murdering their daughter and to exact a revenge that is even more sadistic than the one the criminals enacted on the two girls.
The ingenuity of Fight For Your Life is that it rewrites the brutality and assault of the conflict between the criminals and the middle-class family across racial lines – here the criminals are led by a white racist (although in themselves, the rest of the group are uncommentedly of mixed race, including a Chinese and a Chicano), while the middle-class family are a decent upstanding Black family.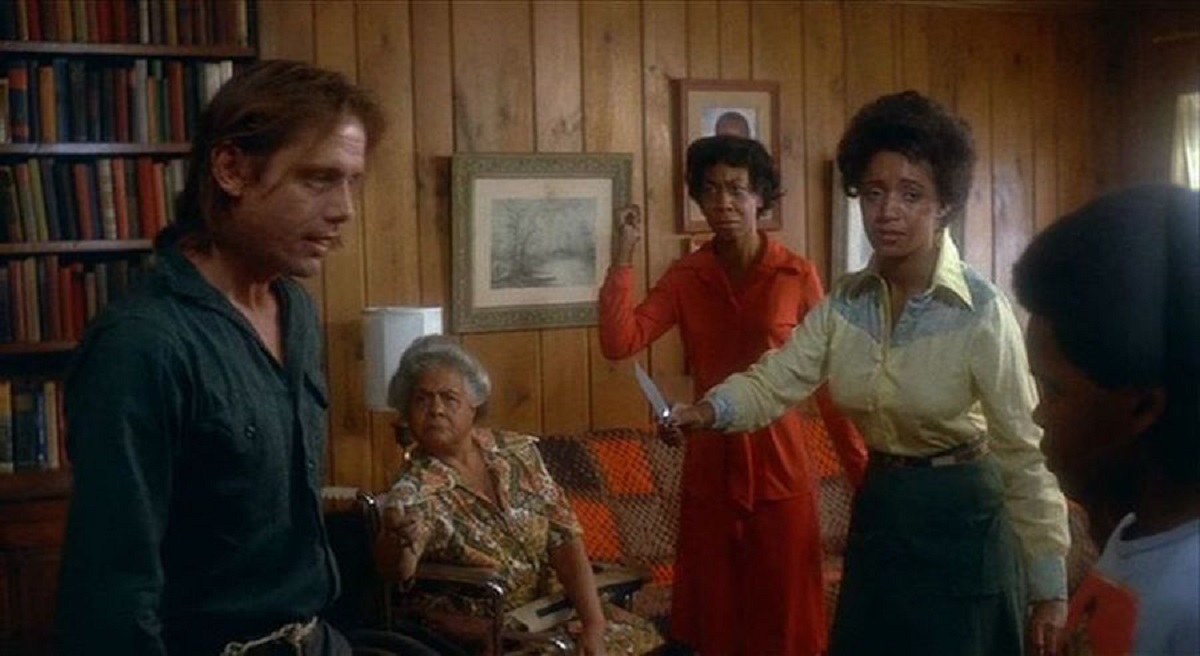 Fight For Your Life never goes to the extreme that The Last House on the Left did where the family's uprising against their tormentors was seen as even worse than what the sadists had originally done – one suspects that there is no way that a film in the 1970s, made for a Blaxploitation audience, would have dared to criticise or morally blur a scene where Blacks fight back against White oppressors – and instead their final fight back, which cleverly involves turning the perception of a hostage standoff on its head, is merely seen as just and deservous.
What makes Fight For Your Life so stark is the venomousness of the racial hatred that it manages to touch upon. William Sanderson, usually known as leathery weather-beaten or hick country types in various supporting parts, gives an extraordinary performance that fires the film up. (It was only William Sanderson's third screen performance too). The vehemence of the racial insults – where he tosses up terms like Coons, Black-Assed Coons, Niggers, Uncle Remus, Blackies, Monkey Face, Jungle Bunnies and Martin Luther Coon – takes one aback as it is rare that one has gotten to see white people unleashing such a barrage of racial insults on screen without such having been watered down for politeness's sake.
The range of humiliations where we see William Sanderson forcing Robert Judd to dance a jig, sing a song and then beating the God-fearing man unconscious with his own Bible, not to mention some harrowing scenes where we see the group attempting to lynch and hang wife Catherine Peppers from a tree, where a family friend has her clothes torn off and is thrown off a reservoir, where daughter Bonnie Martin is raped by William Sanderson, and especially the brutal scene where young David Dewlow has his head bashed in with a rock, makes for a tough and disturbing film. The film only falters slightly during the climactic scene where attempts to construct cod motivation for William Sanderson – he was raped in jail, his mother ran off with a Black man – strike a false note.
What makes Fight For Your Life such a startling film is the fact that it is put together with a considerable sense of professionalism and slickness by all involved. It was only the second film to be made by director Robert A. Endelson, whose previous effort has been the entirely unmemorable The Filthiest Show in Town (1973), and was the last film Endelson would ever make.
---
Trailer here
---