---
New Zealand. 2009.
Crew
Director/Screenplay – James Napier Robertson, Producer – Tom Hern, Photography – Rhys Duncan, Music – Peter Hobbs, Makeup Effects – Mark Knight, Production Design – Andy Smith. Production Company – Six String Pictures/James Napier Robertson Productions.
Cast
Gareth Reeves (Stanley/Michael White), Jinny Lee Story (Marissa), Ian Mune (Bill), Renato Batolomei (Colby), Cameron Rhodes (Ricky Thomas), Marshall Napier (Tom), Ilona Rogers (Margaret), Tom Hern (Kevin), Rachel Blampied (Anna), Ben Mitchell (Jon), Michelle Langstone (Natalee)
---
Plot
Stanley is a best-selling true crime author under the pseudonym of Michael White. He is currently struggling with a book about the serial killer Harry Jenson and suggests to his publisher Tom that they delay the publication date. Unwilling to do so, Tom suggests that Stanley go away into the outdoors to sort his head out. Stanley joins seven others on a tramp through the bush led by the guide Colby. After their first night out in the open, they wake to find one of the trampers has had his throat slit. Stanley finds blood on his shirt and quickly buries it before anyone can see. They continue on, puzzling over who among the group could be the murderer. That night a girl is stabbed. The others find blood on Stanley's shirt and discover that the weapon used is his writing pen. All the others except the Canadian tourist Marissa believe Stanley to be guilty and make him a bound prisoner as they head back out of the bush. As they travel, Stanley tries to work out which of the party is the real killer.
---
I'm Not Harry Jenson. is a debut film from ingenue New Zealand director James Napier Robertson, who had previously worked as an actor including as a regular on the NZ-shot tv series The Tribe (1999-2003) and Power Rangers Dino Thunder (2004). (Both James Napier Robertson and the film's lead actress Jinny Lee Story are members of the US-based band The Pistol Whips). This low-to-medium budget shot-on-digital feature is a new arena that has taken off in New Zealand in a big way in the last few years, the low-tech process allowing filmmakers a greater ease in getting films made as opposed to the more cumbersome process involved in making standard 35mm works. The film features a line-up of well-known faces from New Zealand film and television.
For a new director, James Napier Robertson shows a great deal of assurance. He creates a strong, dramatically contained set-up – abandoning the characters in the wild and then creating a tense psychological whodunnit among those present as the unknown killer whittles the numbers of the party down. He does a fine job in swinging suspense between the characters – the climactic scenes where Gareth Stevens demands that Ian Mune search everybody present for evidence is especially well drawn out. Robertson constantly hints about nasty things about to emerge, even throws in flashes that suggest the hero is doing the killings in some kind of fugue state because of over-identification with the subject of its book. While this is preposterous as credible psychology, it works in terms of psycho-thriller pop psychology and sets up a promise that verges on something like the identity puzzle in A Scanner Darkly (2006) in which the detective hero finds that he himself is the criminal he is pursuing.
James Napier Robertson has a strong cast who all deliver more than solid work and he does a fine job in drawing the tension out through their performances. Notable is veteran New Zealand actor and film director Ian Mune – who himself also made a tramp into the bush gone wrong saga with Bridge to Nowhere (1986). There is a fine performance from Cameron Rhodes as the ambiguous Ricky, who seems slightly dim but then reveals increasingly more sadistic undertows throughout, even the sinister suggestion that he knows more about the hero than he appears to at the outset. The film is particularly well served by its cinematography, which shoots the expressions on each actor's face in harsh relief.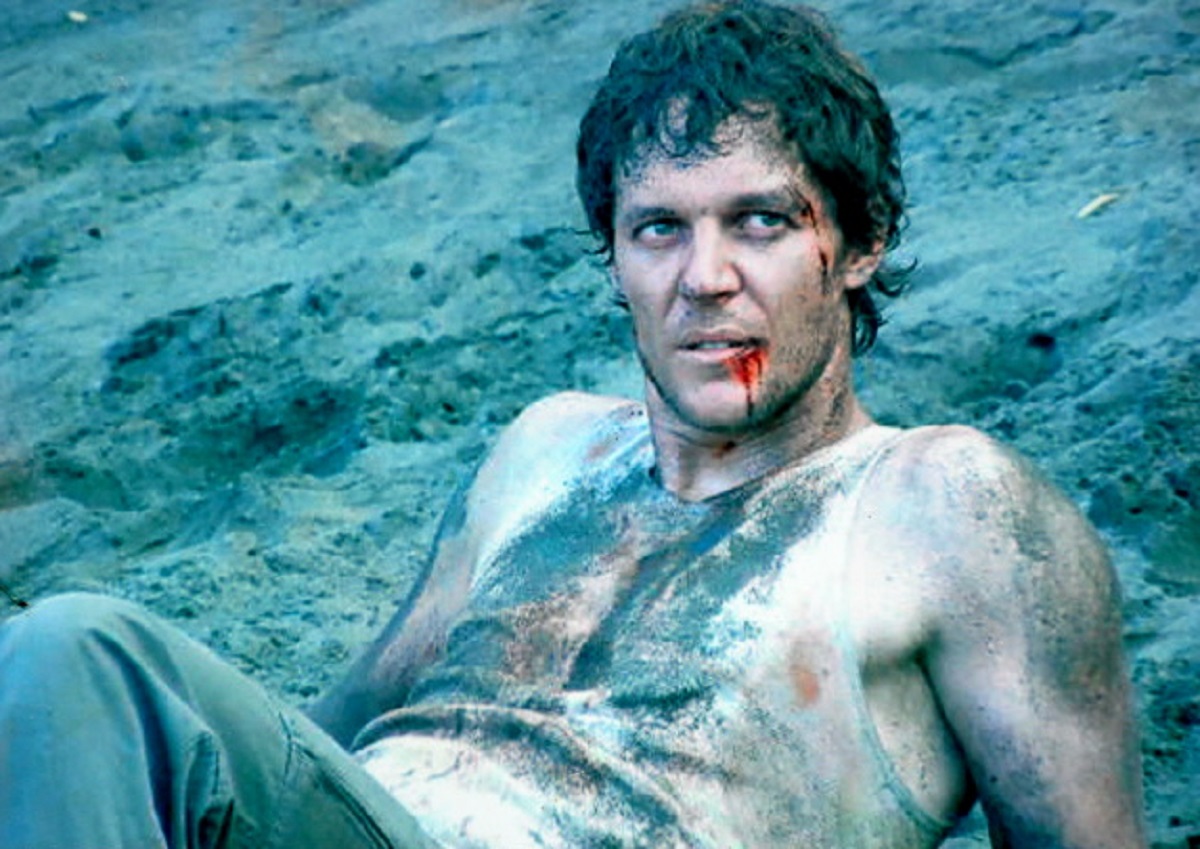 Despite a good set up and the generation of an admirable degree of tension, I'm Not Harry Jenson. pans out disappointingly. Most of the interesting elements the script raises fall by the wayside. [PLOT SPOILERS]. The promising idea of a crime writer who has delved too far into the mind of his subjects and may be entering fugue states where he has become a killer himself proves to be a red herring. Other elements like Cameron Rhodes hinting that he knows a good deal more than he says are explained no further than that. Despite lending his name to the title, the titular serial killer Harry Jenson remains nothing more than an off-screen subject of the protagonist's book.
Up until the point of the revelation of the psycho of the show at the end, I would have been prepared to give I'm Not Harry Jenson. at least a three star rating on the basis of James Napier Robertson's generation of tension. [PLOT SPOILERS]. However, the ending is a badly contrived one that causes the film's credibility to plummet. For all the film's featuring a hero that is supposed to be able to identify so well with killers that he has difficulty distinguishing between his and their thought patterns, the psycho the film does eventually throw up is disappointingly run of the mill and lacking in any interesting edges.
As it turns out, the film's eventual thrust is a cliched one – that of the horror/crime writer who is thrown into the real thing and/or given an abrupt lesson in life on what it is like to kill for real. See films like House of the Long Shadows (1983), Tenebrae (1983), Kalifornia (1993) and The Raven (2012). There is a surprising degree of similarity between I'm Not Harry Jenson. and the thriller Reaper (1998), which featured a horror writer with writer's block who may or may not be a serial killer. There is an effective surprise that comes at the very end but this only adds another level of contrivation to the story.
James Napier Robertson subsequently went onto direct the true-life inspirational drama The Dark Horse (2014).
---
---