---
USA. 1976.
Crew
Director – Michael Pataki, Screenplay – Ray Frank Perilli, Producer – Charles Band, Photography – Andrew Davis, Music – Robert O. Ragland, Makeup Effects – Stanley Winston, Art Direction – Roger Pancake. Production Company – Charles Band Productions.
Cast
Richard Basehart (Dr Leonard Chaney), Gloria Grahame (Katherine), Trish Stewart (Nancy Chaney), Lance Henriksen (Dr Dan Bryan), Marilyn Joi (Miss Mathews), Al Ferrera (Al), Jo Jo D'Amore (Georgio), Donna Andresen (Sylvia Porter)
---
Plot
In Los Angeles, Dr Leonard Chaney is one of the world's top ophthalmologists. His daughter Nancy is involved in a car crash and loses her sight. Chaney decides to pioneer a radical new form of surgery being talked about in Dublin that involves transplanting another pair of eyeballs into Nancy's sockets. After Nancy's fiance Dan Bryan breaks up with her, Chaney lures him to the basement, drugs him and removes his eyeballs, transplanting them onto Nancy. The experiment is a success but the effect soon begins to wear off and Chaney is forced to find other victims and remove their eyes. The blinded victims are kept prisoner in Chaney's basement where they begin looking for a mean to escape.
---
Mansion of the Doomed has the distinction of being the first film produced by Charles Band, who was aged 21 at the time. Band went on to form companies like Empire Productions and Full Moon Productions during the 1980s and 90s and has become an extremely prolific producer of B movies, including whole series like the Ghoulies, Trancers, Subspecies, Puppetmaster, Gingerdead Man and Evil Bong films, among a great many others. Band's films as producer would make for a very long list – the IMDB lists some 280 titles – the ones he has infrequently directed are listed at the bottom of the page. His father Albert, who died in 2002, a seasoned director and producer in his own right, is also listed here as a 'Supervising Executive Producer', while his brother Richard, who has scored most of Charles's films, is listed as an assistant director.
Mansion of the Doomed is a fairly blatant copy of the classic Eyes Without a Face (1959), which featured Pierre Brasseur as a top surgeon engaged in experimental treatments to try and restore his daughter's face after it was mutilated in an accident, which involved abducting women and grafting their faces onto her. Mansion of the Doomed relocates the action from Paris to Los Angeles and substitutes eyeballs for whole face transplants but is essentially the same film. Eyes Without a Face was also ripped off by other filmmakers, most notably by Jess Franco with The Awful Dr Orloff (1962) and sequels.
Cast as the mad surgeon is Richard Basehart, best known as Admiral Harriman Nelson, the lead in tv's Voyage to the Bottom of the Sea (1964-8). Basehart is not an actor that immediately comes to mind when you think of a mad scientist/doctor – he lacks the intensity and over-the-top manner that classic actors in the part like Bela Lugosi and Vincent Price had. He is more like a retired gentleman of leisure out and about his pursuits than a madman killing people – his signature move is inviting victims in for a glass of drugged wine, for instance.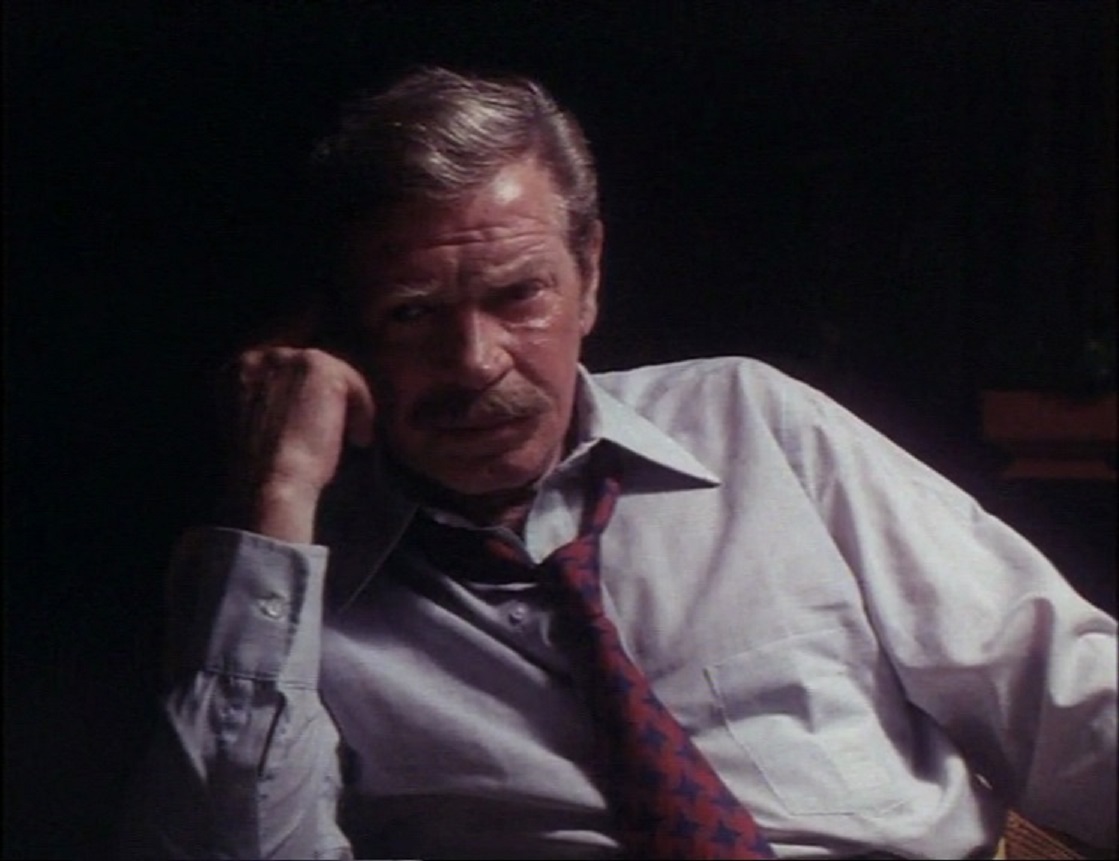 The main problem with the film is a lack of drama. We see a series of scenes with Richard Basehart going around looking for victims to lure and steal their eyeballs. These scenes are interspersed with cuts back to the blinded castoff victims locked in a cage in the basement. There are some quite gorily effective scenes with eyeballs gouged out but overall the pace is slow and unexceptional. None of this ever feels that it goes anywhere beyond a series of mad surgeon scenes and the inevitable waiting for the prisoners to break out.
Mansion of the Doomed was one of two films directed by Michael Pataki. Pataki was an actor with a long career usually playing thuggish roles. He appeared in genre films such as The Baby (1972), Grave of the Vampire (1972), The Bat People (1974), Love at First Bite (1979) and was Captain Barbera in tv's The Amazing Spider-Man (1977-8), plus one of the Klingons in Star Trek (1966-9). He was the lead in the Band-produced Zoltan … Hound of Dracula (1978) and also directed the softcore Cinderella (1977) for the Bands. The screenplay was from Ray Frank Perilli who wrote a number of films for the Bands with Cinderella, Zoltan … Hound of Dracula, End of the World (1977) and Laserblast (1978), plus the better-budgeted Alligator (1980) for other producers.
The surprise is about some of the then unknown names attached, including a young Stan Winston later to win great acclaim for his makeup work on films such as Aliens (1986), Jurassic Park (1993) and the The Terminator films, who delivers the gory eye-gouging effects. Playing the fiance who is the first to have his eyeballs removed is a very young Lance Henriksen. As cinematographer is Andrew Davis, later to become a director with films such as Above the Law (1988), Under Siege (1992) and The Fugitive (1993). Lead actress Gloria Grahame was a starlet of the 1940s and 50s, best known for her roles in It's a Wonderful Life (1946) and Oklahoma (1955).
Charles Band has produced over 200 films. As director, his other genre films include:- Crash (1977), Parasite (1982), The Alchemist (1983), Metalstorm: The Destruction of Jared-Syn (1983), an episode of The Dungeonmaster/Ragewar: The Challenges of Excalibrate (1984), Trancers/Futurecop (1985), Pulse Pounders (1988), Crash and Burn (1990), Meridian (1990), Trancers II (1991), Doctor Mordrid (1992), Dollman Vs. the Demonic Toys (1993), Prehysteria! (1993), Head of the Family (1996), The Creeps/Deformed Monsters (1997), Hideous (1997), Mystery Monsters (1997), Blood Dolls (1999), Puppet Master: The Legacy (2003), Dr Moreau's House of Pain (2004), Decadent Evil (2005), Doll Graveyard (2005), The Gingerdead Man (2005), Evil Bong (2006), Petrified (2006), Dead Man's Hand (2007), Decadent Evil II (2007), Dangerous Worry Dolls (2008), Evil Bong II: King Bong (2009), Skull Heads (2009), Evil Bong 3D: The Wrath of Bong (2011), Killer Eye: Halloween Haunt (2011), The Dead Want Women (2012), Devildolls (2012), Puppet Master X: Axis Rising (2012), Ooga Booga (2013), Unlucky Charms (2013), Gingerdead Man vs Evil Bong (2013), Trophy Heads (2014), Evil Bong 420 (2015), King of Cult (2015), Evil Bong: High 5 (2016), Evil Bong 666 (2017), Puppet Master: Axis Termination (2017), Evil Bong 777 (2018), Barbie & Kendra Save the Tiger King (2020), Barbie & Kendra Storm Area 51 (2020), Corona Zombies (2020) and Evil Bong 888: Infinity High (2022).
---
---