aka Girly
---
UK. 1969.
Crew
Director – Freddie Francis, Screenplay – Brian Comport, Based on the Play Happy Family by Maisie Mosco, Producer – Ronald J. Kahn, Photography – David Muir, Music – Bernard Ebbinghouse, Makeup – Phil Leakey, Art Direction– Maggie Pinhorn. Production Company – Fitzroy Films Ltd.
Cast
Michael Bryant (New Friend), Vanessa Howard (Girly), Howard Trevor (Sonny), Ursula Howells (Mumsy), Pat Heywood (Nanny), Robert Swann (Soldier), Imogen Hassall (Girlfriend)
---
Plot
Four people who call themselves Mumsy, Nanny, Sonny and Girly inhabit a large decaying old British mansion. Sonny and Girly spend all their time playing children's games. They delight in bringing back strangers and winding them into their games, usually with fatal consequences. Their latest recruit is a man they find returning from a night out with his girlfriend whom they call New Friend. After they contrive to kill the girlfriend on a playground slide, New Friend is brought back and forcibly recruited into their games. Seeking a way to escape, New Friend soon finds ways to turn the four against each other.
---
Freddie Francis was one of the key directors of the British horror cycle of the 1960s. Although he tends to be overshadowed by Terence Fisher, Francis made contributions to both Hammer's Dracula and Frankenstein series, directed numerous of their psycho-thrillers and a number of Amicus's horror anthologies. (See below for Freddie Francis's other films). A former cinematographer – he had even won an Oscar for his work on Sons and Lovers (1960) – Francis's films always have a beautifully composed frame, even when some of his latter-day efforts start to look a bit ropey.
After working with Hammer and Amicus for the better part of a decade, Francis desired to make a film over which he had complete creative control and so raised the funding for Mumsy, Nanny, Sonny & Girly independently. The film was based on a play Happy Family (1966) by Maisie Mosco, although has been widely changed. Francis asked Brian Comport to write a script set around the Victorian mansion of Oakley Court, which adjoined Hammer's Bray Studios and had been used as an exterior for many of their films (but never as an interior location). Francis called Mumsy, Nanny, Sonny & Girly his favourite film however it was plagued by poor distribution and hardly ever seen when it came out. Up until 2010, it had never seen a dvd release.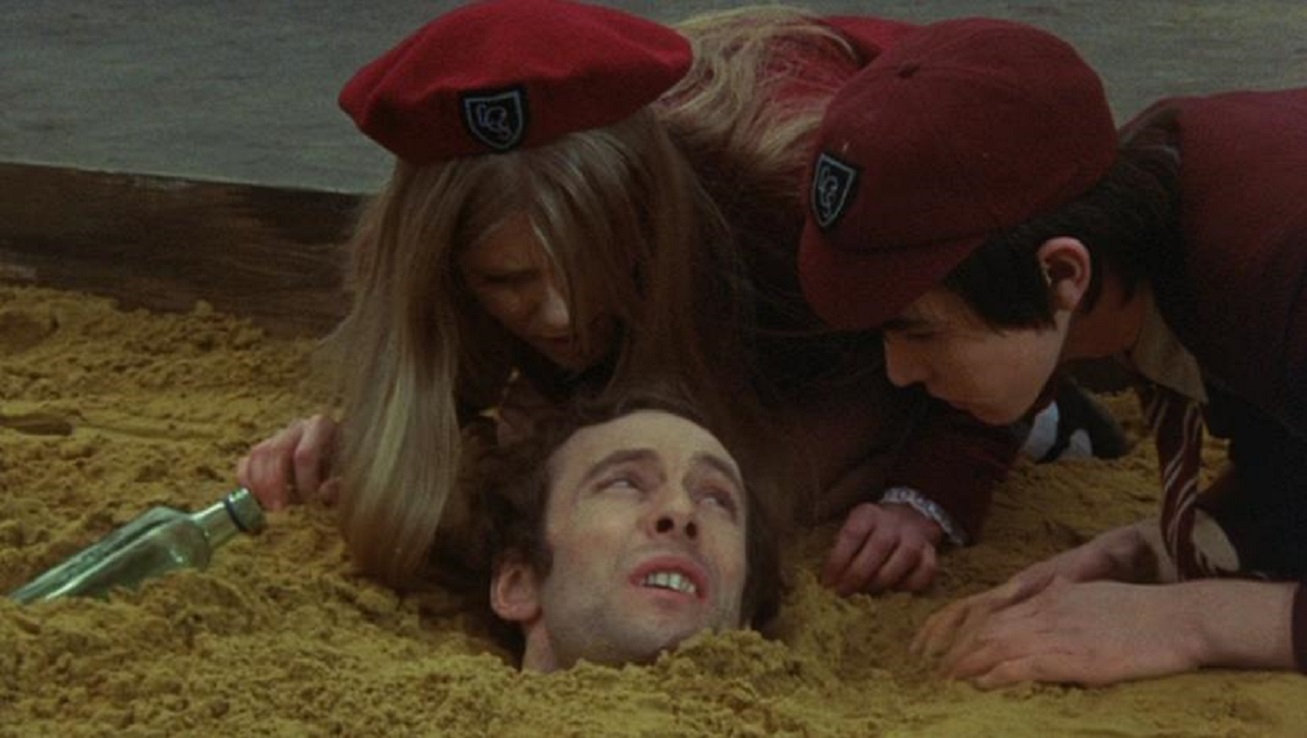 Mumsy, Nanny, Sonny & Girly has its share of people who call it an undiscovered classic. I very much looked forward to the film on this basis but eventually find I am not one of those who join the chorus of its praises. I get the central idea – the in-grown family where the adult children have retreated to a psychopathic imbecility. It is one we have seen in other films such as Spider Baby or, The Maddest Story Ever Told (1968), The Baby (1972) and American Gothic (1987), even you could argue Arsenic and Old Lace (1944). Unfortunately, as with most of the above-listed cases, all of this collapses into a series of annoyingly giggly scenes of adults acting like children that soon start to grate on one's nerves. Much of the film consists of these child-like games.
Francis certainly has the benefit of a beautiful big stately old mansion and grounds. These create an undeniably impressive locale for the happenings and suggests a mentally decaying aristocracy. Alas, the childish games are not that interesting. The film does pick up more of a plot and starts into some interesting psycho-thriller territory towards the end as we see Michael Bryant playing all four of his captors off against each other. Unfortunately, it is not enough to make the film and crucially the part of New Friend has been cast with ordinary working class man Michael Bryant who seems entirely lacking in the magnetic sexual charisma that such a character should have had to make the part work.
Freddie Francis's other genre films are:- Vengeance/The Brain (1962), Paranoiac (1963), The Evil of Frankenstein (1964), Nightmare (1964), Dr Terror's House of Horrors (1965), Hysteria (1965), The Skull (1965), The Psychopath (1966), The Deadly Bees (1967), They Came from Beyond Space (1967), Torture Garden (1967), Dracula Has Risen from the Grave (1968), Trog (1970), The Vampire Happening (1971), Tales from the Crypt (1972), Craze (1973), The Creeping Flesh (1973), Tales That Witness Madness (1973), Legend of the Werewolf (1974), Son of Dracula (1974), The Ghoul (1975), The Doctor and the Devils (1985) and Dark Tower (1987).
---
---