---
Crew
Director/Screenplay – David Koepp, Based on the Novella by Daniel Kehlmann, Producers – Kevin Bacon, Jason Blum & Dean O'Toole, Photography – Angus Hudson, Music – Geoff Zanelli, Visual Effects Supervisor – Wesley Froud, Visual Effects – Atomic Arts (Supervisors – Justin Cornish & Brooke Lyndon-Stanford), Special Effects Supervisor – Alex Gunn, Production Design – Sophie Becher. Production Company – Blumhouse.
Cast
Kevin Bacon (Theo Conroy), Amanda Seyfried (Susanna), Avery Essex (Ella), Colin Blumenau (Shopkeeper), Joshua C. Jackson (Production Assistant – Susanna's Movie)
---
Plot
Theo Conroy is a former banker living in the aftermath of a high-profile trial after his wife drowned in the bath in which he was accused of killing. He was eventually acquitted and it ruled a suicide. Theo is now married to actress Susanna and they have a young daughter Ella. They decide to get away and rent a house in rural Wales before Susanna has to start work on a film in London. Once in the house, Theo is plagued by troubling dreams and they all think that something is wrong with the house. As Theo determines, the house has a geometry that is constantly shifting and it appears determined to keep them there.
---
David Koepp is mostly known as a screenwriter. He has written a number of high-profile films including Apartment Zero (1988), Bad Influence (1989), Death Becomes Her (1992), Carlito's Way (1993), Jurassic Park (1993), The Paper (1994), The Shadow (1994), Mission: Impossible (1996), The Lost World: Jurassic Park (1997), Snake Eyes (1998), Panic Room (2002), Spider-Man (2002), War of the Worlds (2005), Zathura: A Space Adventure (2005), Indiana Jones and the Kingdom of the Crystal Skull (2008), Angels & Demons (2009), Jack Ryan: Shadow Recruit (2014), Inferno (2016), The Mummy (2017) and Indiana Jones and the Dial of Destiny (2023)
Far more impressive has been Koepp's outings as a director, beginning with the collapse of civilisation drama The Trigger Effect (1996) and continuing through Stir of Echoes (1999) in which Kevin Bacon begins to see ghosts after an experiment in amateur hypnotism, the Stephen King adaptation Secret Window (2004), the comedy Ghost Town (2006) where Ricky Gervais can see ghosts and the non-genre thriller Premium Rush (2012). Koepp's promising directorial career did come somewhat unstuck with the poorly received comedy Mortdecai (2015), which I found somewhat more likeable than most appeared to.
After Mortdecai, Koepp appears to have been sent to 'Director's Jail' – the term for directors who become persona non grata at studios for several years after having a box-office flop – but bounced back with backing from Blumhouse. Blumhouse is a studio that has made a name in recent years producing medium-budget horror with the likes of Paranormal Activity (2007), Insidious (2010), The Purge (2013) and sequels. (See below for Blumhouse's other films).
David Koepp adapts a 2017 novella by Austrian writer Daniel Kehlmann. Interestingly in the original, Kevin Bacon's character is a screenwriter struggling to come up with a sequel to an earlier success. In the film, the character has been rewritten as an architect – you can only speculate that Koepp did this because it felt too close to home. On the other hand, the story makes much more sense when you look at it in terms of one about frustrated creative urges whereas rewriting Kevin Bacon as an architect seems to remove that – we never actually see him engaged in his profession at any point throughout, for instance, while the scenes where we see him writing in a journal make more sense when you think of them being about him writing a screenplay.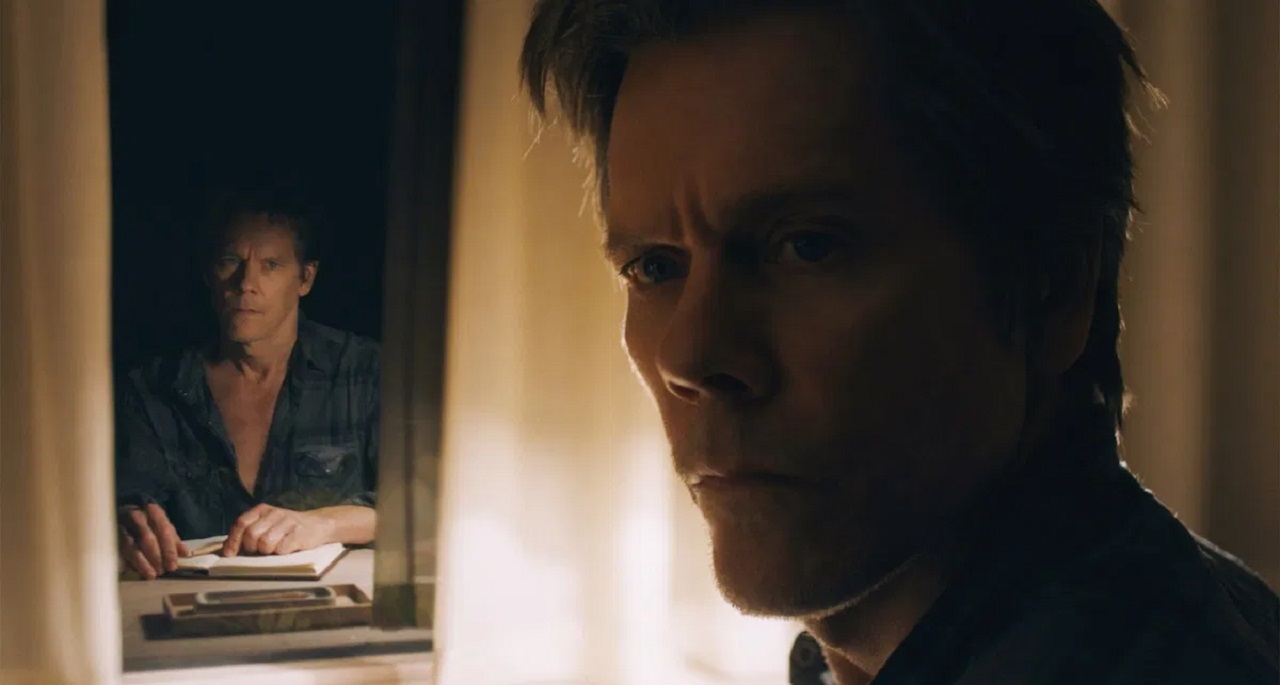 Stir of Echoes is David Koepp's finest moment as a director to date. The great anticipation you have in watching You Should Have Left and seeing Koepp teaming back up with Kevin Bacon after 22 years is that they will cause lightning to strike twice. Alas, this may have worked against watching You Should Have Left. It is a much slower and quieter pace than you are used to.
I kept waiting for Koepp to produce some of the eerie scares that he did in Stir of Echoes. There is the odd moment – like where young Avery Essex is making shadow puppets and then a sinister figure appears outlined on the wall; figures flitting by in the background; Kevin Bacon's refection in a window not following him; and some of the dream scenes, especially one where Kevin Bacon descends into the unexplored regions of the house, down a stairwell eerily lit by a swinging bulb on a long cord. On the other hand, none of these scenes unsettle you in your seat the way that Koepp did in Stir of Echoes.
The most effective scene in the film is the one where Kevin Bacon with the help of daughter Avery Essex calmly measures the inside and outside of the house, finding that the angles are not right and that the inside measures more than the outside. ("The house is a Tardis," was my immediate thought). There's the eerie scene shot from outside the house where we watch through the big bay window as Avery Essex enters the house on the right side to get her coat from the dining room and then exits via a door on the left side but fails to come out and we then follow Kevin Bacon as he goes around and finds there is now a blank wall where she just exited.
To be fair, Koepp is not making a haunted house film this time – more one of the malevolent house films we have seen in works like Burnt Offerings (1976) and Girl on the Third Floor (2019). If anything, the house with the shifting geometry reminds of the haunted house in the Stephen King mini-series Rose Red (2002) and Relic (2020) or perhaps even the people trapped in the topographically shifting cornfield in the also Stephen King adapted In the Tall Grass (2019).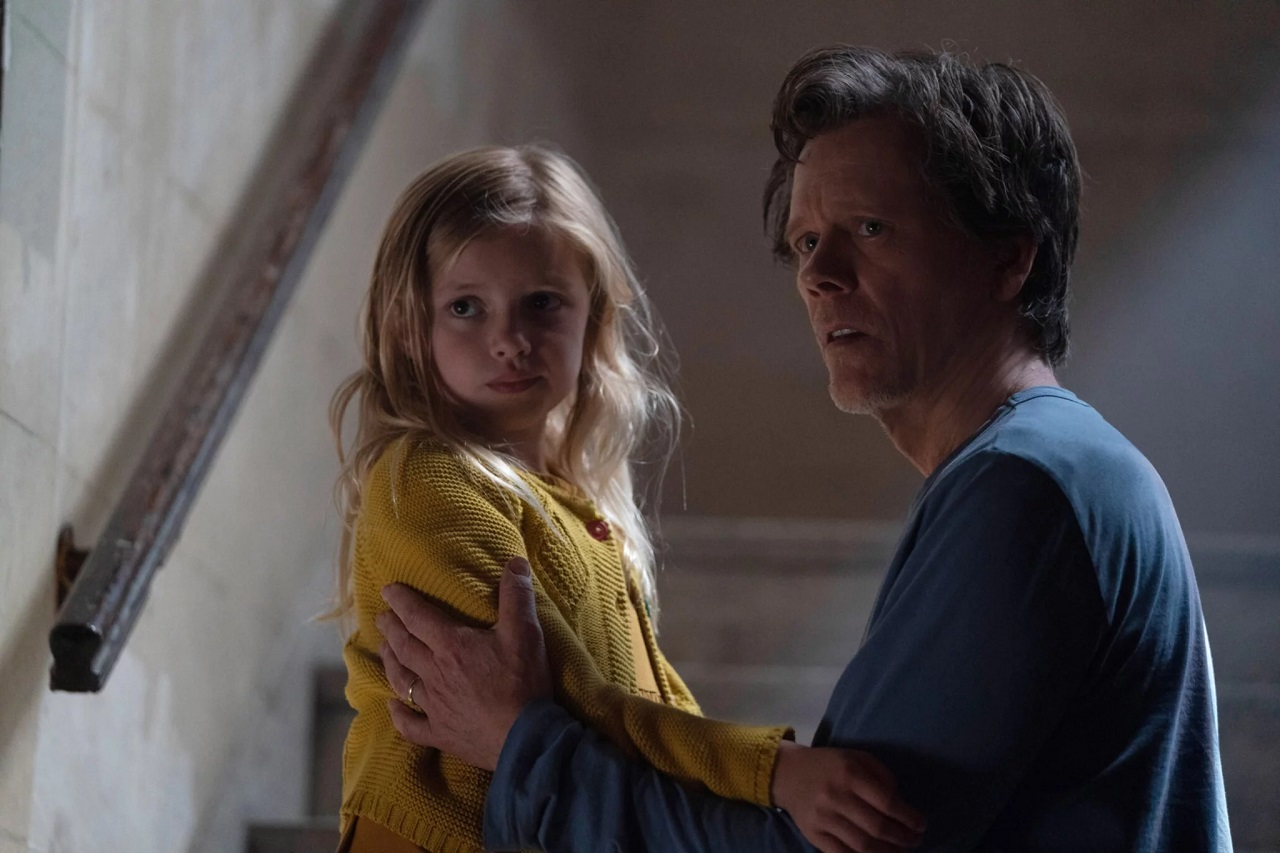 Kevin Bacon apparently stepped in at short notice to replace Nicolas Cage after he bowed out. Kevin Bacon underplays the role and it stretches the mind to think how completely different the film would have been with Cage in the part. The character is suffering from troubling internal torments and writes his thoughts in a diary but in Bacon's avuncular, easygoing performance much of this is like looking at the calm surface of a pond knowing but not seeing the dark waters beneath. The mind boggles to think how Cage would have played this in his typically over-the-top fashion. In the scene where Amanda Seyfried departs, Bacon stands tossing off a few mild, barbed insults where you cannot help but think how this would have played out as a typical Nicolas Cage meltdown scene with him in full-on rage mode.
This does bring us to the character of Theo. David Koepp does like to write films about everyday average guys facing the literal emergence of their darker sides [PLOT SPOILERS] – in both Stir of Echoes and here, we have a sinister and threatening character that is revealed to be the protagonist's own alter ego. This makes for a fairly ho-hum twist – it was one that I was able to predict some twenty minutes before Koepp pulled on us – and as such makes You Should Have Left a lesser work than you feel it should have been.
Jason Blum and his Blumhouse production company have produced a number of other genre films including:- Hamlet (2000), Paranormal Activity (2007) and sequels, Insidious (2010) and sequels, Tooth Fairy (2010), The Bay (2012), The Lords of Salem (2012), The River (tv series, 2012), Sinister (2012) and sequel, Dark Skies (2013), Oculus (2013), The Purge (2013) and sequels, the tv mini-series Ascension (2014), Creep (2014), Jessabelle (2014), Mercy (2014), Mockingbird (2014), Not Safe for Work (2014), Ouija (2014) and sequel, 13 Sins (2014), The Town That Dreaded Sundown (2014), Unfriended/Cybernatural (2014), Area 51 (2015), The Boy Next Door (2015), Curve (2015), The Gallows (2015), The Gift (2015), Jem and the Holograms (2015), The Lazarus Effect (2015), Martyrs (2015), Visions (2015), The Visit (2015), The Darkness (2016), Hush (2016), Incarnate (2016), The Veil (2016), Viral (2016), Amityville: The Awakening (2017), Get Out (2017), Happy Death Day (2017), The Keeping Hours (2017), Split (2017), Stephanie (2017), Bloodline (2018), Cam (2018), Delirium (2018), Halloween (2018), Seven in Heaven (2018), Truth or Dare (2018), Upgrade (2018), Black Christmas (2019), Ma (2019), Prey (2019), Don't Let Go (2019), Sweetheart (2019), Black Box (2020), The Craft: Legacy (2020), Evil Eye (2020), Fantasy Island (2020), Freaky (2020), The Hunt (2020), The Invisible Man (2020), Nocturne (2020), Black As Night (2021), The Black Phone (2021), Dashcam (2021), Firestarter (2022), M3gan (2022), Mr Harrigan's Phone (2022), Nanny (2022), Soft & Quiet (2022), Run Sweetheart Run (2022), Sick (2022), They/Them (2022), The Visitor (2022), Torn Hearts (2022), Unhuman (2022), The Exorcist: Believer (2023), Five Nights at Freddy's (2023), There's Something Wrong With the Children (2023) and Totally Killer (2023).
---
---