---
Crew
Director – Peter Cornwell, Screenplay – Matt Greenberg, Based on the Short Story Gramma by Stephen King, Producers – Jason Blum, McG & Mary Viola, Photography – Byron Shah, Music – Reza Safinia, Visual Effects Supervisor – Olaf Wendt, Makeup Effects – Fractured FX (Designer – Justin Raleigh), Production Design – Clay Griffith. Production Company – Wonderland Sound & Vision/Blumhouse.
Cast
Chandler Riggs (George), Shirley Knight (Mercy McCoy), Frances O'Connor (Rebecca), Joel Courtney (Buddy), Mark Duplass (Uncle Lanning), Dylan McDermott (Jim Swann), Amanda Walsh (Charlotte), Hana Hayes (Girl Next Door), Eddie Jones (Pastor Gregory Luke), Pepper Binkley (Young Mercy), Chris Browning (Frank)
---
Plot
George, his older brother Buddy and mother Rebecca move to the small hometown of his 'Gramma' Mercy. Mercy has been thrown out of the geriatric home she was placed in and they need to tend her. George sees that the other residents of the home were fearful of Mercy. In their care, Mercy is difficult and uncontrollable. George sees that she hates the medication they give her and decides to substitute it for saline. George learns stories from the locals of how Mercy was barren and supposedly made a deal with Hastur, an entity that lives in the mountains, to have a child. This left her with powers as a witch. George believes that as she has become infirm, the evil influence is now coming to take her over. Left alone to tend Gramma while his mother takes Buddy to hospital, George faces the evil force as it takes possession of Mercy and is determined to sacrifice him.
---
Mercy was one of the films made by Jason Blum's Blumhouse, just at the point they were moving from success with the Paranormal Activity and Insidious films and the first The Purge (2013) to becoming a major player in the horror genre. Director Peter Cornwell had previously appeared with the horror film The Haunting in Connecticut (2009). Almost all of Blumhouse's films up to that point received theatrical releases but Mercy went directly to dvd.
The film is based on Gramma (1984), a short story by Stephen King. The story mostly consists of an extended scene with young George forced to stay at home tending his grandmother. In flashbacks, we discover her history as a witch and deal with the entity Hastur, before George realises that Gramma has died but he then enters the room to find her corpse reaching out to him. The story reaches an ambiguous end where George appears to have inherited some of Gramma's powers or even be possessed by her. The short story was previously adapted as an episode of the tv series The Twilight Zone (1985-9) with Barret Oliver as George. The film expands on the story a good deal, although oddly what we don't get is the scene with the dead grandmother that formed the centre point of the story.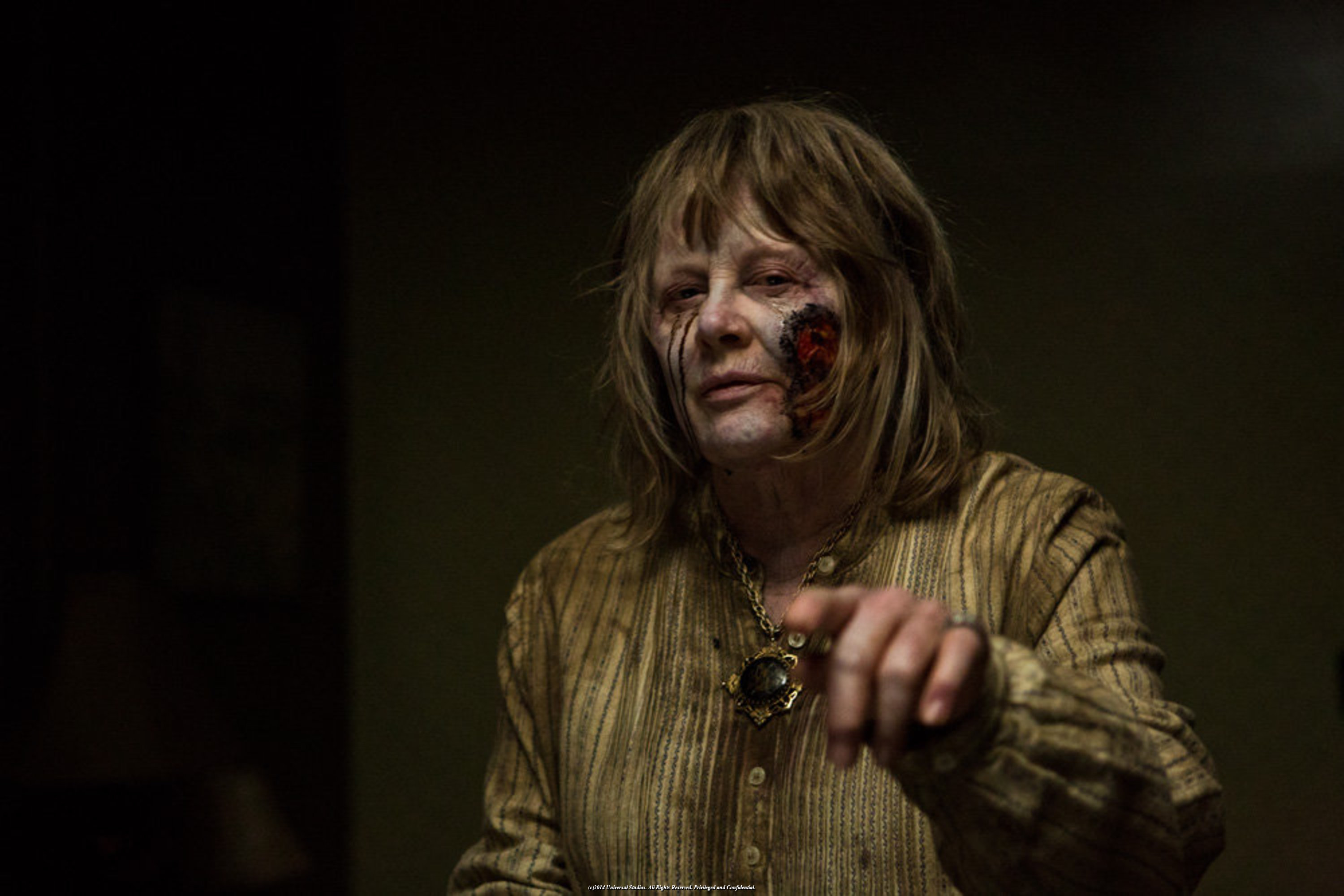 Mercy is a low-expectation film but achieves its effect quite modestly. Gramma/Mercy is built up as someone the people around her are constantly suggesting is sinister in influence and power. The film gets great effect out of peripheral pieces – Mark Duplass telling the story of the other sibling who wanted to leave home and get married but was found in the forest with the husband dead and she up a tree in fear. Or of how the young Mercy went into the mountains and came back pregnant. (Here King and the film willingly borrows from H.P. Lovecraft for whom Hastur was an entity, although Lovecraft had in turn borrowed this from an Ambrose Bierce story). This is definitely not a predictable film. You are held to it simply out of wanting to know what is going on. The climactic scenes with young Chandler Riggs trapped in the house as the force controlling Shirley Knight prevents him from leaving and wants to drag him into an occult circle as a sacrifice is undeniably creepy.
The film gets great usage out of Shirley Knight, an actress who achieved some fame in the 1960s, including two Academy Award nominations and a host of Emmy nods and wins in later years, but has steadily appeared in a series of supporting parts, usually as mothers and grandmothers since then. Peter Cornwell builds up her presence with fearsome regard, as much by people whispering about her in her absence that by her actual appearances on screen.
Other Stephen King genre adaptations include:- Carrie (1976), Salem's Lot (1979), The Shining (1980), Christine (1983), Cujo (1983), The Dead Zone (1983), Children of the Corn (1984), Firestarter (1984), Cat's Eye (1985), Silver Bullet (1985), The Running Man (1987), Pet Sematary (1989), Graveyard Shift (1990), It (tv mini-series, 1990), Misery (1990), a segment of Tales from the Darkside: The Movie (1990), Sometimes They Come Back (1991), The Lawnmower Man (1992), The Dark Half (1993), Needful Things (1993), The Tommyknockers (tv mini-series, 1993), The Stand (tv mini-series, 1994), The Langoliers (tv mini-series, 1995), The Mangler (1995), Thinner (1996), The Night Flier (1997), Quicksilver Highway (1997), The Shining (tv mini-series, 1997), Trucks (1997), Apt Pupil (1998), The Green Mile (1999), The Dead Zone (tv series, 2001-2), Hearts in Atlantis (2001), Carrie (tv mini-series, 2002), Dreamcatcher (2003), Riding the Bullet (2004), 'Salem's Lot (tv mini-series, 2004), Secret Window (2004), Desperation (tv mini-series, 2006), Nightmares & Dreamscapes: From the Stories of Stephen King (tv mini-series, 2006), 1408 (2007), The Mist (2007), Children of the Corn (2009), Everything's Eventual (2009), the tv series Haven (2010-5), Bag of Bones (tv mini-series, 2011), Carrie (2013), Under the Dome (tv series, 2013-5), Big Driver (2014), A Good Marriage (2014), Cell (2016), 11.22.63 (tv mini-series, 2016), The Dark Tower (2017), Gerald's Game (2017), It (2017), The Mist (tv series, 2017), Mr. Mercedes (tv series, 2017-9), 1922 (2017), Castle Rock (tv series, 2018-9), Doctor Sleep (2019), In the Tall Grass (2019), Pet Sematary (2019), The Outsider (tv series, 2020- ), The Stand (tv mini-series, 2020-1), Chapelwaite (tv series, 2021- ), Lisey's Story (tv mini-series, 2021), Firestarter (2022) and Salem's Lot (2022). Stephen King had also written a number of original screen works with Creepshow (1982), Golden Years (tv mini-series, 1991), Sleepwalkers (1992), Storm of the Century (tv mini-series, 1999), Rose Red (tv mini-series, 2002) and the tv series Kingdom Hospital (2004), as well as adapted his own works with the screenplays for Cat's Eye, Silver Bullet, The Stand, The Shining, Desperation, Children of the Corn 2009, A Good Marriage, Cell and Lisey's Story. King also directed one film with Maximum Overdrive (1986).
Jason Blum and his Blumhouse production company have produced a number of other genre films including:- Hamlet (2000), Paranormal Activity (2007) and sequels, Insidious (2010) and sequels, Tooth Fairy (2010), The Bay (2012), The Lords of Salem (2012), The River (tv series, 2012), Sinister (2012) and sequel, Dark Skies (2013), Oculus (2013), The Purge (2013) and sequels, the tv mini-series Ascension (2014), Creep (2014), Jessabelle (2014), Mockingbird (2014), Not Safe for Work (2014), Ouija (2014) and sequel, 13 Sins (2014), The Town That Dreaded Sundown (2014), Unfriended/Cybernatural (2014), Area 51 (2015), The Boy Next Door (2015), Curve (2015), The Gallows (2015), The Gift (2015), Jem and the Holograms (2015), The Lazarus Effect (2015), Martyrs (2015), Visions (2015), The Visit (2015), The Darkness (2016), Hush (2016), Incarnate (2016), The Veil (2016), Viral (2016), Amityville: The Awakening (2017), Get Out (2017), Happy Death Day (2017), The Keeping Hours (2017), Split (2017), Stephanie (2017), Bloodline (2018), Cam (2018), Delirium (2018), Halloween (2018), Seven in Heaven (2018), Truth or Dare (2018), Upgrade (2018), Black Christmas (2019), Ma (2019), Prey (2019), Don't Let Go (2019), Sweetheart (2019), Black Box (2020), The Craft: Legacy (2020), Evil Eye (2020), Fantasy Island (2020), Freaky (2020), The Hunt (2020), The Invisible Man (2020), Nocturne (2020), You Should Have Left (2020), Black as Night (2021), The Black Phone (2021), Dashcam (2021), Madres (2021) and Firestarter (2022).
---
---