---
Crew
Director – Chris Walas, Screenplay – Frank Darabont, Mick Garris & Jim & Ken Wheat, Story – Mick Garris, Producer – Steven-Charles Jaffe, Photography – Robin Vidgeon, Music – Christopher Young, Special Effects – John Thomas, Makeup Effects – Chris Walas Inc (Supervisors – Jon Berg & Stephen Du Puis), Production Design – Michael S. Bolton. Production Company – Brooksfilm.
Cast
Eric Stoltz (Martin Brundle), Daphne Zuniga (Beth Logan), Lee Richardson (Anton Bartok), Gary Chalk (Scorby), John Getz (Stathis Borans), Harley Cross (10 year old Martin), Frank C. Turner (Dr Norman Shepard), Anne-Marie Lee (Dr Jainway)
---
Plot
Veronica Quaife gives birth to Seth Brundle's son but dies in the process of childbirth. After emerging from a cocoon, the baby turns out a normal, healthy human boy. Industrialist Anton Bartok takes and raises the boy, naming him Martin. Growing to manhood in the space of five years, Martin begins work on reviving his father's telepod experiments. Martin then discovers that he is about to mutate into a fly creature and that Bartok is waiting for him to finish doing so so that he can exploit the discovery.
---
Originality is running low in Hollywood these days – the parts IV and V ad infinitum are becoming bearable but when they start making sequels to remakes it makes one think that enough is getting to be enough. The Fly II is sequel to a remake – David Cronenberg's The Fly (1986). It becomes even more ridiculous when one realizes that The Fly II is an (unofficial) remake of a sequel to the original The Fly (1958), namely Return of the Fly (1959), which also had the son of the original scientist experimenting with his daddy's matter transmitter and ending up with a predictable case of bad zits.
The Fly II is a disappointing comedown from the David Cronenberg film. In The Fly, Cronenberg reworked the 1950s original into a psychologically obsessive study of a man mutating. In the director's seat here, Croneberg has been replaced by Chris Walas. Chris Walas was the makeup effects man on the remake, where he won an Oscar for his work, and was allowed to make his directorial debut with this film.
One might have thought that with Chris Walas as the director, he might have seen the way to doing something stupendous with the makeup effects. However, Walas reduces Cronenberg's obsessive study to no more than a formula monster movie. The last quarter is a particular let down with Eric Stoltz becoming just another giant-size monster roaring and ripping people's heads off. There is little that connects the strutting, roaring latex Mecchano set that Eric Stoltz is replaced with halfway through with the actor and character – it is just another copy of Alien (1979) without any expression or humanity. Certainly, Chris Walas contributes some very gory splatter effects – a head going squish like a melon under the creature's foot and a nifty melted face effect.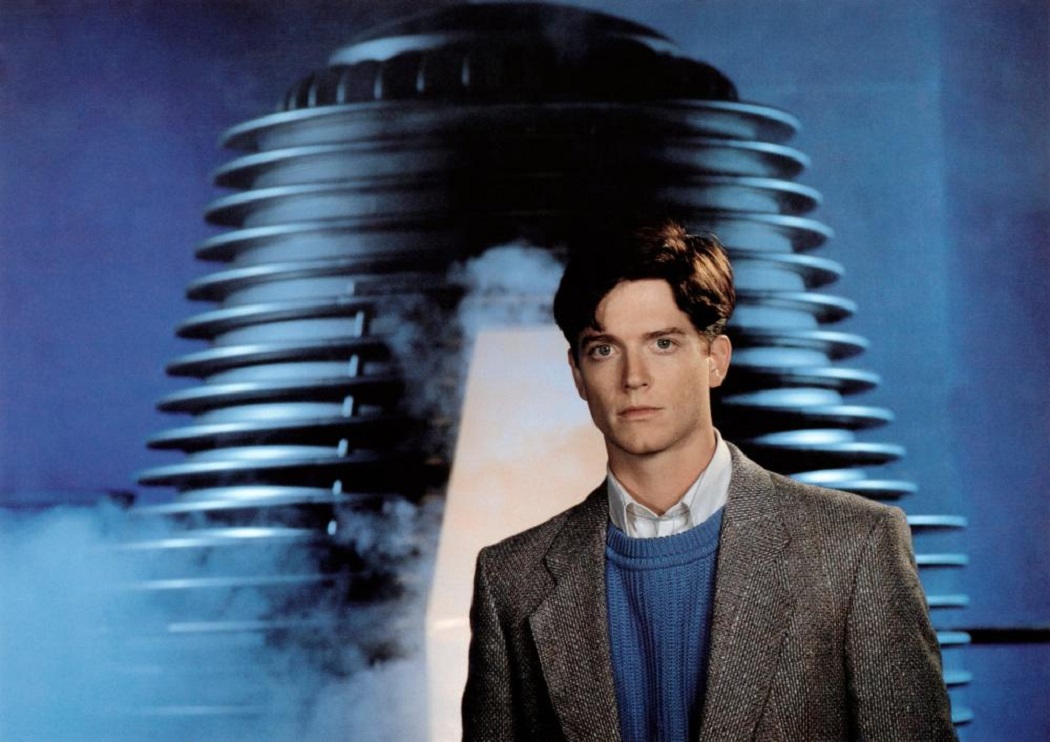 The story is stocked with cliches and an entirely predictable happy wrap-up ending that is frankly unbelievable. In fact, when it comes to science, the film's use of DNA as something that can be swapped around like a blood transfusion will guarantee to have anybody with a knowledge of even high school biology rolling in the aisle.
The beginning scenes are better – the romance and the scenes with the dog are incredible sentimental rubbish but Chris Walas gives them a certain conviction, considerably aided by Robin Vidgeon's mellow, soft lighting. Eric Stoltz, albeit somewhat blank-faced, seems to believe in it too. If the film had not replaced him with a latex Mecchano set halfway through, he and Chris Walas's shamelessly feelgood mawkishness might have added a romantic side to the story that would have been more interesting than what we end up with.
Chris Walas has made only one other film as director, The Vagrant (1992), a horror comedy about a psychological game between a homeowner and a homeless squatter living in his basement. The script also comes from a number of people who have gone onto other genre careers, including Mick Garris, who would later direct various Stephen King collaborations such as Sleepwalkers (1992) and Riding the Bullet (2004) and the tv mini-series adaptations of The Stand (1994), The Shining (1997), Desperation (2006) and Bag of Bones (2011); and Frank Darabont who would direct the Stephen King adaptations The Shawshank Redemption (1994), The Green Mile (1999) and The Mist (2007), as well as create tv's The Walking Dead (2010– ).
---
---