---
Crew
Director/Visual Effects Supervisor – Marc Fehse, Screenplay – Carsten Fehse, Marc Fehse & A.D. Morel, Producers – Yazid Benfeghoul, Carsten Fehse & Marc Fehse Photography – Olaf Markmann & Marco J. Riedl, Music – Nicolas Alvarez, Additional Music – Alex Cortez & David Imbault, Visual Effects – Digitale Berlin & Slice Studios (Supervisor – Michael Kulzer), Special Effects Supervisor – Martin Kleist, Production Design – Mr Ismanfat. Production Company – Fusebox Films GmbH/Marctripolis Filmstudio.
Cast
Thomas Morris (Dr Klaus Richter), Eva Habermann (Diabla Richter), Barbara Nedeljakova (Angelique Richter), Detlef Bothe (Dr Hans Kammler), Tony Todd (Major General Frost), Cary-Hiroyuki Tagawa (Michael Morel), Michaela Scaffrath (Heidi Lonz), Robert Lasardo (Father Rodriguez), Amanda Bearse (Marjorie Phelps), Mathis Landwehr (Captain Brent Tyler), Lynn Lowry (Mother Mary), Lar Park-Lincoln (Sidney Scott)
---
Plot
A Finnish airliner crossing over Iceland is abruptly attacked by flying sharks piloted by zombie Nazis. The zombies invade the plane and slaughter everybody. Dr Klaus Richter, the 120+ year-old head of Richter Technology, sends his daughter Diabla to the site of the crash. She uncovers a secret Nazi base nearby where the genetically-engineered sharks are grown. Richter reveals to Diabla and her sister Angelique how the zombies come from Project Himmelsfaust that was created by Dr Hans Kammler during World War II with the intention of creating a genetically-engineered Nazi super-soldier. Richter now urges the world's military heads to take action as the invisible sky sharks attack major centres.
---
Sky Sharks has set out to pitch itself as the ultimate modern gonzo horror film, Firstly, it sells itself as another modern deliberately ridiculous killer shark film. This is a fad that emerged in the mid-2000s – see Killer Shark Movies – with a whole host of titles that set out to mix sharks with things as absurd as possible, something that culminated with the bad movie hit of Sharknado (2013). Throughout the 2010s, there have been a great many films in a similar vein – see the likes of Dinoshark (2010), Sharktopus (2010), 2-Headed Shark Attack (2012), Jersey Shore Shark Attack (2012), Avalanche Sharks (2013), 90210 Shark Attack (2014), Raiders of the Lost Shark (2015), Roboshark (2015), Sharkansas Women's Prison Massacre (2016), Sharkenstein (2016), House Shark (2017), Trailer Park Shark (2017), Post Apocalyptic Commando Shark (2018), Ouija Shark (2020), Noah's Shark (2021), Sharks of the Corn (2021), Virus Shark (2021) and Shark Side of the Moon (2022), among others. During this time, the Zombie Film has taken a similar turn for the wilfully ridiculous.
Similarly, during this same period, the portrayal of Nazis on film has taken a turn for the deliberately ridiculous. Nazis had been turning up as mad scientists and villains since the 1950s. From the 2000s, they had taken a turn for the gonzo with films like Dead Snow (2009), Iron Sky (2012), Nazis at the Center of the Earth (2012), Frankenstein's Army (2013) and Yoga Hosers (2016) wherein they have been mixed with all manner of conceptually whacked elements ranging from zombies, werewolves, alien lizard people and UFOs on the Moon. Sky Sharks feels as though it has conceptually pitched as being Iron Sky by way of Sharknado and with zombies thrown into the mix too. (For an overview of the genre see Nazis in Fantastic Cinema).
Sky Sharks comes from Marc Fehse, a German director who had previously co-directed a similar film with Mutation (1999) about the present-day discovery of a Nazi formula that creates zombies and gory meltdowns. (It is hard to tell going from just a description but it feels as though Sky Sharks could easily be a sequel). Fehse also directed Sex, Dogz and Rock'n'Roll (2011) and the music documentary The Power of Soul (2013), as well as produced the horror film Legend of Hell (2012) and the documentary Banned Alive! The Rise and Fall of Italian Cannibal Movies (2015).
Sky Sharks sells itself from the point of its enormously entertaining opening sequence that involves a commercial plane flight being surrounded by flying sharks and then invaded by their pilots – Nazi zombies who proceed to slaughter the passengers and crew in gouts of outrageously over-the-top splatter and gore. This continues a few scenes later with scenes where two scientists at a polar station are having sex when they are interrupted by a Nazi zombie who beheads the man, leaving the nude, blood-drenched woman running through the complex wielding a shotgun.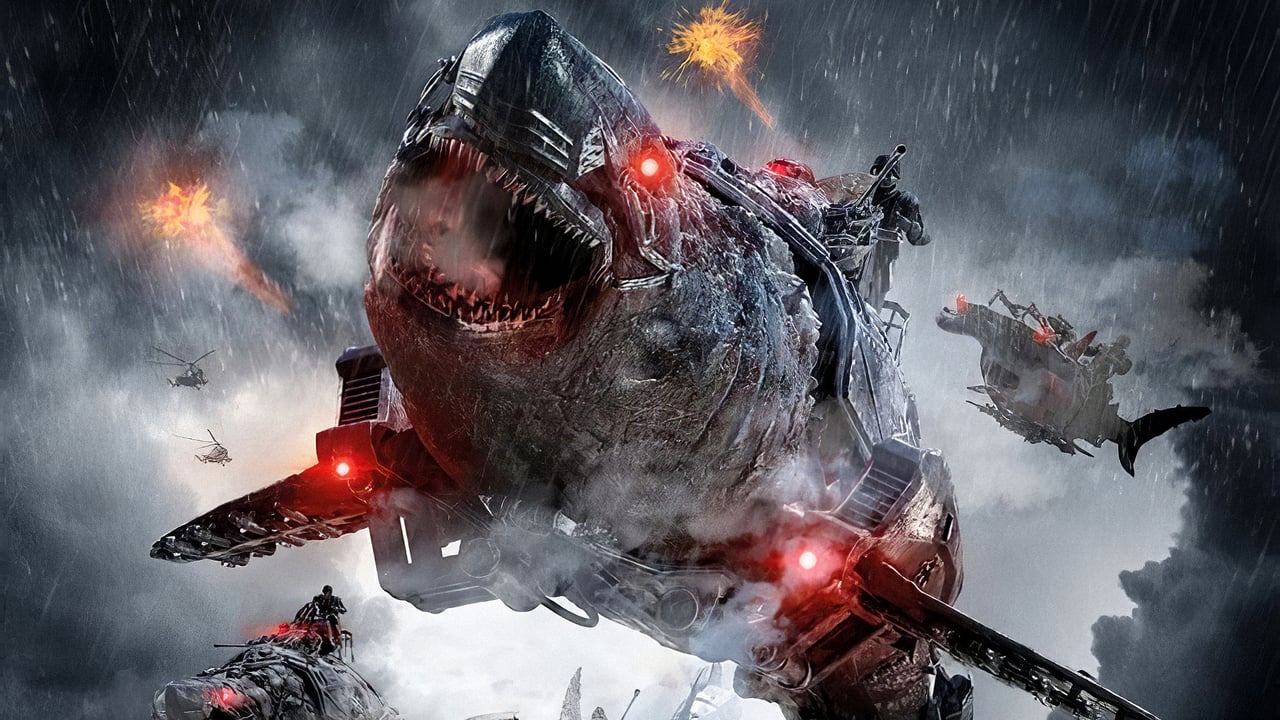 Sky Sharks feels very similar in tone to Iron Sky – the film about Nazi flying saucers on the Moon. Just like Iron Sky's director Timo Vuorensela, Marc Fehse supervises all the visual effects himself. Both Iron Sky, its sequel Iron Sky: The Coming Race (2018) and Sky Sharks share the same problems in that outside of the things that the respective directors do well – the effects scenes and planting tongue in cheek – the films lack a strong plot holding everything together. Certainly, Fehse does an excellent job of providing the effects and comes up with some highly imaginative designs in the sequences with the flying sharks, planes, armoured battlecraft and the like in action.
Once it gets past the scenes with Eva Habermann making her escape from the polar base and Thomas Morris sitting around explaining things (around the 30-minute point), Sky Sharks loses some of its impetus. The subsequent montage of scenes with sharks attacking all around the world have a digital effects quality far below the earlier scenes. The film does however pick up with a highly entertaining sequence where the Nazi zombies invade another plane – replete with a woman running topless down the aisle covered in blood after her lover's head gets splattered during a bathroom sexual encounter – before the Nazi zombies drag a cable through the plane from either side, peeling the roof off like the lid of a tin can and beheading the seated passengers inside en masse.
The film does have a fairly amazing cast of genre regulars. These include:- Tony Todd, a horror genre regular best known as Candyman (1992), badly overacting as a US general; B movie regulars Cary-Hiroyuki Tagawa and Robert Lasardo as respectively a drunken businessman and a tattooed priest on the flight in the opening scenes, along with horror genre regular Lynn Lowry as a nun; Naomi Grossman, best known for various roles in American Horror Story (2011-), as a newscaster; Fright Night (1985) actress Amanda Bearse as a US senator; and Friday the 13th series actress Lar Park Lincoln as an air hostess.
---