---
Crew
Director/Screenplay – James Gunn, Producers – Paul Brooks & Eric Newman, Photography – Gregory Middleton, Music – Tyler Bates, Visual Effects Supervisor – John Gajdecki, Visual Effects – Digital Dimension (Supervisor – Benoit 'Ben' Girard), Glimpse Digital Limited, Image Engine Design (Supervisor – Adam de Kosch Kemper), Jack Lake, Kleiser-Walczak, Meteor Studios, Rocket Science VFX (Supervisor – Tom Turnbull) & Switch VFX (Supervisor – Jon Campfens), Makeup Effects – Masters FX (Supervisors – Todd Masters & Dan Rebert), Production Design – Andrew Neskromny. Production Company – Gold Circle Films/Strike Entertainment.
Cast
Nathan Fillion (Sheriff Bill Pardy), Elizabeth Banks (Starla Grant), Michael Rooker (Grant Grant), Gregg Henry (Jack MacReady), Tania Saulnier (Kylie Strutemeyer), Brenda James (Brenda Gutierrez), Don Thompson (Wally), Jenna Fischer (Shelby), Jennifer Copping (Margaret), Haig Sutherland (Trevor), Iris Quinn (Mrs Strutmeyer)
---
Plot
A meteorite comes down in the sleepy town of Wheelsy, South Carolina. Frustrated with his wife Starla's lack of sexual interest, a drunken Grant Grant wanders into the woods with another woman Brenda Gutierrez, only to be impaled by a spike shot out of the meteorite. Over the next few days, Grant begins to change. He starts to devour large amounts of raw meat and then abducts Brenda. As the sheriff's department led by Bill Pardy track Grant down, they find he has transformed into a tentacled creature. They pursue Grant into a barn to find Brenda imprisoned there and swollen to giant size. As they arrive, she explodes, giving birth to hundreds of slugs that burrow into everybody's open mouths and take over their bodies. Bill, Starla and handful of others remain uninfected and try to stop the slugs as they take over everybody in town, turning them into zombies.
---
Slither – which should not be confused with the almost culty black comedy Slither (1973) – is a horror/sf movie from screenwriter James Gunn. James Gunn started working in the industry at Troma Films, co-writing Tromeo & Juliet (1996) as well as Troma founder Lloyd Kaufman's biography All I Need to Know About Filmmaking I Learned from the Toxic Avenger (1998) that later became the basis of Terror Firmer (1999). Gunn then graduated to A-list screenwriter with films such as Scooby-Doo (2002), Dawn of the Dead (2004), Scooby Doo 2: Monsters Unleashed (2004) and The Belko Experiment (2016), as well as the little-seen cult independent superhero spoof The Specials (2000). Slither was James Gunn's directorial debut.
A great many monster movies of the 1990s and beyond – Anaconda (1997), Godzilla (1998), Mighty Joe Young (1998), Deep Blue Sea (1999), Eight Legged Freaks (2002) etc – are essentially remakes of older monster movies but conducted with top-drawer CGI effects. In that case, Slither is surely a CGI monster movie remake of Night of the Creeps (1986). Night of the Creeps was a film about a horde of alien slugs that took over human bodies and resurrected the dead. More importantly, Night of the Creeps, like Slither, leapt into the genre in-reference thing and, exactly as James Gunn does, named various characters and locations after horror directors.
James Gunn comes from a background in genre/exploitation cinema and his love for the material is clearly reflected in Slither. The film is packed with all manner of references to genre films – the opening pan around the town shows a gun store owned by Max Renn, the protagonist played by James Woods in David Cronenberg's Videodrome (1983); a department store known as T.J. MacReady's, the hero played by Kurt Russell in John Carpenter's The Thing (1982); a bar called Henenlotter's after director Frank Henenlotter who made the cult Basket Case (1982). Elsewhere there is mention of a farm owned by the Castevets – Mia Farrow's Devil worshipping neighbours in Rosemary's Baby (1968); a high school named after Earl Bassett, Fred Ward's hero in Tremors (1990); and a cameo from Troma maven Lloyd Kaufman; while Brenda James is seen watching Troma's The Toxic Avenger (1984) on tv.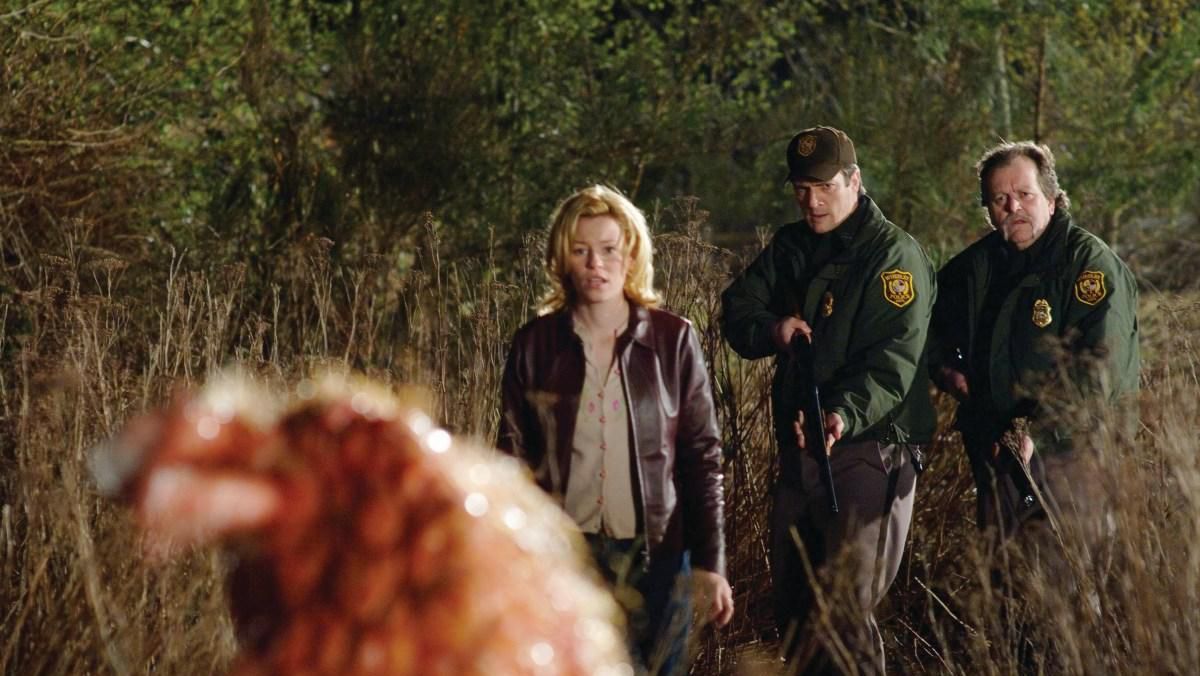 Furthermore, whole aspects of Slither seem to quote from other movies – Michael Rooker's mutated slithery form is strongly reminiscent of the mutated version of Ted Sorel's Dr Pretorious in From Beyond (1986), while his more advanced form resembles The Fly (1986); the giant orgy scene at the climax resonates with images of the shunting orgy climax in Society (1989); the slug in the bath scene in highly reminiscent of the classic scene with Barbara Steele in David Cronenberg's Shivers (1975); and the various zombies stumbling across the fields echo with images from George Romero movies.
The question that hangs over Slither, at least before I went in to see it, is – Do we need yet another in-referencing, in-jokey horror movie? The good news is that James Gunn, while clearly having his fun in that arena, delivers much more than that and creates an often eerie and way-out tension. Particularly good are the scenes where we encounter Michael Rooker's mutated form in a field for the first time as he devours a cow and then casually slices a man in half with a tentacle as the sheriff's department close in, followed by the scene where they encounter the grotesquely pregnant Brenda James chained up in the barn.
Gunn always undercuts the suspense with humour. His dialogue is often witty and sharply sarcastic. He has a fine eye for creating portraits of deadbeat characters in smalltown Nowheresville USA – the kids in class gawping at Elizabeth Banks, the lady singing off-key in the karaoke bar – although the complaint might be that having set up an amusingly sarcastic portrait of smalltown America, this proves of no relevance to anything that happens in the rest of the film.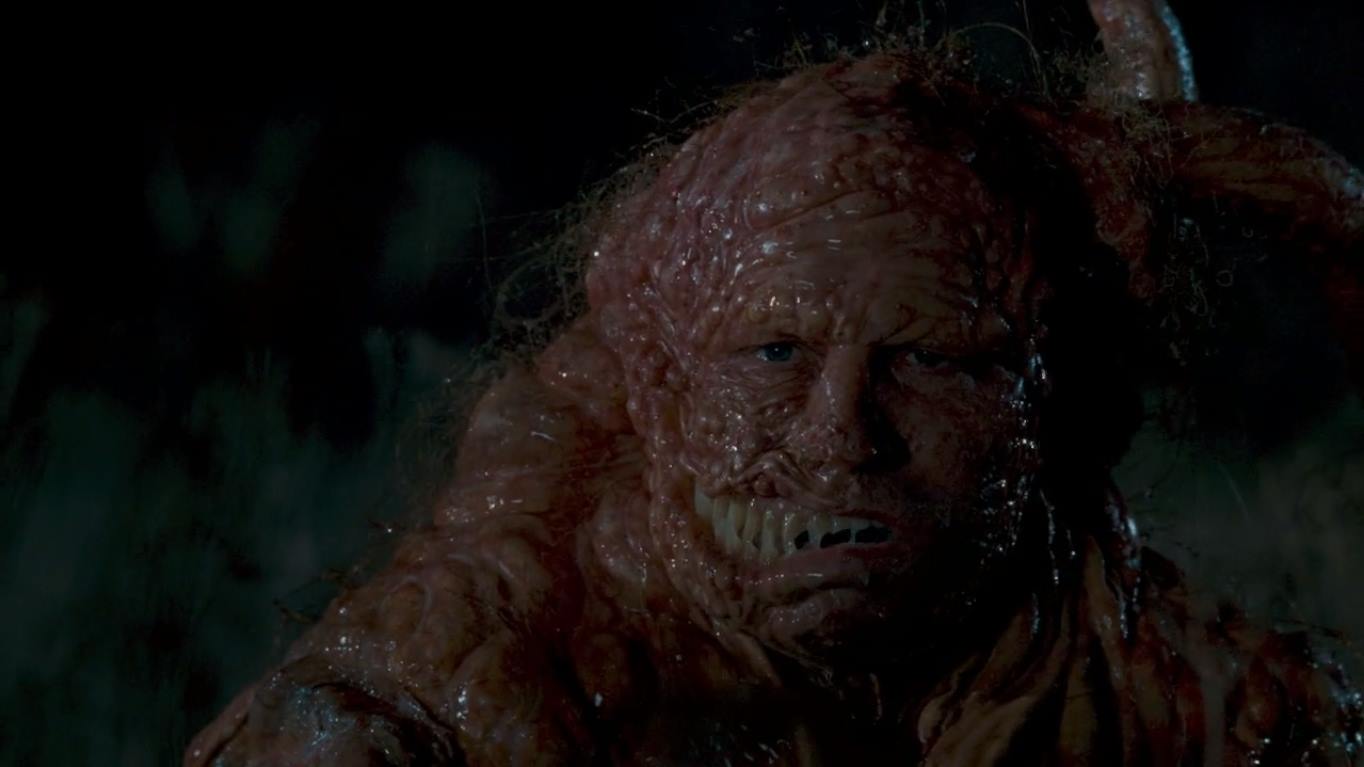 Slither is fun, although the major complaint might be that James Gunn seems more interested in keeping things light rather than pushing them to a sense of nightmarish siege akin to something like George Romero's Night of the Living Dead (1968). Had James Gunn pushed Slither a little further, we might have ended up with a classic rather than something merely enjoyably amusing. The makeup effects used to create the slugs and creatures are excellent, although the digital effects do seem slightly spotty, most notably in the scene where they cover Nathan Fillion and Elizabeth Banks, which looks obviously like a CGI effect.
It's good also to see Nathan Fillion, the actor who emerged from tv's muchly lamented sf series Firefly (2002-3) and who, when he appeared in Serenity (2005), the big screen spinoff of Firefly, I predicted had the natural charisma and looks to be an A-list star. James Gunn happily gives Fillion that chance here, even if the role that Fillion is cast in is entirely generic. Much the same could be said of the rest of the principal cast – that the roles are standard and by the book with no real depth. Certainly, Gregg Henry takes full opportunity to chew the scenery entertainingly. Michael Rooker of Henry: Portrait of a Serial Killer (1986) fame, who usually specialises in mean-minded wife beater type parts, has one of the best roles he has had in some time.
James Gunn went onto direct/write the witty Super (2010) about a would-be superhero with no powers, the Beezel segment of Movie 43 (2013), the Marvel Comics adaptation Guardians of the Galaxy (2014) and its sequels Guardians of the Galaxy: Vol. 2 (2017) and Guardians of the Galaxy: Vol. 3 (2023), and The Suicide Squad (2021). Gunn also created the tv series tv series Peacemaker (2022- ) and is producer of the anti-superhero film Brightburn (2019) and Avengers: Endgame (2019).
(Winner for Best Makeup Effects at this site's Best of 2006 Awards).
---
---