---
Crew
Director – Robert Vince, Screenplay – Anna McRoberts, Anne Vince & Robert Vince, Story – Anna McRoberts & Ed McRoberts, Producers – Anna McRoberts & Robert Vince, Photography – Mike Southon, Music – Brahm Wenger, Visual Effects Supervisor – Mark Savela, Visual Effects – Digital Slaves VFX (Supervisor – Keith Hamilton), Keypix Studios (Supervisor – Mark Savela), Lost Boys Studios (Supervisor – Tony Power), Mr. X (Supervisor – Mark Stepanek), Northwest Imaging FX (Supervisor – Paul R. Cox) & Spin (Supervisor – Doug Campbell), Special Effects Supervisor – Andy Chamberlayne, Prosthetics – Creature Effects Studios Inc. & SFX Studios Inc., Production Design – Peter Andringa. Production Company – Keystone Family Pictures/Spy Chimp Productions Inc.
Cast
Chris Potter (Mike Muggins), Emma Roberts (Emilia Muggins), Richard Kind (Dr Robert Farley), Musetta Vander (Dr Claudette Amour), Michael Bailey Smith (Hugo Dulton), Debra Jo Rupp (Edith), Pat Morita (Kiro), Kathryn Kirkpatrick (Betty), Troy Yorke (Lightning), Taras Kostyuk (Melmar), Guillaume Lemay-Thiverge (Fly), Barry Bostwick (President), Jay Brazeau (Ringmaster)
---
Plot
Ten years ago, Mike Muggins was a top spy with The Agency where he was companioned with Minkey, a monkey that had been trained for its intelligence. Mike has now retired to become an insurance salesman and raise his daughter Emilia, while Minkey has become a circus cannonball performer. Emilia wins a science prize with her design for an Oxygen-Iodide Chemical Laser Drill. Her prize is a trip to the facilities of the renowned scientists Dr Robert Farley and Claudette Amour. Farley immediately whisks Emilia away to Japan where he wants her help in perfecting a laser ten times larger in scale so that they can dig down into the Earth's crust and tap the energy reserve there. When Mike realises that Emilia has been abducted, he recruits Minkey, outfits them both with spy gear and goes back into action. The first part of the plan is to track down Dr Amour on holiday in Jamaica where they discover that she has parted ways with Farley and has no idea what has happened. She joins their quest, believing that Farley's plan will cause a massive disaster if it is completed.
---
Spymate is a film from the Canadian production company Keystone Family Pictures. All of Keystone's films are children's films that feature trained animals of some sort. Director/producer Robert Vince and his writer/co-producer Anna McRoberts have made a number of these films, including Air Bud (1997) and its four sequels about a basketball playing dog; The Duke (1999) about a dog that inherits an aristocratic title; MVP: Most Valuable Primate (2000) and sequels about a chimpanzee that becomes an ice hockey star; Chestnut: Hero of Central Park (2004) about a dog adopted by orphans; The Search for Santa Paws (2010) and sequels about talking dogs saving Santa; the dog film Russell Madness (2015); Monkey Up (2016) about a talking monkey that becomes an actor; Pup Star (2006) and sequels about a singing dog; as well as a whole series of Air Bud spinoffs with Air Buddies (2006), Snow Buddies (2008), Space Buddies (2009), Santa Buddies (2010), Spooky Buddies (2011), Treasure Buddies (2012) and Super Buddies (2013).
Spymate may well be the lamest idea ever conceived for a spy film – that of a spy who goes into action with a chimpanzee as his companion. The film's set-up reminds a good deal of a series of commercials for PG Tips tea that used to play in the theatres a few years ago, featuring chimpanzees dressed as people and doing various domestic things that would culminate in them having a cup of the requisite tea.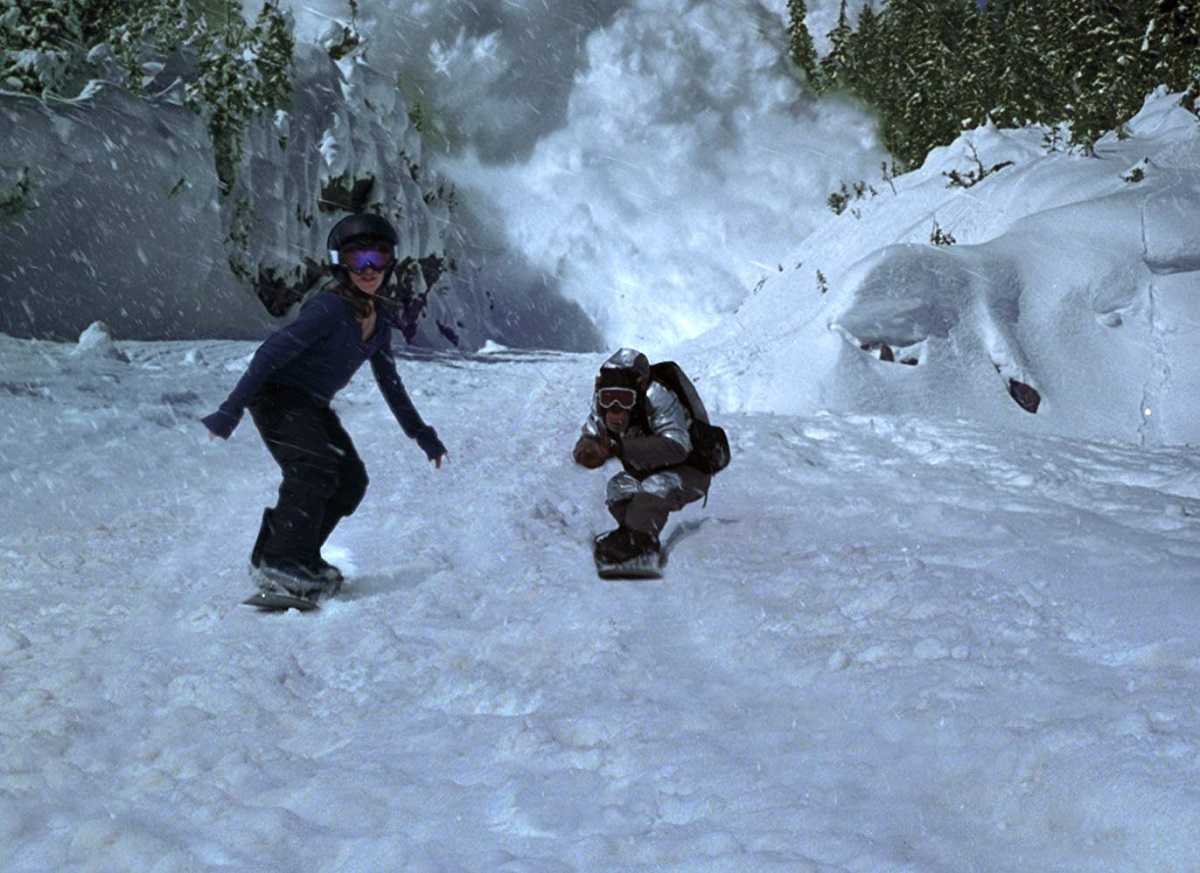 Spymate feels like a big (well, okay medium) budget version of a PG Tips commercial that has been conceptually colluded with a spy spoof a la Austin Powers, International Man of Mystery (1997). Much of the film is predicated on a series of lame sight gags – like the chimpanzee in a tuxedo, wearing a pair of hi-tech x-ray glasses, drinking a Martini shaken-not-stirred, undergoing ninja training and so on.
There is not much to Spymate either as a spoof or a spy adventure. Musetta Vander almost gets to parody the famous scene with Ursula Andress emerging from the water in a bikini from Dr No (1962) but being a children's film the shot doesn't linger and it is onto the next scene. There is a lame chase sequence with the chimpanzee on a skateboard being pursued by Michael Bailey Smith on a motorcycle, which predictably ends with Smith thrown into a fountain, and another where the chimp overcomes guards by throwing snowballs at them. The film's absolute low point is surely a scene where a half-conscious Michael Bailey Smith has a hallucination of Minkey in costume dancing to Jamaican music and then talking to him in a Jamaican accent!
(Winner in this site's Worst Films of 2006 list).
---
---