---
USA. 1986.
Crew
Director – John Carpenter, Screenplay – Gary Goldman, W.D. Richter & David Z. Weinstein, Producer – Larry Franco, Photography – Dean Cundey, Music – John Carpenter & Alan Howarth, Visual Effects – The Boss Film Co (Supervisor – Richard Edlund), Special Effects Supervisor – Joseph Unsinn, Creatures Created by Steve Johnson, Makeup – Ken Chase, Production Design – John J. Lloyd. Production Company – A Taft-Barash-Monash Production/20th Century Fox.
Cast
Kurt Russell (Jack Burton), Kim Cattrall (Gracie Law), Dennis Dun (Wang Chi), Victor Wong (Egg Shen), James Hong (David Lo Pan), Carter Wong (Thunder), James Pax (Lightning), Peter Kwong (Rain), Suzee Pai (Miao Pin), Donald Li (Eddie Lee), Kate Burton (Margo Litzenburger)
---
Plot
San Francisco truck driver Jack Burton accompanies his Chinese friend Wang Chi as Wang prepares to pick up his bride-to-be Miao Pin off a plane flight from Peking. Before they can do so, Miao Pin is snatched away by a local Tong organization who are aided by elemental forces. Pursuing them, Jack and Wang enter the vast labyrinth beneath the streets of Chinatown where they encounter the sorcerer Lo Pan. Lo Pan is intending to end the curse that has doomed him to a 4000 year fleshless existence, something that only be undone by the sacrifice of a green-eyed girl, Miao Pin, to the gods.
---
At the time that he made Big Trouble in Little China, John Carpenter was riding high on successive hits like Halloween (1978), Escape from New York (1981), The Thing (1982) and Starman (1984). Big Trouble in Little China was regarded as a flop for Carpenter, earning back only $11 million domestically on a $25 million budget.
Big Trouble in Little China was pitched as John Carpenter's oddball take on Raiders of the Lost Ark (1981) and the Saturday morning serials that had inspired that. However, the real source of Big Trouble in Little China was the Hong Kong martial arts fantasy film, which had begun in the mid-1980s with hits like Zu: Warriors from the Magic Mountain (1983) and Mr Vampire (1985) and imitators that melded the kung fu genre with elements of Eastern traditional beliefs and mythology with way-out results.
John Carpenter has clearly set out to make a Hong Kong martial arts fantasy. Indeed, 1986 was the year that Hollywood suddenly discovered Hong Kong fantasy, with both Big Trouble in Little China and The Golden Child (1986) coming out. The problem however was that not many people in the West had seen the Hong Kong originals at that point in time – Hong Kong cinema had not evolved into the culty phenomenon it is today and there had not been such mainstream hits as Crouching Tiger, Hidden Dragon (2000) that popularised the moves – and the nearest point of comparison that most people could find was to call Big Trouble in Little China an eccentric attempt to jump on the Raiders of the Lost Ark bandwagon.
Both John Carpenter and Kurt Russell approach the film with tongues planted considerably in cheek. Here Kurt Russell is sending up John Wayne and the film's great joke is that he is constantly wading into battle with a stalwart challenge and lantern jaw outthrust only to trip over his own feet or be outmanoeuvred by the hi-yahs of the swift-footed Orientals.
Carpenter has a slick, sure hold on the action – the kung fu sequences are exhilaratingly lightning-paced and the Boss Film Co create some top-notch creature and makeup effects. Carpenter also conducts a pulsing rock score that weaves in and out of the action with catchy appeal.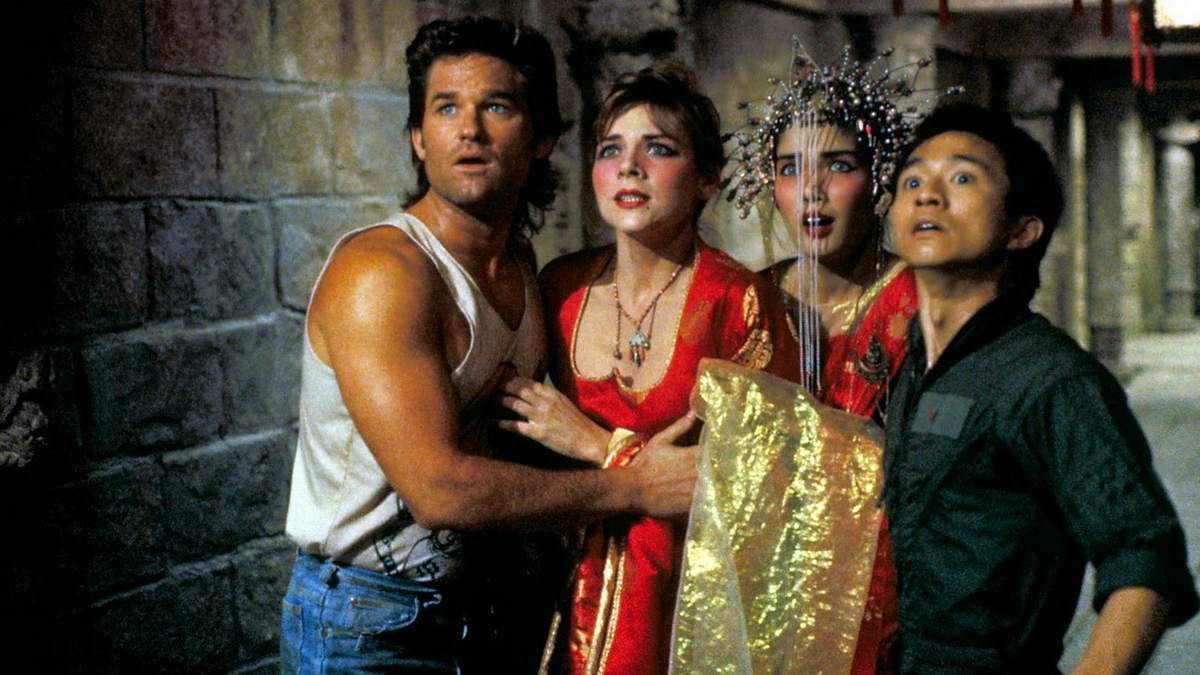 If Big Trouble in Little China had a problem, it was that it was too far offbeat for mainstream audiences. It is by no means what one might call a great film but it entertains considerably and is certainly not the failure that a lot of people who lambaste John Carpenter like to call it. Video/dvd has allowed Big Trouble in Little China to gain a belated cult appeal that it never found in theatrical release.
John Carpenter's other genre films are:– Dark Star (1974); the urban siege film Assault on Precinct 13 (1976); Halloween (1978); the stalker psycho-thriller Someone's Watching Me (tv movie, 1978); the ghost story The Fog (1980); the sf action film Escape from New York (1981); the remake of The Thing (1982); the Stephen King killer car adaptation Christine (1983); the alien visitor effort Starman (1984); Prince of Darkness (1987), an interesting conceptual blend of quantum physics and religion; the alien takeover film They Live (1988); Memoirs of an Invisible Man (1992); the horror anthology Body Bags (tv movie, 1993), which Carpenter also hosted; the H.P. Lovecraft homage In the Mouth of Madness (1995); the remake of Village of the Damned (1995); Escape from L.A. (1996); the vampire hunter film Vampires (1998); the sf film Ghosts of Mars (2001); and the haunted asylum film The Ward (2010). Carpenter has also written the screenplays for the psychic thriller Eyes of Laura Mars (1978), Halloween II (1981), the hi-tech thriller Black Moon Rising (1985) and the killer snake tv movie Silent Predators (1999), as well as produced Halloween II, Halloween III: Season of the Witch (1982), the time-travel film The Philadelphia Experiment (1984), Vampires: Los Muertos (2002), the remake of The Fog (2005) and the reboot of Halloween (2018).
---
---