---
USA. 2000.
Crew
Director – Brett Ratner, Screenplay – David Diamond & David Weissman, Producers – Tony Ludwig, Alan Riche & Howard Rosenman, Photography – Dante Spinotti, Music – Danny Elfman, Music Supervisors – Gary Jones & Happy Walters, Visual Effects – Light Matters/Pixel Envy (Supervisor – Mat Beck), Additional Visual Effects – Cinesite, Production Design – Kristi Zea. Production Company – Riche-Ludwig-Howard Rosenman/Beacon Pictures/Saturn/Universal.
Cast
Nicolas Cage (Jack Campbell), Téa Leoni (Kate Reynolds Campbell), Mackenzie Vega (Annie Campbell), Josef Sommer (Peter Lassiter), Saul Rubinek (Alan Mintz), Don Cheadle (Cash), Jeremy Piven (Arnie), Harve Presnell (Big Ed), Lisa Thornhill (Evelyn)
---
Plot
Jack Campbell is a highly successful Wall Street financier but is lonely at heart. After he intervenes in a convenience store hold-up on Christmas Eve, he mysteriously wakes up to find himself in another life – one where he married Kate Reynolds, the girl he left to go to London in 1987, and now lives in suburban New Jersey, has two children and a second-rate job selling tires. As Jack makes an effort to return to his other life, he starts to find there are many aspects to this life – the happiness of family and true love – that he has been missing.
---
It's a Wonderful Life (1946) is one of the perennial movie classics. Its underlying theme of regret for a life never lived vs the realization of the value of the ordinary things of life – love, family, community and friends – hits a chord deep within the idealized sense of nostalgia that Americans want to think is the way life should always be. The story of a spiritually bereft man being offered a choice between lives probably originated with Dickens's A Christmas Carol (1843), but It's a Wonderful Life's particular variation has proven surprisingly popular and was copied in Mr Destiny (1990) and also here, as well as in a number of other films.
One suspected little of The Family Man. The trailer suggested schmaltzy family fodder pitched for the Christmas Holiday season. The surprise is that The Family Man is not too bad a film. This is an admission one makes despite a film where one's sensibilities are revolting throughout against something that vaunts marriage, the nuclear family, settling for underachievement and a cloying sense of second-place ordinariness as the greatest things in life.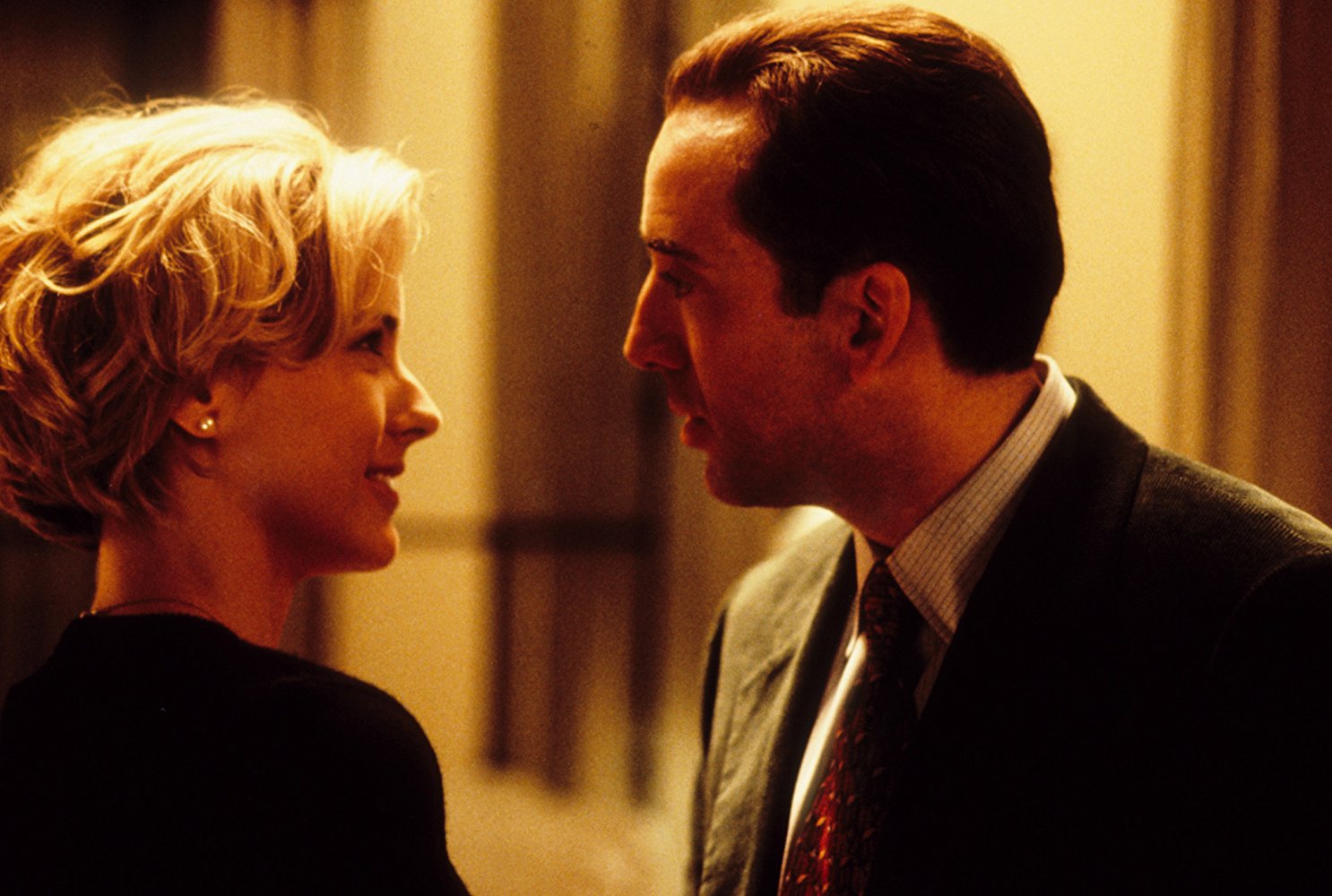 That said, you cannot fault the film's presentation. It is never a film that reaches for simplistic emotional cues. It enwraps one in each situation and conducts it with feeling rather than ersatz melodrama. Director Brett Ratner achieves some lovely moments of affect – Nicolas Cage trying to cope with his daughter about to burst into tears, confronting his flirtations with Evelyn, his realization of love for Téa Leoni. In the first half, the film gets some great comic mileage out of the idea of a high-flying banker suddenly forced to adjust to the horror of a third-rate job and lower working class lifestyle. The ending, to the film's considerable credit, wraps things up with something more complex than a pat feelgood ending.
Director Brett Ratner had previously emerged with the entirely lightweight Rush Hour (1998) and went onto two sequels Rush Hour 2 (2001) and Rush Hour 3 (2007) and has made other mainstream comedy such as After the Sunset (2004) and Tower Heist (2011). In genre material, Ratner has also made the Hannibal Lecter prequel Red Dragon (2002), the controversial X-Men: The Last Stand (2006), the Happy Birthday segment of Movie 43 (2013) and Hercules (2014). He has also acted as producer on a number of genre films including Santa's Slay (2005), Mother's Day (2010), Skyline (2010), Chinese Zodiac (2012) and Mirror Mirror (2012).
---
Trailer here
---