(Ching Se)
---
Hong Kong. 1993.
Crew
Director/Producer – Tsui Hark, Screenplay – Tsui Hark & Lillian Lee, Based on the Novel by Lillian Lee, Photography – Tsiu Ko, Production Design – Bill Lui. Production Company – Seasonal Film Corp/Film Workshop.
Cast
Joey Wong (Sou Ching/White Snake), Maggie Cheung (Green Snake), Wu Kuo Chiu (Hsui Xien), Man Cheuk Chiu (Fa Hai)
---
Plot
Two sisters, both snake beings, come to Earth and take human form so that they can learn human ways. One sister White Snake falls in love with the scholar Hsui Xien but hides her true nature from him. However, the more wayward Green Snake, in her search for a man, draws the attention of the monk Fa Hai who determines that they must be banished from this world.
---
Green Snake is a film is in the uniquely spectacular Wu Xia tradition of Hong Kong fantasy films such as Zu: Warriors from the Magic Mountain (1983), Mr Vampire (1985) and A Chinese Ghost Story (1987). Green Snake was directed by Tsui Hark, a celebrated director with the likes of The Butterfly Murders (1979), the aforementioned Zu, Peking Opera Blues (1990) and Once Upon a Time in China (1991) and sequels, although is more famous as producer of the likes of the A Chinese Ghost Story and Swordsman series and John Woo's A Better Tomorrow (1987) and The Killer (1989). (A list of Tsui Hark's other genre films is at the bottom of the page).
It is almost as though Tsui Hark, having made early entries in the Wu Xia cycle like Zu, then stood back at a distance, allowing other directors under him to shape the genre, and then after the initial furore had died down returned with Green Snake to deliver his own version that puts all other imitators to silence. The result is one of the most gorgeous and extravagantly beautiful of all Hong Kong fantasy films. It is lit in ravishingly sensual colours and dressed to lavish excess with images of blossom petals, billowing silks and Chinese lanterns floating through every corner of the screen. There is an exquisitely innocent and coy sensuality to the love scenes between Joey Wong and Wu Kuo Chiu. As the two snake women, Maggie Cheung and Joey Wong have a series of delightfully silly sequences slithering about, climbing walls, trying to hide their tails and catching flies with their tongues.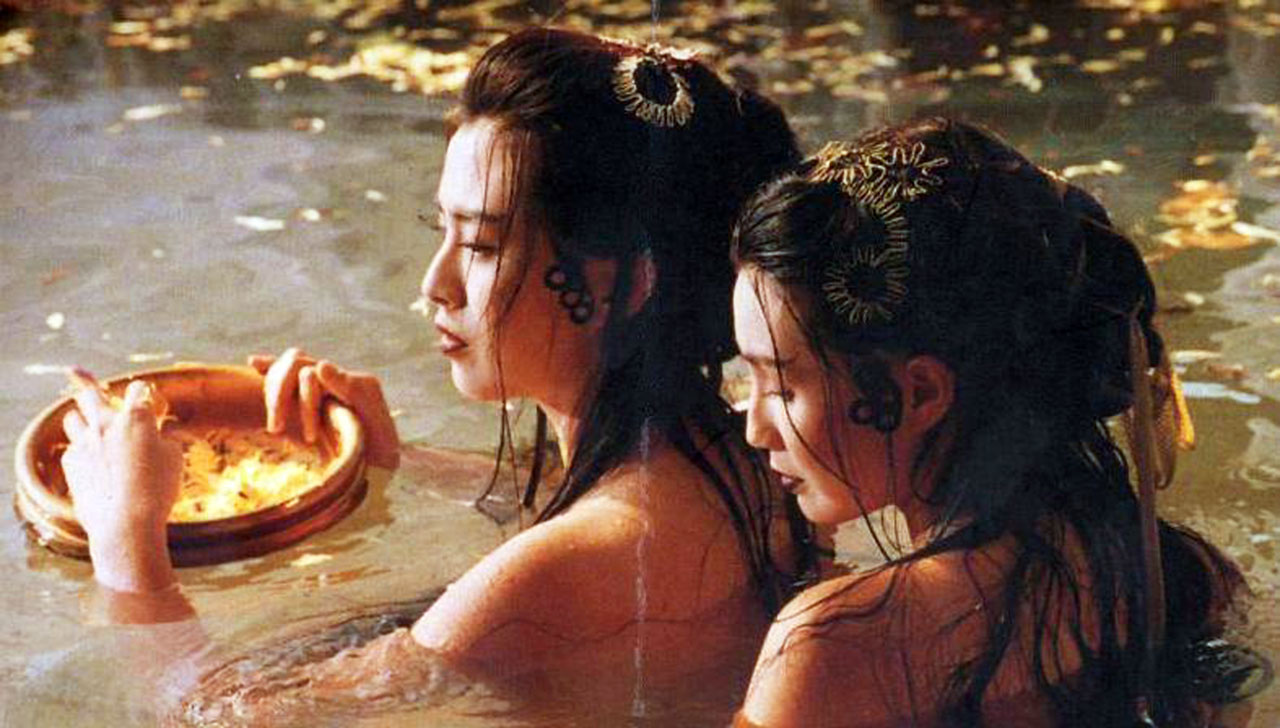 Tsui Hark leaps into the wild, fantastical martial arts sequences of the cycle with combatants running on air, leaping with giant strides, conjuring rains and flights through the air battling giant cranes. There is a stupendous climax with the girls and the monk battling one another, raising giant floods, lifting entire mountains into the air with a single rope and trapping people in giant silk surplices. Surprisingly, Tsui Hark seems less interested in the fantastical combat than he does in the ravishingly dreamy visuals. Weak visual effects let some of the sequences down but Green Snake is still one of the finest of the genre.
Green Snake is based on the Chinese legend Madame White Snake/Legend of the White Snake. The story originated out of oral tradition and was first published in 1620, having been told in a number of different forms since, including being adapted into an opera. The story has been filmed a number of times – as a Japanese adaptation Madame White Snake (1956), a Japanese anime Panda and the Magic Serpent (1958), a Hong Kong-made opera adaptation Madame White Snake (1962) and the subsequent Chinese-produced version The Sorcerer and the White Snake (2011).
Tsui Hark's other genre films as director are:- The Butterfly Murders (1979), We're Going to Eat You (1980), Zu: Warriors from the Magic Mountain (1983), Aces Go Places III: Our Man from Bond Street/Mad Mission III: Our Man from Bond Street (1984), Butterfly Lovers (1994), Zu Warriors/The Legend of Zu (2001), Black Mask 2: City of Masks (2002), Missing (2008), Detective Dee and the Mystery of the Phantom Flame (2010), Flying Swords of Dragon Gate (2011), Young Detective Dee: Rise of the Sea Dragon (2013), Journey to the West: Demon Chapter (2017) and Detective Dee: The Four Heavenly Kings (2018). Tsui Hark has also produced A Chinese Ghost Story (1987), The Laser Man (1988), Roboforce/I Love Maria (1988), A Chinese Ghost Story II (1990), Swordsman (1990), A Terracotta Warrior (1990), A Chinese Ghost Story III (1991), The King of Chess (1991), New Dragon Gate Inn/Dragon Inn (1992), Swordsman II (1992), Iron Monkey (1993), The Magic Crane (1993), Swordsman III: The East is Red (1993), Wicked City (1993), Burning Hell in Paradise (1994), Black Mask (1996), A Chinese Ghost Story: A Tsui Hark Animation (1997), Master Q (2001), Vampire Hunters/The Era of Vampires (2002), Sword Master (2016) and The Thousand Faces of Dunjia (2017).
---
Trailer here
Full film available online here:-
---