---
USA. 2001.
Crew
Director – Simon West, Screenplay – Simon Masset, Simon West & John Zinman, Story – Michael Colleary, Sara B. Cooper & Mike Werb, Adaptation – Simon West, Based on the Eidos Interactive Computer Game, Producers – Lawrence Gordon, Lloyd Levin & Colin Wilson, Photography – Peter Menzies, Music – Graeme Revell, Music Supervisor – Peter Afterman, Visual Effects Supervisor – Stuart Begg, Visual Effects – Cinesite (Europe) Ltd, The Computer Film Company, Mill Film Ltd, The Moving Picture Co & Peerless Camera Co, Special Effects Supervisor – Chris Corbould, Production Design – Kirk M. Petruccelli. Production Company – Paramount/Mutual Film Co.
Cast
Angelina Jolie (Lara Croft), Iain Glen (Manfred Powell), Noah Taylor (Bryce), Daniel Craig (Alex West), Christopher Barrie (Henry), Julian Rhind-Tutt (Pimms), Jon Voight (Lord Richard Croft), Leslie Phillips (Wilson), Richard Johnson (Distinguished Gentleman)
---
Plot
Lara Croft, archaeological adventuress and 'tomb raider', finds a mysterious clock behind a wall in her British family mansion. This contains a timepiece that is counting down to the coming alignment of the nine planets. She is recommended to lawyer Manfred Powell to have the clock analysed. However, Powell is working for The Illuminati who have been waiting five thousand years for the alignment. They have been searching for the timepiece, which is the key to a gateway and will give the wielder great power, including the ability to pass through time. Powell seizes the timepiece in an armed raid on the mansion. Lara then goes into action in Cambodia and Iceland in a race to piece together the rest of the key before Powell and The Illuminati succeed in doing so.
---
When the Tomb Raider console game premiered in 1996 – a combination of Doom and Raiders of the Lost Ark (1981) – it took the gaming community by storm, with the virtual heroine Lara Croft even becoming a magazine covergirl. Eidos and Core Design released a total of nine Tomb Raider follow-ups and these were followed by this movie, which became one of the big summer 2001 hits.
The relationship between film and the computer game has always been a shaky one – most of the films adapted from games are regarded as disappointments, see the likes of Super Mario Bros. (1993), Double Dragon (1994), Street Fighter (1994), Wing Commander (1999), Resident Evil (2002), House of the Dead (2003), Alone in the Dark (2005), BloodRayne (2005), Doom (2005), DOA: Dead or Alive (2006), Hitman (2007), In the Name of the King: A Dungeon Siege Tale (2007), Postal (2007), Far Cry (2008), Max Payne (2008), Prince of Persia: The Sands of Time (2010), Tekken (2010), Dead Rising: Watchtower (2015), Angry Birds (2016), Assassin's Creed (2016), Warcraft (2016), Rampage (2018), Pokemon Detective Pikachu (2019), Monster Hunter (2020), Sonic the Hedgehog (2020), Werewolves Within (2021), the tv series Halo (2022- ) and Uncharted (2022), with the sole exceptions being the likeable Mortal Kombat (1995), Silent Hill (2006) and the amazing Final Fantasy: The Spirits Within (2001).
Lara Croft, Tomb Raider is a calculated commercial package. It came with one of the most breathlessly paced trailers in recent history. The film drew in the sizeable cult that surrounded the videogame, not to mention the action movie crowds. Most of all it was a package designed to draw on the mystique of Angelina Jolie. Angelina Jolie was a bit player in forgettable and forgotten films – see the genre likes of Cyborg2: Glass Shadow (1993) and The Bone Collector (1999) – until she caught everybody's attention with her Academy Award-winning role in Girl, Interrupted (1999).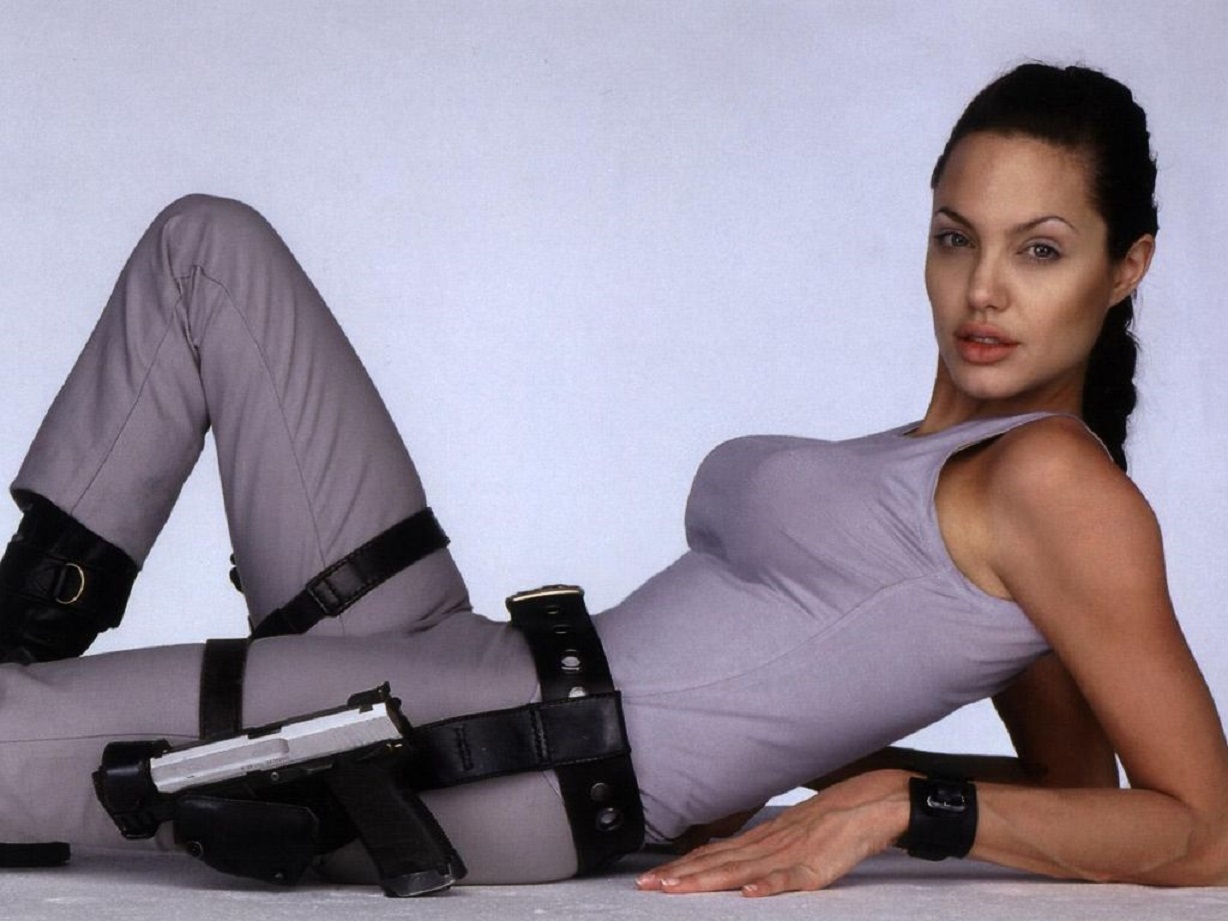 Since then, Angelina has exuded a real life mystique that has seemed far larger than the parts she has been contained in – stories of her bisexuality, her penchant for tattoos, knives and Goth chic, the exact nature of her 'relationship' with her brother James Haven, her marriage to Billy Bob Thornton (twenty years her senior), her claim to have hired a hitman to kill her because she couldn't go through with suicide, marriage ceremonies that involve both parties drinking the other's blood. At least in 2001, Angelina could be a poster child for the combat pants, tattoos, body piercing and Fuck You attitude riot grrl crowd.
This is exactly the edge that Lara Croft, Tomb Raider was hoping to capture in casting Angelina Jolie – someone who can at the same time hold desirability for the guys and has toughness and attitude to spare for girls. Lara Croft is a part entirely cast around Angelia Jolie and the fascination she exudes. (In a cute touch, the filmmakers also cast Angelina's real-life father Jon Voight as Lara Croft's father). Although, on screen Angelina gives less of a performance than she does a series of poses. There is relatively little time she spends interacting with other actors. Most of her screen time is spent focused on shots of her twirling guns on her fingers every time she uses them, tossing knives, doing acrobatics in a harness, forward-rolls, showering, moving in slow motion in dark shades, riding a dog sled in a fur-lined white coat, throwing her combat boots up on tables and chairs – everything she does is an affected pose.
However, take the Angelina Jolie persona out of Lara Croft, Tomb Raider and there is not much there. All we have is a second-rate Mortal Kombat sequel with a heavy dose of Raiders of the Lost Ark. The plot is a vapid whimsy that assembles an assortment of half-baked ideas and cliches from the edges of the genre – planetary alignments, secret societies waiting thousands of years for the opportunity to take over the world, mystical artifacts, lost temples, reanimated creatures, deadly traps, the potential for ultimate power, a father missing under mysterious circumstances, the fate of the whole world at stake.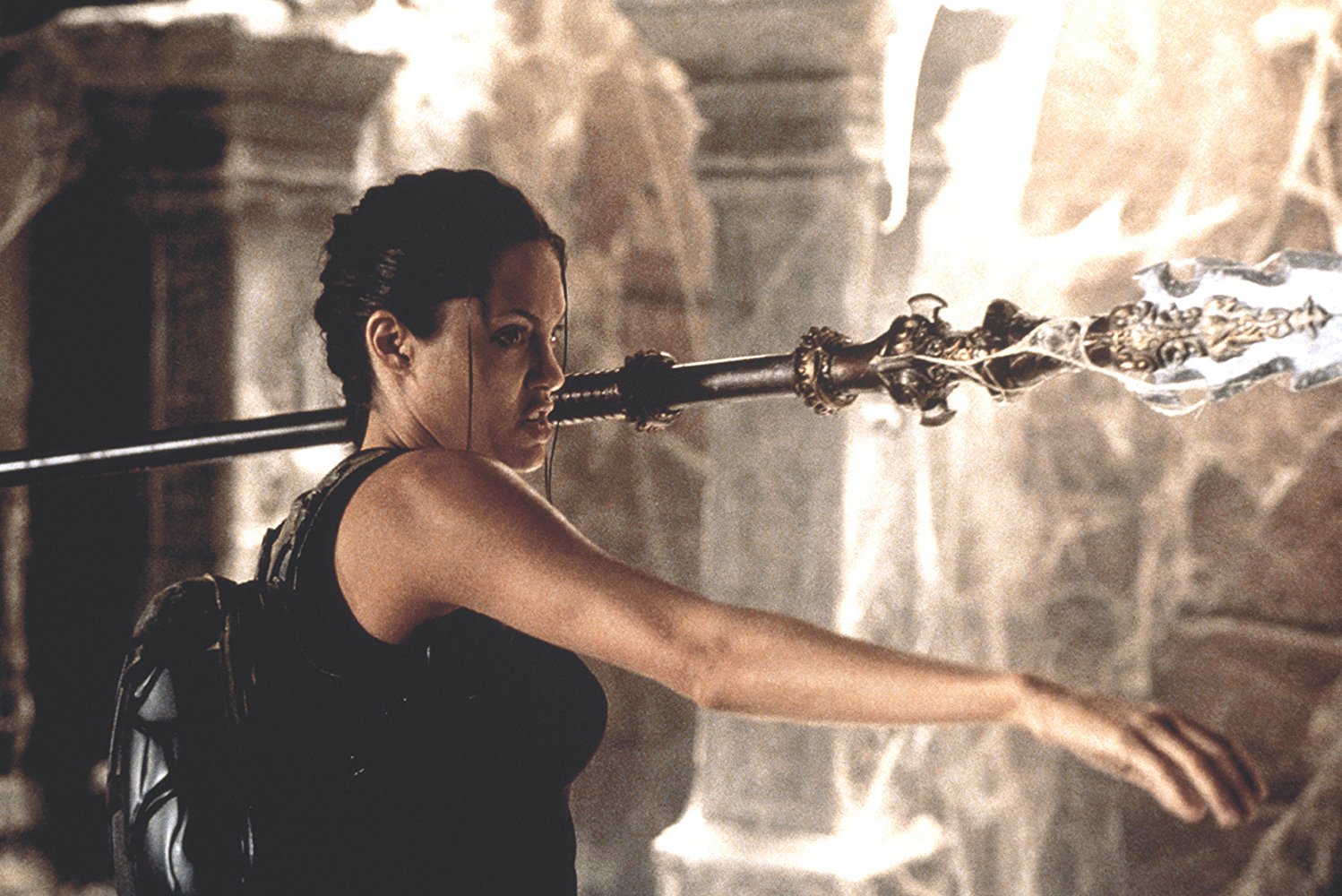 In the director's chair is Simon West, who previously made The General's Daughter (1999) and the big slam bang Jerry Bruckheimer action film Con Air (1997) and subsequently went onto the remake of When a Stranger Calls (2006), the remake of The Mechanic (2011) and The Expendables 2 (2012). West creates at least one dazzlingly cool sequence with Angelina Jolie taking on a group of armed terrorists in her pyjamas while bouncing around the walls of the central hall of her mansion on bungy cords. The tomb raiding sequences, although kinetically exhilarating, are instantly forgettable. At least, one cannot complain that they fail to get exactly what they expected out of Lara Croft, Tomb Raider – the dramatic equivalent of a Playstation shoot–'em-up and Angelina Jolie looking alternately hot and in kickass charge. Maybe Lara Croft, Tomb Raider's greatest failing is that this is all it has to offer. Take away all the posing and the kinesis of the action and there is almost nothing else to the film.
Angelina Jolie returned for a disappointing sequel, Lara Croft, Tomb Raider: The Cradle of Life (2003). For several years after this, a third Lara Croft film has been announced with various actresses considered in the role. This finally emerged with Tomb Raider (2018) starring Alicia Vikander.
(No. 9 on the SF, Horror & Fantasy Box-Office Top 10 of 2001 list).
---
Trailer here
---