aka The Confines
---
Crew
Director – Eytan Rockaway, Screenplay – Ido Funk, Producers – Mike Landry & Carlos Velazquez, Photography – Zack Galler, Music – Max Aruj, Visual Effects – Adam Rote, Makeup Effects – Brian Spears, Production Design – Akin McKenzie. Production Company – C Plus Pictures/Above the Clouds.
Cast
Louisa Krause (Julia Streak), Jason Patric (Dennis Cooper), Mark Margolis (Jim), Ezra Knight (Dixon Boothe)
---
Plot
The troubled Julia, or Streak as she prefers to be known, is given her final chance with a job that has been arranged for her – if she screws up, she loses her daughter. She is to work security, tending a large old building that is empty of tenants. Her companion on the night shift is the middle-aged Cooper who is confined to a wheelchair. The two are required to patrol the halls at regular intervals remaining in microphone and video headset communication. However, as Julia goes about her rounds, she is certain that she can hear voices whispering and things moving. She is drawn to a locked room in the basement to discover the terrible things that once occurred there.
---
The Abandoned – not to be confused with the earlier The Abandoned (2006), which was also a ghost story with a twisty ending – was the debut film for US director Eytan Rockaway. The film made its initial festival appearances under the title The Confines but was repackaged as The Abandoned for dvd release, something that pitches it as far more of a horror film.
There have been a tiresome plethora of lookalike and almost identically titled ghost stories littering the dvd shelves in the 2010s – almost all appropriating some adjective as a noun and trying to suggest another Insidious (2010). The Abandoned looks no different at the outset – the fact that these identically-titled films and their formula plots tend to blur together in memory should occur to some of the people making them, not to mention is switching reviewers like me off with a "oh no, not another one" effect.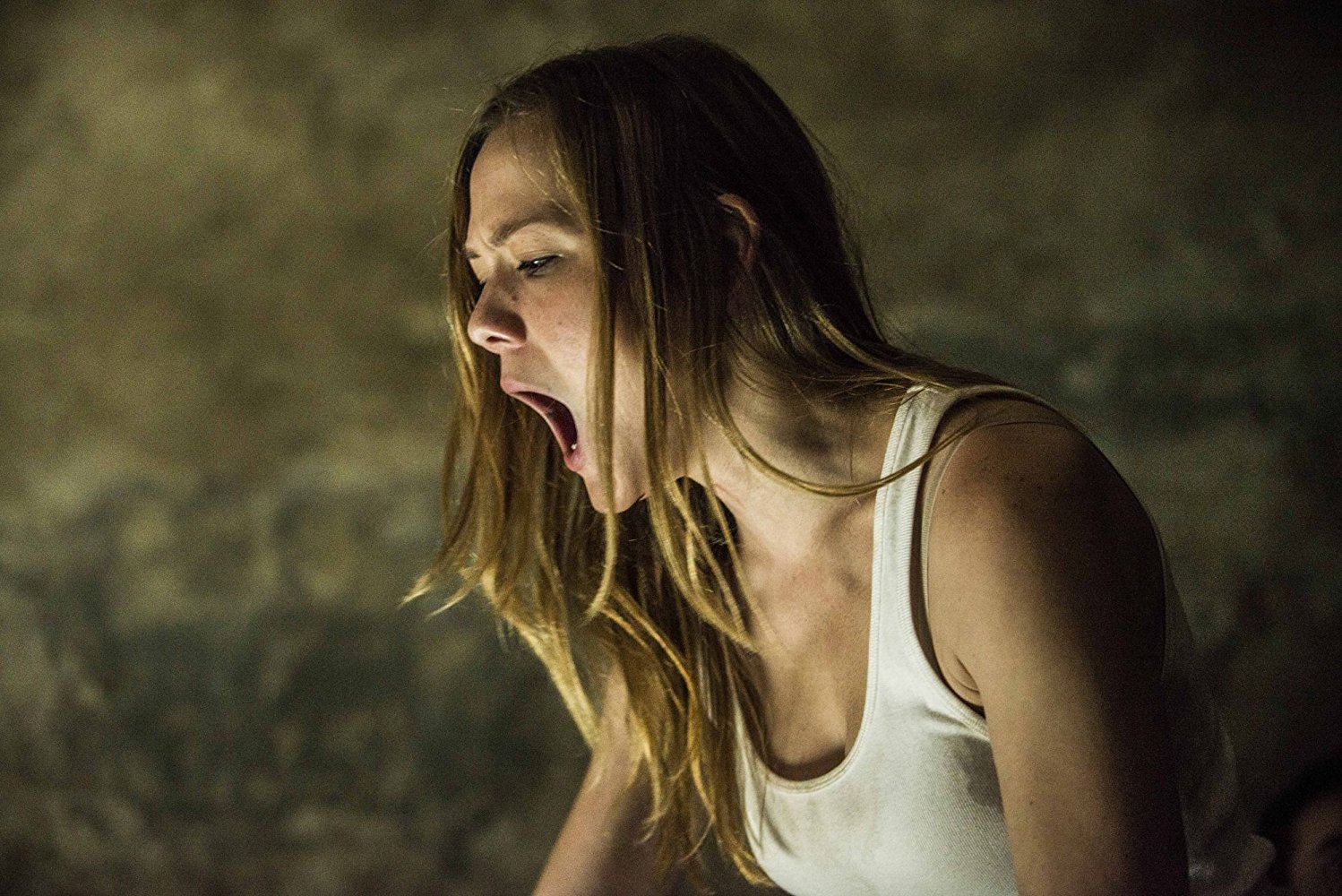 All of that said, The Abandoned/The Confines begins to impress within a very quick space of time. The film has an amazing setting – of a massively haunted building that looks like something constructed in the 19th Century, filled with cavernous halls, empty ballrooms, huge arched foyers that are multiple stories tall. These are actual locations rather than a set, which include several New York buildings, mostly courthouses, as well as an old Civil War bunker.
It is these locations that make the film – by simply prowling his camera through the halls and having Louisa Krause walking alone there at night, Eytan Rockaway creates a genuinely haunted atmosphere right from the outset. And that is all before we start getting things scuttling around on the periphery, which pushes the atmosphere over into the decidedly spooky.
One of the best aspects of the film is the characterisation. The whole film is played out fairly much by two characters (and a couple of others on the sidelines). On one hand is Louisa Krause, a troubled youth on her last chance not to screw up. Placed up against her is Jason Patric as the middle-aging security guard whose bored cynical attitude to the job takes you aback. The contrast between his embittered cynicism and her naivete when they are introduced is striking – it bodes very well for the film. In the part of the wheelchair-bound Cooper, Jason Patric gives an excellent performance – in fact, one would have to say that this is the best that one has ever seen him on screen.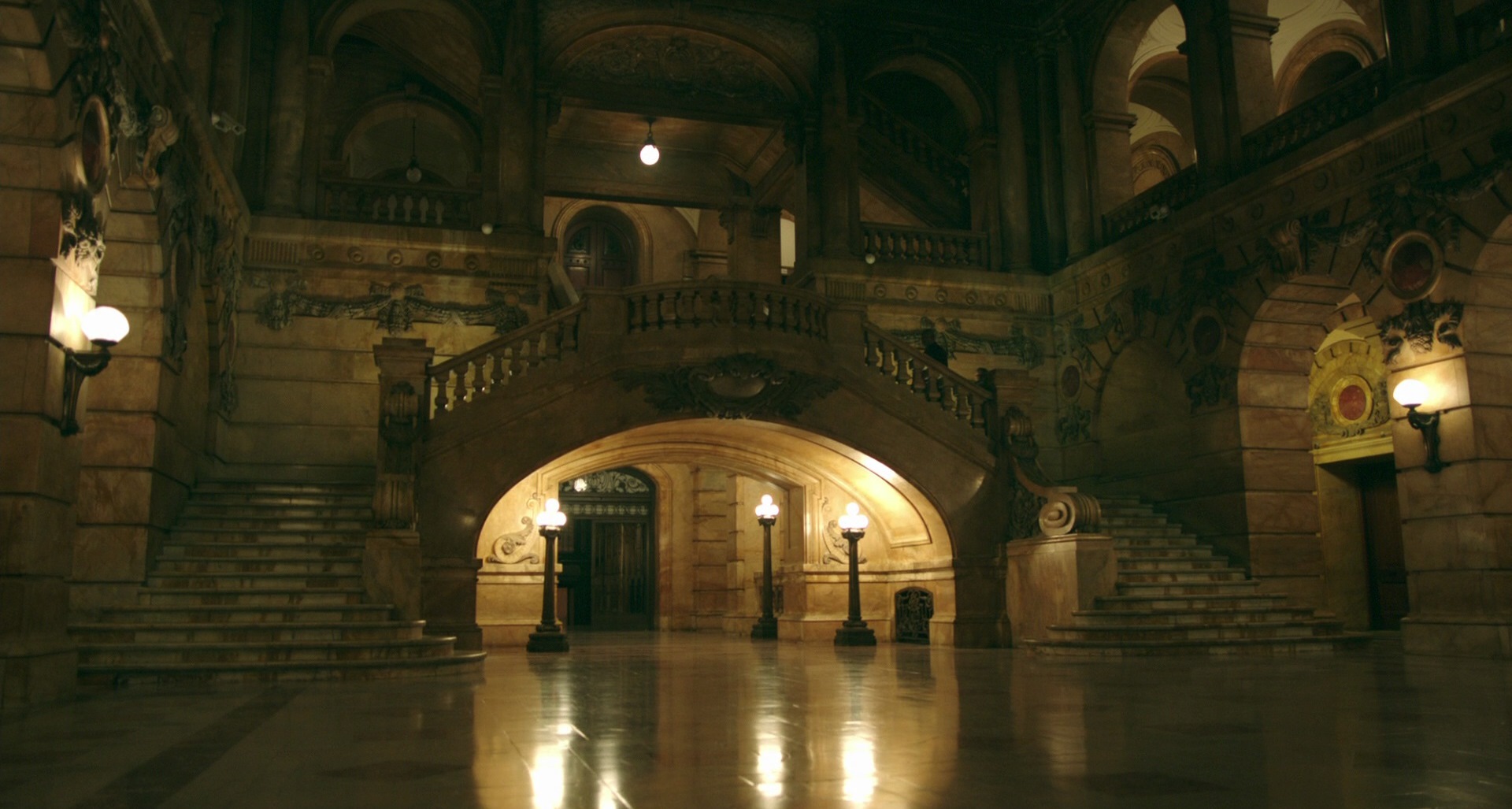 All of that said, the film goes and shoots itself in the foot when it comes to the ending. [PLOT SPOILERS]. Here it resorts to the hoary old deathdream twist. This has a long history going back to the Ambrose Bierce story An Incident at Owl Creek Bridge (1891) wherein a soldier falls from the hangman's noose and travels home only to discover that he has been dead all along. Films have conducted an enormous number of variations on this with the likes of An Occurrence at Owl Creek Bridge (1961), Carnival of Souls (1962), Haunts of the Very Rich (1972), Seizure/Queen of Evil (1974), The Survivor (1981), Sole Survivor (1983), Siesta (1987), Jacob's Ladder (1990), Final Approach (1991) and A Pure Formality (1994). The film that made this surprise twist into a big talking point was The Sixth Sense (1999), which in turn spawned a great many copies with the likes of The Others (2001), Soul Survivors (2001), The Brown Bunny (2003), Dead End (2003), I Pass for Human (2004), Hidden (2005), Reeker (2005), Stay (2005), The Escapist (2008), Passengers (2008), The Haunting of Winchester House (2009), Someone's Knocking at the Door (2009), The Last Seven (2010), Wound (2010), Jack the Reaper (2011), A Fish (2012), Leones (2012), 7500 (2014), Shadow People (2016) and Alone (2017), plus the finale of tv's Lost (2004-10).
Served up here again, it has become a tired cliche twist ending. Moreover, it is one that makes no sense in terms of what has gone before. Why would a girl lying in a coma invent a life for herself as a messed-up teenager taking a security job in a big abandoned building and create a history for the building involving abused child mental patients and their ghosts? If Louisa Krause's daughter and other aspects have symbolic significance in the real world, what are the other elements in the dream meant to represent – the significance of Jason Patric being confined in a wheelchair? the homeless guy and his dog who come in seeking shelter? It smacks of an ending that was grafted on against the director's original wishes in a hurried way where nobody sought to find a logical rationale for what is happening.
Director Eytan Rockaway next went on to make Lansky (2021), a biopic of mobster Meyer Lansky.
---
---