aka Monster of Terror
---
Crew
Director – Daniel Haller, Screenplay – Jerry Sohl, Based on the Short Story The Color Out of Space by H.P. Lovecraft, Producer – Pat Green, Photography – Paul Beeson, Music – Don Banks, Special Effects – Ernie Sullivan & Wally Veevers, Makeup – Jimmy Evans, Art Direction – Colin Southcott. Production Company – Alta Vista.
Cast
Nick Adams (Stephen Rheinhart), Boris Karloff (Nahum Witley), Suzan Farmer (Susan Witley), Freda Jackson (Letitia Witley), Terence De Marney (Merwyn), Patrick Magee (Dr Henderson)
---
Plot
American Stephen Rheinhart travels to visit Susan Witley, a friend from university, at her family home in Arkham in England. He is warned away by locals and her father Nahum but persists in trying to see Susan. He then discovers that Nahum's experiments with samples from a radioactive meteorite have hideously mutated members of the household.
---
H.P. Lovecraft (1890-1937) was a horror writer whose works – concerned evocations of unspeakable cosmic horrors and people rendered insane by partial glimpses of ancient gods – have created a cult fandom. Alas, H.P. Lovecraft has not fared terribly successfully when it comes to film adaptations – having been caught between either pedestrian B-budget horror films like this and The Dunwich Horror (1969), or rendered in tongue-in-cheek splatter like Re-Animator (1985) and From Beyond (1986). (See bottom of the page for a full list of H.P. Lovecraft film adaptations).
This adaptation of H.P. Lovecraft's The Colour Out of Space (1927) seems to draw less upon H.P. Lovecraft than it does upon the conventions established by Roger Corman's series of Edgar Allan Poe films in the early 1960s (all of which Die, Monster, Die!'s director Daniel Haller incidentally worked on as production designer). Indeed Die, Monster, Die! is strongly reminiscent of Roger Corman's first Edgar Allan Poe film The House of Usher (1960), marshalling many similar elements – the same twisted landscapes, the deformed family members, the cleancut hero comes to rescue the girl, the black magic and arcane secrets in the family past, the murky goings-on in the present being covered up by the unwelcoming family patriarch. (Corman himself started the connection of Poe and Lovecraft when he adapted Lovecraft's The Case of Charles Dexter Ward (1927) with a Poe title in The Haunted Palace [1963]). In a move that seems to have perhaps been intended to imitate Hammer, who after all inspired Corman's Poe cycle, Lovecraft's quintessential New England locale of Arkham has been transposed to Old England.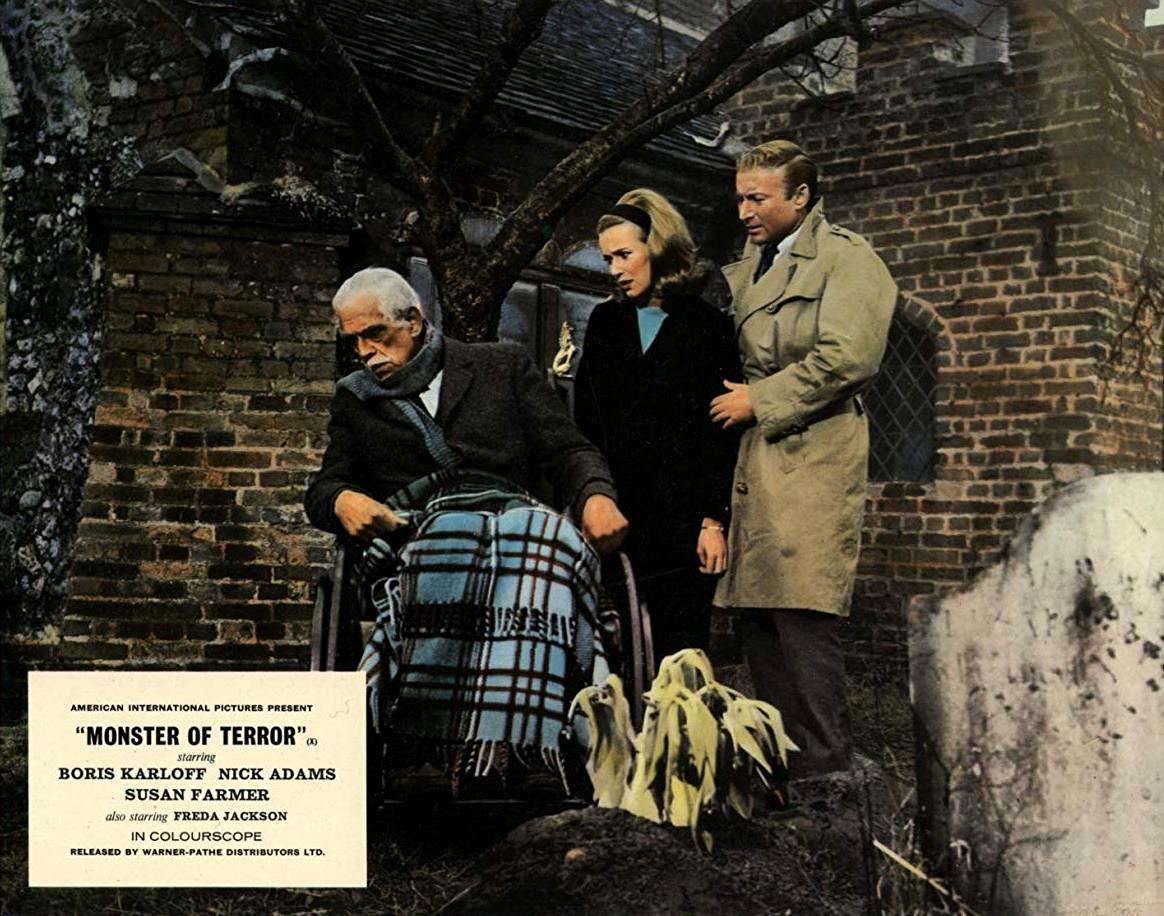 Daniel Haller succeeds in building reasonable atmosphere out of cliche elements – hostile villagers, a big brooding mansion, unearthly screams in the night, mysterious hooded figures. There are some moments of genuine horror – the revelation of Freda Jackson's mutated hand and face as she reaches out from behind the curtain and particularly the journey into the greenhouse and the briefly glimpsed vista of mutated alien creatures lined up in a cage. In the end though, Die, Monster, Die! is not much more than a routine monster movie that plods to a predictable end and achieves nothing on any level other than the patently obvious.
The H.P. Lovecraft story was later remade as The Curse (1987) starring Wil Wheaton and Color Out of Space (2019) with Nicolas Cage.
Director Daniel Haller later made a further H.P. Lovecraft adaptation with The Dunwich Horror (1969). Haller made a total of six films as director and then worked in television up until his retirement at the end of the 1980s. His one other venture into genre material as director was the theatrical remake of Buck Rogers in the 25th Century (1979).
Other films based on the works of H.P. Lovecraft include:- The Haunted Palace (1963), The Shuttered Room (1967) and The Dunwich Horror (1969). The big success in the modern era was Stuart Gordon's splattery black comedy version of Re-Animator (1985), which popularised Lovecraft on film. This led to a host of B-budget Lovecraft adaptations, including Stuart Gordon's subsequent From Beyond (1986), The Unnameable (1988), The Resurrected (1992), Necronomicon (1993), The Unnamable II: The Statement of Randolph Carter (1993), Lurking Fear (1994), Gordon's Dagon (2001), and other works such as The Dream-Quest of Unknown Kadath (2003), Beyond the Wall of Sleep (2006), Cool Air (2006), Chill (2007), Cthulhu (2007), The Tomb (2007), Colour from the Dark (2008), The Dunwich Horror (2009), The Color (2010), Pickman's Muse (2010), The Whisperer in Darkness (2011), The Dark Sleep (2013), The Haunter of the Dark (2015), Herbert West: Re-Animator (2017), Color Out of Space (2019), The Deep Ones (2020), the tv series Lovecraft Country (2020), Markham (2020), H.P. Lovecraft's Witch House (2021) and The Resonator: Miskatonic U (2021). Lovecraft: Fear of the Unknown (2008) is a documentary about Lovecraft. Also of interest is The Manitou (1978), which features an appearance of the Great Old One; Cast a Deadly Spell (1991) and its sequel Witch Hunt (1994), a tv movie set in an alternate world where magic works and where the central character is a detective named H.P. Lovecraft; Juan Piquer Simon's cheap and loosely inspired Cthulhu Mansion (1992); John Carpenter's Lovecraft homage In the Mouth of Madness (1995); the fan parodies Lovecracked: The Movie (2006), The Last Lovecraft: Relic of Cthulhu (2009) and Call Girl of Cthulhu (2014); even a trilogy of animated children's film Howard Lovecraft and the Frozen Kingdom (2016), Howard Lovecraft and the Undersea Kingdom (2017) and Howard Lovecraft and the Kingdom of Madness (2018) in which a young Lovecraft encounters his own creations; while the Elder Gods turn up at the end of The Cabin in the Woods (2012), Lovecraft (Paul Titley) appears as an imaginary companion in Ghostland/Incident in a Ghostland (2018) and In Search of Lovecraft (2008) features a tv news crew discovering that Lovecraft's works are true. Lovecraft's key work of demonic lore The Necronomicon also makes appearances in films such as Equinox (1970), The Evil Dead II (1987) and Army of Darkness (1992), and was also borrowed as an alternate retitling for Jesus Franco's surreal and otherwise unrelated Succubus/Necronomicon (1969) about a BDSM dancer.
---
---