USA. 1996.
Crew
Director – Stephen Frears, Screenplay – Christopher Hampton, Based on the Novel by Valerie Martin, Producers – Norman Heyman, Nancy Graham Tanen & Ned Tanen, Photography – Philippe Rousse'lot, Music – George Fenton, Visual Effects Supervisor – Kent Houston, Transformation Effects Supervisor – Richard Conway, Transformation Effects – Animated Extras, The Computer Film Co, Jim Henson's Creature Workshop & Peerless Camera Co, Prosthetic Makeup/Hair – Peter Owen, Production Design – Stuart Craig. Production Company – TriStar Pictures.
Cast
Julia Roberts (Mary Reilly), John Malkovich (Dr Henry Jekyll/Edward Hyde), George Cole (Poole), Glenn Close (Mrs Farraday), Michael Gambon (Mary's Father), Kathy Staff (Mrs Kent), Bronagh Gallagher (Annie), Michael Sheen (Bradshaw), Ciaran Hinds (Sir Danvers Carewe)
---
Plot
Mary Reilly is a maid in the home of Dr Henry Jekyll. Dr Jekyll enquires about how she got her scars and she tells him about her childhood at the hands of her violent and abusive alcoholic father. Mary forms an attachment to the kindness and sympathy that Dr Jekyll shows her. Dr Jekyll's butler Poole disapproves of this friendship and thinks that Mary is getting ideas above her station. At the same time, Jekyll turns over the freedom of his house to his mysterious assistant Edward Hyde. After encountering Mr Hyde, Mary uncovers evidence that he has beaten a child to death and murdered a prostitute. As the kindly Dr Jekyll increasingly comes to rely upon Mary's help, the wolfish Hyde takes an interest in her and she finds herself both frightened and attracted to him.
---
When it came out, Mary Reilly was regarded as a disaster akin to another Ishtar (1985), Howard the Duck (1986), Hudson Hawk (1991) or The Island of Dr Moreau (1996). Its release was held up for a year in a fight between the studio and director Stephen Frears over the reshooting of the ending – before all parties eventually decided to go with the one that had originally been shot. When the film was released, it received scathing reviews; in some cities closing the same week it opened. What surprises one about such a reaction is how good a film Mary Reilly is. It is seriously due critical reappraisal.
One suspects the motivating factor behind Mary Reilly had been a trend in the few years before for lavishly produced big budget remakes of the horror classics with the likes of Bram Stoker's Dracula (1992) and Mary Shelley's Frankenstein (1994), as well as Wolf (1994) offering up a revisionist werewolf tale. Mary Reilly appears to have been similarly construed as an attempt to mount a revisionist horror film. The film is based on Mary Reilly (1990), an award-winning novel by American writer Valerie Martin. In this case, Valerie Martin retells story of Robert Louis Stevenson's The Strange Case of Dr Jekyll and Mr Hyde (1886), the most filmed horror story ever. Valerie Martin's ingenuity is in retelling the story from the perspective of Dr Jekyll's maid.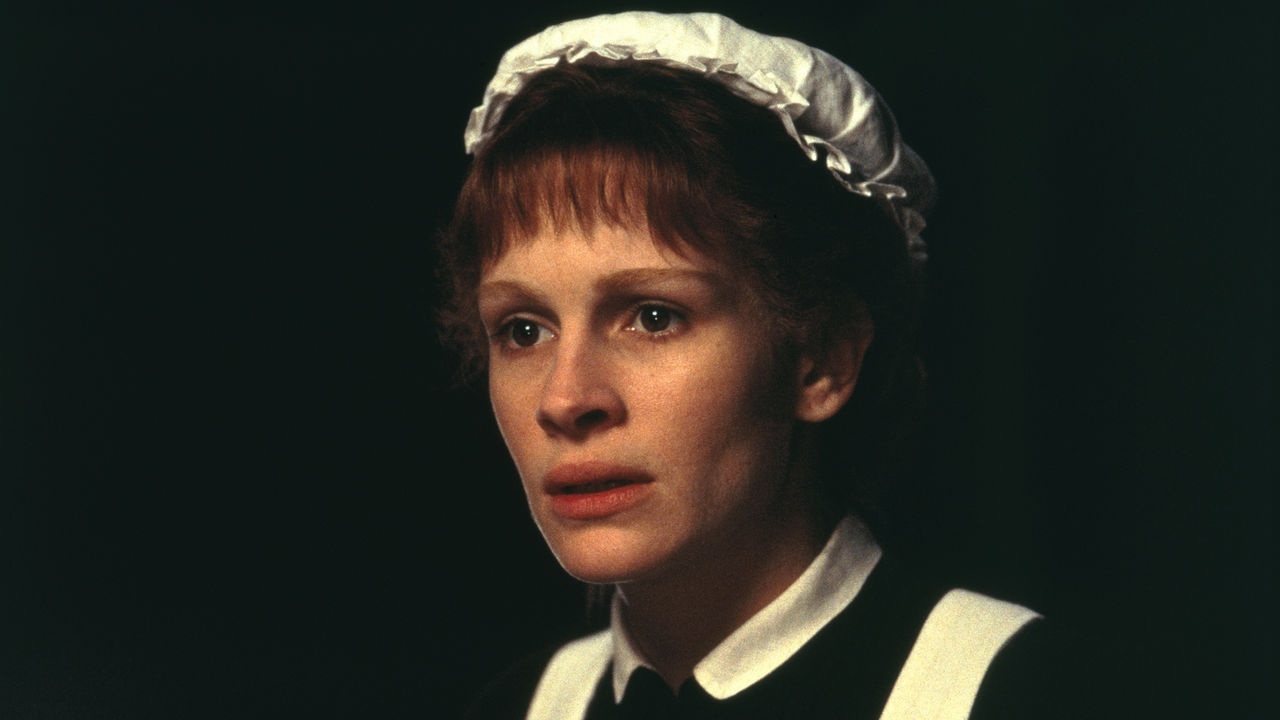 It should be noted that the story being retold in Mary Reilly is the literary version of Dr Jekyll and Mr Hyde as opposed to any of the film versions. Watching the film requires a reasonable familiarity with the way things happen in the story. We see events transpiring where we realize their significance but the characters in the film do not – the servants of the household being told to give Mr Hyde free run, the scene where Mary finds the cheque written for 150 pounds 'blood money' – and the different perspective gives these events a striking new illumination. Even though we know from the outset that Dr Jekyll and Mr Hyde are the same person, the film's playing into this gives Mary's discovery a potent emotional resonance. Moreover, in telling the story from Mary's point-of-view, this allows Valerie Martin to intriguingly transform the story into a feminist meditation on male sexuality – the good Jekyll coming to represent kindness and a father figure that the abused Mary has never known, while Hyde comes to represent a dangerous allure that she finds sexually compelling.
The film is directed by Stephen Frears, known for class works like Dangerous Liaisons (1988), The Grifters (1990), High-Fidelity (2000) and The Queen (2006), as well as one further genre entry with the live broadcast tv movie remake of Fail-Safe (2000). The script was adapted by Christopher Hampton who wrote acclaimed works like Dangerous Liaisons for Stephen Frears, The Quiet American (2002), Atonement (2007) for which he received an Oscar nomination, and the play that became the basis of A Dangerous Method (2011).
Frears does an exceptional job directing. The scene where we are introduced to Hyde for the first time comes with a startling dream-like intensity – Frears' camera following Julia Roberts as she moves through the house and the huge lab sets, hiding beneath a table as Hyde returns only to have him find her and stomp on the table with a bloodied shoe then bend down to hand the key to her and departing with a taunting "I think we've had enough excitement for one evening. Close the door behind you."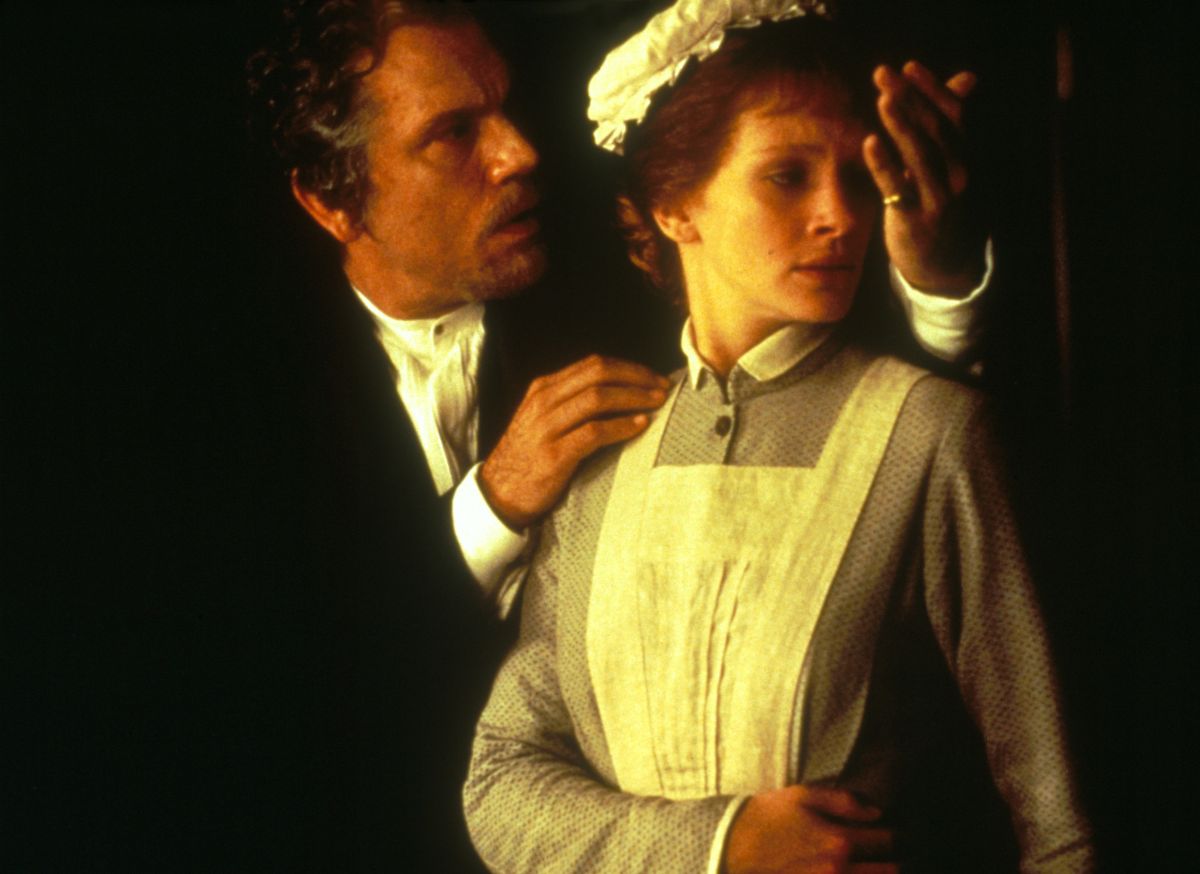 The film conducts an exceptional portrait of the dreariness of the servants' and working class lot in Victorian England. (At one point, Julia Roberts is called to the lodgings where her mother has died to find her body has been packed away in a closet and her belongings sold for unpaid rent, whereupon she is offered the shilling's change that was left over. "Poor wages for a lifetime of drudgery" is her haunting soliloquy). The sets – from the drearily grey courtyards and streets of Victorian London to the tiered lecture theatres and vast sets and hanging platforms of Jekyll's laboratory – are exceptional. The entire production design schema has been to relay the sets and costumes, almost everything in the film with the exception of the brothel, in blacks and greys, which has amazingly bleak effect. The photography is beautifully subdued, emphasizing the grey dreariness of this world with a soft elegance. It renders even more tragic the sense of the central character trapped in a life that she was born into with little prospect of advancement.
The Jekyll/Hyde makeup is subdued. With the exception of a change of wig, John Malkovich's features are so distinctive in both roles that we keep wondering why Julia Roberts never works out what is going on. We do eventually get a digitally created transformation scene at the end in a startling sequence where we see Jekyll physically forcing his way out of Hyde's shoulder. One suspects that this was born out of a desire on Stephen Frears' part to depict the Jekyll/Hyde transformation in a new way that had not been seen on screen before.
Many people laughed at Julia Roberts and her stab at an Irish accent when Mary Reilly came out. In fact, amid the facile light comedy roles that she is usually cast in, this is one of the few times that Julia Roberts acts on screen. Her frightened, timid, even gaunt and emaciated character is excellent. Indeed, the sense of Mary's lifelong downtrodden nature radiates considerable sympathy out of the screen without Roberts ever needing to say anything. This may well be the best piece of acting that Julia Roberts did in the decade between Pretty Woman (1990) and Erin Brockovich (2000). The only negative point against the film is an extremely bad performance from Glenn Close as the brothel owner. It is hard to understand why such an exceptional film was hated so much. Least of all while why Empire magazine nominated Mary Reilly as one on their list of '50 Films That Should Never Have Been Made'.
Other versions of Dr Jekyll and Mr Hyde include:– Dr Jekyll and Mr Hyde (1908); Dr Jekyll and Mr Hyde (1910) with Alvin Neuss; Dr Jekyll and Mr Hyde (1912) with James Cruze; Dr. Jekyll and Mr. Hyde (1913) with King Baggott; Dr. Jekyll and Mr. Hyde (1920) with John Barrymore; Dr Jekyll and Mr Hyde (1920) with Sheldon Lewis; Der Januskopf (1920), a lost German version with Conrad Veidt; the classic Dr. Jekyll and Mr. Hyde (1931) with Fredric March; Dr Jekyll and Mr Hyde (1941) with Spencer Tracy; Jean Renoir's The Testament of Dr Cordelier (1959) with Jean-Louis Barrault; The Two Faces of Dr. Jekyll (1960), the Hammer version with Christopher Lee; Dr Jekyll and Mr Hyde (tv movie, 1968) with Jack Palance; I, Monster (1971) also with Christopher Lee; The Man with Two Heads (1972) with Denis DeMarne; Dr Jekyll and Mr Hyde (tv movie, 1973), a musical version with Kirk Douglas; Walerian Borowczyk's Dr Jekyll and His Women (1981) with Udo Kier; Dr Jekyll and Mr Hyde (tv movie, 1981) with David Hemmings; a 1985 Russian adaptation starring Innokenti Smoktonovsky; Edge of Sanity (1989) with Anthony Perkins; The Strange Case of Dr Jekyll and Mr Hyde an episode of the tv series Nightmare Classics (1989) with Anthony Andrews; Jekyll and Hyde (tv movie, 1990) with Michael Caine; My Name is Shadow (1996), a Spanish version starring Eric Gendron; a bizarre tv pilot Dr Jekyll and Mr Hyde (1999), which combined the story with Hong Kong martial arts and featured Adam Baldwin playing a Jekyll as a superhero in the Orient; Jekyll & Hyde: The Musical (2001) with David Hasselhoff; Dr Jekyll and Mr Hyde (2002) directed by and starring Mark Redfield; the excellent British tv reinterpretation Dr Jekyll & Mr Hyde (2002) with John Hannah; The Dr. Jekyll and Mr. Hyde Rock'n'Roll Musical (2003) with Alan Bernhoft; the modernised Jekyll + Hyde (2006) with Bryan Fisher; The Strange Case of Dr. Jekyll and Mr. Hyde (2006) with Tony Todd; the modernised BBC tv series Jekyll (2007) with James Nesbitt; Jekyll (2007) starring Matt Keeslar where Hyde becomes a virtual creation; and the modernised Dr. Jekyll and Mr Hyde (2008) starring Dougray Scott.
Other variations include the would-be sequels Son of Dr Jekyll (1951), Daughter of Dr Jekyll (1957) and Dr Jekyll and the Wolfman (1972); the comedy variations Abbott and Costello Meet Dr Jekyll and Mr Hyde (1953), The Ugly Duckling (1959), the Italian My Friend, Dr Jekyll (1960) and The Nutty Professor (1963) with Jerry Lewis and its remake The Nutty Professor (1996) with Eddie Murphy; versions where Dr Jekyll turns into a woman with Dr Jekyll and Sister Hyde (1971), the Italian comedy Dr Jekyll and the Gentle Lady (1971) and Dr Jekyll and Ms Hyde (1995); the gender-reversed Madame Hyde (2017); a Looney Tunes cartoon Dr Jekyll's Hide (1954) where Sylvester the Cat transforms into a dog after taking the formula; the erotic/adult versions The Naughty Dr. Jekyll (1973), The Erotic Dr Jekyll (1976), Jekyll and Hyde (2000), Dr. Jekyll & Mistress Hyde (2003) and Jacqueline Hyde (2005); Dr Black and Mr Hyde (1976), a Blaxploitation version where Jekyll is a Black man who turns into a white-skinned monster; the amusing sendup Jekyll and Hyde … Together Again (1982); a wacky children's tv series Julia Jekyll and Harriet Hyde (1995); Killer Bash (1996) set in a frat house with an avenging female Jekyll; while the tv series Jekyll and Hyde (2015) concerns Jekyll's grandson (Tom Bateman) hunted by various parties during the 1930s. Dr Jekyll appears as a character in The League of Extraordinary Gentlemen (2003) played by Jason Flemyng, in the tv series Penny Dreadful (2014-6) played by Shazad Latif and in The Mummy (2017) played by Russell Crowe, which all feature team-ups between Famous Monsters, while the animated The Pagemaster (1994) features a Dr Jekyll voiced by Leonard Nimoy.
(Winner in this site's Top 10 Films of 1996 list. Winner for Best Adapted Screenplay, Nominee for Best Musical Score and Best Production Design at this site's Best of 1996 Awards).
---
Trailer here
---