---
Crew
Director – David Cronenberg, Screenplay – Jeffrey Boam, Based on the Novel by Stephen King, Producer – Debra Hill, Photography – Mark Irwin, Music – Michael Kamen, Special Effects – Jon Belyeu, Production Design – Carol Spier. Production Company – Dino De Laurentiis/Lorimar.
Cast
Christopher Walken (Johnny Smith), Martin Sheen (Greg Stillson), Brooke Adams (Sarah Bracknell), Herbert Lom (Dr Sam Weizak), Sean Sullivan (Herb Smith), Tom Skeritt (Sherrif George Bannerman), Anthony Zerbe (Roger Stuart), Nicholas Campbell (Frank Dodd), Giza Kovacs (Sonny Ellman), Jackie Burroughs (Vera Smith), Colleen Dewhurst (Henrietta Dodd)
---
Plot
Schoolteacher Johnny Smith is caught in a car crash and goes into a coma. He comes out of the coma five years later. Soon after, Johnny finds that when he touches someone he can see into their future or view things they are connected to that are happening elsewhere. He is able to see that his nurse's daughter is caught in a fire at home and that his doctor's mother, believed dead, is still alive. He comes to the attention of the media when he helps a local sheriff's department locate a serial killer. However, when Johnny touches the hand of Presidential candidate Greg Stillson, he receives a vision that Stillson will one day become President and be the man who triggers World War III. Johnny takes it upon himself to kill Stillson and prevent that future from ever happening.
---
Canadian director David Cronenberg emerged in the 1970s and rose up through several acclaimed B-budget horror films – Shivers/They Came from Within/The Parasite Murders (1975) and Rabid (1977) – to increasingly more acclaimed films and better-budgeted efforts such as The Brood (1979), Scanners (1981) and the box-office failure of the conceptually ambitious Videodrome (1983). With The Dead Zone, David Cronenberg signed on for his first American financed film, an adaptation of Stephen King's 1979 best-seller.
The Dead Zone was produced by Dino De Laurentiis who made a number of other Stephen King adaptations around the same time, including Firestarter (1984), Cat's Eye (1985), Silver Bullet (1985) and Stephen King's directorial debut Maximum Overdrive (1986). The script for The Dead Zone was adapted by Jeffrey Boam, who would go onto write a number of other genre films including The Lost Boys (1987), Innerspace (1987), Indiana Jones and the Last Crusade (1989) and The Phantom (1996).
The Stephen King novel survives reasonably well on screen in Jeffrey Boam's hand. The Dead Zone is certainly a long book where Stephen King characteristically sidetracks off into other peripheral stories. Jeffrey Boam trims down much of the padding of the story but keeps its essence and in some places even dramatically bolsters the conflicts. Indeed, The Dead Zone is usually spoken of as one of the better among the usually maligned screen adaptations of Stephen King's works. (Although, the film does bring out the problem that the book is episodic).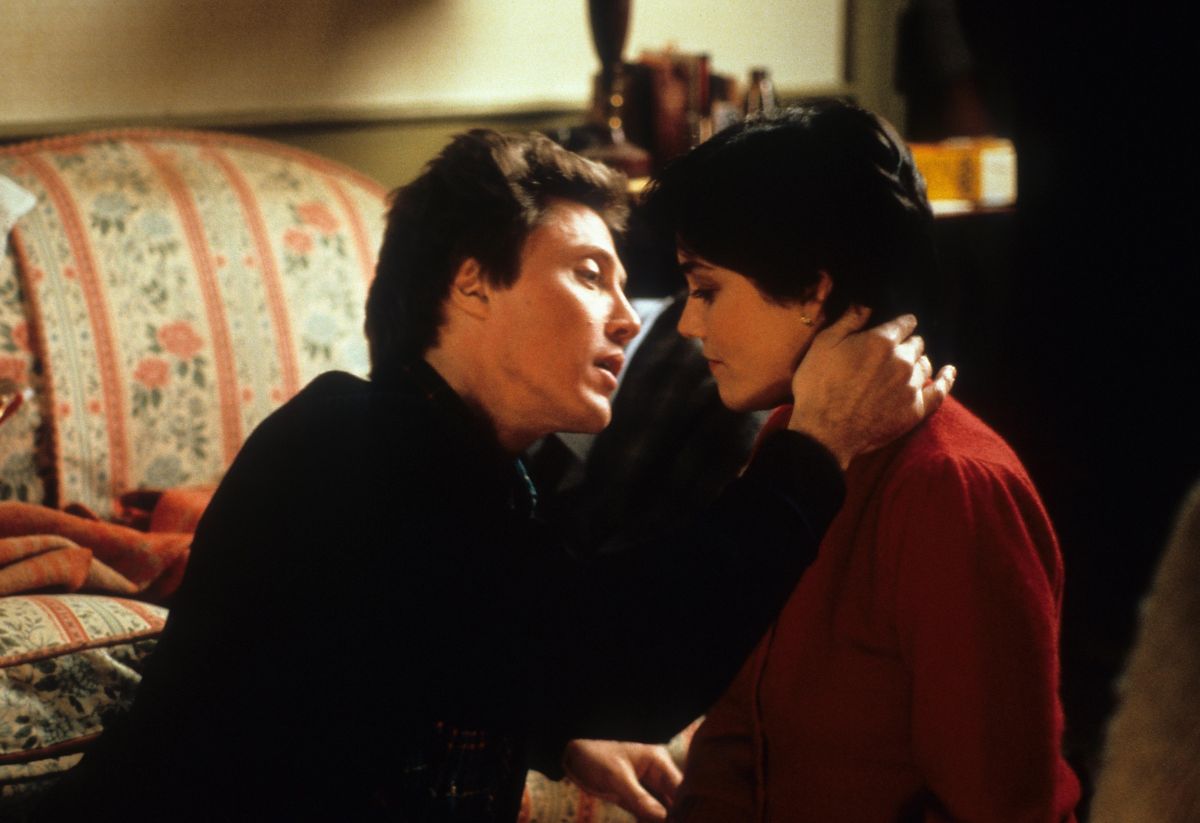 The Dead Zone was the first time that David Cronenberg was essentially working as a director for hire and not from a script he had written himself. Perhaps as a result, The Dead Zone feels like his least personal film. Cronenberg's films usually work on a fascinatingly torrid level of split between the body and mind where the body always seems to be twisting into a bizarre new form of repressive expression or trying to fuse with technology. There is none of that in The Dead Zone.
Moreover, Cronenberg does not appear interested in ordinary people stories and gives the impression of being uninvolved with many of the mundane scenes. Certainly, Cronenberg does a competent job and, for any other director, The Dead Zone would be a worthwhile effort. However, the wintry Canadian locations seem frozen, unwelcoming tableaux and the film cool and detached.
Christopher Walken, who was then mostly known for his Best Supporting Actor win on The Deer Hunter (1978) and had not matured into the highly individualistic cult actor he is today, is also wrong for the central role. The part of Johnny Smith needs a warm, ordinary person at the centre of it but Christopher Walken's twitchy, nervous style of acting seems too jumpy and hyper – like he had been mainlining coffee throughout shooting the whole time. (Interestingly, Stephen King had casting veto over the film and had initially pushed for Bill Murray in the part, which takes a little to get one's head around).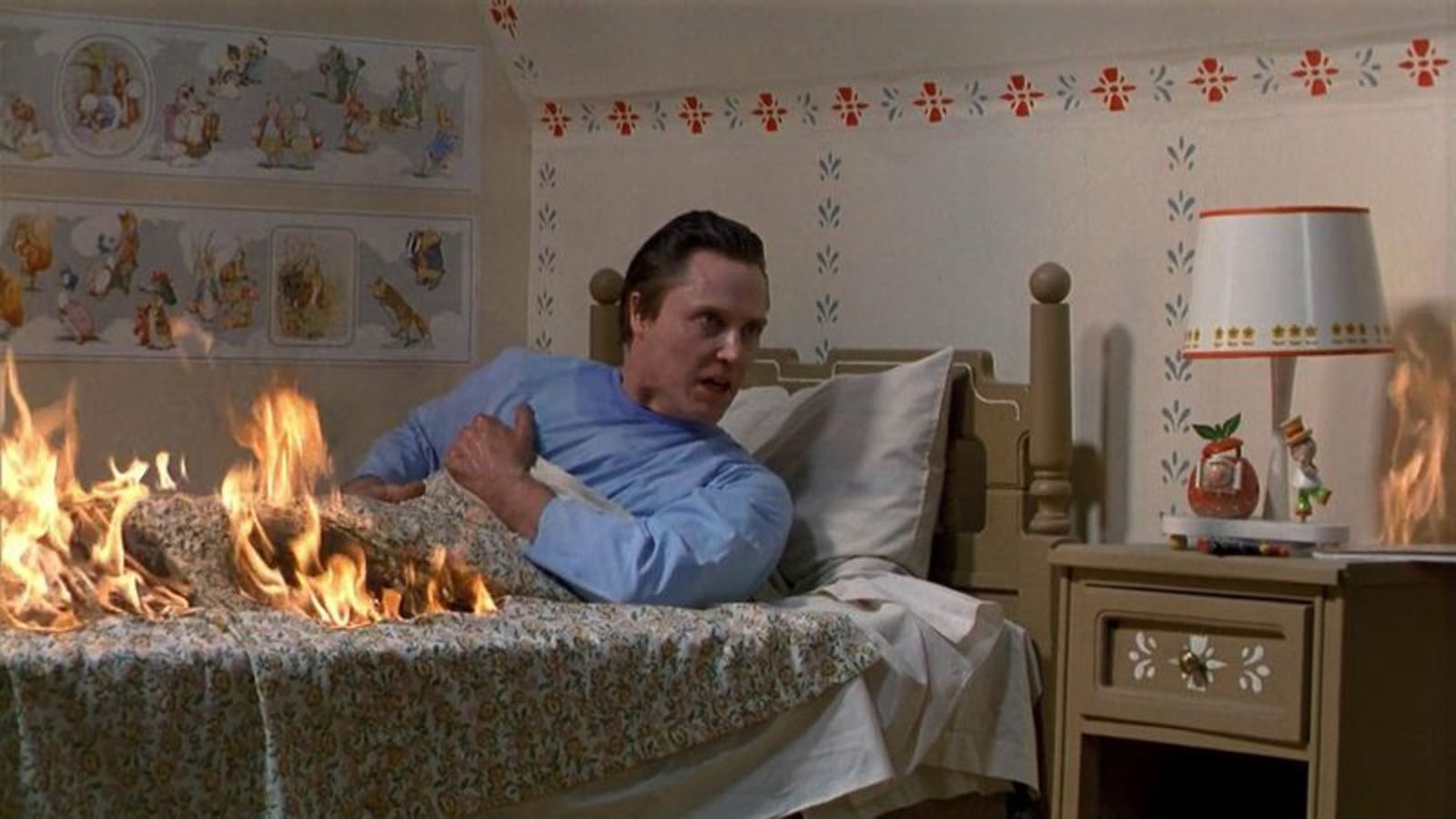 Certainly, Cronenberg has a good supporting cast. Martin Sheen is fine in a rare villainous turn – the US President he plays in The Dead Zone makes for intriguing contrast to the much more liberal President he later played in tv's The West Wing (1999-2006). There are also fine supporting performances around the edge of the film from Herbert Lom and Brooke Adams.
The book later became the basis of a Canadian-made tv series The Dead Zone (2001-2), starring Anthony Michael Hall as Johnny Smith.
David Cronenberg's other films are:– Stereo (1969), a little-seen film about psychic powers experiments; Crimes of the Future (1970) set a future where people have become sterile and developed strange mutations; Shivers/They Came from Within (1975) about sexual fetish inducing parasites; Rabid (1977) about a vampiric skin graft; The Brood (1979), a remarkable film about experimental psychotherapies; Fast Company (1979), a non-genre film about car racing; Scanners (1981), a film about psychic powers; Videodrome (1983), a conceptually stunning work about reality-manipulating tv; The Fly (1986), his remake of the 1950s film; his masterpiece Dead Ringers (1988), which explores the perverse psychology of twins; Naked Lunch (1991), his surreal adaptation of William S. Burroughs' drug-hazed counter-culture novel; M. Butterfly (1993), a non-genre film about a Chinese spy who posed as a woman to seduce a British diplomat; Crash (1996), Cronenberg's adaptation of J.G. Ballard's novel about the eroticism of car crashes; eXistenZ (1999), a disappointing film about Virtual Reality; Spider (2002), a subjective film takes place inside the mind of a mentally ill man; the thriller A History of Violence (2005) about an assassin hiding from his past life; Eastern Promises (2007) about the Russian Mafia; A Dangerous Method (2011) about the early years of psychotherapy; Cosmopolis (2012), a surreal vision of near-future economic collapse; the dark Hollywood film Maps to the Stars (2014); and Crimes of the Future (2022) set in a future world of surgical performance art. David Cronenberg has also made acting appearances in other people films including as a serial killer psychologist in Clive Barker's Nightbreed (1990); a hitman in Gus Van Sant's To Die For (1995); a Mafia head in the Canadian vampire film Blood & Donuts (1995); a member of a hospital board of governors in the medical thriller Extreme Measures (1996); as a gas company exec in Don McKellar's excellent end of the world drama Last Night (1998); and a priest in the serial killer thriller Resurrection (1999); and a victim in the Friday the 13th film Jason X (2001).
Other Stephen King genre adaptations include:- Carrie (1976), Salem's Lot (1979), The Shining (1980), Christine (1983), Cujo (1983), Children of the Corn (1984), Carrie (1976), Salem's Lot (1979), The Shining (1980), Christine (1983), Cujo (1983), Children of the Corn (1984), Firestarter (1984), Cat's Eye (1985), Silver Bullet (1985), The Running Man (1987), Pet Sematary (1989), Graveyard Shift (1990), It (tv mini-series, 1990), Misery (1990), a segment of Tales from the Darkside: The Movie (1990), Sometimes They Come Back (1991), The Lawnmower Man (1992), The Dark Half (1993), Needful Things (1993), The Tommyknockers (tv mini-series, 1993), The Stand (tv mini-series, 1994), The Langoliers (tv mini-series, 1995), The Mangler (1995), Thinner (1996), The Night Flier (1997), Quicksilver Highway (1997), The Shining (tv mini-series, 1997), Trucks (1997), Apt Pupil (1998), The Green Mile (1999), The Dead Zone (tv series, 2001-2), Hearts in Atlantis (2001), Carrie (tv mini-series, 2002), Dreamcatcher (2003), Riding the Bullet (2004), 'Salem's Lot (tv mini-series, 2004), Secret Window (2004), Desperation (tv mini-series, 2006), Nightmares & Dreamscapes: From the Stories of Stephen King (tv mini-series, 2006), 1408 (2007), The Mist (2007), Children of the Corn (2009), Everything's Eventual (2009), the tv series Haven (2010-5), Bag of Bones (tv mini-series, 2011), Carrie (2013), Under the Dome (tv series, 2013-5), Big Driver (2014), A Good Marriage (2014), Mercy (2014), Cell (2016), 11.22.63 (tv mini-series, 2016), The Dark Tower (2017), Gerald's Game (2017), It (2017), The Mist (tv series, 2017), Mr. Mercedes (tv series, 2017-9), 1922 (2017), Castle Rock (tv series, 2018-9), Doctor Sleep (2019), In the Tall Grass (2019), Pet Sematary (2019), The Outsider (tv series, 2020), The Stand (tv mini-series, 2020-1), Chapelwaite (tv series, 2021- ), Lisey's Story (tv mini-series, 2021), Firestarter (2022), Mr Harrigan's Phone (2022). and Salem's Lot (2022). Stephen King had also written a number of original screen works with Creepshow (1982), Golden Years (tv mini-series, 1991), Sleepwalkers (1992), Storm of the Century (tv mini-series, 1999), Rose Red (tv mini-series, 2002) and the tv series Kingdom Hospital (2004), as well as adapted his own works with the screenplays for Cat's Eye, Silver Bullet, Pet Sematary, The Stand, The Shining, Desperation, Children of the Corn 2009, A Good Marriage, Cell and Lisey's Story. King also directed one film with Maximum Overdrive (1986).
---
---