aka Cannibal Orgy; The Liver Eaters
---
USA. 1968.
Crew
Director/Screenplay – Jack Hill, Producers – Gil Lasky & Paul Monka, Photography (b&w) – Alfred Taylor, Music – Ronald Stein, Art Direction – Ray Story. Production Company – Lasky-Monka.
Cast
Lon Chaney [Jr] (Bruno), Jill Banner (Virginia Merrye), Quinn Redeker (Peter Howe), Beverly Washburn (Elizabeth Merrye), Sid Haig (Ralph Merrye), Carol Ohmart (Emily Howe), Karl Schanzer (Schlocker), Mary Mitchell (Ann Morris), Mantan Moreland (Delivery Man)
---
Plot
The three Merrye children, Virginia, Elizabeth and Ralphie, live in a spooky old mansion, tended by an aging retainer. They suffer from a rare condition known as Merrye's Syndrome that causes adults to mentally regress to childhood. Virginia likes to play 'spider' where she catches people in traps and kills them. When two cousins and their lawyer arrive to take control of the family, they become the latest prey in the children's games.
---
In the Psychotronic video cult's never-ending search for bizarre and weird cinema, this oddity was rediscovered in the mid-80s. It was made by former Roger Corman production assistant Jack Hill. Jack Hill made various B-movies such as Portrait in Terror (1965), Blood Bath (1966), the Women in Prison film The Big Doll House (1971), Blaxploitation films such as Coffy (1973) and Foxy Brown (1974), and is otherwise known in the genre for a quartet of ultra-cheap horror films made in Mexico – Isle of the Snake People (1971), The Incredible Invasion/The Sinister Invasion (1971), House of Evil (1971) and The Fear Chamber (1971) – that were the last films to ever feature Boris Karloff.
Known variously as Spider Baby, Cannibal Orgy and The Liver Eaters, and sometimes subtitled or the Maddest Story Ever Told, the film is a whacked-out dive into dementia. It could be described as The Addams Family (1964-6) played seriously. It starts out maddeningly slowly with Jack Hill directing in incredibly static camera set-ups and with hardly any music. However, it picks up considerably once the killings start.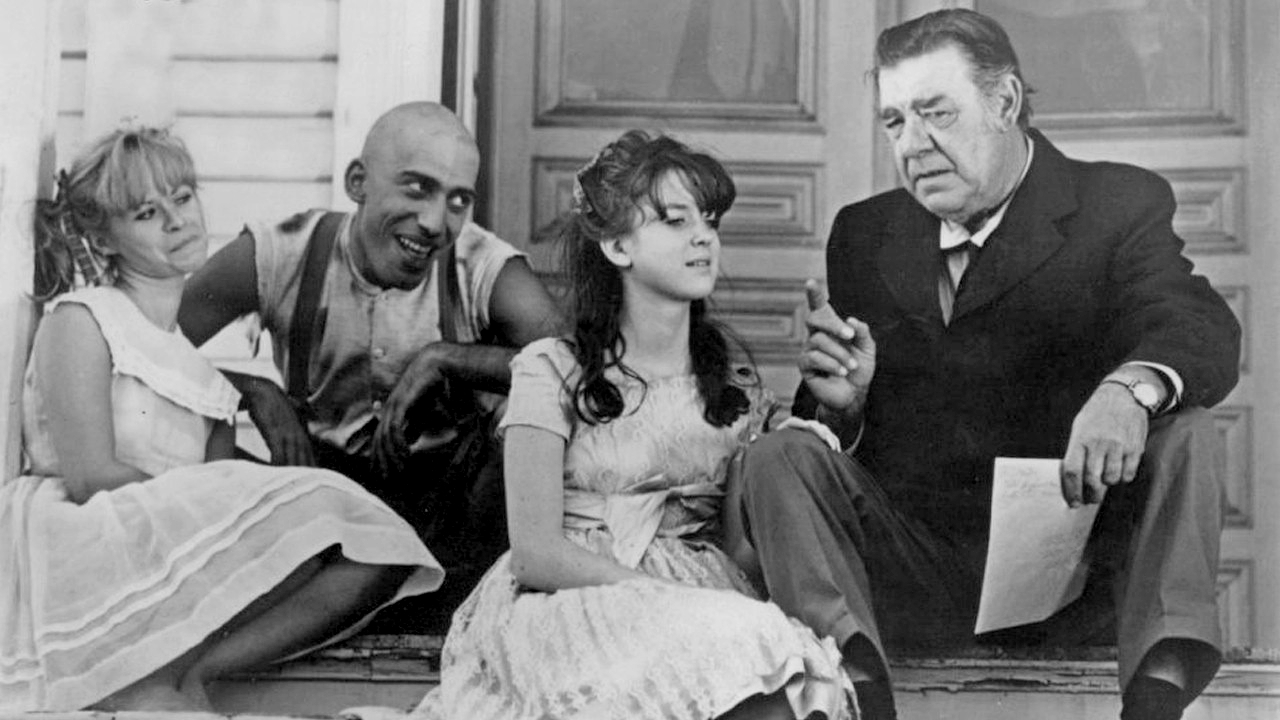 Jack Hill lacks much in the way of subtlety or style, nevertheless manages a ghoulish spookiness at times. There is a good shock opening with courier Mantan Moreland arriving at the house only to become stuck as he climbs through a window and have a net thrown over him by Jill Banner who advances at him holding a kitchen knife in each hand. The scene where Jack Hill achieves the most that approaches style is the dinnertable scene where one is never whether the guests are being served up cats as chicken or not.
Jack Hill is well served by his cast, especially Jill Banner with her unnervingly wide staring eyes and little girl act. Lon Chaney Jr conducts his part with a sad dignity and gives probably the best performance he ever gave in the latter years of his life. (The film includes numerous references to Lon Chaney Jr's signature vehicle The Wolf Man [1941]). Also good is second-billed Carol Ohmart who comes across with an effectively snooty middle-class moral superiority. Spider Baby is on the tame side today, but certainly it would have been quite outre in the 1960s.
In 2008, the idea of a remake was mooted as part of the 00s fad for remaking classic horror films, although nothing more has yet emerged from this.
---
Trailer here
---