---
Crew
Director – John MacKenzie, Screenplay – Mark Montgomery, Story – Mark Montgomery & Khris Baxter, Producers – Tarak ben Ammar, John Davis, Peby Guisez & Merrill Karpf, Photography – Clive Tickner, Music – Carl Davis, Special Effects Supervisor – Mario Cassar, Production Design – Enrico Fiorentini. Production Company – Quinta Communications/Davis Entertainment.
Cast
Rutger Hauer (Morgan Norvell), Eric Roberts (Gil Freeland), Karen Allen (Catherine 'Kit' Norvell), Connie Nielsen (Ronnie Freeland)
---
Plot
At their 20th anniversary high school reunion, Morgan and Kit Norvell meet old friends Gil and Ronnie Freeland. They invite Gil and Ronnie to visit them in Monte Carlo aboard the yacht they have purchased aboard which they intend to spend a year sailing the Mediterranean. Gil and Ronnie turn up and beg a ride to Palermo. Once the journey gets underway, Gil's games of macho one-upmanship and his and Ronnie's perpetual carefree partying causes tensions to mount, even start to undermine Morgan and Kit's marriage. Morgan and Kit then begin to suspect the Freelands have even more sinister motives in mind.
---
Voyage was a film originally set for a theatrical release – and apparently did play theatrical venues in some parts of the world. In the US and most English-speaking territories it was released to cable (it is misleadingly listed as a tv movie by the IMBD) and then VHS.
Voyage gives the impression that it seeks to imitate the yachtboard psycho-thriller Dead Calm (1989). Certainly, such a comparison would not be wrong. However, Voyage is not an entirely dismissible drama with a sufficient degree of originality of its own. In fact, the dynamic it sets up – the building tensions and interplay between two couples – is potentially a more interesting one than Dead Calm with its single woman trapped aboard with a stock psycho. If anything, the film that Voyage comes closest to is another one released around the same time it was – Kalifornia (1993), which also had a couple sharing a journey with a disturbed white trash couple.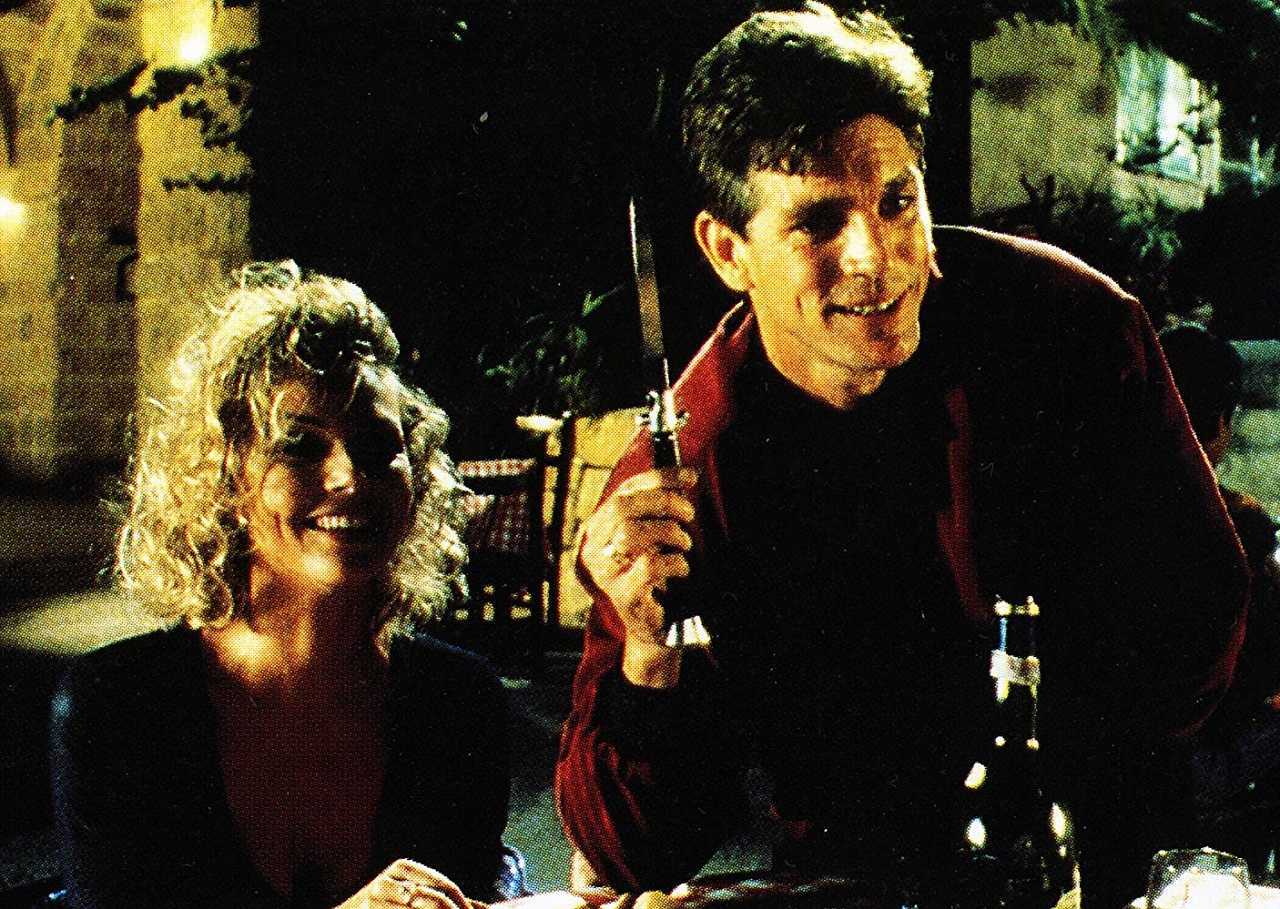 The character tensions are built with some subtlety and suspense. Chief here is Eric Roberts. Roberts always comes across as a loud and obnoxious personality you might want avoid in a bar, even when he is playing a straight role. Roberts's best acting comes in roles that play into this braggadocio – the best thing he ever did was Star 80 (1983). The film here plays into Roberts' macho swagger with an ambiguity that turns the pairing between he and the more subdued Rutger Hauer into an effectively psychotic battle of macho one-upmanship.
Scottish director John MacKenzie had done much work in British television. His most well known films were probably the British gangster film The Long Good Friday (1980) and the Frederick Forsyth nuclear thriller The Fourth Protocol (1987). Mackenzie previously ventured into psycho-thriller territory with the excellent boys boarding school film Unman, Wittering and Zigo (1971) and the cross-historical tv play Red Shift (1978).
---
---