---
Crew
Director – Vincent Ward, Screenplay – Ron Bass, Based on the Novel by Richard Matheson, Producers – Barnet Bain & Stephen Simon, Photography – Eduardo Serra, Music – Michael Kamen, Visual Effects Supervisor – Ellen M. Somers, Visual Effects – Digital Domain (Supervisor – Kevin Mack) & POP Film and POP Animation (Supervisor – Stuart Robertson), Painted Visual Effects – Mass Illusions (Supervisors – Nicholas Brooks & Joel Hynek), Digital Visual Effects – CIS Hollywood (Supervisor – Dr Ken Jones), Special Effects Supervisor – Roy Arbogast, Makeup Effects – Masters FX Inc (Supervisor – Todd Masters), Production Design – Eugenio Zanetti. Production Company – Interscope Communications/MetaFilmics.
Cast
Robin Williams (Christy Nielsen), Cuba Gooding Jr (Albert Lewis), Annabella Sciorra (Annie Nielsen), Max Von Sydow (The Tracker), Jessica Brooks Grant (Marie Nielsen), Josh Paddock (Ian Nielsen), Rosalind Chao (Leona)
---
Plot
Christy Nielsen is distraught following the death of his two children. Not long after, he goes to aid a car crash victim only to be killed by a colliding car. He finds himself in the afterlife. This is not any traditional Heaven or Hell but a landscape of one's own imagination – he having composed his out of the classical artworks his wife Annie restored – and where souls can inhabit whatever body they choose. Then comes the news that Annie, unable to handle the loss, has committed suicide. In the afterlife, suicides are not condemned to Hell but to a world wrapped in their own self-absorption. Christy ventures into Annie's closed-off world to save her, ignoring all warnings that he will be dragged down into her self-absorption.
---
New Zealander Vincent Ward is one of the most fascinating contemporary directors at work anywhere in the world. Ward trained as an artist at Canterbury University (only a few departments away from me!!) before turning to filmmaking. As a director, Vincent Ward has an artist's fascination with the visual image – one cannot think of any other director in the world who would model the entire look of a film on the work of classical artists. Ward's first feature film Vigil (1985) is an extraordinarily composed poem written in landscape and light that almost entirely circumvents narrative to work on a level of pure imagery alone. The Cannes award-winning The Navigator: A Mediaeval Odyssey (1988) was a time travel fantasy that Ward painted in the imagery of artists like Bruegel and Bosch and offered a haunting outsider's look in on the alienness of the 20th Century.
Ward lost the plot somewhat with Map of the Human Heart (1992), an Inuit romance where his fascination with imagery neglected the film's crucial emotional core. Since Map of the Human Heart, Vincent Ward's output has been erratic – he became caught up among the revolving door of directors attached to Alien3 (1992) and only ended up with story credit; he spent some time working on a Beowulf project that collapsed; and was then being forced to direct commercials and take bit parts in films like Leaving Las Vegas (1995) and One Night Stand (1997) in order to stay off the unemployment line; as well as subsequently developed The Last Samurai (2003), which was taken over by another director.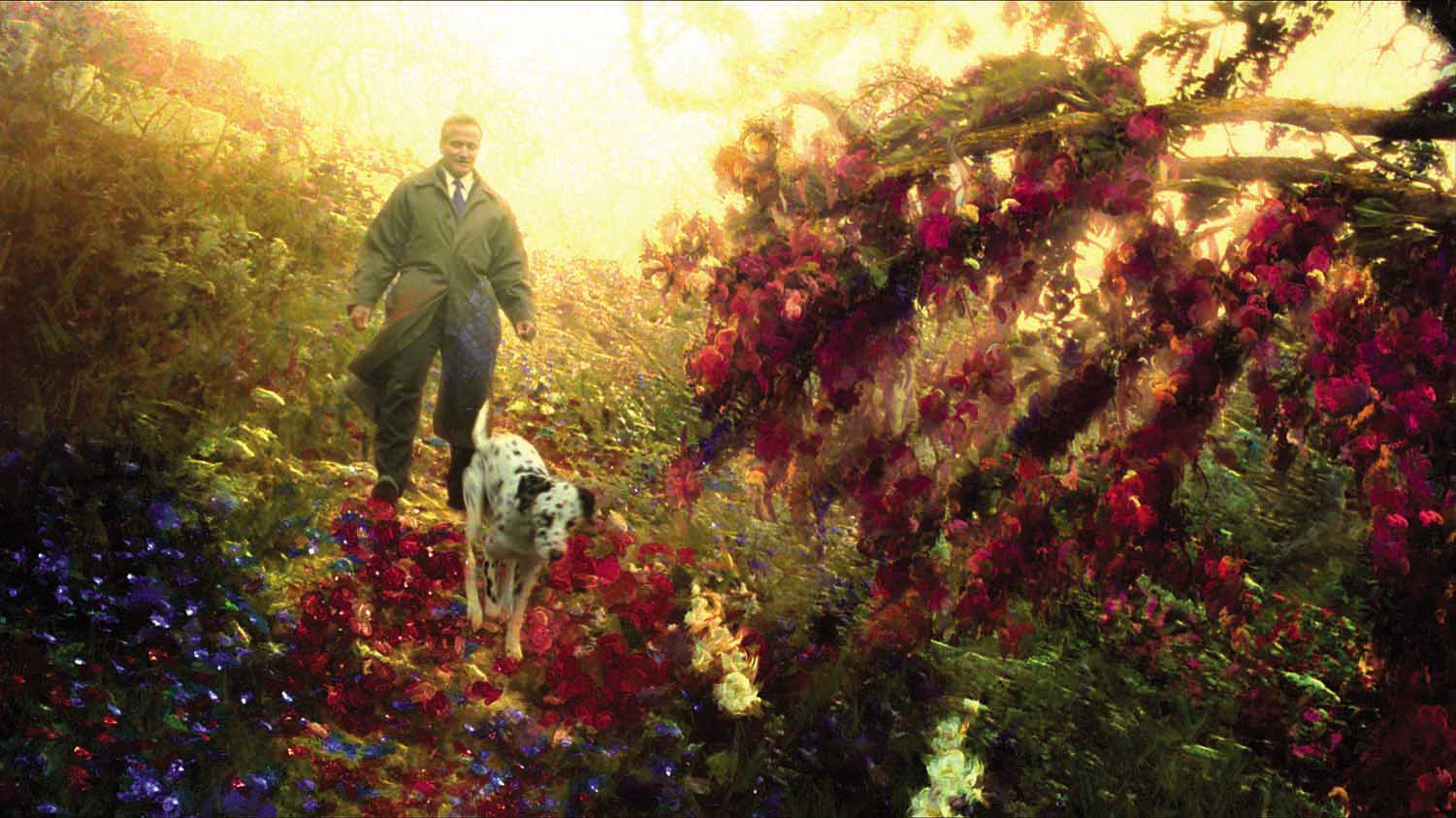 Ward's profile did not improved greatly following What Dreams May Come, even though the film was a reasonable success. In 2004, Ward returned to New Zealand to film River Queen (2005), an historical drama set during the Maori Wars, but this sank amid enormous production problems that at one point had Ward fired. Ward's only film subsequently was the documentary Rain of the Children (2008).
However, What Dreams May Come shows Vincent Ward on form and the film was his most mainstream release to date. What Dreams May Come is an adaptation of the 1984 novel by acclaimed genre novelist/screenwriter Richard Matheson, author of the likes of I Am Legend (1954), The Incredible Shrinking Man (1957), Duel (1971), most of Roger Corman's Poe films in the 1960s, and numerous episodes of Twilight Zone (1959-63) and Star Trek (1966-9), among others (see below).
Vincent Ward's work on the film is extraordinary. He lights the screen up with impossible vistas of the imagination – a vast library where gondoliers drift through canals between the bookshelves; Robin Williams having to walk across a sea of living faces as he enters Hell; valleys and oceans filled with castles and cities that have been constructed out of works by classical masters, amongst which people nonchalantly fly; houses casually sitting amidst the Gothic arches of the roof of an inverted cathedral. In an extraordinary synthesis of artistic vision and cutting edge digital effects technology, Ward gets to literally paint on film. In the most wondrous section, Robin Williams steps into a landscape that is a Vincent Van Gogh painting come to life where he slips and slides through the paint of some of the giddiest and brightest oil colours imaginable. The sheer breadth of Vincent Ward's vision in What Dreams May Come is astounding.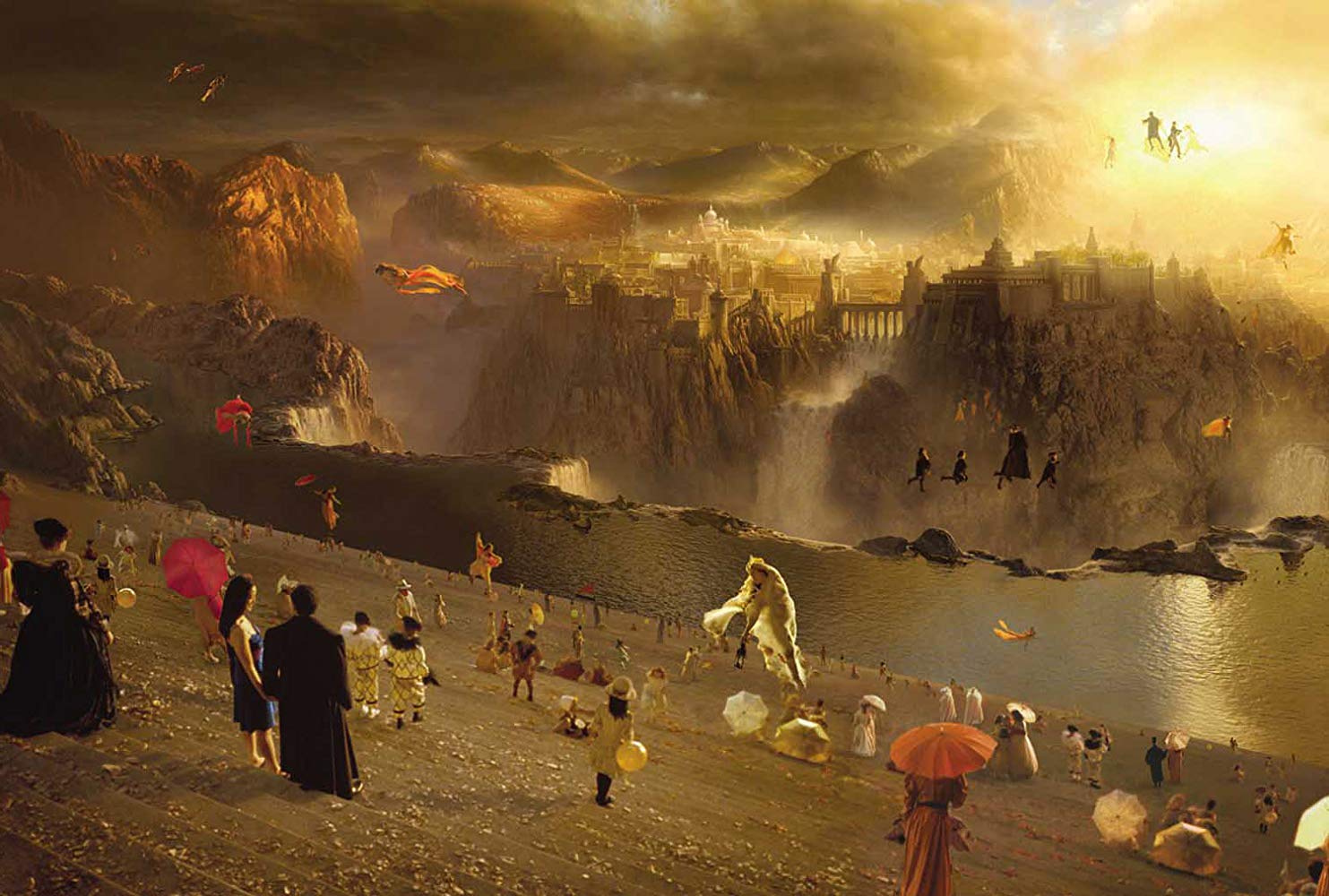 One of Vincent Ward's failings in the past has been a fascination with imagery at the expense of emotional soul. However, thanks to a good cast and an especially strong script, he has ample compensation here (apart from Annabella Sciorra whose bland performance makes one wonder what Robin Williams's love is all about). The film's humanist reworking of the Orpheus and Eurydice legend at the climax is powerful.
Richard Matheson's other genre scripts are:– The Incredible Shrinking Man (1957) based on his own novel, Roger Corman's Edgar Allan Poe adaptations The House of Usher/The Fall of the House of Usher (1960), Pit and the Pendulum (1961), Tales of Terror (1962) and The Raven (1963), the Jules Verne adaptation Master of the World (1961), the occult film Night of the Eagle/Burn, Witch, Burn (1961), the mortician's comedy The Comedy of Terrors (1963), The Last Man on Earth (1964) based on his novel I Am Legend, the Hammer psycho-thriller The Fanatic/Die, Die, My Darling (1965), the classic Hammer occult film The Devil Rides Out/The Devil's Bride (1968), the historical biopic De Sade (1969), Steven Spielberg's first film Duel (1971), The Night Stalker (1972) and The Night Strangler (1973) tv movies, the haunted house film The Legend of Hell House (1973), the tv adaptation of Dracula (1974), the tv movies Scream of the Wolf (1974), The Stranger Within (1974), Trilogy of Terror (1975), Dead of Night (1977) and The Strange Possession of Mrs. Oliver (1977), the tv adaptation of Ray Bradbury's The Martian Chronicles (1980), the time travel romance Somewhere in Time (1980) from his own novel, Jaws 3-D (1983), Twilight Zone – The Movie (1983), and numerous classic episodes of The Twilight Zone, Thriller and Star Trek. Works based on his novels and stories are The Omega Man (1971) from his I Am Legend, the fine ghost story Stir of Echoes (1999), I Am Legend (2007), The Box (2009) and Real Steel (2011).
(Winner in this site's Top 10 Films of 1998 list. Winner for Best Special Effects and Best Production Design, Nominee for Best Director (Vincent Ward) and Best Adapted Screenplay at this site's Best of 1998 Awards).
---