---
USA. 2015.
Crew
Director – Kevin Greutert, Screenplay – Lucas Sussman, Producer – Jason Blum, Photography – Michael Fimognari, Music – Anton Sanko, Visual Effects Supervisor – Jason Schugardt, Visual Effects – Method Studios LA, Special Effects Supervisor – Steve Newquist, Makeup Effects – Illusion Industries Inc., Production Design – Melanie Jones. Production Company – Blumhouse International.
Cast
Isla Fisher (Eveleigh Maddox), Anson Mount (David Maddox), Gillian Jacobs (Sadie), Joanna Cassidy (Helena Knoll), Jim Parsons (Dr Mathison), John de Lancie (Victor Napoli), Eva Longoria (Eileen), Michael Villar (Leo), Bryce Johnson (Ben), Annie Tedesco (Victoria Lambert), Roberto Sanchez (Emilio), Jeff Branson (Glenn Berry)
---
Plot
One year after she was involved in a car accident, Eveleigh Maddox and her husband David have settled down and brought a winery in a quiet valley and she is pregnant. Eveleigh suddenly begins to have a series of violent and disturbing visions and sees figures haunting her. Her husband and doctor dismiss these as her mental state and give her medication to help. However, Eveleigh starts to realise that there is something sinister occurring around her related to the winery's past.
---
Visions was the fourth directorial film for Kevin Greutert who emerged as an editor on the Saw series, cutting each of the first five films and then graduating to director with Saw VI (2009) and Saw 3D (2010). With the end of the series, Greutert moved on to make the original ghost story Jessabelle (2014) for the near-ubiquitous Blumhouse production company of Jason Blum (see below for Blumhouse's other films) and followed this with Visions also for Blumhouse, and Jackals (2017) for another company.
Like Jessabelle, Visions was another film that Blumhouse chose not to release theatrically and sent directly to dvd. This may have had something with the utterly generic and nondescript name it was given – is there any more banal a title you can think of for a film about clairvoyance than Visions? Equally the clairvoyance film, of which we have seen dozens over the last few years – see the likes of the likes of Eyes of Laura Mars (1978), Hideaway (1995), (1999), In Dreams (1999), The Gift (2000) and In/Sight (2011), among numerous others – feels as though its limited moves have been played out. The one film you keep being reminded of throughout is Don't Look Now (1973) with its premise of a series of cryptic visual clues presaging a murder. Or perhaps even more so, Lucio Fulci's Don't Look Now ripoff The Psychic (1977), which had a fairly similar premise to Visions.
Visions emerges as a routinely average film. Even the set-up – yuppies who have enough capital to buy their own vineyard as a get-away-from-it-all hobby – seems a whole other socio-economic strata from the one where most horror consumers live. Kevin Greutert delivers one or two passable to okay jumps, nothing distinctively standout. What strikes one though is how completely average everything is from the shocks to the plotting twists, not to mention the tried and true theme about everyone around her thinking the wife's visions are her going crazy.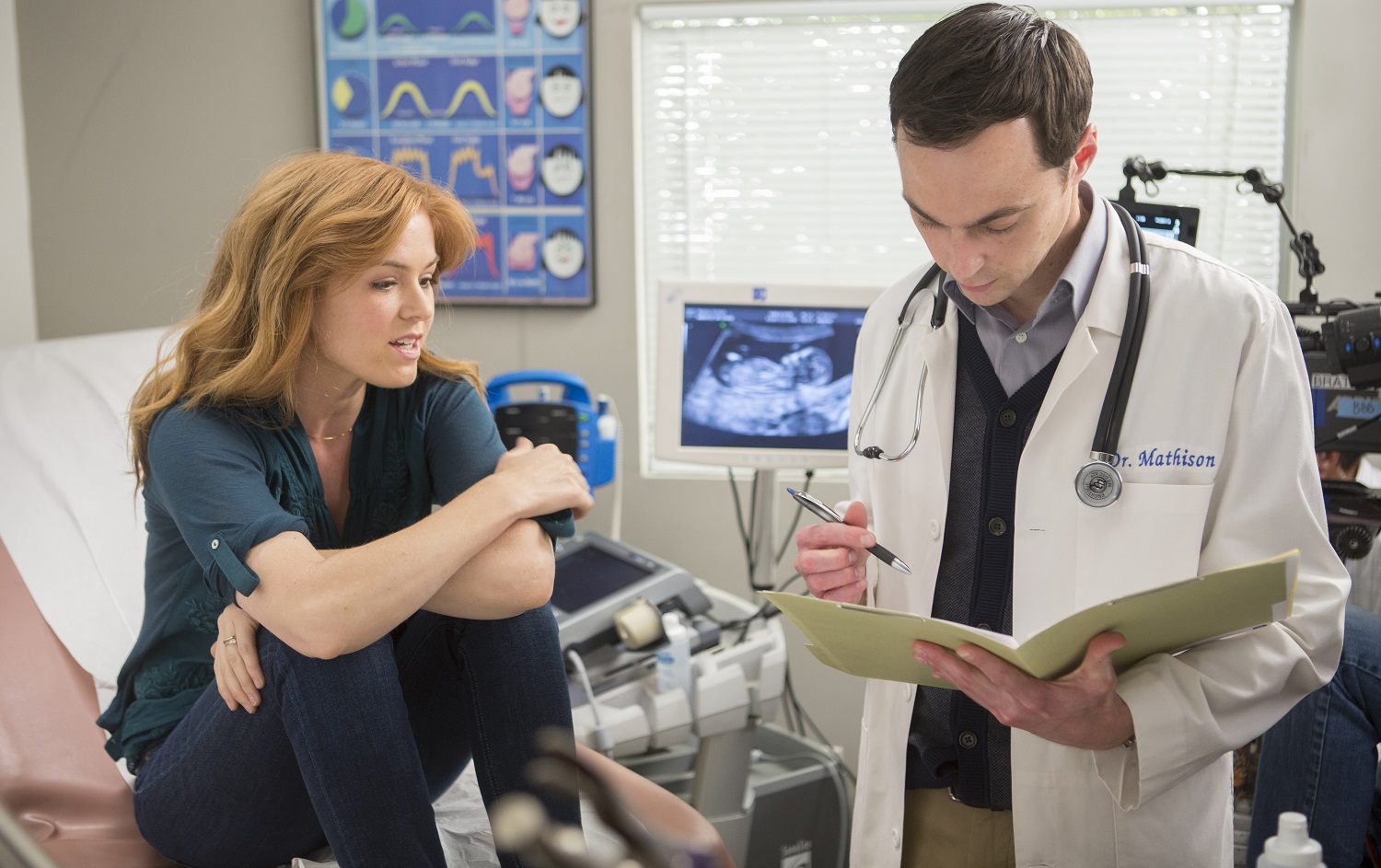 The frustrating thing about Visions – at least when it comes to the revelation of what is happening [PLOT SPOILERS] – is realising that the film has been blatantly misleading us in a number of directions. It tries to suggest various things happening – that the wine growers in the region have some diabolic intent toward Isla Fisher's pregnancy a la Rosemary's Baby (1968), that husband Anson Mount is secretly part of some devil worship cult, that there are hauntings that were experienced by the previous owners, that the Mexican farm workers are conducting rituals in the shed – but all of these eventually prove to be contrived red herrings. The film does reach a twist ending that seems far more improbably contrived than any of the supernatural explanations. When the only real revelation about what has been happening all along is that Isla Fisher was having visions of an event about to occur, this settles in with a maddening banality.
One of the pluses of the film is a strong cast list – including Isla Fisher, an aging Joanna Cassidy, John de Lancie, best known for his work as the trickster god Q on the modern Star Trek series, an underused Eva Longoria, and the greatest surprise of seeing Jim Parsons alias Sheldon Cooper from The Big Bang Theory (2007-19) in a non-comedic role as Isla Fisher's doctor.
Jason Blum and his Blumhouse production company have produced a number of other genre films including:- Hamlet (2000), Paranormal Activity (2007) and sequels, Insidious (2010) and sequels, Tooth Fairy (2010), The Bay (2012), The Lords of Salem (2012), The River (tv series, 2012), Sinister (2012) and sequel, Dark Skies (2013), Oculus (2013), The Purge (2013) and sequels, the tv mini-series Ascension (2014), Creep (2014), Jessabelle (2014), Mercy (2014), Mockingbird (2014), Not Safe for Work (2014), Ouija (2014) and sequel, 13 Sins (2014), The Town That Dreaded Sundown (2014), Unfriended/Cybernatural (2014), Area 51 (2015), The Boy Next Door (2015), Curve (2015), The Gallows (2015), The Gift (2015), Jem and the Holograms (2015), The Lazarus Effect (2015), Martyrs (2015), The Visit (2015), The Darkness (2016), Hush (2016), Incarnate (2016), The Veil (2016), Viral (2016), Amityville: The Awakening (2017), Get Out (2017), Happy Death Day (2017), The Keeping Hours (2017), Split (2017), Stephanie (2017), Bloodline (2018), Cam (2018), Delirium (2018), Halloween (2018), Seven in Heaven (2018), Truth or Dare (2018), Upgrade (2018), Black Christmas (2019), Ma (2019), Prey (2019), Don't Let Go (2019), Sweetheart (2019), Black Box (2020), The Craft: Legacy (2020), Evil Eye (2020), Fantasy Island (2020), Freaky (2020), The Hunt (2020), The Invisible Man (2020), Nocturne (2020), You Should Have Left (2020), Black as Night (2021), The Black Phone (2021), Dashcam (2021), Madres (2021) and Firestarter (2022).
---
---