---
Crew
Director – Marc Forster, Screenplay – David Benioff, Producers – Eric Kopeloff, Tom Lassally & Arnon Milchan, Photography – Roberto Schaefer, Music – Asche & Spencer, Visual Effects Designer – Kevin Tod Haug, Visual Effects – Buzz Image Group, FOGstudio Inc., Frantic Films (Supervisor – Chris Bond), The FX Cartel (Supervisor – Gunnar Hansen), Intelligent Creatures (Supervisor – Raymond Gieringer), Klon Films Inc., Merlin Visual Effects & R!ot, Computer Animated Light Effects – Image Savant (Supervisor – Richard 'Dr' Baily), Special Effects Supervisor – Steve Kirshoff, Makeup Effects – John Caglione Jr, Prosthetic Effects – Steve Johnson's Edge FX, Inc., Production Design – Kevin Thompson. Production Company – Regency Enterprises.
Cast
Ewan McGregor (Dr Sam Foster), Ryan Gosling (Henry Letham), Naomi Watts (Lila Culpepper), Bob Hoskins (Dr Leon Patterson), Kate Burton (Maureen Letham), Elizabeth Reaser (Athena), Janeane Garofalo (Dr Beth Levy), B.D. Wong (Dr Ren)
---
Plot
After a colleague falls ill, psychiatrist Sam Foster is assigned one of their patients – art student Henry Letham. Henry concerns Sam when he announces that he is going to commit suicide at midnight that Saturday. As he becomes drawn into trying to ascertain Henry's reasons for wanting to commit suicide, Sam finds that Henry has the uncanny ability to predict things. Sam visits Henry's mother but others insist that she died months ago. As Sam becomes more deeply enwound in the mysteries surrounding Henry's encroaching suicide, reality begins to blur altogether.
---
Stay was an interesting film that never achieved much in the way of box-office when it came out. It was directed by Marc Forster, who emerged with the awards-acclaimed likes of Monster's Ball (2001) and the J.M. Barrie biopic Finding Neverland (2004), both of which this author felt were overrated. Following Stay, Forster went onto make the meta-fiction Stranger Than Fiction (2006), the drama The Kite Runner (2007), the James Bond film Quantum of Solace (2008), World War Z (2013) and other works. (See below for Marc Forster's other genre films). Screenwriter David Benioff had previously written The 25th Hour (2002) and Troy (2004) and subsequently X-Men Origins: Wolverine (2009) and Gemini Man (2019) and most famously co-created the tv series Game of Thrones (2011-9).
Stay starts in well. Marc Forster evokes a cool disquiet during the initial exchanges between Ewan McGregor and Ryan Gosling. Underneath everything, there is a building sense of mystery – Ryan Gosling's predictions that it is going to hail later that day; the fortune cookie that Ewan McGregor opens containing the exact words that Gosling mentioned earlier; Gosling hearing voices before people appear; he insisting that Bob Hoskins is his father; the mysterious voice on the answer phone.
Ryan Gosling (just before hitting superstardom) gives a good haunted performance – one where you can clearly see that beneath a layer of cynical indifference he is masking a disturbed confusion in trying to understand what is happening. On the face of it, Ewan McGregor does not seem the most naturalistic actor to come to mind playing a concerned psychologist but gets into the part well, nailing the cool mannered assurances and exchanges perfectly.
Marc Forster has a coolly sophisticated visual style. There are some subtle fades and dissolves between scenes where the last image of one shot morphs into the start of the next. The mystery gradually develops with an increasing disquiet – all with the tempo of the film never rising above the same eerie mannerdness – vignettes of strangers passing, images of figures outlined in the foreground, or odd disjunctions like the street scene with workmen lifting a piano and a kid losing his balloon that keeps being repeated over.
There are some spooky scenes with Ewan McGregor visiting Ryan Gosling's mother (Kate Burton) where she starts becoming non-coherent and then bleeding from a wound on her head, before in the next scenes the sheriff reveals that she died some months ago. Or a scene when Ryan Gosling realises that the people and cars in the street are frozen still watching him bleed from his head. There are some extremely lovely shots of New York streets covered in rain and blurred like the colours had started to wash out, and especially the drift towards the crash scene at the climax as the sky starts to rain in streamers of light that gradually become artful colour fades.
Forster casts known actors like Bob Hoskins and Janeane Garofalo in small parts but in ways that hold a jolt – we are not used to seeing either actor in such a physically decrepit state.
[PLOT SPOILERS] It gradually becomes apparent that Stay is a conceptual puzzle film that unfolds into a deathdream twist ending. Moreover, one that you cannot deny is highly reminiscent of The Sixth Sense (1999). [Although, if anything, Stay is more like the deathdream fantasy that we saw in Jacob's Ladder (1990) where the recognisable world kept blurring between real and the afterlife. The deathdream fantasy where everything was revealed to be being had by someone at a car crash scene was also done before in Soul Survivors (2001)].
Alas, the end revelation is the point where all the beautiful atmosphere that Marc Forster has built up starts to fall apart on a conceptual level. When it arrives at the grand explanation of what is going, all that we get is another Sixth Sense-styled twist ending that reveals the protagonist of the show was dead all along. This has become too much of a cliche in recent years to be effective anymore. It is fairly obvious where the film is heading with this and the disappointment with David Benioff's script is that he never does anything more than serve up the same old same old.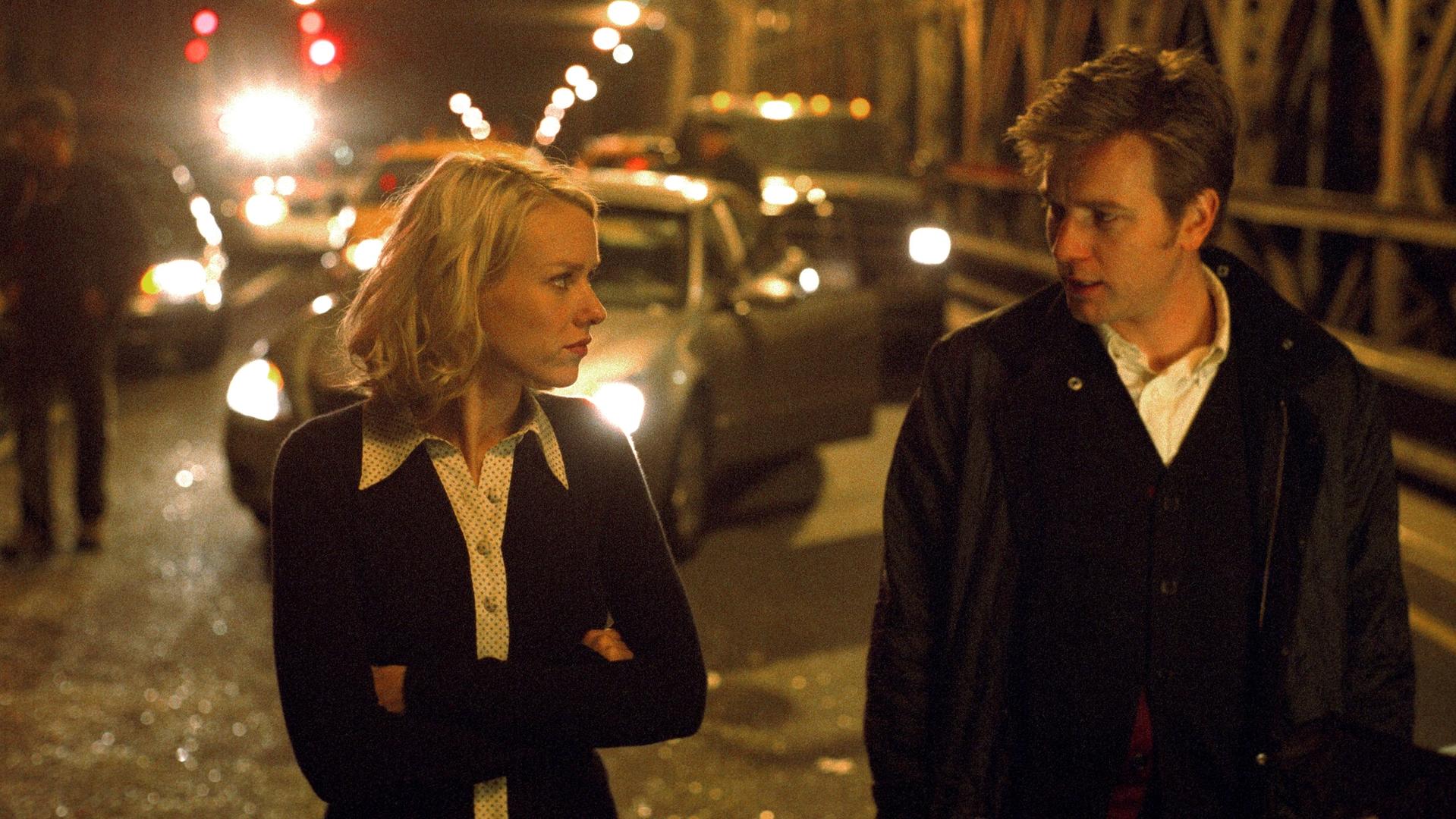 Moreover, it is a revelation that never explains any of the mystery – like why Ryan Gosling believes that he is preordained to kill himself. Nor does the ending pull together any of the reality disjuncts that take over the latter third to make them mean anything. The various characters throughout turn out to be no more than random bystanders at an accident scene.
Furthermore, the story is told from the point-of-view of Ewan McGregor's psychologist where it is he that becomes drawn into the reality disjuncts, yet the deathdream fantasy is being had by the dying Ryan Gosling. The shift of point-of-view characters cannot help but make the end revelation seem contrived. Stay has the feeling of a film that has a great conceptual build-up but falters at the unveiling where the denouement has either been forced on the film or not thought out. It kills of what could have otherwise been an excellent genre work.
Marc Forster's other genre films include Finding Neverland (2004), a biopic of Peter Pan creator J.M. Barrie; the fine meta-fiction Stranger Than Fiction (2006) in which Will Ferrell discovers that he is a character in a novel; the James Bond film Quantum of Solace (2008); the zombie film World War Z (2013); and the live-action Winnie the Pooh film Christopher Robin (2018).
(Nominee for Best Director (Marc Forster) and Best Cinematography at this site's Best of 2005 Awards).
---
---