---
USA/United Arab Emirates. 2011.
Crew
Director – Steven Soderbergh, Screenplay – Scott Z. Burns, Producers – Gregory Jacobs, Michael Shamberg, Stacey Sher & Steven Soderbergh, Photography – Peter Andrews [Steven Soderbergh], Music – Cliff Martinez, Visual Effects – Method Studio (Supervisor – Thomas J. Smith), Special Effects Supervisor – John D. Milinac, Production Design – Howard Cummings. Production Company – Participant Media/Imagenation Abu Dhabai/Double Feature Films/Gregory Jacobs.
Cast
Matt Damon (Mitch Emhoff), Jude Law (Alan Krumwiede), Laurence Fishburne (Dr Ellis Cheever), Marion Cotillard (Dr Leonora Orantes), Kate Winslet (Dr Erin Mears), Jennifer Ehle (Dr Ally Hextall), Gwyneth Paltrow (Beth Emhoff), Anna Jacoby-Heron (Jory Emhoff), Elliott Gould (Dr Ian Sussman), Bryan Cranston (Lyall Haggerty), Armin Rohde (Damian Leopold), Sanaa Lathan (Aubrey Cheever), John Hawkes (Roger), Chin Han (Sun Feng), Larry Clarke (Dave), Enrico Colantoni (Dennis French), Randy Lowell (Hedge Fun Man in Park), Brian J. O'Donnell (Andrew), Griffin Kane (Clark Morrow), Stef Tovar (Dr Arrington), Dan Flannery (Mr Hextall), Tien You Chai (Li Fai), Kara Zediker (Elizabeth Nygaard)
---
Plot
Beth Emhoff arrives back in Minneapolis to her husband Mitch from a business trip in Hong Kong but comes down sick. The following day she collapses with convulsions and dies soon after being taken to hospital. Not long after, her son Clark becomes infected too, although Mitch and his daughter appear to have a natural immunity. This new infection, which is named MEV-1, rapidly spreads around the world. The Center for Disease Control and World Health Organization attempt to get a grip on the contagion as thousands become infected and start dying. Great effort is made to track the course of the pathogen from where it originated somewhere in Hong Kong. Blogger Alan Krumwiede accepts money to start promoting a homeopathic remedy for MEV-1. As the infection spreads, cities are quarantined and chaos and anarchy spreads.
---
Steven Soderbergh has consistently become one of the most intelligent and interesting filmmakers in the US ever since his appearance with Sex, Lies and Videotape (1989), which won the Palme d'Or at Cannes and had Soderbergh nominated for an Oscar with his first film. Soderbergh went on to make the likes of Kafka (1991), The Underneath (1995), Gray's Anatomy (1996), Schizopolis (1996), Out of Sight (1998), The Limey (1999), Erin Brockovich (2000), Traffic (2000), Ocean's Eleven (2001) and sequels, Solaris (2002), The Good German (2006), Che Part One and Part Two (2008), The Informant (2009) and subsequent to this Haywire (2012), Magic Mike (2012) and Unsane (2018). Soderbergh has also been a strong indie voice and has been prolific in producing other people's work, including the English language remake of Nightwatch (1998), Pleasantville (1998), Confessions of a Dangerous Mind (2002), Far From Heaven (2002), Christopher Nolan's Insomnia (2002), The Jacket (2005), Syriana (2005), A Scanner Darkly (2006), I'm Not There (2007), Michael Clayton (2007), Wind Chill (2007), We Need to Talk About Kevin (2011) and Bill & Ted Face the Music (2020).
Works like the Ocean's 11 films show Steven Soderbergh enjoying creating ensemble dramas designed to bring together casts made up of Hollywood's top drawer names, while Traffic showed Soderbergh tackling a large social issue by breaking it up into three different crosscut story strands illustrating perspectives on the issue from different strata of society and parts of the world.
Contagion comes from Scott Z. Burns who also wrote Soderbergh's The Informant and subsequent pharmaceutical industry film Side Effects (2013), as well as The Bourne Ultimatum (2007) and the Soderbergh produced The Half Life of Timofey Berezin (2006). The script seems designed to play into Soderbergh's liking of big name acting ensembles and crosscut dramas. Imagine if you like a plague outbreak film such as Plague/M3: The Gemini Strain (1978), The Plague (1992), Outbreak (1995) or Contaminated Man (2000) crossbred with the multi-stranded dramas of a Robert Altman film.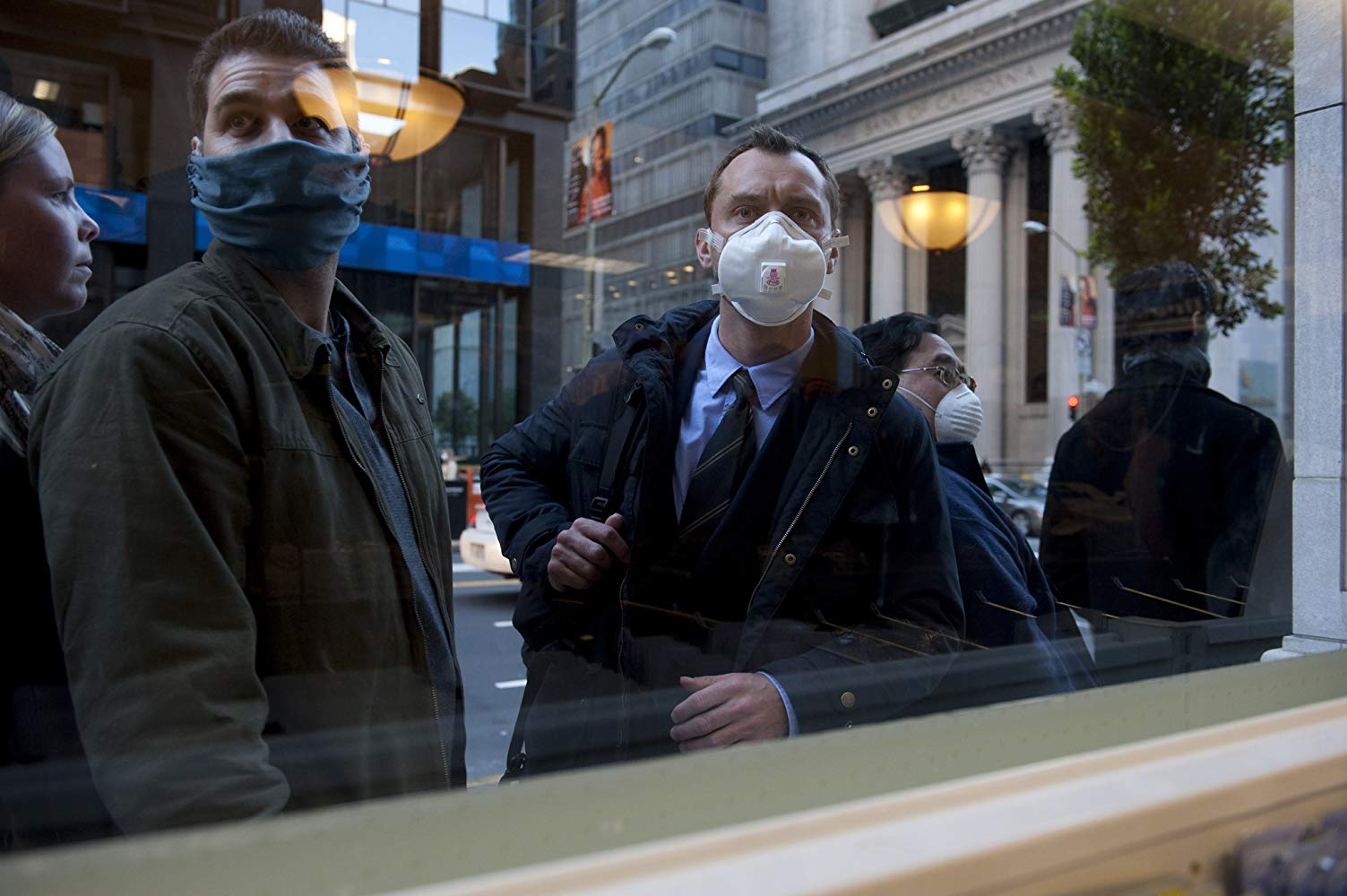 Contagion is a film that has been directly born out of the fears that have swept the world in the last few years over the H1N1 Bird Flu Virus and Swine Flu outbreaks. With the fears about these having been way out of proportion to the number of cases of infection, Soderbergh may be accused of making an overly alarmist case about the collapse of society. Contagion very much leaves you with a germaphobic fear of touching ordinary surfaces and the deadly things that may be lurking everywhere from doorknobs and the drinks our waiter gives us to the simple act of shaking hands. That said, Contagion comes with a long list of doctors and CDC scientists credited as advisors that leaves you with no doubt that the Soderbergh and co have done their homework and that what is depicted is frighteningly plausible and possible.
Steven Soderbergh's treatment of the outbreak drama is, as always, cool and soberly intellectual. While there are plenty of scenes where he could have done otherwise, Soderbergh focuses on the drama in ways that avoid cliches. One only need compare Contagion to Outbreak – Outbreak would no doubt have pumped up the rioting and created seat-edge races against the clock to perfect the antidote but Soderbergh avoids all contrived dramatics.
The emphasis is always on the sobering reality of the contagion. The script focuses on the chill delivery of facts and figures more so than it ever does big dramatic fireworks or images of social collapse. In fact, while the film holds modestly effective acting turns, especially from Laurence Fishburne and the undervalued Jennifer Ehle, it is a film where all present do a remarkable job of tuning down the star power and suborning themselves to propping up a strong script.
Perhaps if there is a message inside the portrayal of such a crisis, it is a frustration with the system and how the regulations, funding issues and inter-agency politics prevent effective management and a quick response to an outbreak. There are also digs at pharmaceutical industry pressure groups – the corporate villain of the show is notedly also a hedge fund manager (although in reality a hedge fund manager is someone who looks after varied investment portfolios rather than does undercover work for the pharmaceutical industry; mostly this seems to have been inserted as an opportunity for the film to tie in association with the recession and make the banking industry part of the villainy).
The film also does an acute job of portraying what US media has descended to in terms of the discussion of issues turning into invective and with character assassination supplanting hard fact in the public eye (although I would love to find some industry rep that is prepared to bribe a real world blogger four million dollars just to promote their product).
In an interesting side note, the film suddenly became the No 1 title on Netflix during the Corona Virus pandemic of 2020 (as well as the top searched title on this site). The film, which had many epidemiologists hired as advisors, and its depiction of the spread of disease and the need social isolation is uncannily predictive of the way things occurred for real nearly a decade later.
---
Trailer here
---