---
USA/United Arab Emirates. 2010.
Crew
Director – Roger Kumble, Screenplay – Michael Carnes & Josh Gilbert, Producers – Keith Goldberg & Robert Simonds, Photography – Peter Lyons Collister, Music – Edward Shearmur, Visual Effects Supervisor – David Goldberg, Visual Effects – Furious FX, Special Effects Supervisor – Ray Bivins, Production Design – Stephen Lineweaver. Production Company – Summit Entertainment/Participant Media/Imagenation Abu Dhabai.
Cast
Brendan Fraser (Dan Sanders), Brooke Shields (Tammy Sanders), Matt Prokop (Tyler Sanders), Ken Jeong (Neal Lyman), Angela Kinsey (Felder), Skyler Samuels (Amber), Ricky Garcia (Frank), Toby Huss (Wilson), Alice Drummond (Mrs Martin), Wallace Shawn (Dr Christian Burr), Gerry Bednob (Mr Gupta)
---
Plot
Dan Sanders has been persuaded by his boss, developer Neal Lyman, to move to the town of Rocky Springs for a year to oversee a construction project. This is much to the dislike of Dan's wife Tammy and teenage son Tyler. Lyman then tells Dan that he is planning to demolish the surrounding forest and construct a housing estate under the pretence of green development. They are unaware that a beaver has hidden in Dan's picnic basket and has eavesdropped on the conversation. The beaver then mobilises the other animals of the forest to target Dan. Dan suddenly finds himself harassed by animals at every turn – they causing boulders to smash his SUV off the road, he kept awake by a crow pecking at the window, skunks gassing him inside his car, they stealing his clothes and even driving his car into the lake with him hanging out the window.
---
Blame it all on Babe (1995). Babe had the ingenuity – one that even had it nominated for a Best Picture Academy Award – of conducting a talking animals film in live-action via a mix of CGI effects, live animals and animatronics. Since then however, rather than exploring the possibilities inherent in the idea, filmmakers have made films that usually degenerate to lowbrow slapstick inanity.
This has resulted in the mostly worthless likes of 101 Dalmatians (1996), MouseHunt (1997), Dr. Dolittle (1998), Stuart Little (1999), Animal Farm (1999), Cats & Dogs (2001), Garfield (2004), Racing Stripes (2005), Charlotte's Web (2006), Alvin and the Chipmunks (2007), Underdog (2007), Beverly Hills Chihuahua (2008), G-Force (2009), Yogi Bear (2010), Hop (2011), Zookeeper (2011), Paddington (2014), The Jungle Book (2016), Christopher Robin (2018), Peter Rabbit (2018), Watership Down (2018), Dumbo (2019), Lady and the Tramp (2019), The Lion King (2019) and Clifford the Big Red Dog (2021), most of which have also produced sequels. The majority of these centre around a barrage of slapstick gags involving poop and icky substances gags, animals mimicking human behaviour or allow the animals to talk whereupon they are outfitted with a grating series of smartass one-liners and start tossing off pop culture references.
Furry Vengeance quickly joins the worst of these. To its slight favour, it does not have the animals talking (apart from one gag over the end credits) – although they do communicate among themselves using the filmed equivalent of cartoon speech balloons where they demonstrate their intentions via newsreel clips, even clips from Braveheart (1995). Even though we are spared smartass dialogue, there is still the mind-croggling inanity of scenes where they take over Brendan Fraser's kitchen in a mass disco dance at one point. Oh, and a gag where we see a gopher-whacking game where the tables are reversed and gophers are whacking human heads that pop up. There is also an excruciating series of scenes over the end credits where the animals, Brendan Fraser and Brooke Shields play out a series of pastiches of Grease (1978), Risky Business (1985) and The Blue Lagoon (1980), the film in which Brooke Shields first found her fame as a teen star.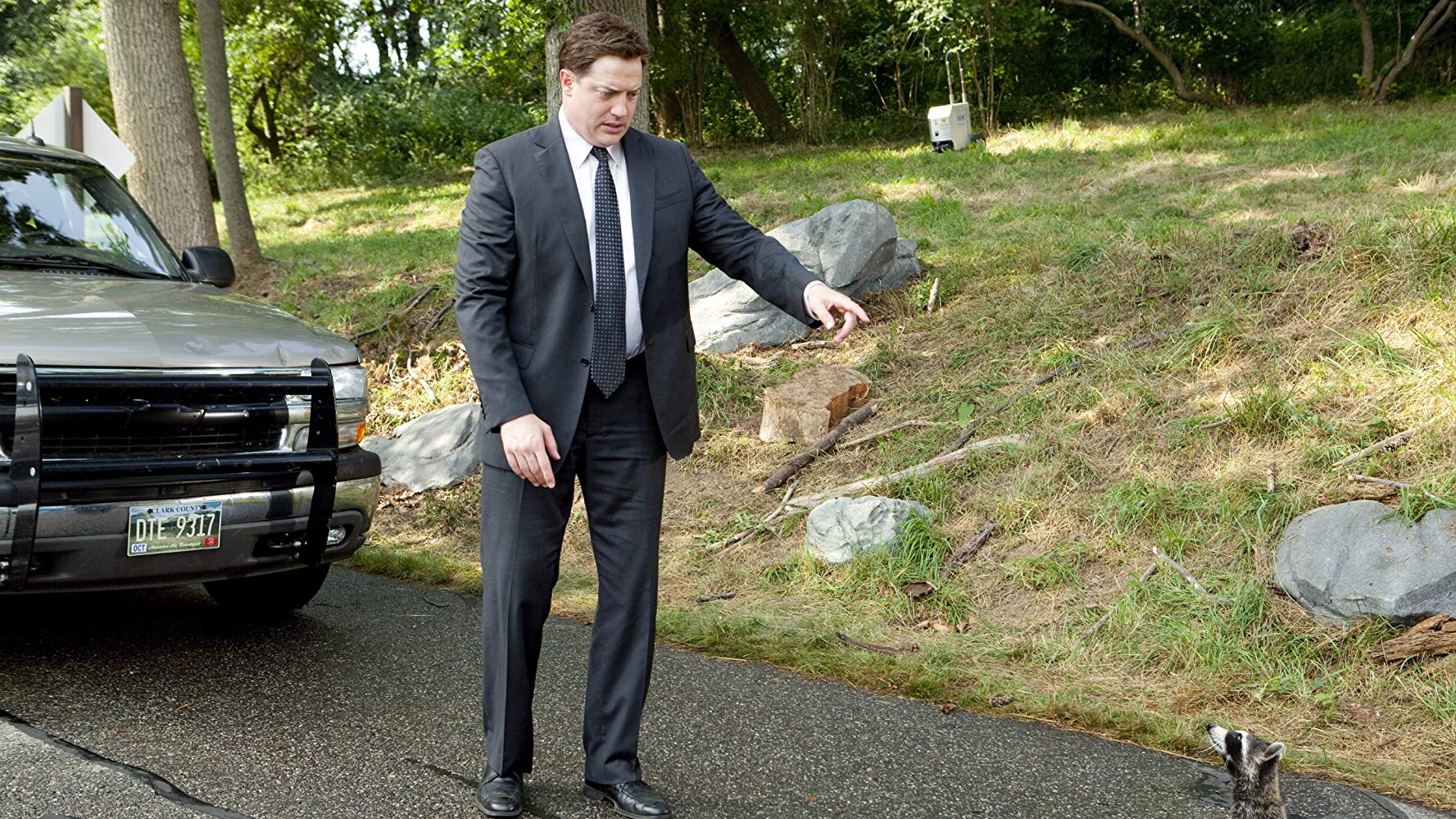 The basic premise of Furry Vengeance has essentially been to conduct a variant of a 1970s Nature's Revenge film – something like The Birds (1963), Frogs (1972) or Day of the Animals (1977) – by way of Home Alone (1990). The entirety of the film consists of Brendan Fraser being the brunt of a series of slapstick pratfalls where the animals contrive to humiliate, poop on or cause him to fall into something.
Fraser gets to wit:- blasted in the crotch with a lawn sprinkler; is kept awake all night by a crow pecking, which then causes him to fall off the roof into a kiddie paddling pool as he goes out to shoo it away; has acorns dropped in his cereal and his milk carton holed; goes flying off his exercise machine after the beaver pulls the power cable; a scene where he takes a bath and the animals steal his clothes and he gets accidentally caught up in his wife's bra just as workmen outside look in the window and he is then forced to sneak out of the house wearing her clothes; several repeated scenes with him being gassed by skunks that have snuck into his SUV; the animals taking over his vehicle outside a psychologist's office and driving it into the lake with him hanging out the window; he being trapped in a portable toilet as it is bashed about by a bear. The result is not at all dissimilar to Home Alone, a film that was entirely premised around seeing two obvious villains being made the constant brunt of slapstick violence.
Furry Vengeance only operates on the level of slapstick pratfalls and nothing more than that. It is a film that can be watched (and moreover understood) by somebody with an IQ in the single digits. Despite this, in the last few minutes it suddenly turns around and has Brendan Fraser realise the error of his way and unleash the animals against his boss (Ken Jeong with an incredibly annoying silly voice), whereupon it has the gall to try and deliver up a message about environmental awareness. The end credits proudly display the film's Green credentials, claiming that it was made Carbon Neutral and promoting environmental causes.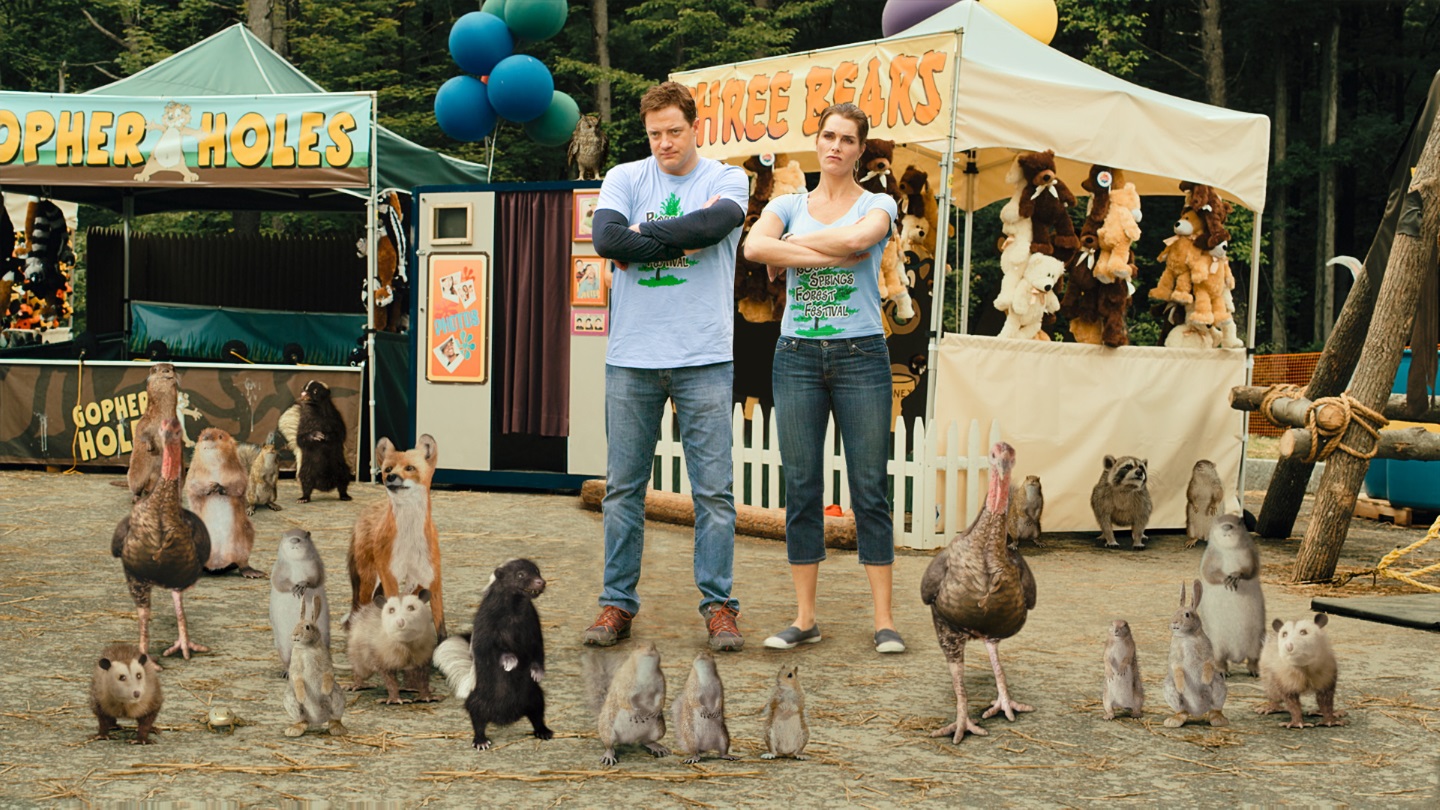 I admired director Roger Kumble's first work, the stylish and sophisticated teen film Cruel Intentions (1999), but he has spent the decade since frittering that promise away making instantly forgettable teen comedies and romcoms. (Furry Vengeance would be Kumble's last theatrical film and in the decade since he has only worked as a tv episode director). Similarly, when he first appeared in the mid-1990s, Brendan Fraser seemed a funny presence. However, from the late 1990s on, Fraser has become stuck in the same lazy comic routine without variance and any potential he had as a serious actor has long evaporated.
Perhaps the saddest thing about Furry Vengeance is that Brendan Fraser has elected to come on board as an executive producer. Doing so is usually an opportunity for a name actor to shepherd in a production that otherwise might not have made it and in turn push a vehicle that would show off their acting range. On the other hand, Fraser has gone exactly the opposite way here and is at his most blandly ingratiating – it is an entirely vapid performance. It is not that Brendan Fraser is unable to act – see the solid dramatic work he has done in the likes of The Passion of Darkly Noon (1995), Gods and Monsters (1998), The Quiet American (2002) and his award-winning turn in The Whale (2022) – it is just that he has now figured out he can make a multi-million dollar paycheque by no longer bothering.
(Winner in this site's Worst Films of 2010 list).
---
---