---
Crew
Director/Screenplay – Frank Darabont, Based on the Novel by Stephen King, Producers – Frank Darabont & David Valdes, Photography – David Tattersall, Music – Thomas Newman, Visual Effects – Industrial Light and Magic (Supervisor – Ellen Poon), POP Film and Animation (Supervisor – David Sosalla) & Rhythm and Hues (Supervisor – Bill Kroger), Special Effects Supervisor – Darrell D. Pritchett, Makeup Effects – Kurtzman, Berger and Nicotero EFX Group Inc (Supervisors – Howard Berger & Greg Nicotero), Production Design – Terence Marsh. Production Company – Castle Rock Entertainment/Darkwoods Productions.
Cast
Tom Hanks (Paul Edgecomb), Michael Clarke Duncan (John Coffey), Doug Hutchinson (Percy Whitmore), David Morse (Brutus 'Brutal' Howell), Sam Rockwell (William 'Wild Bill' Wharton), James Cromwell (Warden Hal Moore), Michael Jeter (Eduard 'Dell' Delecroix), Bonnie Hunt (Jan Edgecomb), Dabs Greer (Old Paul Edgecomb), Barry Pepper (Dean Stanton), Graham Greene (Arlen Bitterbuck), Gary Sinise (Burt Hammersmith), Patricia Clarkson (Melinda Moore), Jeffrey DeMunn (Herb Terwilliger), Harry Dean Stanton (Toot-Toot), Eve Brent (Elaine Connelly)
---
Plot
In an old age home in the present day, Paul Edgecomb tells a friend about a story that happened to him. In 1935, Edgecomb was supervisor of the Death Row cellblock at the Coal Mountain prison in Louisiana. One of the prisoners brought in was the massive but simple-minded John Coffey who had been found guilty of cold-bloodedly killing two young girls. Edgecomb soon discovered that Coffey had the power to heal when Coffey first cured him of an agonising bladder infection and then revived an inmate's pet mouse that had been killed by a sadistic guard. Edgecomb and several other guards conspired to sneak Coffey out so that he could heal the warden's wife of a terminal brain tumour. Edgecomb came to believe that Coffey's abilities had been granted by God and that he was innocent of the crime he was accused of. This left him with terrible doubts about sending such a man to the electric chair.
---
In interviews just before The Green Mile's release, Frank Darabont made a wonderfully sarcastic quote about not exactly having spent the five years between The Green Mile and his previous film The Shawshank Redemption (1994) "sitting around waiting to do another Stephen King prison movie." One can appreciate Frank Darabont's desire not to be pigeonholed, although the Darabont-King-prison movie comparison is one that The Green Mile was inevitably dogged with everywhere it was reviewed. Despite what Frank Darabont might like to think, there is a definite connection upon his part – besides Shawshank, which is thematially almost identical to The Green Mile, Darabont also spent several years trying to get an adaptation of Stephen King's novella The Mist (1980) off the ground, finally doing so with The Mist (2007).
The problem with The Green Mile is precisely the Darabont-King-Shawshank connection. The Shawshank Redemption was a huge hit, being nominated for its year's Best Picture and consistently topping the likes of the Internet Movie Database all-time reader's favourites list. You can understand its appeal – a bittersweet tale of a wronged man triumphing over injustice and the decency of the human spirit winning out – all the things that people who nominate Best Picture Academy Awards seem to like. The Green Mile throws in fairly much the same toss of the salad as The Shawshank Redemption – an ennobling story about the triumph of the human spirit winning out over cruelty and stupidity, the same wry sense of humour, the same touchingly human scenes set in a prison – and cannot help but seem like another, lesser Shawshank Redemption. (None too surprisingly, The Green Mile was nominated for that year's Best Picture Academy Award).
However, it feels like an ever so earnest and more transparently calculated an attempt to do the same noble, uplifting thing that The Shawshank Redemption did. The film's Depression Era setting is depicted with a little too much wistfully elegaic nostalgia; the Death Row prison guards – in what must be one of the jobs most guaranteed to reduce one to indifference about human suffering – seem far too decent and honourable to be credible. You can see all the film's supporting characters – from the heavies to the suffering wife whose job is to become healed to the cute mouse – being wheeled into place with obviously signposted roles to be fulfilled.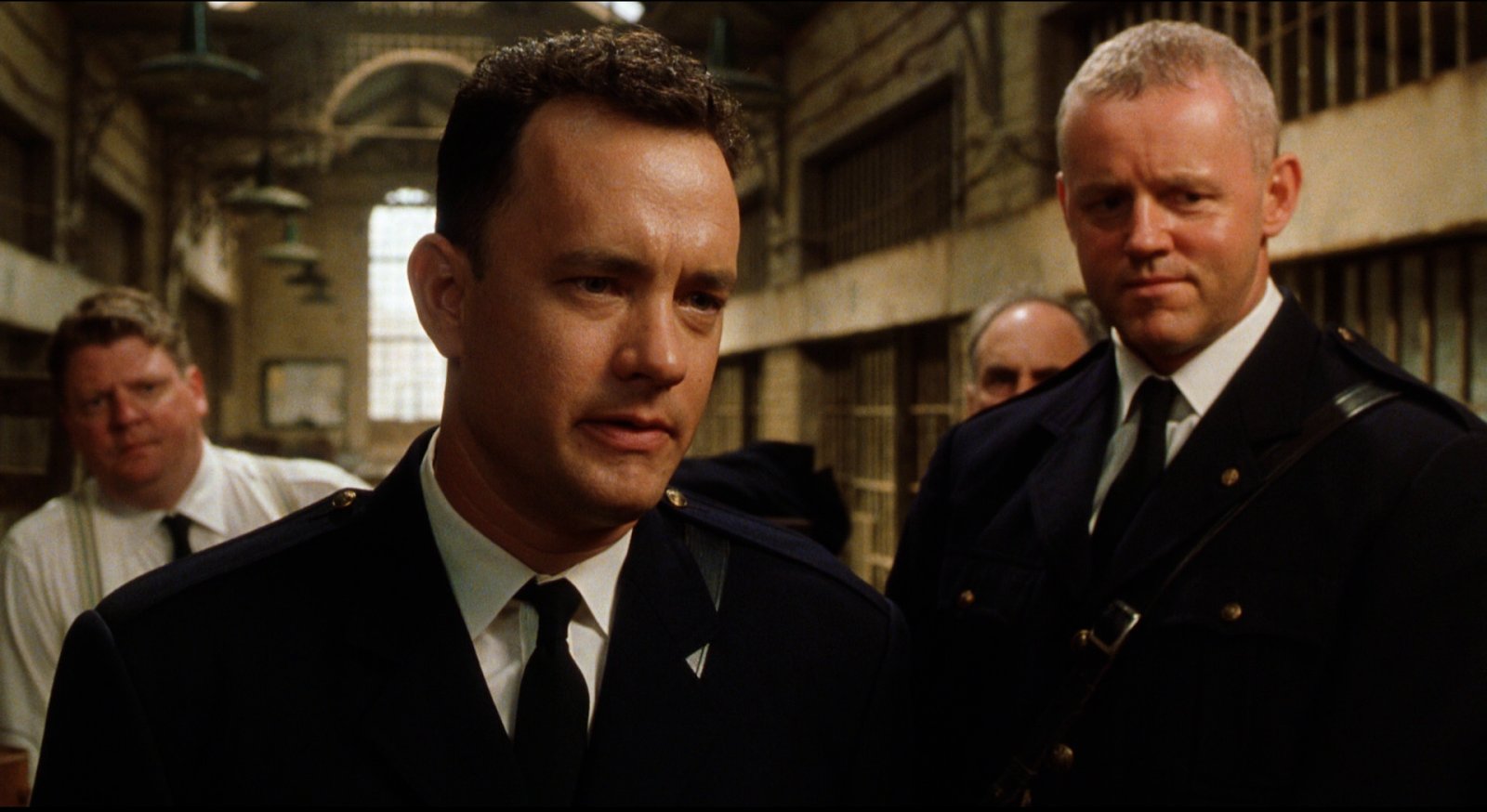 What Frank Darabont never seems to have grasped is the distinctly Puritanical undertow to the film. There has always been a certain Baptist upbringing harkening away in the background of Stephen King's writing. Even when he is dealing with a novel about a miracle worker here or when he allows such to emerge outright as in The Stand (1978) and Desperation (1996), King writes with such a compulsive fascination you never care.
However, Frank Darabont lacks any such subtlety and this undertow emerges as heavy-handed Christian sermonising on screen. The film holds an Old Testament view of good and evil – of people being executed happening according to some divine purpose and a man being divinely punished with longevity for having killed an innocent miracle worker. The film trades in an old conservative Baptist view of morality – one where family oriented and church-going folks are seen as decent and honest and some other people are just 'born bad'. There are some ever so subtle biases in the film. The only people in the film who are seen as evil are Wild Bill and Percy and everybody else is regarded as decent and nice – peculiarly amongst the inmates on Death Row, there seem to be more there that are innocent than those that are deservous of the electric chair. When it comes to the inmates played by Michael Jeter and Graham Greene we never even learn for what crimes they have been sentenced.
The Green Mile is a nicely made film – you cannot argue with that. Frank Darabont directs the scenes reviving the mouse and the ill wife with the right degree of emotionally upbeat affect. All give good performances, with Michael Clarke Duncan's part as the slow-witted and child-like John Coffey being a standout. (Although, Harry Dean Stanton as a whacko janitor steals a number of scenes – and everybody gets upstaged by the mouse). Some complained about the film's three-and-a-half hour length but in all honesty it passes by with one hardly noticing.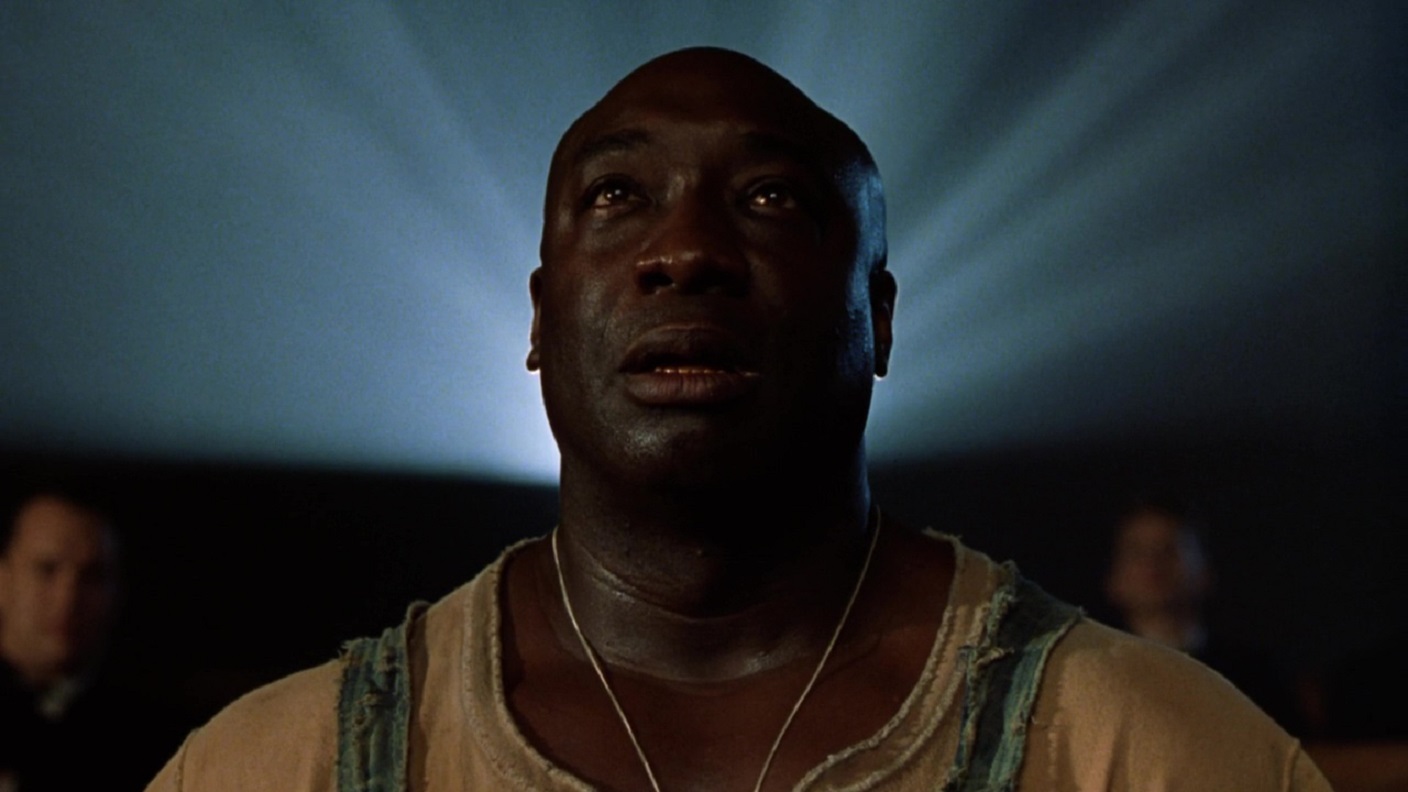 However, the question is, for all its niceness, does The Green Mile affect one? With the original The Green Mile (1996), Stephen King conducted a unique experiment in publishing the story as a series of six chapter books, each released a month apart. It was a commercial gamble upon King's part but one that was successful with the cliffhangers that each book ended on being enough to keep readers coming back for the ensuing instalments (although one suspects it is only a stunt that a top-selling author like Stephen King could have pulled off).
On the other hand, one wonders what would happen if the same were applied to The Green Mile the movie – if it were offered say as a monthly tv series. One feels hard-pressed to imagine all the film's gentle, wry humour and upbeat positivity would make one want to breathlessly hang in there in wait for the next instalment. The film feels like the Stephen King has been wrung out of the story – there is nothing of the terse, wryly poetic style and turn of phrase that King manages, rather all that animates the film is a woolly-headed feelgood sentiment upon Frank Darabont's part. Stephen King writes everyman horror stories that have a compulsive grip but Frank Darabont only delivers a wistful Middle America sermon.
The Green Mile also makes interesting contrast to the Danish-made In Your Hands (2004), which had a very similar plot about a prison inmate who can do miracles.
Before debuting as a director, Frank Darabont wrote a number of genre scripts including A Nightmare on Elm Street III: The Dream Warriors (1987), The Blob (1988), The Fly II (1989) and Mary Shelley's Frankenstein (1994). Darabont made his directorial debut with the psycho-thriller Buried Alive (1990) and later returned to horror and Stephen King with The Mist (2007). He created the zombie tv series The Walking Dead (2010– ).
Other Stephen King genre adaptations include:- Carrie (1976), Salem's Lot (1979), The Shining (1980), Christine (1983), Cujo (1983), The Dead Zone (1983), Children of the Corn (1984), Firestarter (1984), Cat's Eye (1985), Silver Bullet (1985), The Running Man (1987), Pet Sematary (1989), Graveyard Shift (1990), It (tv mini-series, 1990), Misery (1990), a segment of Tales from the Darkside: The Movie (1990), Sometimes They Come Back (1991), The Lawnmower Man (1992), The Dark Half (1993), Needful Things (1993), The Tommyknockers (tv mini-series, 1993), The Stand (tv mini-series, 1994), The Langoliers (tv mini-series, 1995), The Mangler (1995), Thinner (1996), The Night Flier (1997), Quicksilver Highway (1997), The Shining (tv mini-series, 1997), Trucks (1997), Apt Pupil (1998), The Dead Zone (tv series, 2001-2), Hearts in Atlantis (2001), Carrie (tv mini-series, 2002), Dreamcatcher (2003), Riding the Bullet (2004), 'Salem's Lot (tv mini-series, 2004), Secret Window (2004), Desperation (tv mini-series, 2006), Nightmares & Dreamscapes: From the Stories of Stephen King (tv mini-series, 2006), 1408 (2007), The Mist (2007), Children of the Corn (2009), Everything's Eventual (2009), the tv series Haven (2010-5), Bag of Bones (tv mini-series, 2011), Carrie (2013), Under the Dome (tv series, 2013-5), Big Driver (2014), A Good Marriage (2014), Mercy (2014), Cell (2016), 11.22.63 (tv mini-series, 2016), The Dark Tower (2017), Gerald's Game (2017), It (2017), The Mist (tv series, 2017), Mr. Mercedes (tv series, 2017-9), 1922 (2017), Castle Rock (tv series, 2018-9), Doctor Sleep (2019), In the Tall Grass (2019), Pet Sematary (2019), The Outsider (tv series, 2020), The Stand (tv mini-series, 2020-1), Chapelwaite (tv series, 2021- ), Lisey's Story (tv mini-series, 2021), Firestarter (2022), Mr Harrigan's Phone (2022). and Salem's Lot (2022). Stephen King had also written a number of original screen works with Creepshow (1982), Golden Years (tv mini-series, 1991), Sleepwalkers (1992), Storm of the Century (tv mini-series, 1999), Rose Red (tv mini-series, 2002) and the tv series Kingdom Hospital (2004), as well as adapted his own works with the screenplays for Cat's Eye, Silver Bullet, Pet Sematary, The Stand, The Shining, Desperation, Children of the Corn 2009, A Good Marriage, Cell and Lisey's Story. King also directed one film with Maximum Overdrive (1986).
(Nominee for Best Supporting Actor (Michael Clarke Duncan) at this site's Best of 1999 Awards. No. 10 on the SF, Horror & Fantasy Box-Office Top 10 of 1999 list).
---
---