---
USA. 2012.
Crew
Director – Barry Levinson, Screenplay – Michael Wallach, Story – Barry Levinson & Michael Wallach, Producers – Jason Blum, Barry Levinson, Oren Peli & Steven Schneider, Photography – Josh Nussbaum, Music – Marcelo Zarvos, Visual Effects Supervisor – Eric Liles, Visual Effects – Hydraulx, Special Effects Supervisor – Walter John Kiesling, Makeup Effects – Gaslight Studios, Inc, Production Design – Lee Bonner. Production Company – Baltimore Pictures/Haunted Movies/IM Global/Hydraulx Entertainment/Automatik.
Cast
Kether Donohue (Donna Thompson), Kristen Connelly (Stephanie Talbot), Will Rogers (Alex Talbot), Stephen Kunken (Dr Jack Abrams), Frank Deal (Mayor John Stockman), Christopher Denham (Sam), Nansi Aluka (Jacqueline), Michael Beasley (Officer Jimson), Jody Thompson (Officer Paul), Andrew Stahl (Sheriff Lee Roberts), Jonathan "Lund" Maverick (George Khouri)
---
Plot
Video footage is pieced together of the ecological disaster that struck the seaside town of Claridge, Maryland on July 4th, 2009. Donna Thompson, a novice tv reporter who was on the scene, narrates what happened. As she was covering the July 4th celebrations, people everywhere began to come out with pustules over their body and fall ill. Video footage is pieced together of how some months earlier two oceanographers studying Chesapeake Bay discovered fish infected with mutated isopod parasites, before the two went missing and were found gored themselves. As the local hospital is overwhelmed with the infected and people begin dying en masse, Dr Jack Abrams contacts CDC and tries to find a cause of the outbreak. It is speculated that the isopods grew to giant size after excrement from steroid-enhanced chickens at the mayor's nearby battery farm overflowed into the bay. Soon the entire town is deep in dead bodies.
---
The Bay is a film made in the Found Footage format that has become all the in-thing in the last few years following the success of the likes of The Blair Witch Project (1999) and Paranormal Activity (2007). There have been an enormous number of other films using this form with the likes of The Great American Snuff Film (2003), Incident at Loch Ness (2004), Amateur Porn Star Killer (2007) and sequels, Diary of the Dead (2007), The Poughkeepsie Tapes (2007), [Rec] (2007), Cloverfield (2008), Lake Mungo (2008), Evil Things (2009), Atrocious (2010), Haunted Changi (2010), The Last Exorcism (2010), The Troll Hunter (2010), Apollo 18 (2011), Back from Hell (2011), 388 Arletta Avenue (2011), The Tunnel (2011), Chronicle (2012), The Devil Inside (2012), V/H/S (2012), Afflicted (2013), The Frankenstein Theory (2013), Frankenstein's Army (2013), As Above So Below (2014), Black Water Vampire (2014), Devil's Due (2014) and Project Almanac (2015). Aside from George Romero with Diary of the Dead, The Bay marks one of the few occasions when an established director – Barry Levinson who has been at work in film for more than twenty years – has ventured into the field, most other Found Footage efforts being made by novice directors.
Barry Levinson has a highly respected reputation as a director of mainstream films such as Diner (1982), The Natural (1984), Good Morning Vietnam (1987), Rain Man (1988) and Bugsy (1991). Levinson had ventured into genre material on a number of occasions with the likes of the Steven Spielberg backed Young Sherlock Holmes (1985), the wonderfully underrated gonzo flop Toys (1992) and the Michael Crichton adaptations Disclosure (1994) and Sphere (1998). The Bay is also produced by Oren Peli who spawned much of the current Found Footage fad as director of Paranormal Activity and oversaw its various sequels, as well as Greg and Colin Strause, directors of AVPR: Aliens vs Predator Requiem (2007) and Skyline (2010), and their Hydraulx (frequently credited as [Hy*drau*lx]) visual effects company (who also provide the effects), and Jason Blum, a partner of Peli whose Blumhouse production company would become a major player in medium-budget horror within the next couple of years.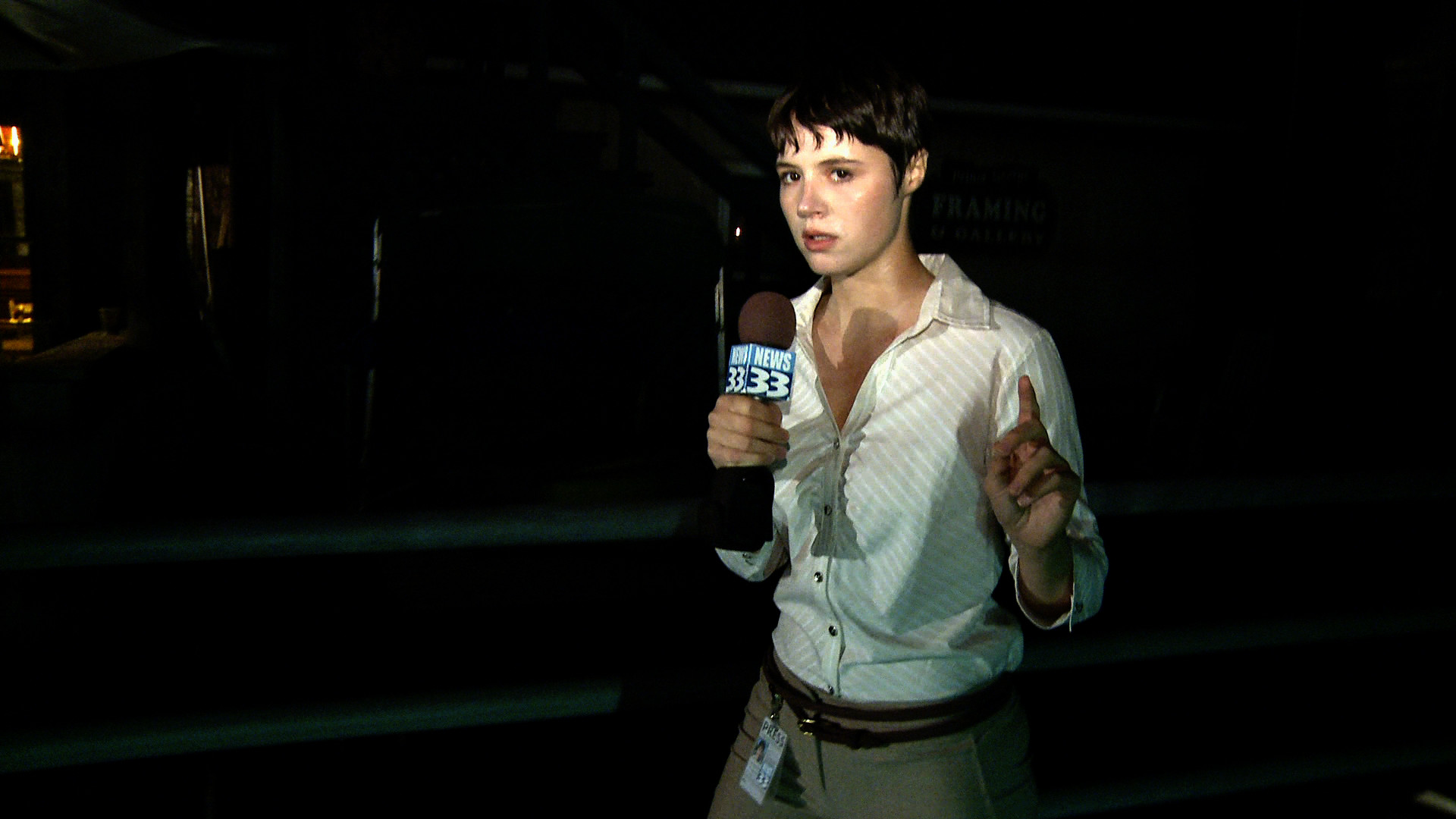 The Bay is not strictly 100% Found Footage – at least, in the sense that most of the other films such as Diary of the Dead, [Rec] and others are, pretending to be one continuous stream of video footage taken while the central characters are running through the midst of the action. Barry Levinson takes more of a piecemeal approach, telling multiple stories using a variety of different video formats – from security camera footage, news broadcasts and CDC video conferences, as well as the reliable Found Footage standard of the camcorder in the middle of action. Levinson does cheat somewhat – including music on the soundtrack and flashbacks to from before the incident to footage of oceanographers and activists that is inserted for dramatic effect in a way that makes no chronological sense.
Barry Levinson achieves far more sobering and impressive impact than another Found Footage film like Cloverfield, which has a number of nominal similarities to The Bay. Where Cloverfield kept to monster movie cliches and had teen soap opera dramatics happening in the midst of the action, Levinson concentrates on depicting a widescale incident occurring from multiple points-of-view. His is about watching from a sociological perspective as something (it is often not quite clear what) starts happening. He also makes a point of including numerous cuts away to CDC conferences and previous footage from oceanographers analysing the isopods that makes this very much a credibly scientifically rooted menace.
The complaint you could perhaps make about The Bay is that Levinson seems less interested in horror movie effect – the effects of the mutant isopods and of the deranged infectees is only occasionally seen (and certainly contain some very impressive makeup and gore effects) but more often is only suggested or alluded to happening off screen. Levinson does get in a rather cliche shock effect at the end where one of the zombified townspeople pops up behind Kristen Connelly as she gets into a police car – its old hat but at least it gets a jump out of an audience in an otherwise fairly bloodless film. In this respect, The Bay emerges as much more low key than the creature feature you expect it to be at the ouset. Where it does work is as a Found Footage recreation of a 1970s ecological catastrophe film having been given a sobering modern overhaul.
(Nominee for Best Makeup Effects at this site's Best of 2012 Awards).
---
---