---
Crew
Director – Wes Craven, Screenplay – Kevin Williamson, Producers – Kevin Williamson & Marianne Maddalena, Photography – Robert McLachlan, Music – Marco Beltrami, Music Supervisor – Ed Gerrard, Visual Effects Supervisor – Richard R. Hoover, Visual Effects – Sony Pictures Imageworks, Inc., Additional Visual Effects – Luma Pictures (Supervisor – Payam Shahadai), Special Effects Supervisor – Ron Bolonowski, Makeup Effects Supervisors – Rick Baker, Makeup Effects – Cinovation Studios, Inc. & KNB EFX Group, Inc. (Supervisors – Howard Berger & Greg Nicotero), Production Design – Chris Cornwell & Bruce Alan Miller. Production Company – Dimension Films/Outerbanks Entertainment/Craven-Maddalena Films/Kalis Productions GmBh & Co. Zweite KG.
Cast
Christina Ricci (Ellie Myers), Jesse Eisenberg (Jimmy Myers), Joshua Jackson (Jake Taylor), Judy Greer (Joannie), Milo Ventimiglia (Bo), Mya (Jenny Tate), Portia De Rossi (Zela), Kristina Anapau (Brooke), Scott Baio (Himself), Michael Rosenbaum (Kyle), Shannon Elizabeth (Becky Morton), Derek Mears (Werewolf), Michelle Krusiec (Nosebleed Co-Worker), Craig Kilborn (Himself)
---
Plot
Ellie Myers, an assistant on 'The Craig Kilborn Show', is driving home through the Hollywood Hills with her teenage brother Jimmy when an animal runs out, hitting the car and causing them to crash into another vehicle. They go to the other driver's aid, only to see her snatched away and torn in half by the animal. Later Jimmy is certain that the animal was a werewolf. Both he and Ellie were bitten by it and discover that they now have pentacles imprinted on their palms. As they go about their lives at work and school, both of them find more aggressive urges and animalistic behaviour coming through. At the same time, the original wolf creature is still out there, claiming victims.
---
Director Wes Craven and screenwriter Kevin Williamson created Scream (1996), which is one of the defining modern horror classics. Scream essentially created the postmodern horror movie, which became filled with characters that were aware of how their actions and situations refer to other horror movies. Craven and Williamson returned for a lesser sequel, Scream 2 (1997). Elsewhere the two have carved respectable lineages within genre material. Wes Craven directed the likes of The Last House on the Left (1972), The Hills Have Eyes (1977), A Nightmare on Elm Street (1984) and The Serpent and the Rainbow (1988) (see below), while Kevin Williamson went on to write I Know What You Did Last Summer (1997), The Faculty (1998) and to create several tv series (see below).
Wes Craven and Kevin Williamson collaborated once again on Cursed, which was pitched as doing for the werewolf movie what Scream did for the slasher film. As a writer, Kevin Williamson is the ultimate postmodernist. He throws a mind-boggling array of genre in-references and sly asides into his scripts, while also rabidly deconstructing the genre and having characters give elaborate speeches and modelling their actions after horror films. The werewolf movie is surely ripe for such a working over. Cursed's plot, which suggests a lycanthropic version of The Player (1992) at times, and setting – a Hollywood wax museum with recreations of famous monsters – offers a goldmine of potential for such an approach. One greatly anticipated Cursed to see what Wes Craven and Kevin Williamson would do with the werewolf movie.
Only, Cursed proved to be a flop. The film underwent major problems during shooting. It was first announced back in 2000 and Wes Craven began shooting in March 2003 with a planned release date of August of that year. At this point, the story was markedly different to the one seen in the finished film. In the original version, both Christina Ricci and Jesse Eisenberg were present, but instead of being brother and sister were part of a group of people, along with a character played by Skeet Ulrich, who come together when a werewolf caused their cars to crash in the Hollywood Hills and all were bitten by the wolf. The werewolf had a different origin in this version and was being hunted by the police as a serial killer.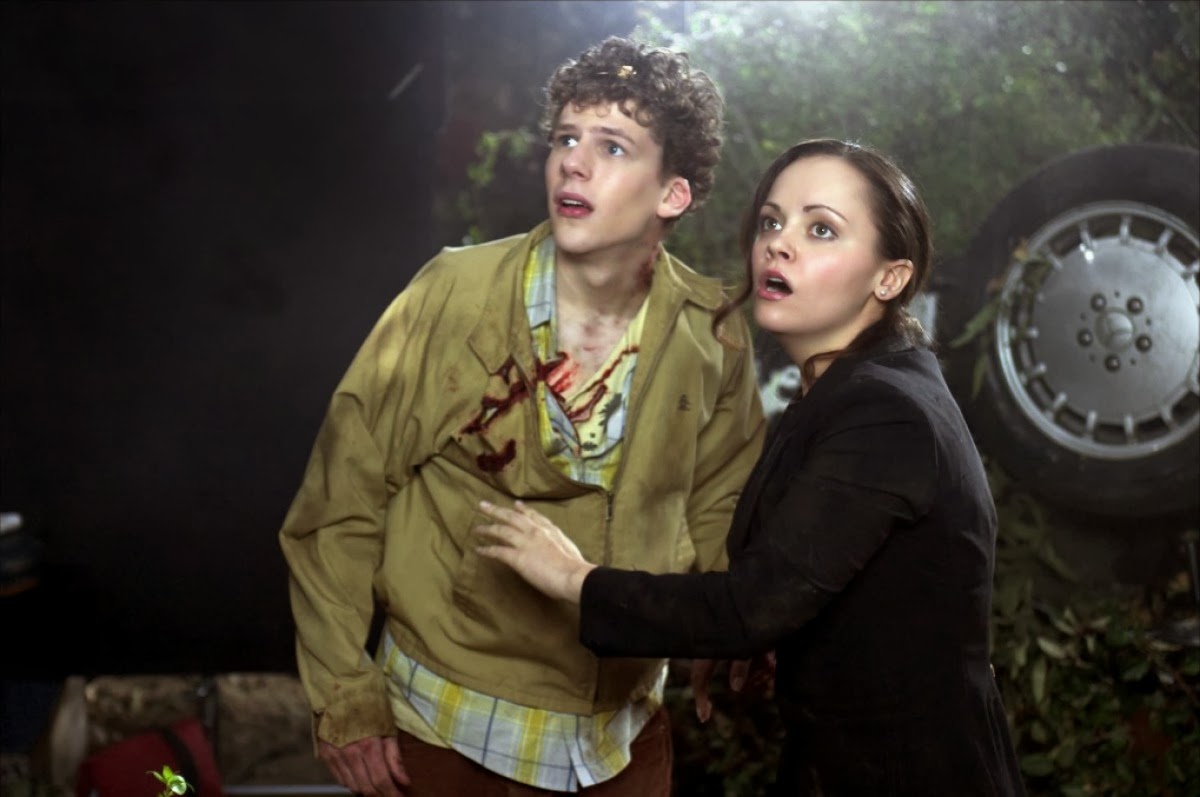 With four weeks of shooting to go, Miramax (the owners of Dimension Films) abruptly pulled the plug, reportedly because they were dissatisfied with the look of the werewolf and the ending (which revealed that Scott Baio was one of the principal werewolves). Cursed then underwent a substantial rewrite and Wes Craven resumed shooting again in November of 2003. Many roles had to be recast as they conflicted with the original actors' schedules – Mandy Moore had originally been cast as the girl who is pursued through the parking lot but was replaced by Mya; Skeet Ulrich decided to bow out of the film, dissatisfied with character changes, and a new role was written to fill the gap with Joshua Jackson in this part; makeup artist Rick Baker departed citing creative differences and was replaced by the K.N.B. EFX effects house; and several new roles were added, including the part of the fortune teller played by Portia De Rossi and the character of the assistant played by Michael Rosenbaum. Scenes from the original involving a number of other actors, including Illeana Douglas, Omar Epps, Corey Feldman and Heather Langenkamp, ended up on the cutting room floor.
Problems did not end there however. Even after the second filming wrapped, Cursed underwent severe re-editing. Releases dates were announced twice in 2004 and finally pushed back to February 2005. Miramax decided that what Wes Craven had started shooting as an R-rated release should be recut for a PG-rating. (If you view the Making of package on the Cursed dvd you can see just how much of the original gore has been cut – there one can see scenes of Judy Greer's brains being shot out, a dream sequence where Christina Ricci bites a chunk out of Joshua Jackson's neck, the scene at the car crash where the wolf tosses Shannon Elizabeth's severed torso back, and climactic severing of the wolf's head. Watching horror films that have been watered down for a PG rating is bad enough, but that the dvd release retains this PG rating yet includes material showing what the original was like is something that is irritating to the max. What would have been nice would have been a dvd release that combined both PG and R cuts of the film, as well as possibly even some of the footage from the original version. That would have at least given a glimpse into the potential that an otherwise severely disappointing film might have had). The resulting film premiered to indifferent box-office.
Perhaps Cursed doesn't rank down there along with some of Wes Craven's turkeys like The Hills Have Eyes Part II (1982), Deadly Friend (1986) or Shocker (1989), but it is a thorough disappointment, especially when placed up alongside what Craven and Kevin Williamson achieved on Scream. In fact, neither of them bring anything at all – there is none of Craven's intelligence and ability to generate suspense and atmosphere, or Williamson's playful deconstructions of genre convention. Rather than do anything to reinvent the werewolf genre, all that Craven and Williamson do is play into its conventions the entire way – there is nothing that makes Cursed stand out in any way over any other werewolf movie on the video shelves.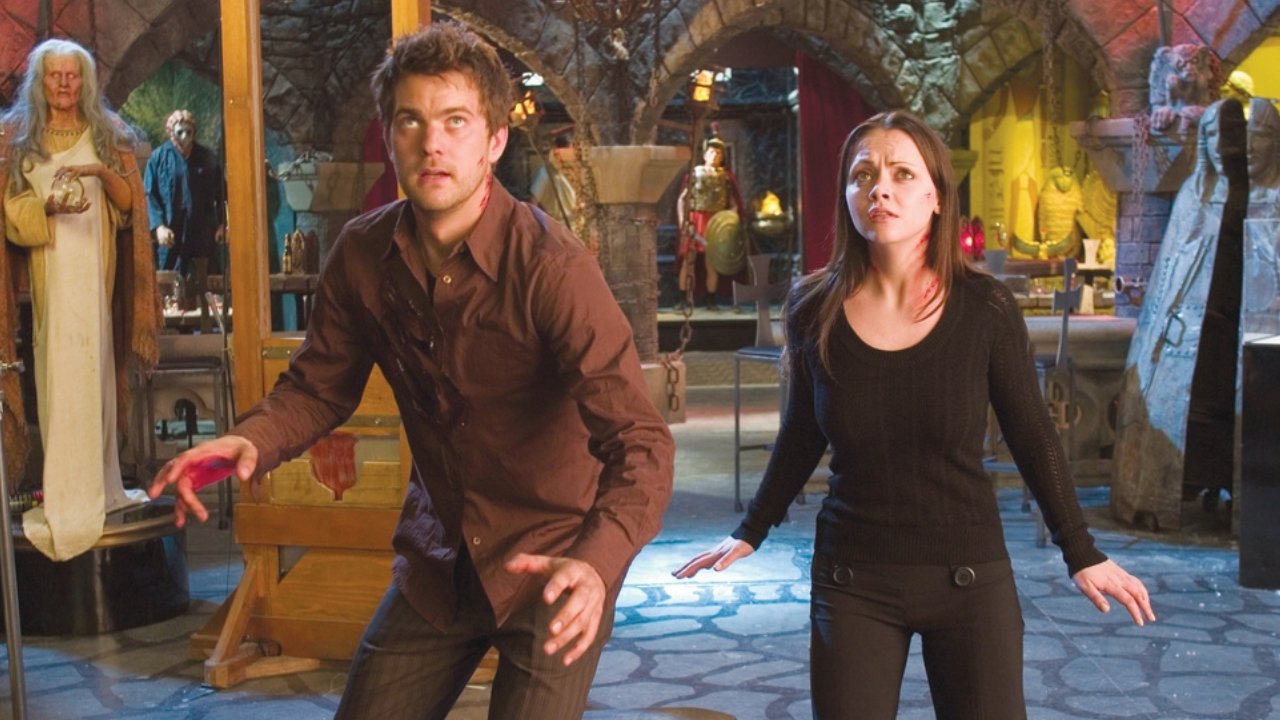 In terms of his characteristic genre deconstructions, all that Kevin Williamson does is toss up is a handful of wolf jokes and genre references – a band playing Little Red Riding Hood, a reference to the silver cane made in tribute to the 50th anniversary of the Lon Chaney Jr The Wolf Man (1941) – but these seem clumsy and certainly far weaker in the in-joke, in-reference department than other films like The Howling (1981). The plot does occasionally mimic other werewolf films – the high school werewolf from I Was a Teenage Werewolf (1957), as well as the idea of lycanthropy granting a person the ability to assert themselves in a corporate environment that we saw in Wolf (1994) – but Williamson does nothing with either idea. Ginger Snaps: Unleashed (2004), which came out around the same time, was a much better and more intelligent deconstruction of the werewolf film.
Wes Craven does create a passable scene with Mya being pursued through the carpark and then attacked in an elevator by the wolf, but the rest of Cursed is utterly routine. Some scenes are silly – the ones with Jesse Eisenberg suddenly winning out in the wrestling team should have ended on the cutting room floor. The scenes where Milo Ventimiglia admits he is gay and starts trying to kiss Jesse Eisenberg should have gone the same way, as they do not resonate in any credible way. In the late 1990s, Christina Ricci was looking to inherit a role as a cult indie queen, but this side of the 00's she has vanished from the radar and failed to do anything standout. Ricci's role in Cursed is unlikely to raise her profile anywhat; she is in a part that could be filled by any actress and does not bring her talent to bear in any way.
Even the werewolves when finally seen are a disappointment, especially when they become represented by some poor CGI effects. For all that Miramax disliked Rick Baker's work, his werewolf transformations on An American Werewolf in London (1981), which were without the benefit of CGI, are far the superior to anything here, despite being 25 years old.
Wes Craven's other genre films are:– the brutality and revenge films The Last House on the Left (1972) and The Hills Have Eyes (1977); the suburban witch film Summer of Fear/Stranger in Our House (1978); Deadly Blessing (1981) about murders around a religious cult; the comic-book adaptation Swamp Thing (1982); Invitation to Hell (tv movie, 1984); A Nightmare on Elm Street (1984); Chiller (tv movie, 1985); The Hills Have Eyes Part II (1985); Deadly Friend (1986) about a teen inventor who revives his girlfriend from the dead; The Serpent and the Rainbow (1988), a strikingly beautiful film about Haitian voodoo; Shocker (1989) a campily incoherent film about an undead executed killer; Night Visions (tv movie, 1990); The People Under the Stairs (1991); Wes Craven's New Nightmare (1994); the Eddie Murphy vampire comedy Vampire in Brooklyn (1995); the slasher deconstruction trilogy of Scream (1996), Scream 2 (1997) and Scream 3 (2000); the dispossessed soul slasher film My Soul to Take (2010); and Scre4m/Scream 4 (2011). Wes Craven has also written the scripts for A Nightmare on Elm Street III: The Dream Warriors (1987), Pulse (2006) and The Hills Have Eyes II (2007), and produced Mind Ripper (1995), Wishmaster (1997), Carnival of Souls (1998), Don't Look Down (1998), Dracula 2000 (2000), Feast (2006), The Breed (2006), The Hills Have Eyes (2006), The Last House on the Left (2009), The Girl in the Photographs (2015) and the tv series Scream: The Series (2015-9). He also created the tv series The People Next Door (1989) and Nightmare Cafe (1992).
Kevin Williamson's other films are:– the script for Scream (1996); the script for I Know What You Did Last Summer (1997), another in-jokey postmodern slasher film; the script for Scream 2 (1997); as creator of the hit non-genre teen tv series Dawson's Creek (1998-2003); as executive producer of Halloween H20: Twenty Years Later (1998); the script for the wittily self-aware alien body snatchers film The Faculty (1998); as producer of the voodoo film Venom (2005); as writer/producer/creator of the tv series Glory Days (2002), a rather good smalltown mystery series that was naturally run over by a number of Williamson-esque deconstructions, but only lasted for ten episodes and was killed off well before its time; as producer of the tv series' The Vampire Diaries (2009-17), The Secret Circle (2011-2), The Following (2013-5), Stalker (2014-5), Time After Time (2017) and Tell Me a Story (2018-20); and the script for the Covid home invasion film Sick (2022). Williamson made his directorial debut (and so far only outing) on the teacher-pupil psycho-thriller Teaching Mrs. Tingle (1999).
---
---