---
Crew
Director – Wes Craven, Screenplay – Bruce Joel Rubin, Based on the Novel Friend by Diana Henstell, Producer – Robert M. Sherman, Photography – Philip Lathrop, Music – Charles Bernstein, Special Effects – Robotics Z1 (Supervisor – Ray Raymond), Makeup Effects – Lance Anderson & Mike Hancock, Production Design – Daniel Lomino. Production Company – Pan Arts/Layton Productions.
Cast
Matthew Laborteaux (Paul Conway), Kristy Swanson (Samantha Pringle), Michael Sharrett (Tom), Anne Twomey (Jeanne Conway), Anne Ramsey (Elvira Parker), Richard Marcus (Harry Pringle), Charles Flesicher (Voice of Dee-Dee)
---
Plot
Teen genius Paul Conway and his divorced mother move into a new neighbourhood so that Paul can teach computer science at the local polytechnic while also studying for his medical degree. Paul befriends and falls for Samantha Pringle, the girl next door. He is upset when Dee-Dee, the beloved robot he has built, is blasted to pieces with a shotgun by crazy old neighbour Elvira Parker during a Halloween prank. When Samantha's father catches her and Paul and kissing, he brutally beats Samantha, sending her falling down a set of stairs and leaving her in a coma. After the medics turn the life support machines off, Paul comes up with a crazy idea to save Samantha by stealing her body, implanting Dee-Dee's computer chip in her brain and using it to restore her to life.
---
These days Wes Craven is one of the genre's finest directors, with the likes of The Last House on the Left (1972), A Nightmare on Elm Street (1984) and Scream (1996) behind him. For Craven, the 1980s was a very variable decade. For every masterwork like A Nightmare on Elm Street or The Serpent and the Rainbow (1988) that Craven made, he also turned out turkeys like Swamp Thing (1982), The Hills Have Eyes Part II (1985), this and Shocker (1989).
Craven badly lucked out with Deadly Friend. The film is adapted from an obscure 1985 teen horror novel and mounted as a combination of Frankenstein and the same year's cute robot film Short Circuit (1986). The premise is lame and neither Wes Craven nor scriptwriter Bruce Joel Rubin go any lengths towards making it seem plausible. The raising of Kristy Swanson from the dead by use of a computer chip in the brain is an issue that stands out solely by distinction of its avoidance of any credible explanation. One may equally wonder why, when the camera takes the undead Kristy Swanson's point-of-view, looking out through a perfectly normal pair of eyes, the shot is broken up into the same point-to-point scanning image used for the robot. Or how she suddenly obtains superhuman strength?
One of the recurrent themes of Wes Craven's films is a fascination with dreams. However, this has never seemed more frivolous than here. There is one dream scene, which has gone onto legend in the annals of bad filmmaking, where Anne Ramsey's head is splattered with a basketball. It is the one novelty point that Deadly Friend has and stands out in its terribleness. There is also a very silly twist ending that takes leave of the film's tenuous grasp on logic and rhyme altogether.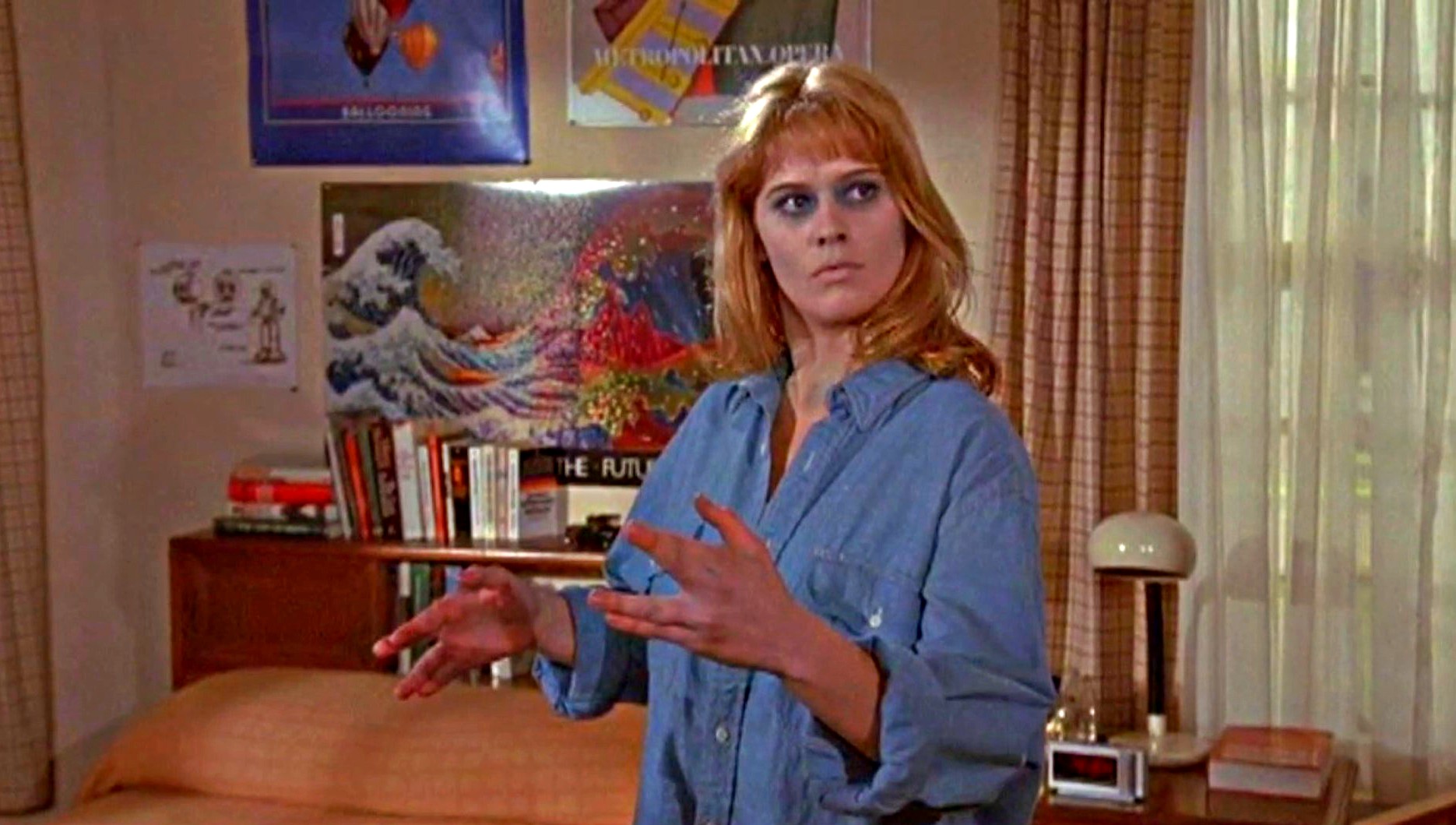 Part of the problem with Deadly Friend was that the production company forced both Wes Craven and Bruce Joel Rubin to add extra splatter scenes to the film they were wanting to make. All of the splatter scenes – from Kristy Swanson stabbing her father with a vase, to Matthew Laborteaux dreaming her father's burnt head is creeping up under his sheets – are amazingly silly. One can excuse some of Deadly Friend for such reasons, but it is still one of Wes Craven's worst films.
Wes Craven's other genre films are:– the brutality and revenge films The Last House on the Left (1972) and The Hills Have Eyes (1977); the suburban witch film Summer of Fear/Stranger in Our House (1978); Deadly Blessing (1981) about murders around a religious cult; the comic-book adaptation Swamp Thing (1982); Invitation to Hell (tv movie, 1984); A Nightmare on Elm Street (1984); Chiller (tv movie, 1985); The Hills Have Eyes Part II (1985); The Serpent and the Rainbow (1988), a strikingly beautiful film about Haitian voodoo; Shocker (1989) a campily incoherent film about an undead executed killer; Night Visions (tv movie, 1990); The People Under the Stairs (1991); Wes Craven's New Nightmare (1994); the Eddie Murphy vampire comedy Vampire in Brooklyn (1995); the slasher deconstruction trilogy of Scream (1996), Scream 2 (1997) and Scream 3 (2000); the werewolf film Cursed (2005); the dispossessed soul slasher film My Soul to Take (2010); and Scre4m/Scream 4 (2011). Wes Craven has also written the scripts for A Nightmare on Elm Street III: The Dream Warriors (1987), Pulse (2006) and The Hills Have Eyes II (2007), and produced Mind Ripper (1995), Wishmaster (1997), Carnival of Souls (1998), Don't Look Down (1998), Dracula 2000 (2000), Feast (2006), The Breed (2006), The Hills Have Eyes (2006), The Last House on the Left (2009), The Girl in the Photographs (2015) and the tv series Scream: The Series (2015-9). He also created the tv series The People Next Door (1989) and Nightmare Cafe (1992).
Screenwriter Bruce Joel Rubin had previously written Brainstorm (1983) and went onto write other films such as Ghost (1990), Jacob's Ladder (1990) and Deep Impact (1998), as well as directing My Life (1993). Many of Bruce Joel Rubin's films seem to focus around themes of life after death in one form or another. Rubin's other genre works include Stuart Little 2 (2002), The Last Mimzy (2007) and The Time Traveler's Wife (2009).
---
---