---
Crew
Director/Screenplay – Paul Hough, Producers – Bryan Coyne & Paul Hough, Photography – Matt Fore, Music – Marinho Nobre, Makeup Effects – Tom Devlin & Stefania Koszti, Art Direction – Shawn Coyne. Production Company – Paul Hough Entertainment, Inc.
Cast
Eddie McGee (Eddie), Paul McCarthy-Boyington (Justin Connor), Trista Robinson (Deaf Girl), T. Arthur Cottram (Deaf Man), Fred Coury (Yellow T-Shirt), J. Louis Reid (War Vet), Noelle Britton (Stressed Out), Richard Gale (Evil Brother), Briana Lauren Jackson (Veronica), Celien Tien (Ting Lau), Ian Tien (Shio Lau), B. Anthony Cohen (Priest), Tiana Smith-Jones (Dorothy), Luke Y. Thompson (Orange Vest), Shawn Coyne (Bald Thug), Amir Khanbabei (Ali)
---
Plot
After seeing a white light, a group of eighty different people who were all within the vicinity of the same street block come around in a strange location. A voice speaking in their heads tells them that they must keep running around a course that has been built to simulate various everyday locations. However, if they stray onto the grass, they will be killed – something demonstrated when people do so and their heads explode. They are also told that when someone laps the entire course twice, each person they past will die. This begins a madcap run. When the teacher Justin and his one-legged war veteran friend Eddie discover an old man who is unable to move without his walking frame, they try to block the course and prevent people from progressing any further. However, others push past. This begins a frenetic fight for everybody's life, while the more ruthless start throwing people onto the grass.
---
The Human Race is an indie film from Paul Hough. Hough is the son of British-born director John Hough who made genre classics like Twins of Evil (1971) and The Legend of Hell House (1973) and various Disney live-action films such as the Witch Mountain films, among others. Paul Hough had previously made the documentary The Backyard (2002) about amateur wrestling wannabes. Hough shot the film in an abandoned youth correctional facility in California over a three-year period due to the need to raise the capital to complete it.
The title and the way The Human Race is pitched immediately makes you think that it is being sold as a B-budget copy of The Hunger Games (2012). It soon becomes apparent that this is not the case and that we are in the midst of a conceptual puzzlebox film that has more in common with something like Cube (1997). It becomes a fascinating film about a group of diverse people thrown into an unknown situation and forced to follow bizarre rules – their heads will explode if they go onto the grass or someone manages to pass around the course by two laps. Perhaps you could think of it as something akin to Stephen King's original conception of The Running Man (1982) – before it was turned into an action film The Running Man (1987) – by way of a conceptual science-fiction film like Cube.
Cube had a certain ingenuity where the entire film was shot on a single set that was lit different colours to represent different rooms. The Human Race lacks such ingenuity and its alien course is simply a set of suburban streets, buildings, a stadium and everyday homes where some areas have been designated as the course and others as deadly grass traps. It is a vision of an alien world where the corner cutting so as to not outlay on set costs is clearly evident – nevertheless, the story has an imagination that carries itself over such. The relative inexperience of some of the filmmakers does show through at times. Especially in the editing and camerawork, which is often amateurish such as the distracting use of split-screen at several points.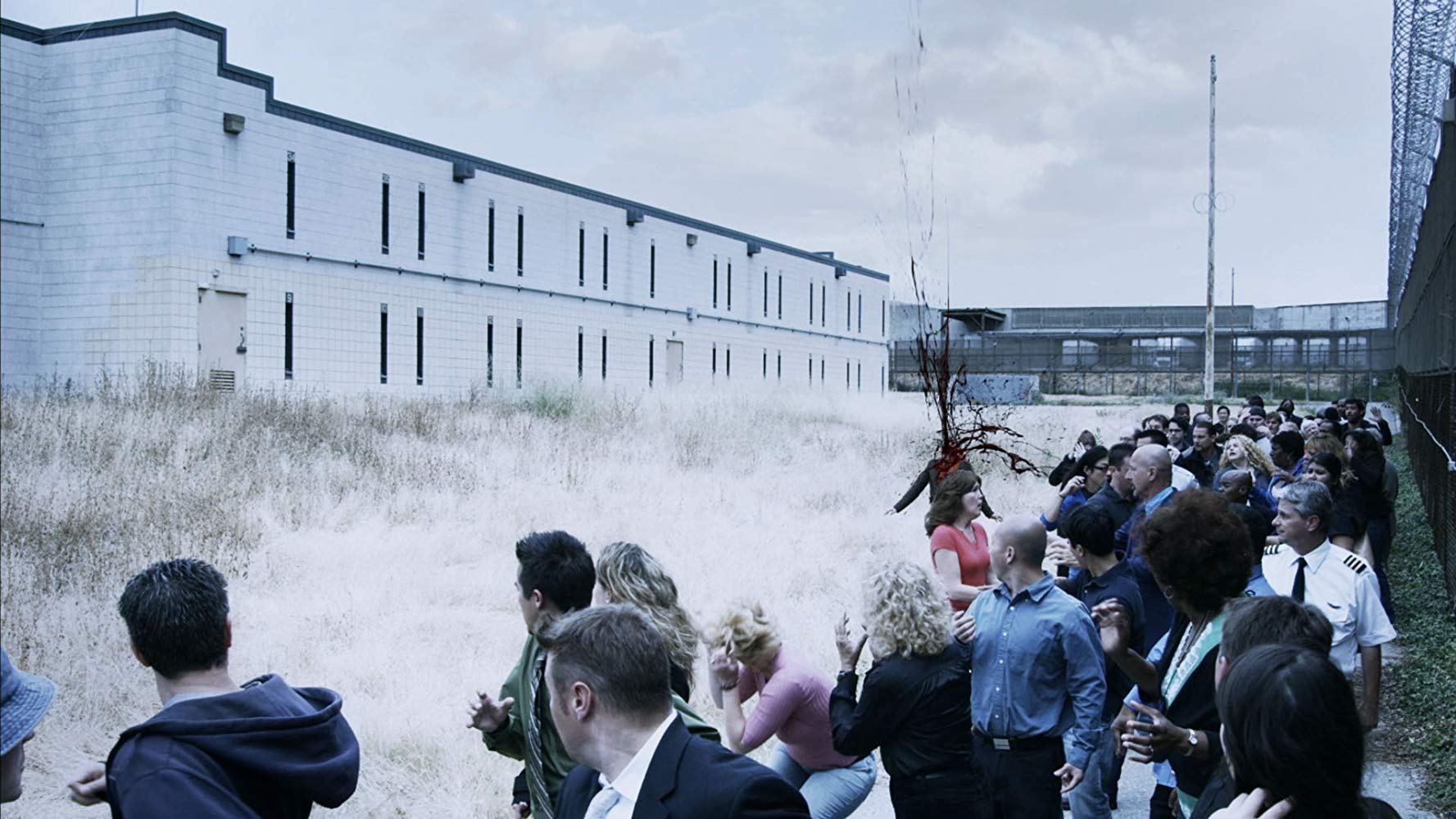 Nevertheless, The Human Race emerges as a rather well-done first effort. It eventually engages and leaves you rooting for several of the characters in terms of survival (although does hold perhaps a little too much in the way of reverentially saluting America's war veterans for my liking). Many of these characters are written with effectively rounded depths to them and the film does a well worthwhile job of dealing with the moral complexities of the situation and their responses to it. You start to care about who is winning and it is often a shock to see likeable characters being killed off.
The best written part in the film is the relationship between the two deaf characters (Trista Robinson and T. Arthur Cottram) where he confesses a long held crush on her and asks why they shouldn't use their imminent probability of their deaths to get together, she rebuffs him, only for it to turn into a nasty attempted rape (a scene that works effectively but is weakened by the fact that the climactic confrontation between the two of them is shot in a kitchen amid distracting stroboscopic flickers). The film reaches an interestingly enigmatic end – the only point it conclusively becomes science-fiction.
---
---