aka Death Trap; Starlight Slaughter
---
Crew
Director – Tobe Hooper, Screenplay – Alvin L. Fast & Mardi Rustam, Adaptation – Kim Henkel, Producer – Mardi Rustam, Photography – Robert Caramico, Music – Tobe Hooper & Wayne Bell, Special Effects – A&A, Mechanical Alligator/Crocodile – Bob Mattey, Art Direction – Marshall Reed. Production Company – Mars Productions.
Cast
Neville Brand (Judd), Crystin Sinclaire (Libby Wood), Marilyn Burns (Faye), Jose Ferrer (Harvey Wood), William Finley (Roy), Stuart Whitman (Sheriff Martin), Robert Englund (Buck), Roberta Collins (Clara Wood), Kyle Richards (Angie), Janus Blyth (Lynette), Carolyn Jones (Rebecca/Miss Hattie)
---
Plot
Fired from Miss Hattie's brothel for refusing to service a client, the prostitute Clara seeks refuge at the rundown Starlight Hotel. There however the crazed proprietor Judd attacks her with a scythe and feeds her body to his pet crocodile. Next, a family sign into the motel. Judd feeds the father to the crocodile, ties the mother up and pursues the young girl with his scythe as she hides under the house. At the same time, Clara's father and sister come searching for her. Though Judd denies having seen Clara, they track her to Miss Hattie's. Judd is placed in a difficult position when they return to the hotel with the sheriff and begin a search for her.
---
The Texas Chain Saw Massacre (1974) is an undeniable landmark in horror cinema. It was extraordinarily influential and for many years was seen as horror's ultimate nightmare trip. It certainly made the name of director Tobe Hooper who has lived off The Texas Chain Saw Massacre for the subsequent three decades, even though his career throughout the 1990s and 2000s up until his death in 2017 became a downward spiral that was sad to watch. (See below for Tobe Hooper's other films).
Eaten Alive was Tobe Hooper's second film. There are those who insist that Eaten Alive is Hooper's obscure masterpiece, his next best film to The Texas Chainsaw Massacre. Eaten Alive's relative obscurity – it is the least available of all Hooper's films, was poorly distributed at the time it came out and redistributed under several different titles, even banned as a Video Nasty in the UK – may have added to its reputation. When seen today however, Eaten Alive is a silly and at times amateurish film that emphasises just how The Texas Chain Saw Massacre was a single hit that Tobe Hooper has never managed to achieve again.
With Eaten Alive, Hooper seems to be making an attempt to recapture some of what made The Texas Chainsaw Massacre a success. Eaten Alive could almost be a version of Psycho (1960) transported into the Southern backwoods bayous. However, the film is sidetracked into an absurdly torrid Southern Gothic horror show and everything played at a dementedly OTT level. Elements of the Southern Gothic are trotted out – backwoods psychos, monstrous crocodiles, a motel so rundown that nobody outside of Skid Row and in any sane frame of mind would ever think of signing in there – but are stirred up to such a laughably heated stew that the film verges on camp. There is no real plot – the entire film seems to consist only of various parties turning up at the hotel and being slaughtered by Neville Brand.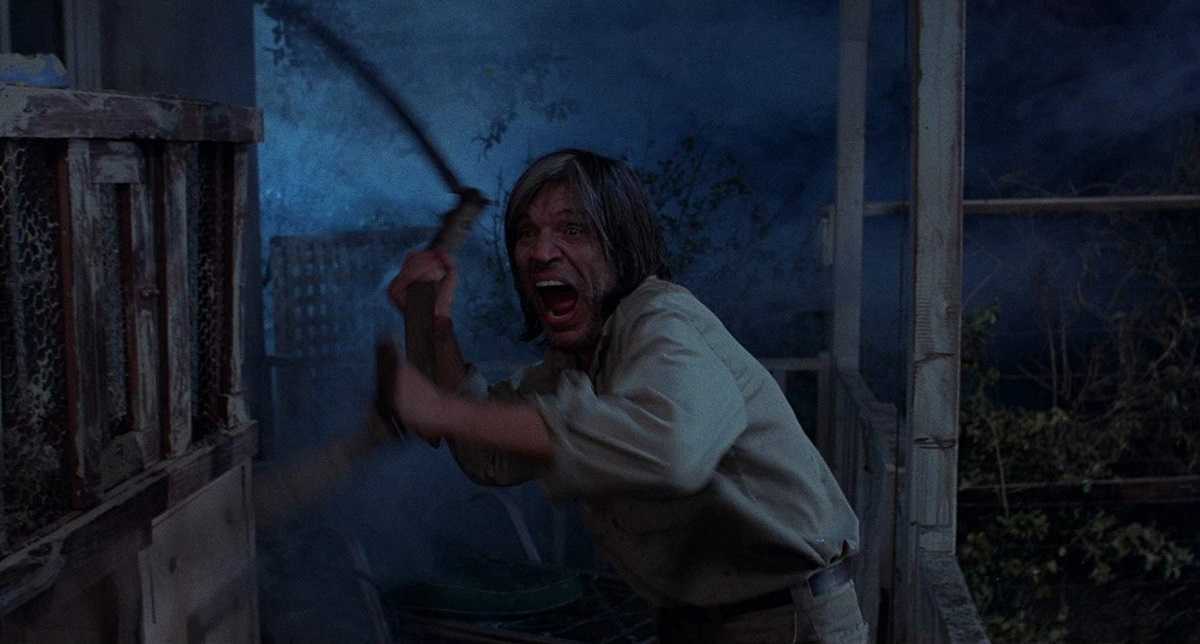 The Texas Chain Saw Massacre is an undeniable classic, a full-throttle nightmare. However, in Eaten Alive, Tobe Hooper and Texas Chain Saw co-writer Kim Henkel seems oblivious to the qualities that made it such. The moments when Eaten Alive attains any of Texas's nightmare quality are far and few between – some of the scenes with Neville Brand pursuing Janus Blyth with a scythe and the nastiness of the scene where Brand lets the crocodile loose under the house after the little girl – but Hooper fails to sustain this throughout the rest of the film. The crocodile effects look cheap but are effective enough for what is required.
Tobe Hooper's fault in several of his films is in not knowing when to rein his actors in – remember Paul Partain's awful performance in Texas Chain Saw or Brad Dourif in Spontaneous Combustion (1990). Here Neville Brand gives an amazingly indulgent performance, muttering and delivering demented monologues to himself at length. Hooper gives much of the film over to this rambling performance. William Finlay, alias The Phantom of the Paradise (1974), gives an even sillier performance, barking like a dog at his wife, going on about stubbing out cigarettes in her eye and playing finger crocodiles.
It may say something about the film when the most alive performance comes from the notoriously bad over-actor Robert Englund, some years before Englund found fame as Freddy Krueger in the A Nightmare on Elm Street films and cast here as a hick. Also in the amazing cast line-up one can see Carolyn Jones, alias Morticia in tv's The Addams Family (1964-6), as the brothel owner; Janus Blythe from The Hills Have Eyes (1977) as Robert Englund's girlfriend; Texas Chain Saw Massacre heroine Marilyn Burns as William Finley's wife; Roberta Collins, a heroine in a number of 70s grindhouse exploitation classics as the missing hooker; and classic actor Jose Ferrer as the missing hooker's father.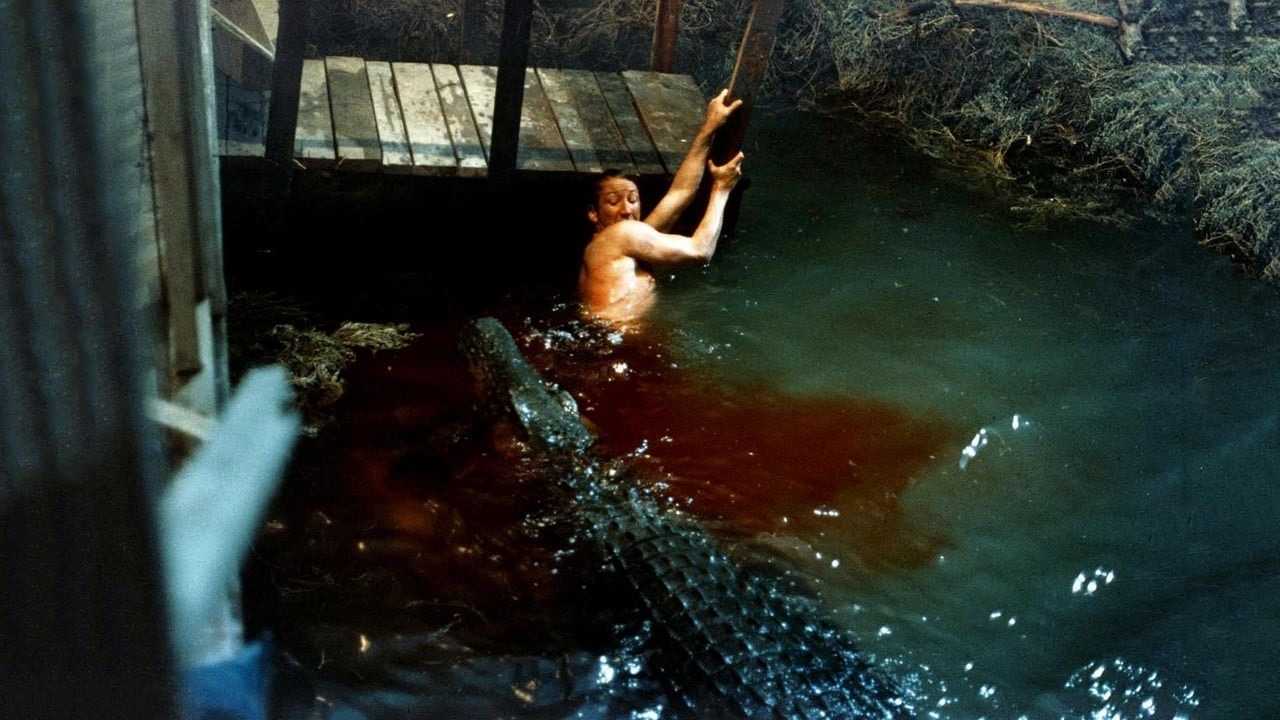 Like Texas Chain Saw Massacre, there is claim made that Eaten Alive was based on a true story. In fact, Eaten Alive's story comes with more adherence to the facts than Texas Chain Saw's claim to be based on the activities of Ed Gein. In this case, Hooper and Henkel borrowed from the legend of Joe Ball, a true-life Texan bar owner in the 1930s who kept live alligators in a pond outside his bar. Ball was suspected of killing some twenty women and feeding their bodies to the alligators, although this was never proven due to the fact that he shot himself when police came to question him.
Tobe Hooper's other films are:– The Texas Chain Saw Massacre (1974), the fine tv mini-series of Stephen King's Salem's Lot (1979), the slasher film The Funhouse (1981), the Steven Spielberg-produced ghost story Poltergeist (1982), the enjoyable psychic alien vampire film Lifeforce (1985), the remake of Invaders from Mars (1986), the underrated The Texas Chainsaw Massacre 2 (1986), the pyrokinesis film Spontaneous Combustion (1990), the haunted dress tv movie I'm Dangerous Tonight (1990), an episode of the John Carpenter anthology Body Bags (tv movie, 1993), the erotic film Night Terrors (1993), the really awful Stephen King adaptation The Mangler (1995), the weird apartment dwellers black comedy The Apartment Complex (1999), Crocodile (2000), Toolbox Murders (2003), Mortuary (2005) and Djinn (2013).
---
Trailer here
Film online in several parts beginning here here:-
---