---
Crew
Director – Lambert Hillyer, Screenplay – Harry Fraser, Victor McLeod & Leslie Swabacker, Based on the Comic Book Created by Bob Kane, Producer – Rudolph C. Flothow, Photography (b&w) – James S. Brown Jr, Music – Lee Zahler. Production Company – Columbia.
Cast
Lewis Wilson (Batman/Bruce Wayne), Douglas Croft (Robin/Dick Grayson), J. Carrol Naish (Prince Tito Daka), Shirley Patterson (Linda Page), William Austin (Alfred), Gus Glassmire (Martin Warren)
---
Plot
Millionaire Bruce Wayne and his ward Dick Grayson, in their secret identities as the masked crimefighting duo Batman and Robin, take on Prince Tito Daka, a Japanese spy who is planning to subjugate the USA under Japanese rule. From his lair beneath an amusement park, Prince Tito unleashes his mind-controlled zombies.
---
This was the first of Columbia's two Batman serials and was followed by the slightly better Batman and Robin (1949). Bob Kane's Batman comic had only appeared a few years earlier (May 1939) but was brought to the screen for the first time here. For the substantial cinematic legacy that Batman has subsequently developed, this serial is an inauspicious screen debut.
The film is a dull and uninspired adaptation of the comic-book. It has a low-budget that is painfully evident and at times verges on the laughable – the Batcave, for example, consists of an unconvincing plaster cave wall and an old wooden office desk, while overhead the shadow of a bat flops about replete with the visible shadow of a wire. [In an interesting trivia note, it was this serial that introduced The Batcave, which of course subsequently became a regular fixture of the comic-book, albeit far more elaborated in design]. The film's Batman, with his baggy overstuffed trunks and loosely flapping cape who drives about in an ordinary open-topped saloon car, is a far cry from the comic-book's masked, caped figure whose image is designed to drive terror into the hearts of evil-doers. (Although, if anything, in comparison to the dark and gritty realism of the Batman films, a Batman with a loosely flapping and unsupported cape and crinkled hose is probably the far more realistic one).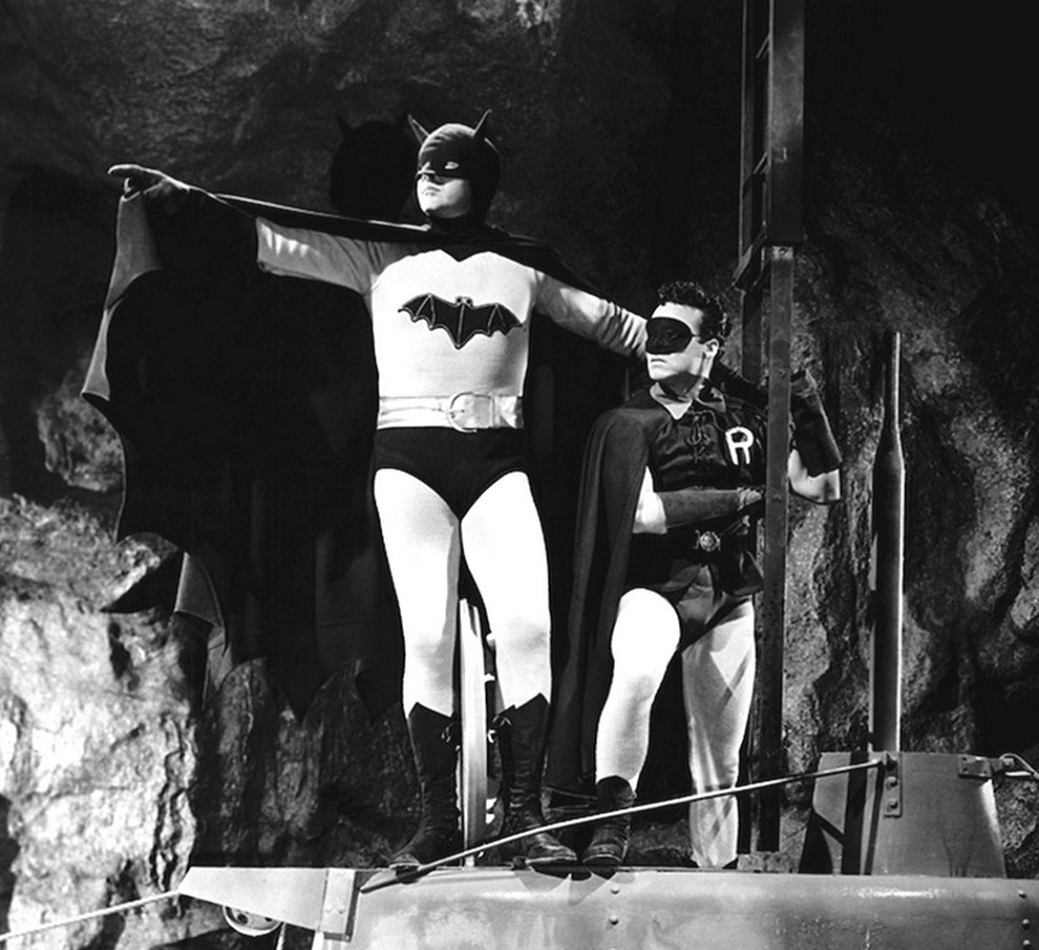 The cheapness of the exercise lends to many unintentional howlers – in one fight scene, Batman's cape falls off but is back on in the next shot and then off again in a subsequent one; the action is mentioned several times as taking place in Gotham City yet a closeup on a letter addressed to Bruce Wayne clearly shows the city it is addressed to is Los Angeles. The sheer cheapness of this serial had it revived in the 1960s and marketed as a deliberate laugh-fest called An Evening with Batman and Robin – and this in turn inspired producer William Dozier to launch the Batman (1966-8) tv series and play the po-facedness of the character for laughs.
Batman is too dull a film to be entertainingly bad. The plot consists entirely of the perpetual McGuffin dramas that fill out serials – endless schemes to steal supplies of radium, obtain maps, kidnap the heroine who may have some piece of information, obtain vital devices and so on. Some episodes are wholly uneventful in terms of managing to advance the plot in any significant way. The cliffhangers are thoroughly routine – one of them where Batman appears to be thrown into a pit of alligators, takes nearly half the subsequent episode to explain how he survived. As Batman, Lewis Wilson manages to be sufficiently curt and decisive, but as Bruce Wayne he comes across as lazily smug. Douglas Croft plays Dick/Robin with a deadly intent seriousness that gives the impression he has no mind of his own.
The film's greatest interest is perhaps as a time capsule. Being made during World War II, it reflects a great deal of the typical US attitudes towards the Japanese. For example, Batman and Robin are no longer vigilante crimefighters, as in the comic-book, but spy-fighters in the service of the US government, and the villain of the piece is part of a Japanese fifth column. The Japanese are characterized with a racism that quite takes one aback – lines like "… since a wise government rounded up the shifty-eyed Japs," or "your twisted Oriental brain". As the twisted Oriental brain himself, J. Carrol Naish certainly gets into the Yellow Peril villainy with considerable relish, presenting an evil cackling intelligence.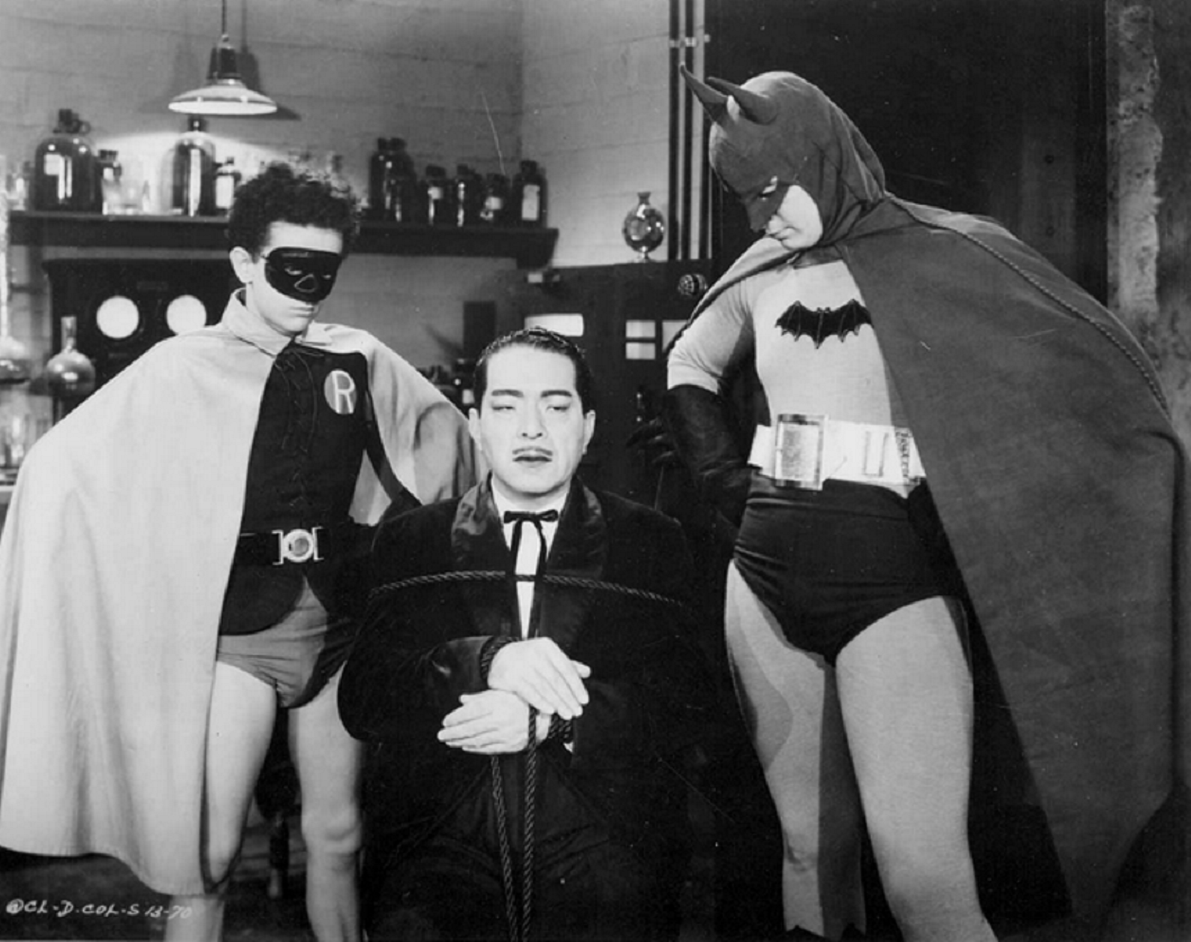 Lambert Hillyer was an enormously prolific director – he made more than 150 films from the silent era until his retirement in the 1950s. More than sixty of these were B Westerns. He did venture into genre territory upon a handful of occasions – Before Midnight (1933), a murder mystery with supernatural overtones; Dracula's Daughter (1936), the first of Universal's Dracula sequels; and the mad scientist film The Invisible Ray (1936).
Other Batman appearances on screen are:-
the campy tv series

Batman

(1966-8) starring Adam West and Burt Ward as Batman and Robin, which produced one film spin-off with Batman (1966)
the animated tv series

The New Adventures of Batman

(1977-8)
Tim Burton's superb duo of films Batman (1989) and Batman Returns (1992) starring Michael Keaton, and Joel Schumacher's dismal campy follow-ups Batman Forever (1995) and Batman & Robin (1997), featuring respectively Val Kilmer and George Clooney
the animated series

Batman

(1992-4) inspired by the Tim Burton films and its follow-up

The New Batman Adventures

(1997-9), which spawned several film spin-offs with Batman: Mask of the Phantasm (1993), Batman and Mr Freeze: SubZero (1998), The Batman Superman Movie: World's Finest (1998) and Batman: Mystery of the Batwoman (2003). There was also

Batman Beyond/Batman of the Future

(1999-2001), the futuristic follow-up series from the same creative team featuring an aging Bruce Wayne and his young apprentice, which also spun off one animated film Batman Beyond: Return of the Joker (2000) and another animated tv series

Static Shock

(2000-4), which featured several appearances from Batman. Batman also appears in the same team's

Justice League/Justice League Unlimited

(2001-5)
Christopher Nolan's revival of the franchise with Batman Begins (2005), The Dark Knight (2008) and The Dark Knight Rises (2012) starring Christian Bale
the DC Universe Original Animated Movies Superman/Batman: Public Enemies (2009), Batman: Under the Red Hood (2010), Superman & Batman: Apocalypse (2010), Batman: Year One (2011), Batman: The Dark Knight Returns Part I (2012), Batman: The Dark Knight Returns Part II (2013), Batman: Assault on Arkham (2014), Son of Batman (2014), Batman vs. Robin (2015), Batman: Bad Blood (2016), Batman: The Killing Joke (2016), Batman and Harley Quinn (2017), Batman: Gotham By Gaslight (2018), Batman: Hush (2019), Batman: Soul of the Dragon (2021), Batman: The Long Halloween Part One (2021), Batman: The Long Halloween Part Two (2021), and Batman and Superman: Battle of the Super Sons (2022), as well as Batman: Gotham Knight (2008), a compilation of anime Batman shorts. Batman also appears in the DC Original Animated Movies Justice League: The New Frontier (2008), Justice League: Crisis on Two Earths (2010), Justice League: Doom (2012), Justice League: The Flashpoint Paradox (2013), Justice League: War (2014), Justice League: Throne of Atlantis (2015), Justice League: Gods and Monsters (2015), Justice League vs Teen Titans (2016), Justice League Dark (2017), The Death of Superman (2018), Justice League vs The Fatal Five (2019), Justice League Dark: Apokolips War (2020) and Superman: Red Son (2020)
the animated series

The Batman

(2004-8), which badly revised the basics of the series and was also spun off into a film with The Batman vs. Dracula (2005)
two further animated series

Batman: The Brave and the Bold

(2008-11), which placed Batman alongside other DC superheroes and had one crossover film spinoff with

Scooby-Doo! & Batman: The Brave and the Bold

(2018), and

Beware the Batman

(2013-4)
the live-action tv series

Gotham

(2014-9), which tells the origin stories of the familiar characters and villains as Bruce Wayne (David Mazouz) grows up
Batman turns up as an animated character in The Lego Movie (2014) and The Lego Movie 2 (2019) voiced by Will Arnett and gets a whole film to himself in The Lego Batman Movie (2017)
the animated films Batman Unlimited: Animal Instincts (2015),

Batman Unlimited: Monster Mayhem

(2015) and

Batman Unlimited: Mechs vs Mutants

(2016) spun off from a line of action figures
Batman V Superman: Dawn of Justice (2016) with Ben Affleck who went on to appear as Batman in Suicide Squad (2016), featuring a team-up of DC villains including The Joker and Harley Quinn, and Justice League (2017) and the extended cut of the latter with Zack Snyder's Justice League (2021)
the animated Batman: Return of the Caped Crusaders (2016) and Batman vs. Two-Face (2017) featuring a return of Adam West and Burt Ward
the anime film Batman Ninja (2018)
the animated crossover Batman vs Teenage Mutant Ninja Turtles (2019)
Batman also makes appearances in the line-up of superheroes in various other DC-related animated series such as

SuperFriends

(1973-7) and

The All New SuperFriends Hour

(1977-9)
Other spin-offs include:- the short-lived live-action tv series

Birds of Prey

(2002-3), featuring the women of Batman – a paraplegic Batgirl, Cat Woman's daughter and Harley Quinn and the film Birds of Prey and the Fantabulous Emancipation of One Harley Quinn (2020), starring Margot Robbie's Harley Quinn
Catwoman receiving her own films with the Halle Berry starring Catwoman (2004) and the animated Catwoman: Hunted (2022) where she was voiced by Elizabeth Gillies
The Joker origin story with Joker (2019) starring Joaquin Phoenix
Robin appears as a member of

Young Justice

(2010-3), the animated tv series

Teen Titans

(2003-6), which had one film spinoff with Teen Titans: Trouble in Tokyo (2006); the animated tv series

Teen Titans Go!

(2013– ), which had three film spinoffs with Teen Titans Go! To the Movies (2018),

Teen Titans Go! vs Teen Titans

(2019) and

Teen Titans Go! See Space Jam

(2021); and as Nightwing (Brenton Thwaites) in the live-action tv series

Titans

(2018– )

Pennyworth

(2019- ), a tv series concerning Alfred (Jack Bannon)'s early years

Batwoman

(2019-22), a tv series starring Ruby Rose, replaced by Wallis Day in the second season, as Bruce Wayne's cousin Katherine Kane
The Batman-Robin relationship is also excrutiatingly spoofed in the

Superhero Speed Dating

segment of Movie 43 (2013)
Also of interest is Batman & Bill (2017), a documentary about the unacknowledged co-creator of Batman, Bill Finger.
---
Trailer here
Full serial available online here:-
---