---
USA/Italy. 1997.
Crew
Director – Mark Pavia, Screenplay – Mark Pavia & Jack O'Donnell, Based on the Short Story by Stephen King, Producers – Mitchell Galin & Richard P. Rubinstein, Photography – David Connell, Music – Brian Keane, Visual Effects Supervisor – Oliver Rockwell, Mechanical Effects – Michael Schorr, Makeup Effects – KNB EFX Group (Supervisors – Howard Berger, Bob Kurtzman & Greg Nicotero), Production Design – Burton Rencher. Production Company – New Amsterdam Entertainment Inc/Stardust International/Medusa Films SPA.
Cast
Miguel Ferrer (Richard Dees), Julie Entwisle (Katherine 'Jimmy' Blair), Dan Monahan (Merton Morrison), Michael K. Moss (Dwight Renfield), John Bennes (Ezra Hannon), Elizabeth McCormack (Ellen Sarch)
---
Plot
Richard Dees, a cynical veteran tabloid journalist with 'Inside View' magazine, is given the assignment of investigating a series of killings around the country, usually at or near small airfields. Gradually, Dees discovers a common connection in that a mysterious small black airplane flew in before and then out after each murder. Evidence leads Dees to conclude that he is dealing with a vampire who flies from location to location, claiming victims.
---
The Night Flier is an adaptation of a 1988 Stephen King novella. The film comes from George A. Romero's former producing partner Richard P. Rubinstein. Richard P. Rubinstein had also produced a number of other Stephen King adaptations, including Creepshow (1982), Pet Sematary (1989), Golden Years (tv mini-series, 1991), The Stand (tv mini-series, 1994), The Langoliers (tv mini-series, 1995) and Thinner (1996).
The Night Flier – not to be confused with the fine but also poorly reviewed haunted spaceship film Nightflyers (1987) – failed to receive many favourable reviews but it is not an entirely bad film. Mark Pavia directs with a modest, if never standout, effectiveness – there is at least one good scene with Miguel Ferrer meeting the vampire in an airport bathroom where Ferrer looks in the mirror to see a stream of blood being urinated by an invisible person.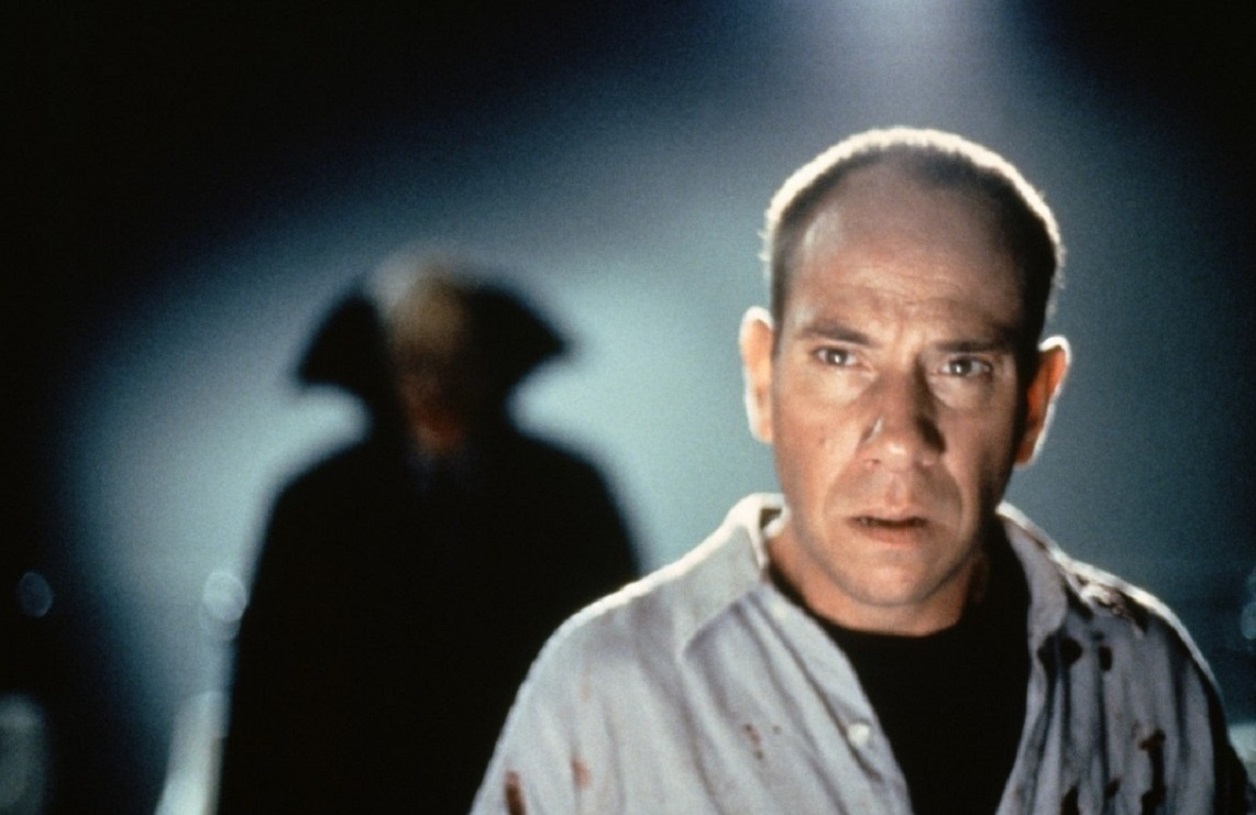 What keeps the film going is an original story, which comes as a well structured mystery where the piecing together of the puzzle gives the story an intriguing drive. Perhaps the failing of The Night Flier as a story is that the film is all build-up. The confrontation with the vampire is construed as the big climax, whereas in a more dramatically satisfying piece it would have been the midway point or the preliminary to a big climax showdown between vampire and hunter. The final coda is surprisingly downbeat, not to mention cynical. However, in terms of build-up The Night Flier is at least half a good film.
Speaking as someone who has worked in the profession, the film's portrait of tabloid journalism is not entirely credible. Miguel Ferrer's tabloid journalist has well … too much journalistic integrity for a tabloid hack. The concept of investigative tabloid journalism – with the exception of paparazzi shots – is almost entirely an oxymoron. To perhaps state the obvious – tabloid stories about aliens, vampires, ghosts and so on are all made up. Nobody goes searching for stories, they are written without anybody ever leaving the office and the accompanying photos are always posed or Photoshopped. Nor would any tabloid editor (let alone a mainstream editor) do anything as ridiculously cost-wasting as to assign two reporters to go into the field and work at cross purposes on the same investigative piece. A far more authentic version of the story of a tabloid journalist tracking a vampire can be seen in The Night Stalker (1972).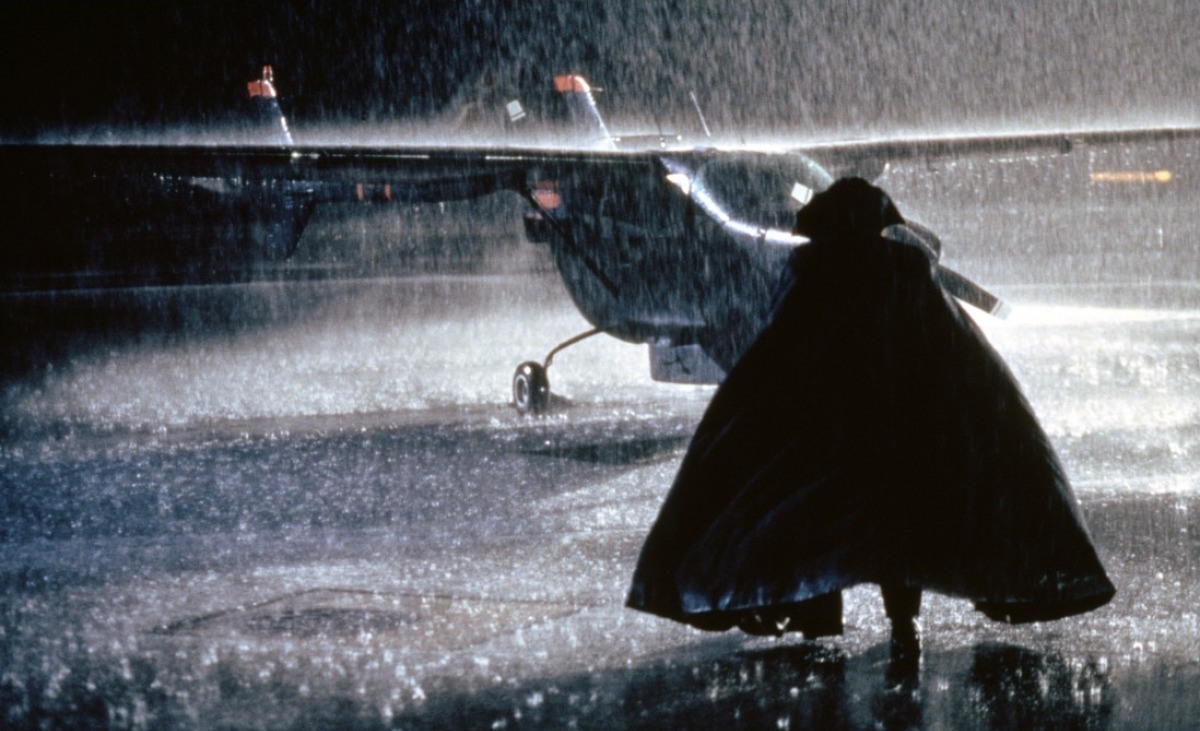 Director Mark Pavia has directed no other films since The Night Flier. In 2000, he was to direct a further horror film Slice from his own script but this ended up financially collapsing before production began. He subsequently made another horror film with Fender Bender (2016).
Other Stephen King genre adaptations include:- Carrie (1976), Salem's Lot (1979), The Shining (1980), Christine (1983), Cujo (1983), The Dead Zone (1983), Children of the Corn (1984), Firestarter (1984), Cat's Eye (1985), Silver Bullet (1985), The Running Man (1987), Pet Sematary (1989), Graveyard Shift (1990), It (tv mini-series, 1990), Misery (1990), a segment of Tales from the Darkside: The Movie (1990), Sometimes They Come Back (1991), The Lawnmower Man (1992), The Dark Half (1993), Needful Things (1993), The Tommyknockers (tv mini-series, 1993), The Stand (tv mini-series, 1994), The Langoliers (tv mini-series, 1995), The Mangler (1995), Thinner (1996), Quicksilver Highway (1997), The Shining (tv mini-series, 1997), Trucks (1997), Apt Pupil (1998), The Green Mile (1999), The Dead Zone (tv series, 2001-2), Hearts in Atlantis (2001), Carrie (tv mini-series, 2002), Dreamcatcher (2003), Riding the Bullet (2004), 'Salem's Lot (tv mini-series, 2004), Secret Window (2004), Desperation (tv mini-series, 2006), Nightmares & Dreamscapes: From the Stories of Stephen King (tv mini-series, 2006), 1408 (2007), The Mist (2007), Children of the Corn (2009), Everything's Eventual (2009), the tv series Haven (2010-5), Bag of Bones (tv mini-series, 2011), Carrie (2013), Under the Dome (tv series, 2013-5), Big Driver (2014), A Good Marriage (2014), Mercy (2014), Cell (2016), 11.22.63 (tv mini-series, 2016), The Dark Tower (2017), Gerald's Game (2017), It (2017), The Mist (tv series, 2017), Mr. Mercedes (tv series, 2017-9), 1922 (2017), Castle Rock (tv series, 2018-9), Doctor Sleep (2019), In the Tall Grass (2019), Pet Sematary (2019), The Outsider (tv series, 2020- ) and The Stand (tv mini-series, 2020-1). Stephen King had also written a number of original screen works with Creepshow (1982), Golden Years (tv mini-series, 1991), Sleepwalkers (1992), Storm of the Century (tv mini-series, 1999), Rose Red (tv mini-series, 2002) and the tv series Kingdom Hospital (2004), as well as adapted his own works with the screenplays for Cat's Eye, Silver Bullet, Pet Sematary, The Stand, The Shining, Desperation, Children of the Corn 2009, A Good Marriage and Cell. King also directed one film with Maximum Overdrive (1986).
---
Trailer here
Full film available here