---
USA. 1985.
Crew
Director – Daniel Attias, Screenplay – Stephen King, Based on his Novella Cycle of the Werewolf, Producer – Martha Schumacher, Photography – Armando Nannuzzi, Music – Jay Chattaway, Special Effects – Carlo Rambaldi, Makeup Effects – Mike McCracken & Matthew Mungle, Production Design – Giorgio Postiglione. Production Company – Famous Films/Dino De Laurentiis.
Cast
Corey Haim (Marty Coslaw), Megan Follows (Jane Coslaw), Gary Busey (Uncle Red), Everett McGill (Reverend Lester Lowe)
---
Plot
The small midwestern town of Tarkers Mills is terrorised by a series of killings. Young paraplegic Marty Coslaw is given a motorised wheelchair by his Uncle Red, which they nickname the Silver Bullet. While out on the Silver Bullet, Marty sees the werewolf that is responsible for the killings. He shoots it in the eye with a skyrocket as it comes after him. Marty and his sister Megan determine to track down which of the townspeople is the werewolf. Megan comes up with the pretext of a door-to-door bottle drive and they discover that Reverend Lowe is wearing an eye-patch. As the new moon nears again, they realise that Lowe is preparing to kill them to hide his secret.
---
Silver Bullet was one of a host of Stephen King adaptations made by Italian movie mogul Dino De Laurentiis during the 1980s. Others included Cujo (1983), The Dead Zone (1983), Firestarter (1984), Cat's Eye (1985) and King's own directorial debut Maximum Overdrive (1986). With Silver Bullet, Stephen King adapts his own original novella Cycle of the Werewolf (1983), which was written in collaboration with comics artist Berni Wrightson and first published as a limited edition print. Stephen King originally conceived the story as a calendar project but it grew into a story with each chapter taking up one month (and its full moon) over a full year. The film is altered from the novella with King abandoning the calendar concept and, for dramatic consideration, condensing the story to two months.
Silver Bullet is low key but not uninteresting Stephen King. King's script is well attuned to its characters and the evocation of small town atmosphere. Daniel Attias, previously assistant director to Francis Ford Coppola on One from the Heart (1981) and Steven Spielberg on E.T. – The Extra-Terrestrial (1982), made his directorial debut here. Attias does a decent job but overall Silver Bullet seems a little too leisurely. There is a good opening, some well-sustained suspense during the bottle drive and the revelation of Everett McGill as the werewolf, and some good scenes with the hunters being stalked in the woods, but the film needs a tighter hold elsewhere. There is an unnecessary dream sequence with a church erupting into werewolves. The climax is particularly humdrum, lacking due to the merely perfunctory makeup effects of Carlo Rambaldi. To his advantage, Daniel Attias keeps glimpses of the werewolf fairly brief.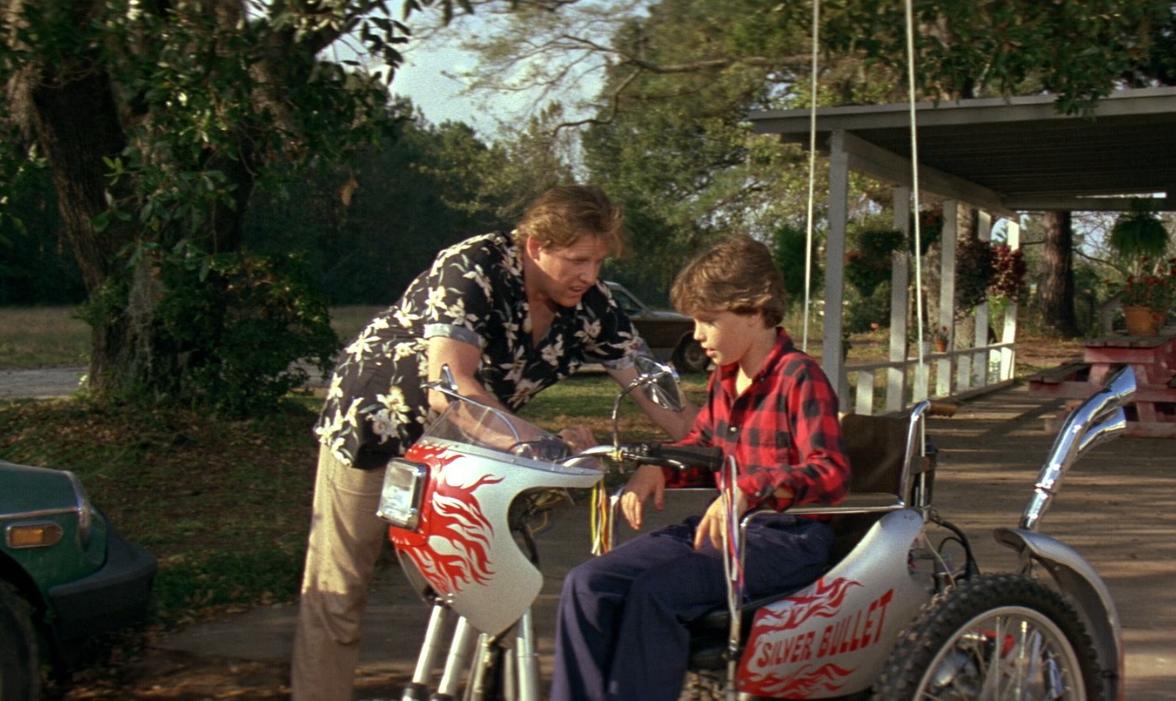 Gary Busey gives an okay performance – on a rare occasion playing a good guy and not a menacing action heavy. Everett McGill's high-cheekboned face and accent lends an effectively sinister presence.
Daniel Attias has yet to make another film as director but has directed episodes of an amazing number of high-profile tv series including 21 Jump Street, Sledge Hammer, Beauty and the Beast, Northern Exposure, Beverly Hills 90210, Melrose Place, Picket Fences, Dr Quinn, Medicine Woman, The Adventures of Brisco County, Jr., Lois and Clark: The New Adventures of Superman, Party of Five, The Practice, Buffy the Vampire Slayer, Ally McBeal, The Sopranos, Alias, Six Feet Under, Lost, Deadwood, The Wire, House M.D., Entourage and Heroes, plus a great many others.
Other Stephen King genre adaptations include:- Carrie (1976), Salem's Lot (1979), The Shining (1980), Christine (1983), Cujo (1983), The Dead Zone (1983), Children of the Corn (1984), Firestarter (1984), Cat's Eye (1985), The Running Man (1987), Pet Sematary (1989), Graveyard Shift (1990), It (tv mini-series, 1990), Misery (1990), a segment of Tales from the Darkside: The Movie (1990), Sometimes They Come Back (1991), The Lawnmower Man (1992), The Dark Half (1993), Needful Things (1993), The Tommyknockers (tv mini-series, 1993), The Stand (tv mini-series, 1994), The Langoliers (tv mini-series, 1995), The Mangler (1995), Thinner (1996), The Night Flier (1997), Quicksilver Highway (1997), The Shining (tv mini-series, 1997), Trucks (1997), Apt Pupil (1998), The Green Mile (1999), The Dead Zone (tv series, 2001-2), Hearts in Atlantis (2001), Carrie (tv mini-series, 2002), Dreamcatcher (2003), Riding the Bullet (2004), 'Salem's Lot (tv mini-series, 2004), Secret Window (2004), Desperation (tv mini-series, 2006), Nightmares & Dreamscapes: From the Stories of Stephen King (tv mini-series, 2006), 1408 (2007), The Mist (2007), Children of the Corn (2009), Everything's Eventual (2009), the tv series Haven (2010-5), Bag of Bones (tv mini-series, 2011), Carrie (2013), Under the Dome (tv series, 2013-5), Big Driver (2014), A Good Marriage (2014), Mercy (2014), Cell (2016), 11.22.63 (tv mini-series, 2016), The Dark Tower (2017), Gerald's Game (2017), It (2017), The Mist (tv series, 2017), Mr. Mercedes (tv series, 2017-9), 1922 (2017), Castle Rock (tv series, 2018-9), Doctor Sleep (2019), In the Tall Grass (2019), Pet Sematary (2019), The Outsider (tv series, 2020- ), The Stand (tv mini-series, 2020-1), Chapelwaite (tv series, 2021- ), Lisey's Story (tv mini-series, 2021), Firestarter (2022) and Salem's Lot (2022). Stephen King had also written a number of original screen works with Creepshow (1982), Golden Years (tv mini-series, 1991), Sleepwalkers (1992), Storm of the Century (tv mini-series, 1999), Rose Red (tv mini-series, 2002) and the tv series Kingdom Hospital (2004), as well as adapted his own works with the screenplays for Cat's Eye, Silver Bullet, Pet Sematary, The Stand, The Shining, Desperation, Children of the Corn 2009, A Good Marriage, Cell and Lisey's Story. King also directed one film with Maximum Overdrive (1986).
---
Trailer here
---